"Sleep apnea is a serious sleep condition that affects 30 million Americans".
Sleep apnea is when while sleeping breathing repeatedly stops and starts. There are many symptoms, signs, and risk groups around it. The best way to find out most of these symptoms and signs is – to use sleep apnea apps that will record your sleep during the night and provide valuable reports.
Can apps detect sleep apnea?
Yes. Such apps as sleep trackers, snore trackers, and other related apps will help to find out sleep apnea symptoms and signs. What are those sleep apnea symptoms, and how can iPhones or Android smartphones detect them?
The most common symptoms:
Loud snoring
Moments at night when you stop breathing
Gasping for air during your sleep
Dry mouth when you awake
Headaches in the mornings
Insomnia
Daytime sleepiness
Distracted attention/focus/concentration
Irritability and decreased productivity
Key Takeaway: iPhones and Androids can detect sleep apnea. How accurate are sleep apnea apps? 80.0%(specifying ability)-88.3%(sensitivity) based on the research of the Firefly OSA app (trusted sources).
How do the sleep apnea apps work?
Nowadays almost all new wearable devices have numerous sensors and sound recording features. Sleep apnea apps listen to your sleep and transfer the detected information into reports about your sleep. Based on the symptoms above, the sleep apnea app makes decisions about your situation.
There are three main types of sleep apnea:
Obstructive sleep apnea – when throat muscles relax and block the air passage
Central sleep apnea – when your brain doesn't send proper signals to muscles that control breathing
Complex sleep apnea – when someone has a combination of obstructive and central sleep apnea
In one of the articles, we talked about the causes of sleep apnea. Click and learn more about them (there are certain risk groups of people).
Key Takeaway: nowadays smartphones and wearable devices have numerous sensors that can track our health conditions 24/7. According to our needs, apps provide specific services and accurate reports that can be shared with anyone else including doctors, and friends.
Benefits of using smartphones to diagnose OSA
The most beneficial part of using sleep apnea apps is that we can do it at home without visiting a hospital.
Let's confess, we pay the smallest part of our attention to our health due to various reasons like work, domestic chores, leisure time, and so on. But we do rarely dare to spend time going to a hospital.
As for me, if I have a health problem, I take my phone and Google it. Usually, the Internet helps me, because I know my symptoms and signs. It can be like a headache, stomachache, and so on. Anything that is obvious and happens in "real-time" as we observe the whole process as it goes.
But, in our situation. How Do I test myself for sleep apnea?
ShutEye has made a special sleep apnea test for you to through online and anonymously.
Even though the importance of visiting a hospital for consulting a doctor is still a top priority in dealing with various health problems. Sleep apnea apps, snore trackers, and sleep trackers cannot be underestimated.
Sleep trackers and sleep apnea apps have all features and functions to help you detect and test yourself whether you have sleep apnea and what are the symptoms, and signs of it.
Let's list some of the benefits:
Save time by testing yourself at home
If you live alone, the app is the best friend to tell you about the night
The information collected by the app can be useful for a doctor
Reports can be shared via various platforms and formats
The app is especially great at the preliminary stage
Since the app can record your sleeping, you can also listen to the recording and discover more things
The sleep apnea app can provide you with healthy tips, and recommendations on dealing with various health problems related to sleep
Key Takeaway: sleep apnea apps can be used as a quick/first aid for detecting and self-testing sleep problems. Sleep trackers and snore trackers are great at sharing knowledge and providing the best recommendations about healthy sleep.
What's the best sleep apnea app?
There is no absolute measure for defining the best sleep apnea app, but since most of the apps are free and available for Android and iOS devices, we can choose the best for us by ourselves.
Today we would like to share with you 5 of the best sleep apnea apps for android and iOS!
It is a multifunctional app that can take care of your sleep from evening till morning.
This sleep tracker will carefully put you in a sweet sleep and gently wake you up in the morning.
A sleep report is a very valuable thing especially if we speak about sleep apnea!
ShutEye is a great sleep tracker, and if we get back to the sleep apnea symptoms and signs, ShutEye is shaped to track, identify, analyze and offer help.
It will tell you
the sleep apnea frequency while sleeping
risks
its duration
max. and min. numbers
healthy tips on solving sleep apnea problems.
Download for free and join 8 000 000 insomniacs who gave 4.8 Rating reviews and made it to the top 20 in Health & Fitness according to the App Store ranking system! iOS and Android!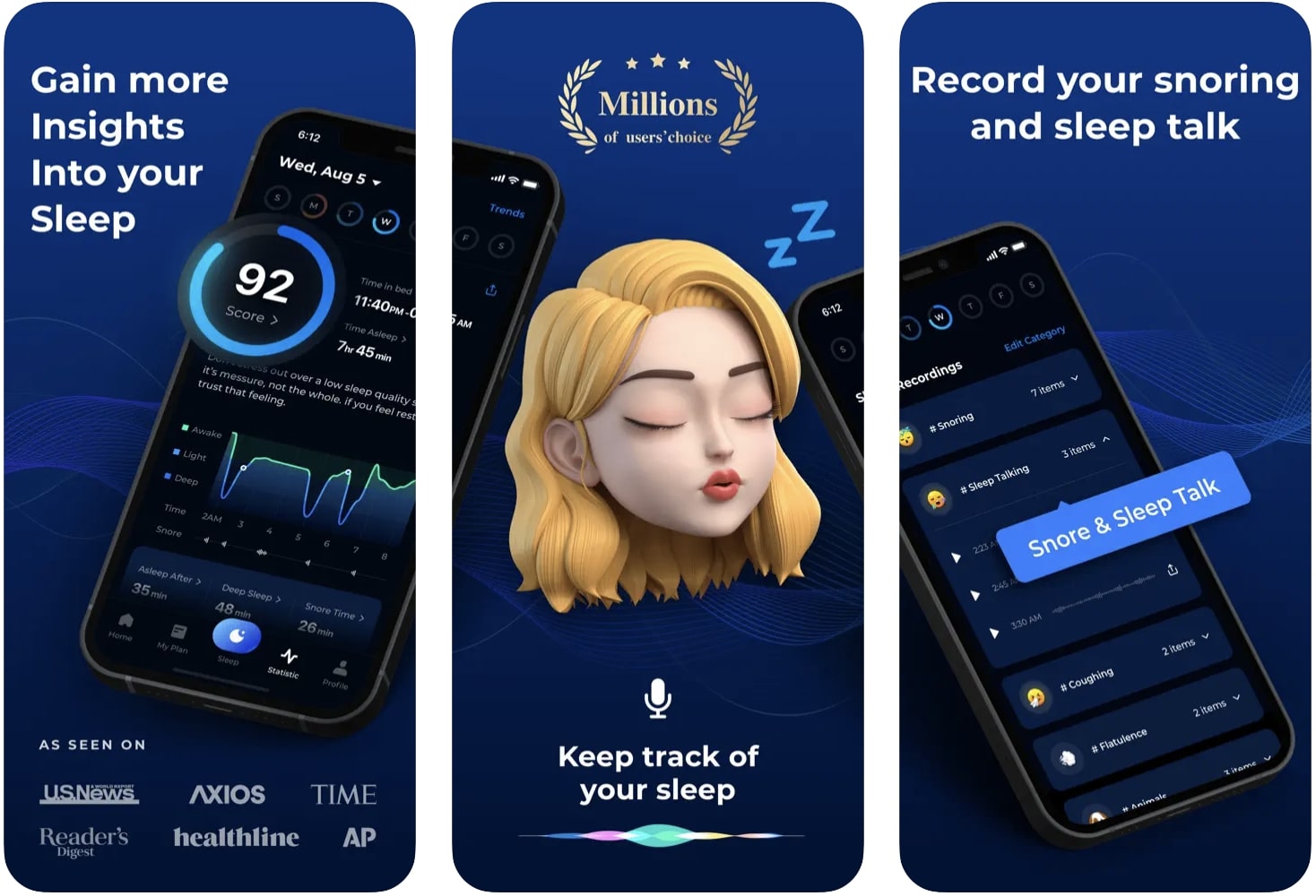 There is another sleep apnea app. If your main goal is to get rid of sleep apnea, its symptoms, and any signs – Ognomy is the right choice!
This app will let you:
Test yourself for sleep apnea
Get diagnosed, and treated for sleep apnea at home
Here you can have an online video/audio consultation with sleep doctors
Get reports, tests and start treatment
They support most of the insurances, provide door-to-door deliveries of tests
Professional help within one app! Get the ultimate sleep apnea treatment here.
You can download it for free here on Android and iOS.
Straight from Silicon Valley to your mobile device! One more sleep apnea app that is supposed to be a game-changer in the healthcare industry!
Indeed, this Company did a good job of digitalizing real-world health knowledge into a digital world.
Click the link to learn more about their inventions! I find this developer quite interesting and promising!
What is this Sleep Apnea Risk Assessment about/for?
This app assesses the risk and likelihood of getting/having Sleep Apnea. The data gained by this app helps doctors gain more insights and make informed decisions for optimal health outcomes.
This app will also help to detect Obstructive Sleep Apnea (OSA).
In short, this is another tool that can help you test yourself for sleep apnea at home and get professional help from sleep doctors.
After looking at this list of Android Apps by Proactiff Digital Healthcare Services on Google Play I see that these guys are working hard and delivering the best professional help for health issues.
So far, I found only an Android app. Feel free to share the iOS version in the comments. Thanks!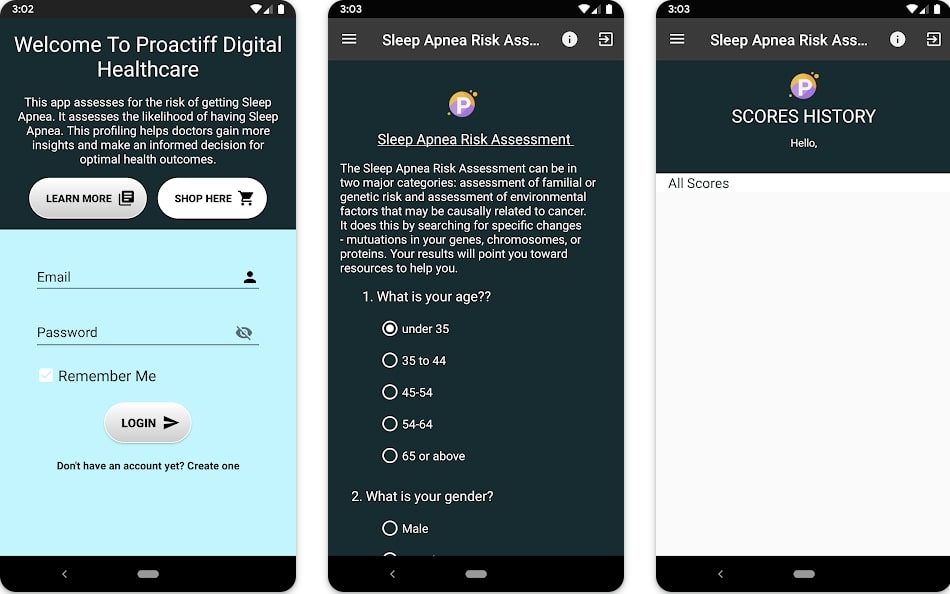 Sleep like Android? Phhh… Sleep like Koala! Yeah! That's nice!
Did you know? Koalas can sleep 18-22 hours a day. I guess the developers of this sleep apnea and shoring app were greatly inspired by the sleeping ability of koalas.
This app's logic is – when it detects snoring, it sends a signal to your Apple Watch or iPhone to make a vibration or a sound to encourage you on changing your sleeping position.
Of course, everything is customizable and adjustable. I find it very useful and interesting. Sometimes, when I wake up, I feel in my muscles that my sleeping position wasn't quite a good one. Koala Nap can help with this.
Sure thing, this app can record your sleep too. It also gets constant updates, has a free trial period, and is quite cheap after it.
So far, they have only the iOS version.
Last but not least in the list of 5 best sleep apnea apps for android and iOS.
The Australian developer ResApp:
"ResApp was founded in September 2014 to commercialize technology developed by Associate Professor Udantha Abeyratne that uses sound to diagnose respiratory disease. Associate Professor Abeyratne's team has been engaged in the research and development of this technology since 2009 and has been funded by the Bill and Melinda Gates Foundation, The University of Queensland, and UniQuest. ResApp was listed on the Australian Stock Exchange in July 2015 and was named "Australian Emerging Company of the Year" at the Johnson & Johnson Innovation 2016 Industry Excellence Awards." Link.
Has made a great app (screening test) to detect obstructive sleep apnea (OSA) using a smartphone that can record sounds (breathing and snoring) while sleeping.
The app is quite powerful:
"In a 308 patients' clinical study, our algorithms correctly identified patients with OSA across the three AHI thresholds, with a sensitivity of 85%, 83%, and 83% for AHI thresholds of 5/h, 15/h, and 30/h respectively. At these thresholds, the algorithms had a specificity of 73%, 80%, and 90%. Performance was compared to a simultaneous at-home comprehensive sleep study." Link.
Available for Android and iOS devices.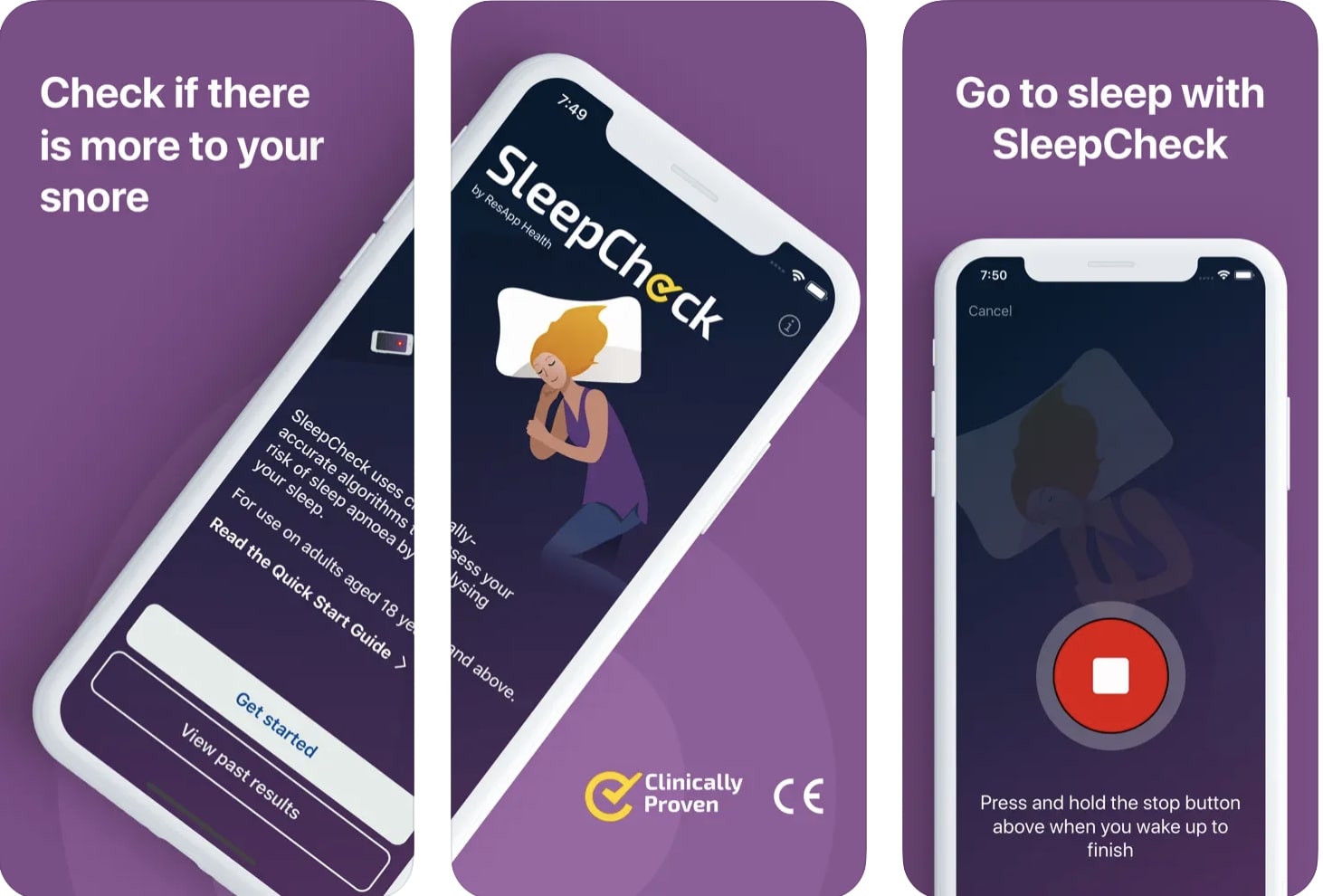 Conclusion
Sleep apnea is a serious sleep problem. It has many symptoms and signs, and there are a lot of complications too. Risks for health and life. Take it seriously. You are not alone in this world. There are various sleep apnea apps to help you win! And You! Will! Win! Stay with ShutEye we have a lot of useful things for you because we are just like you!