How many times do you hear or say to yourself with your inner voice one and the same phrase – calm down!? If you have it too frequently no matter what your reasons are, the article dedicated to Calm alternatives will be useful for you! So, last time – calm down, and let's forget about this because the apps we are going to introduce to you will vanish all your bad emotions turning them into bright feelings and a happy mood!
What does the Calm app do?
The Calm app helps you to relieve your stress, anxiety or any other abnormal psychological/emotional state that you've been in for an exact moment of time.
Calm apps use nature sounds, bedtime stories, music, ambient sounds, white noise, pink noise and so on.
All apps are different. If you think that Calm doesn't suit you well, there are always many Calm alternatives to choose from. And our article will help you.
| | | |
| --- | --- | --- |
| Top 5 Calm Alternatives | Why we chose it | App Store Rating |
| ShutEye | Best Overall | 4.8/5 |
| Relax Melodies | Best Melodies | 4.6/5(Google Play) |
| Calm Sleep | Best Relaxation | 4.6/5(Google Play) |
| Calm Harm | Best Calming Sounds | – |
| Children's Bedtime Meditations | Best Children Meditations | – |
What are Calm alternatives?
Why this app is the top-notch? Simply. Clever. Smart. Useful and Great.
To cut a long story short, as we mentioned before, there are certain sounds that are used to calm down, stay focused during the daytime and sleep well during the nighttime.
Besides, ShutEye can check your breathing, guide you through breathing sessions that will help you to calm down. It can also record your night breathing and show whether you have snore, or sleep talking, whether you breath with your mouth or nose.
ShutEye has them all and is ready to let you try them for free before downloading the app. Try our Online Background Noise Generator where you can mix a lot of sounds together and find a perfect combination for you. But, it is for a browser. By downloading ShutEye you will have all the sounds by your hand at any time.
Moreover, ShutEye is made by Science and explained/tested by the same people as you are.
The Team members also experienced sleep problems in their lives. We had, but we don't have them now.
Try and rest assured, you won't have slumber problems, too. Check out the quick informative article about How ShutEye works.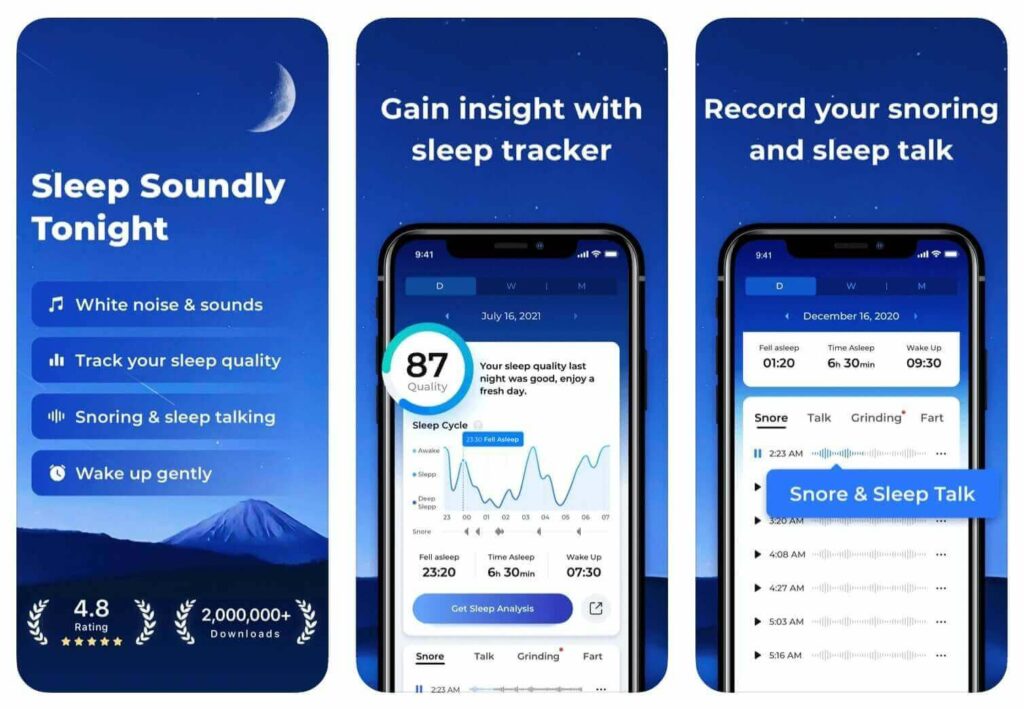 2. Relax Melodies : Sleep Sounds , Meditation & Stories
Soothing sounds, white noise, relax music, guided meditation & bedtime stories
Can't sleep at night? Relax Melodies is designed to be the most efficient Sleep-Aid App to make you fall asleep quickly and wake up refreshed. Relax, take a deep breath and join us on a restful journey to sleep!
Enjoy a large variety of Nature Sounds, White Noise, Guided Meditations, Bedtime Stories, Brainwaves, Body-Mind Exercises and Breathing Techniques that you can mix and combine to create your very own Bedtime Experience. We collaborate with Sleep Experts to make sure that our content and techniques will help you overcome Insomnia, Tinnitus, Night-Time Anxiety and lower your Everyday Stress.
You'll fall back in love with sleep by joining our community of 50 million happy sleepers we help calm, fall asleep, and relax every night. Sweet dreams!
Download for Android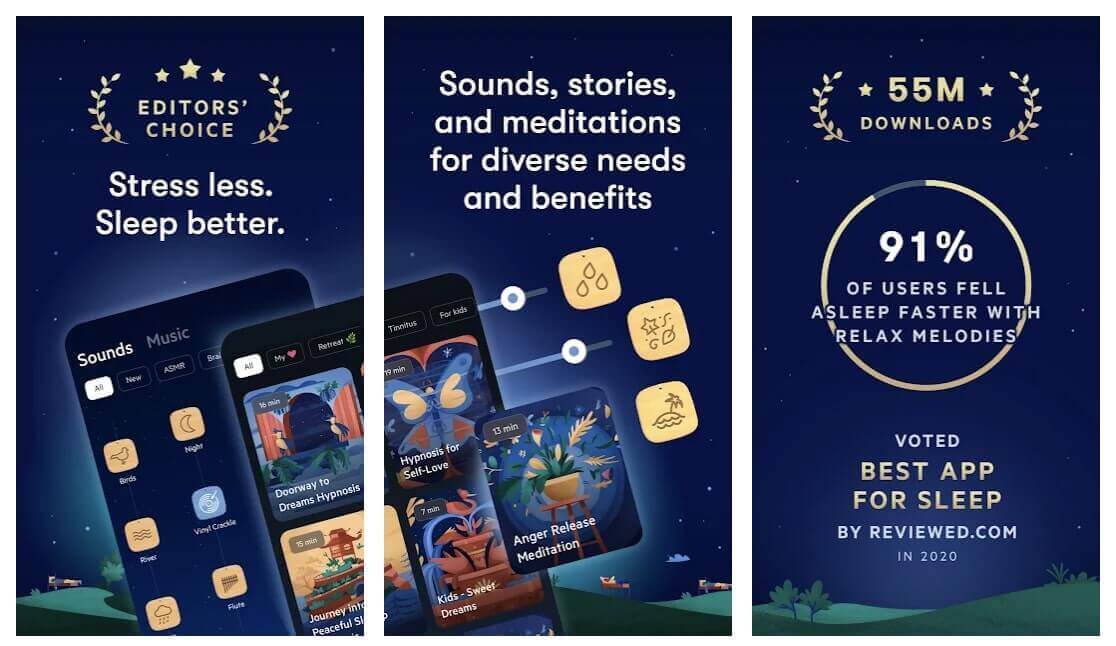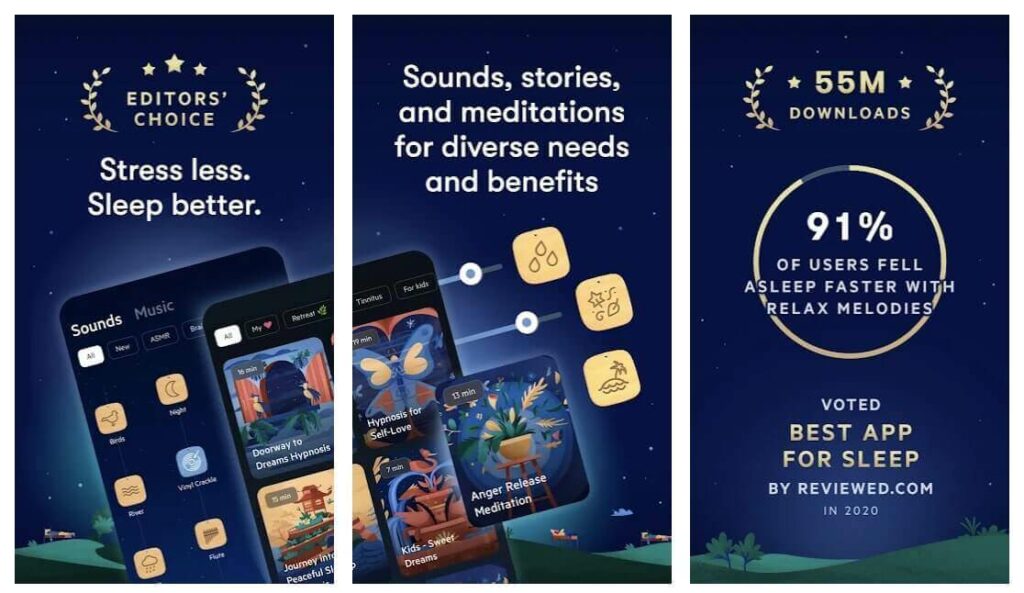 3. Calm Sleep: Improve your Sleep, Meditation, Relax
There is one more app with the similar name and functionality. As today we speak about Calm alternatives this will be a great example to follow the idea.
The calm sleep is the world's only free sleep app for relaxing sleep sounds and ambiences that will improve your sleep or make your short naps more effective. Sleep sounds in our app are recommended & verified by top sleep experts.
The Calm Sleep app is the perfect sleep app for those who want to achieve good sleep, quick & powerful nap, & also helps users to wake up smoothly. The calm sleep app teaches you to sleep well, wake up smoothly, & have strong quick nap to have better head space & focus on daily life things.
The calm sleep app can also be used for relaxing, calming your mind or improving concentration. You can check our wide range of sounds and include the filters as per your requirement. The app offers additional ways to meditate and stay calm apart from Sadhguru and Isha, be it yoga, mediation or spirituality, this will help you gain supreme peace.
Download for Android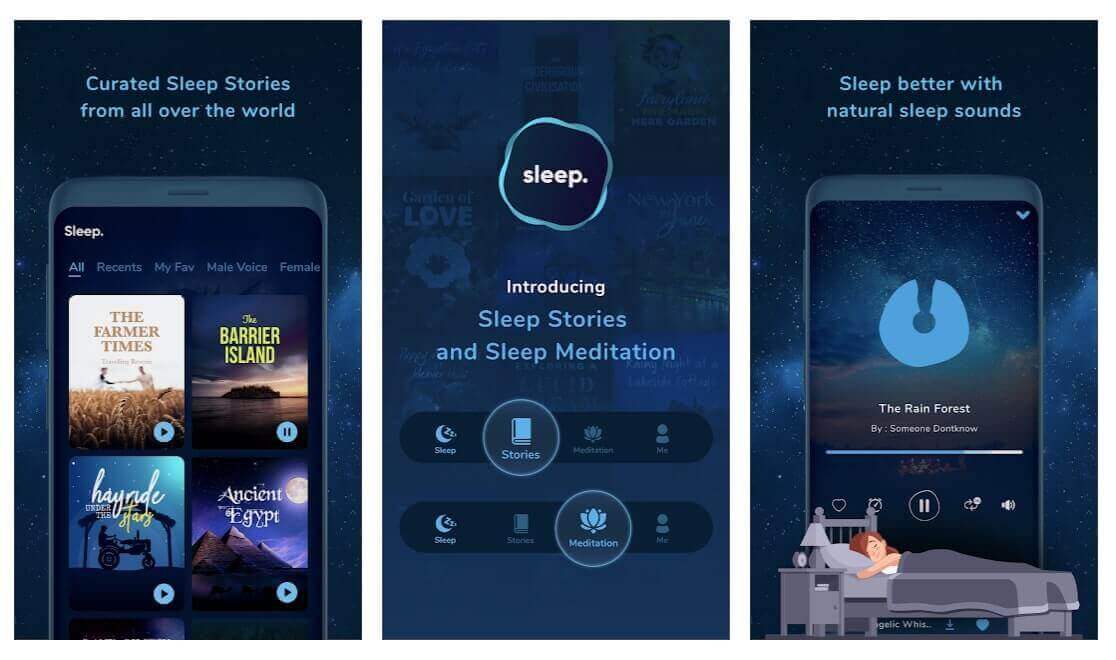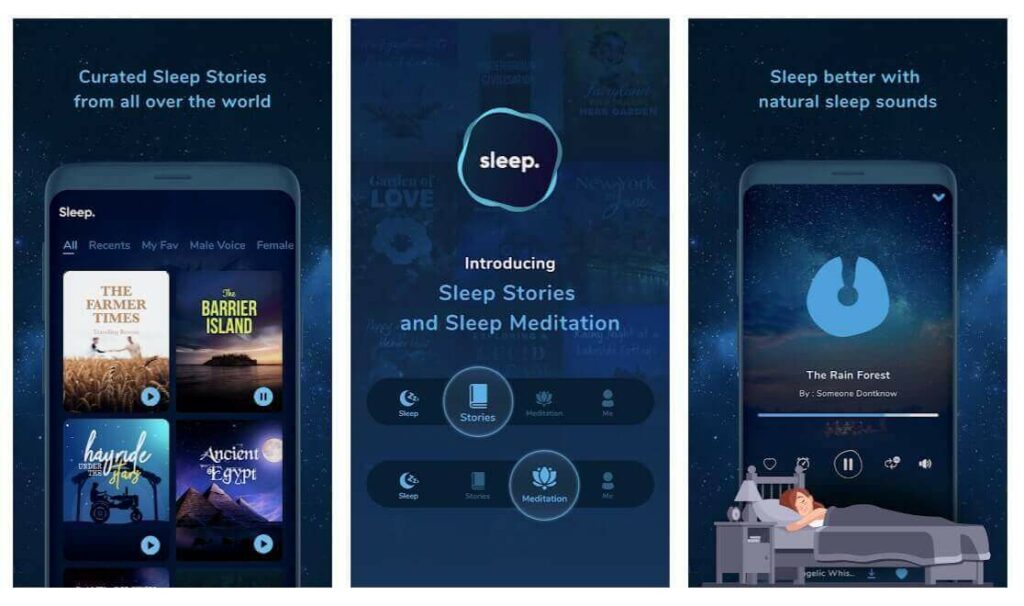 4. Calm Harm – manages self-harm
It's a bit different app from the list of Calm alternatives apps. It is totally devoted to self-controlling and expressing.
Calm Harm provides tasks to help you resist or manage the urge to self-harm. Get started by setting your password so that it's completely private.
You can personalize it if you wish, by choosing the background color theme and deciding on whether you would like some company using a variety of friendly characters.
The app then provides you with four categories of tasks to help you surf the urge. 'Distract' helps in learning self-control; 'Comfort' helps you care rather than harm; 'Express yourself' gets those feelings out in a different way and 'Release' provides safe alternatives to self-injury.
There is also a 'Breathe' category to help calm and get back in control.
You can do the activities for either blocks of five minutes or fifteen minutes with a countdown for each minute. You will be able to track your progress and notice change*.
Calm Harm has been developed for stem4 by Dr. Krause, Consultant Clinical Psychologist using the basic principles of an evidence-based treatment called Dialectic Behaviour Therapy (DBT).
Download for Android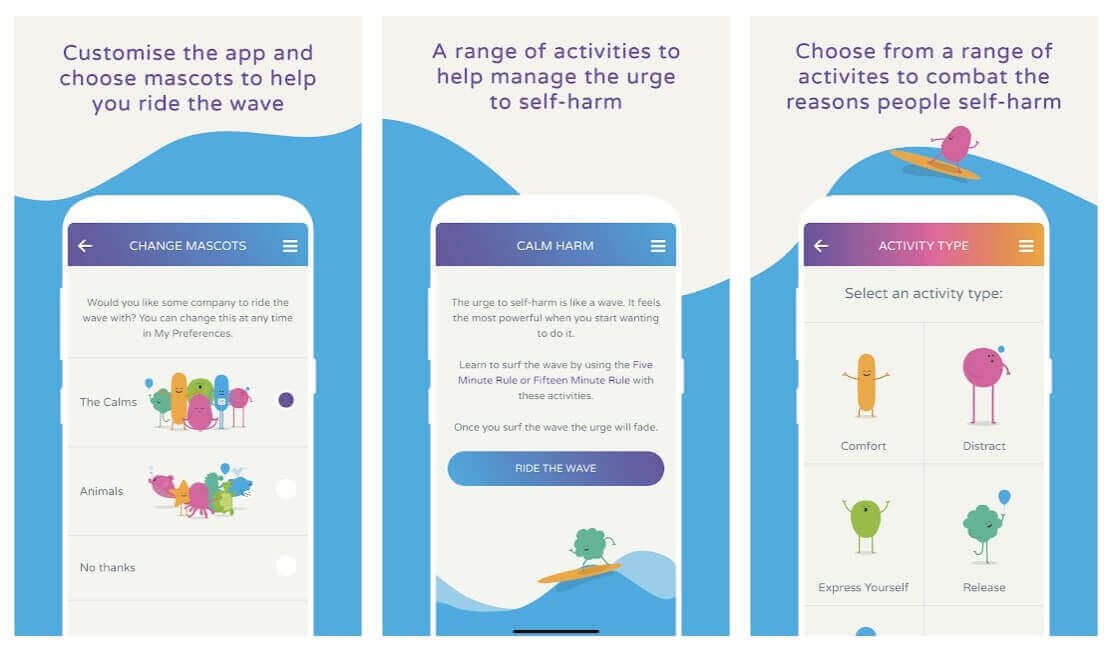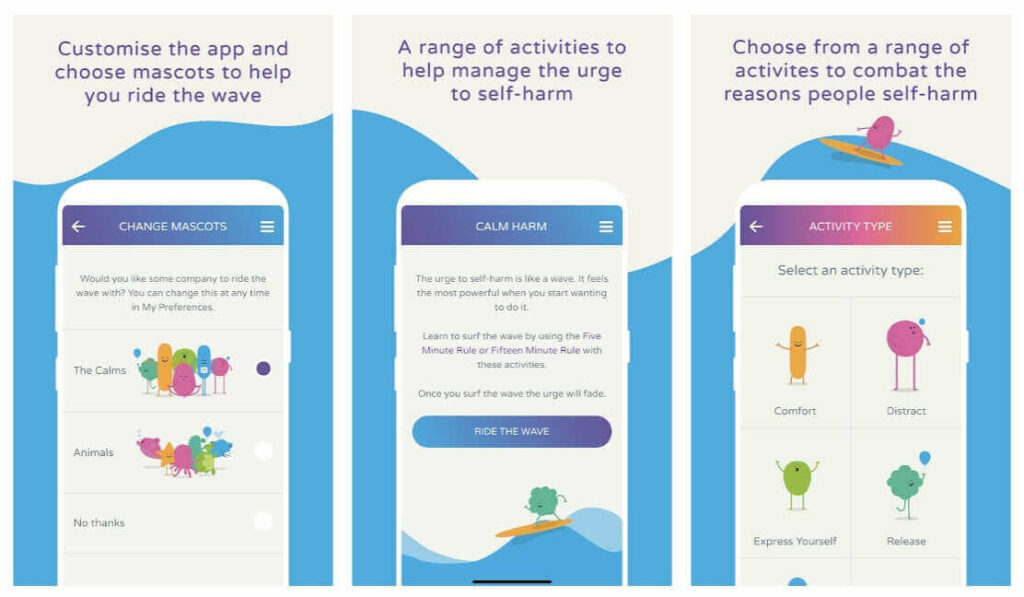 5. Children's Bedtime Meditations for Sleep & Calm
In case you have a child or more, you can choose this app!
This superb high-quality children's meditation app by Diviniti Publishing features a number of children's bedtime meditation stories by best-selling children's audio authors Nic & Sam, Christiane Kerr, Glenn Harrold, Lynda Hudson, Dr. Elizabeth Scott, Heather Bestel and Jan Yoxall.
The app has meditations and mindfulness tracks for children of all ages and covers a range of themes to help your kids to sleep soundly at night. The topics include sleep, bedtime, mindfulness, general confidence, anxiety, stress, self-esteem and more. The meditations can help kids with feeling of confidence and motivation at school, with peer pressure and fitting in with friends and to generally feel happier and more positive. The variety of styles and themes in this kids' app make it the must have children's meditation app for all situations. We will be adding more high quality tracks covering specific themes often.
The recordings are always very professionally produced and they typically work by guiding children into a natural state of relaxation through a number of carefully scripted story meditations. Each meditation story has an underlay of dreamy and gentle music combined with a calming voice makes them engaging and deeply relaxing. These recordings will help children to relax and enhance feelings of contentment and also help with general relaxation, or even (in the case of Christiane's tracks), as a teaching resource.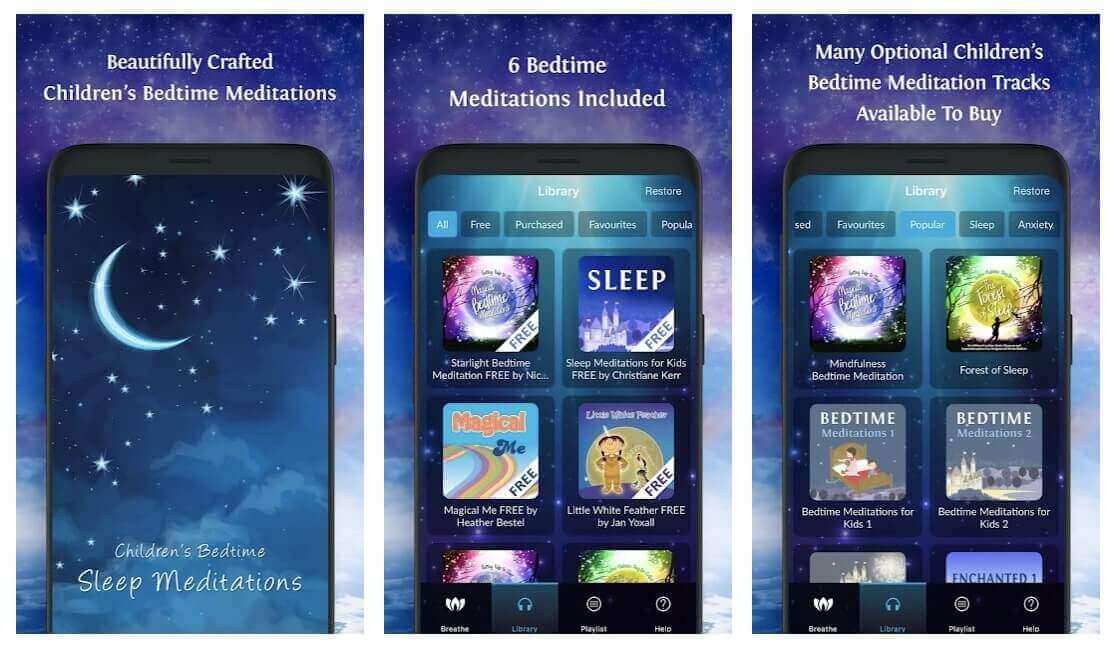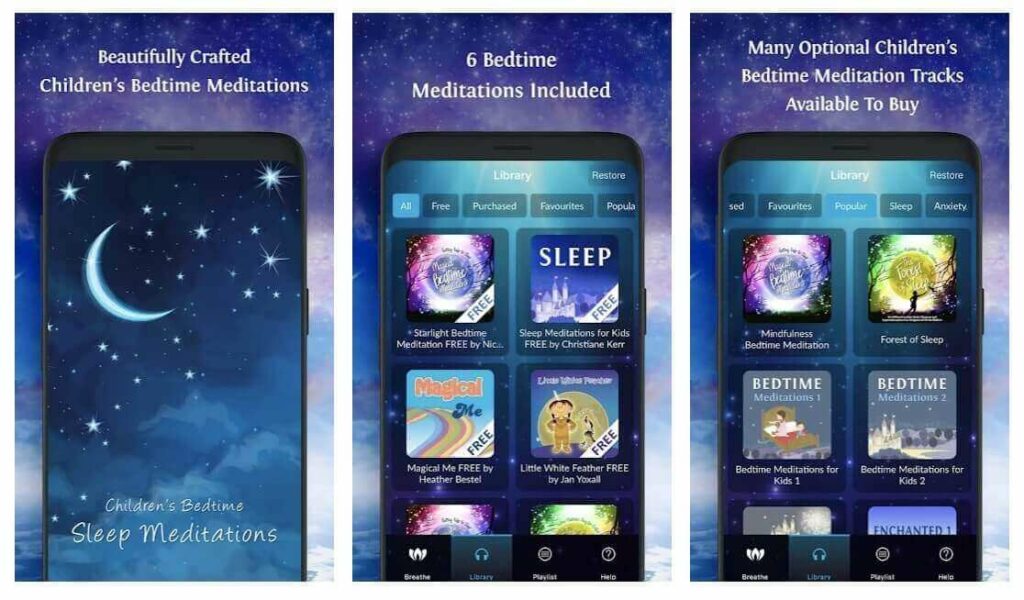 So, here we are at the bottom of the article! We hope you've liked the article and found it useful for yourself! Remember, there are many good Calm alternatives, but the best is only one.
Keep calm and stay cool!
Bye-bye!