Many people may dream about flying, in which you could escape from the people, place, or events that bring pressure to you and feel a sense of freedom. Often the dream of flying suggests your internal desire for freedom since in today's world it's difficult for people to get out of the trivia in life.
The scenes in flying dreams are various and they could be interpreted into different meanings. The following are some common flying dreams and their implications.
Common Dream Meanings Your Should Never Ignore
What is the spiritual meaning of flying in a dream?
From a positive perspective, flying always represents freedom in dreams. When you fly freely in your dreams, it seems to indicate that you could go anywhere. In other words, the flying dream is implying that you could do anything and be anyone if you want to do.
However, negatively speaking, a flying dream could symbolize your internal desire that escaping from somewhere or something you can not stand. The stress and anxiety of your daily life may be the leading cause of such a dream.
5 scenarios and their interpretations
Since the scenarios of flying dreams are various, here are some interpretations about 5 common ones.
1. If your flying dream is a lucid dream
The flying dream could be considered as a type of lucid dream in which dreamers can take control over the settings or plot of the dream. Meanwhile, you're actually aware that you are having a dream.
To experience the amazing rush of flying, someone might practice the art of lucid dreams. In lucid dreams, your expectations really shape the dream. Thus, if you imagine a superman in waking hours when planning your dream itinerary, then this idea will come to your mind and this will be the way you fly.
2. If you dream about flying increasingly higher
This may denote success and freedom from obstacles. In reality, you might have overcome some difficulties and obtain victory in work, finance, or relationship. But negatively, the higher you fly, the worse you fall. So this dream could indicate your pride, which reminds you whether you're always boasting in front of others in reality.
3. If you dream about falling down
Once you dream of falling down while flying, it might represent a decline in your status and personal growth. Maybe, some obstacles of real life are blocking your progress and you seem to fail in your pursuits. It's time for you to stay focused on how to deal with the trouble.
4. If you dream of flying with wings
When you dream of flying like a bird, it is a good sign of optimism and a new start, which symbolizes the free spirit. Some new opportunities may be coming your way and making you happy and ecstatic. It also means your inner strength and empowerment. You have removed all negativities in life and have become limitless.
5. If you dream about flying in an aircraft
This seems to signify that you have a clear goal in life. Airplanes denote life's journey with freedom and independence. In this dream your destination is under control and you can easily reach there with courage and confidence, which means you can accomplish your goal successfully in reality as well.
As above shows, the dream about flying is reflecting your inner mind. Usually this kind of dream is positive in nature and denotes that you are moving forward in your real life. How to interpret such dreams and how to make decisions in life depend on your own insights.
If you have trouble sleeping, try ShutEye, an all-in-one sleep app. ShutEye brings a wide variety of tools to help you fall asleep. And you can understand your sleep cycles from a scientific perspective.
So stop tossing and turning all night, and starting falling asleep in a healthy and natural way.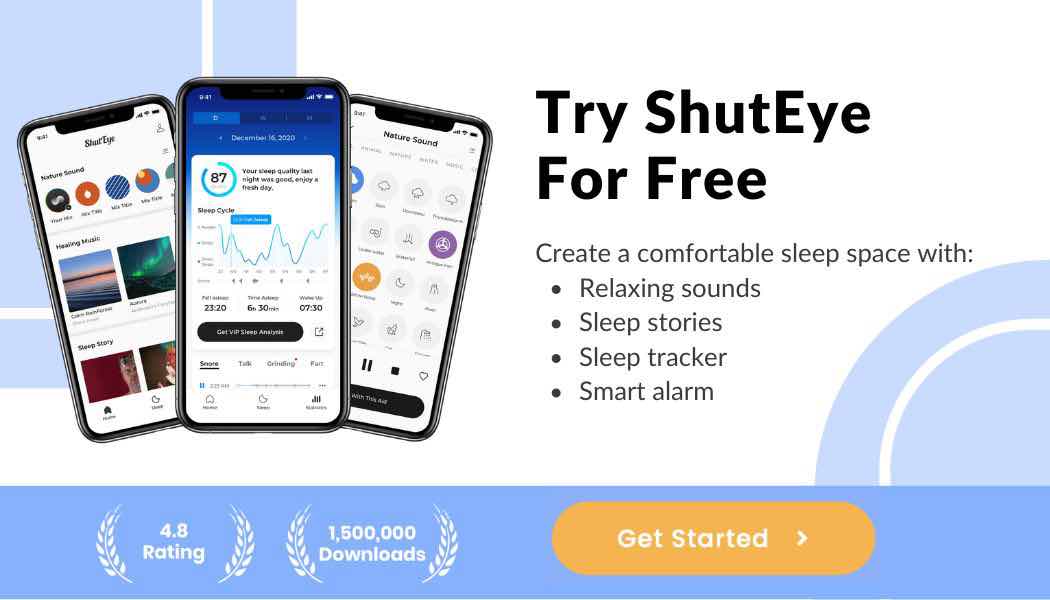 You may also like:
Sleep Test: Check Your Sleep Quality with A Short Quiz
Do You Know the Dream Meaning of Fish?
What Does it Mean to Have A Dream of Snake Bite?
What Does It Mean if You Dream About a Bear?