A tornado is a windstorm that is powerful and devastating. It typically occurs on land. As it travels onward, it may destroy everything in its path. Why, therefore, do some of us dream about tornado?
Our emotions are the weather of the mind. Rain will represent sadness, and tornadoes tend to represent worry and anxiety, spinning out of control. Tornado dreams may symbolize the destructive force that worry and anxiety causes to the psyche.
But, tornadoes can represent more than anxiety or worry. Depending on who you are, tornadoes in dreams might mean something more like emotional outbursts either from yourself or those around you.
Furthermore, no two tornadoes mean the same thing. Depending on other elements, like color or other inclement weather paired with a tornado, the dream could be interpreted beyond basic anxiety, spiraling out of control, or violent, sudden changes of emotion.
One of the most powerful tools for understanding your dreams is a dream journal. That's why we've created a range of beautiful printable dream journals that you can use to record and analyze your dreams. Check them out now and start exploring your dreams in a deeper way!
Tornadoes in dreams are linked to strong emotions
1. Fear of Changing
Dream about tornado can indicate worry about change. This could be due to a multitude of factors. Our subconscious uses intuitions to warn us when something is about to happen or change.
However, if the change is unpleasant, we tend to disregard it. Ignorance and rejection of the situation will not change the fact that it exists. A tornado in your dreams is your subconscious mind's way of warning you that you're not listening to your instincts.
2. If the Tornado Caught and Carries You Away
People usually wake up before the tornado gets you. If this tornado sweeps you up and takes you into the sky, it is a very strong warning sign from your subconscious that you are dealing with a major issue. You're getting a little carried away. You're allowing your thoughts to wander, and you're imagining the worst-case scenario to the point where it's robbing you of your typical peace of mind or routine.
3. If You're Having Nightmares Involving a Massive Tornado or a Swarm of Tornadoes
The size and number of tornadoes in your dreams will be proportional to the size and number of external stressors. You'll have little, skinny tornadoes if you're worried about a lot of small things. It'll be a large, gigantic storm if there's a lot pulling you down and it's tension and concern that's getting too much.
Dreaming about a tornado might seem strange, or it could feel completely normal. Weather-related dreams are said to have much deeper inner meanings, and a tornado can signify our internal conflict. Similarly, these dreams state that tornadoes can be a sign of anxiety, a difficult personal situation, abrupt life changes, or even a fear of change. They add that dreaming about a tornado, if you've ever experienced one in real life, could indicate signs of PTSD.
Likewise, we dove a bit deeper into why the subconscious would craft tornado dreams and even offered a potential solution. It suggests specific lifestyle changes could potentially provide answers. First, avoid immediately jumping out of bed or hopping on your phone directly after experiencing a tornado dream. This action is meant to keep the subconscious experience fresh in your mind so you can remember exactly what happened during the dream.
Not forgetting is essential, according to the dream interpreter, as they state that you'll want to reflect on your emotions and memories.
One of the most powerful tools for understanding your dreams is a dream journal. That's why we've created a range of beautiful printable dream journals that you can use to record and analyze your dreams. Check them out now and start exploring your dreams in a deeper way!
What does it mean to dream about tornado?
If you're dreaming about a tornado, maybe you're preparing to tear up your life and start over—to become the tornado yourself. Or maybe you're super stressed about a situation hovering into view and you don't know how to stand up to it without being overwhelmed.
Maybe you feel out of control, like your life's circumstances are overpowering your ability to take the wheel or make firm decisions.
When you dream about a tornado, write down as much detail as you can. Try to make an initial, intuitive link between how you felt in the dream and how this feeling shows up in your daily life. It could well be there that your subconscious is trying to get you to focus.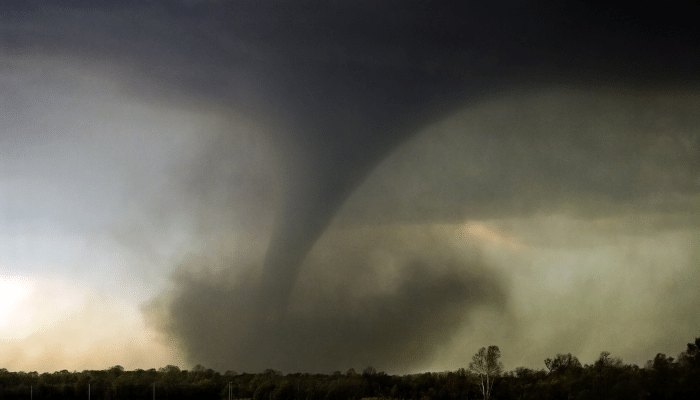 1. When you dream about tornado chasing you or your loved ones
Connect the dots between who was with you in the dream and whether there is anything going on for those people in your life that might be worrying you deep down. If you were trying to protect these people in your dream, then this could reflect your real-life instincts for them right now. Examine what could be activating that.
2. When you dream about tornadoes and fire or floods
Take that emotional natural disaster and double or triple it. Fire can represent a wide range of emotions, from anger to ambition to chaos to passion. Pinpoint what the fire was doing in the dream. Was it an addition to the tornado's destructiveness, a separate issue that prevented escape, a soothing light on the horizon you were running toward?
Describe the role of the fire to better understand if this is an amplification of stress, fear of a secondary problem adding to the mix, or a hope for rescue or escape.
Water is typically a symbol of calm, so a tornado heading for the water can be a symbol of a state of tranquillity being (or about to be) disrupted and broken. Perhaps you can see that events are going to undo a peaceful truce or balance in your life.
3. When you see multiple tornadoes in a dream
This is an amplification of the fear and challenges you are facing down. Maybe you feel like life is coming at you from all angles right now. Try to notice the nature of the tornadoes. For instance, lots of small tornadoes suggests you've got multiple little stressors to sort through. However, if multiple tornadoes are converging into one massive storm, then it might be more like everything is building up into an overwhelming deluge.
Scale and proportion matter in this type of dream—they are relative to your psyche's burdens. Sometimes people think this type of dream is a nudge to ask others for support. You're not alone!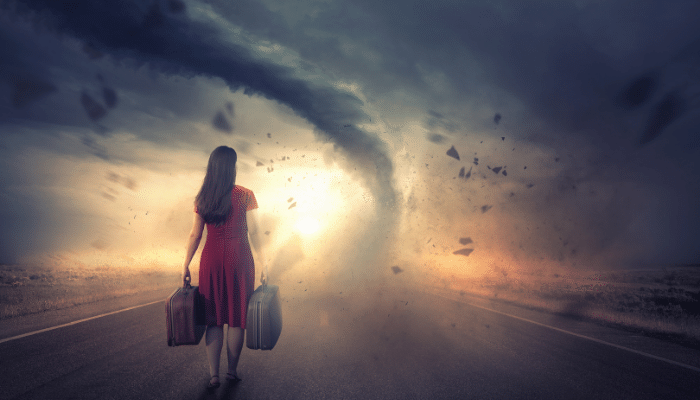 4. When you dream about being stuck in a car during a tornado
It compounds the sense of having been caught unaware, unprepared for the impending storm. A dream like this could relate to feeling like you're not entirely ready for whatever you're facing, enhancing the sensation of vulnerability and being trapped.
5. When you have recurring dreams about tornadoes
Repetitive dreams always point back to our real-life attitudes and behaviors to suggest there is something that needs altering that we're currently ignoring. Your subconscious will keep on bringing you this stimulus until you consciously acknowledge it, think about it, and ideally address it. Pay attention to your dreams and what they might represent.
So these are the meanings of having a dream about tornado. If you're having trouble sleeping or waking up because of your dreams, you could be suffering from an anxiety or depression illness. In such instances, you should seek professional assistance from a therapist.
If you have trouble sleeping, try ShutEye, an all-in-one sleep app. ShutEye brings a wide variety of tools to help you fall asleep. And you can understand your sleep cycles from a scientific perspective.
So stop tossing and turning all night, and starting falling asleep in a healthy and natural way.
You may also like:
Are You Stressed? | 3-Minute Stress Test
14 Sleep Hygiene Tips For Better Sleep
8 Relaxing Sounds to Help You Sleep Better and Relieve Stress