Is your mood changing rapidly and unpredictably as the weather in the fall? Do you want to know the reasons that affect your mood shifts?
The best way to combine the positive psychology method with nowadays technologies are using – mood tracker apps.
Psychologists recommend people who want to analyze and observe their mood changes or mental health problems using a pencil and a diary to record their cases.
But, honestly, we do not always have time for handwriting.
But typing and tapping your devices is much easier and faster, so that's why you need apps that will significantly improve your wellbeing.
Best Mood Tracker Apps
| | | |
| --- | --- | --- |
| App Name | Why We Choose It | App Store Rating |
| Daylio | Mood Selection | 4.8/5, 4.7/5(Google Play) |
| Moodkit | Improving Habits | – |
| Worry Watch | Guided Anxiety Journal | 4.6/5 |
| eMoods | Daily Emotion Chart | 4.8/5, 4.4/5(Google Play) |
| MoodTrack Diary | Controlling Emotions | 4.5/5, 4.4/5(Google Play) |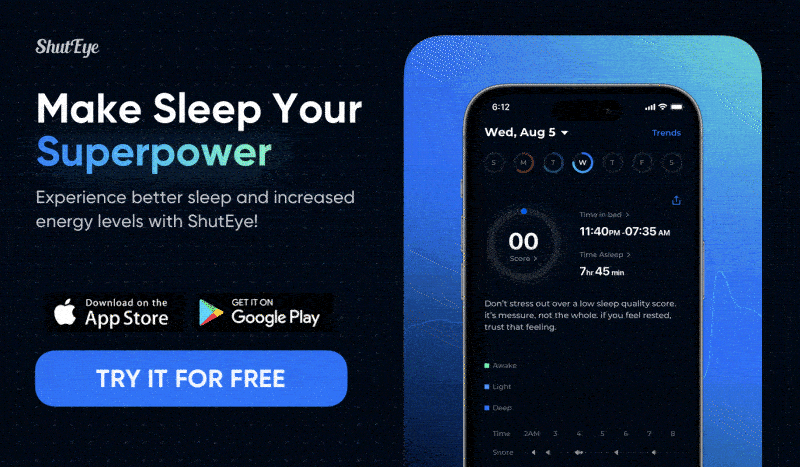 Is mood tracking helpful?
Yes, it is. There is a common truth that people are more likely to remember the bad better than the good. And, sure, we want the good to be more than the bad in our lives. How can mood tracking tool help us?
By recording your daily lives. Day by day, the app asks you to choose your current mood and provide some simple details like events, activities, and so on. Like, you point out the cause and the result.
What happened, and how do you feel about it. The daily records will help you to remember everything – both good moods and negative moods. So, next time, when you check your tracker, there will be a record showing you all your lifelines. And it will be easy for you to jump to something that made you happy before because now you feel a bit upset or any other feeling you want to get rid of. You can also clearly see the changes over time, which best reflects your changing moods.
How to track your mood daily?
Some of the mood tracker apps can ask you to simply tap the screen and choose various options to record every day. Like, mood swings, activities, goals, and so on.
The app also can provide you with some reports, reminders, and functions for sharing your records. You can make everything private, too.
Actually, there are different apps and they have their own structure and logic. With colorful designs, play modes, quest modes, and so on.
Just give them a try and choose the best one(s).
What is the best mood tracker app?
Multiple awards holder mood tracker app that lets you identify your mood with the necessity of writing anything.
Daylio provides users with lots of video clips reflecting different moods. All that you need is simply choose the one that corresponds to your current state of mood.
This function is a perfect match for those people who prefer to choose by using visuals, instead of describing in words their feelings.
Besides, you can also add activities, events and add extra notes that seem to be important to you.
Moreover, Daylio includes the tools like "Statistics and Calendar", which will help you to observe your mood changes through the period of time you need. It will help you to identify patterns and keep them in mind.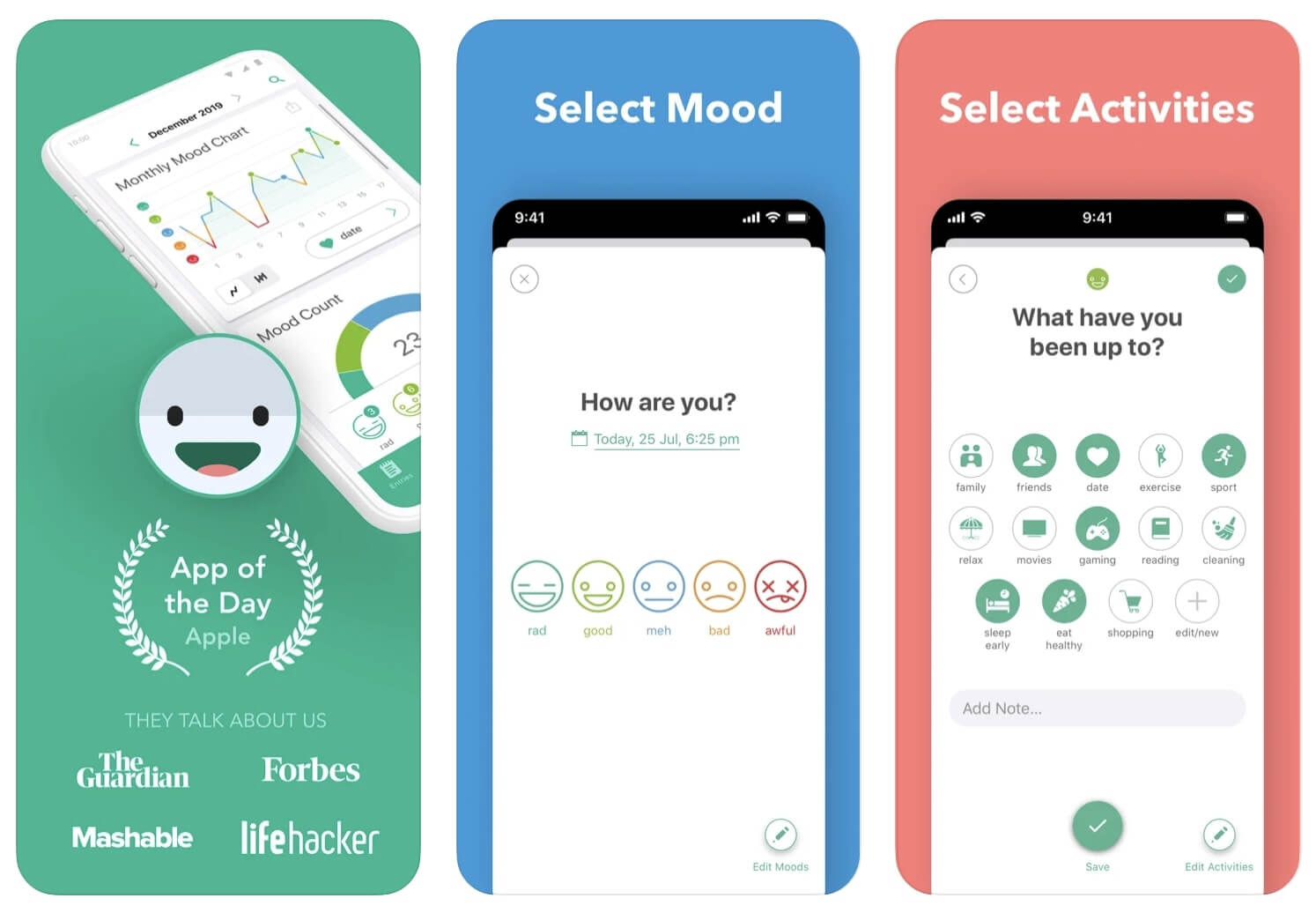 The original cognitive behavior therapy toolkit and the one-of-a-kind journal capture your mood and help improve your thinking habits.
There are five tools to monitor your feelings, moods and more: Activities, Thought Checker, Mood Tracker, Journal, and Extras.
As for the Activities, the user can choose goals, productivity, pleasure, and habits. They can be: physical exercises, time-management, exercises for improving memory and focusing, healthy food, soft skills improving methods, socializing.
The Thoughts section lets a user describe recent stressful situations and reactions to those events. Then, you can compare your recorded reactions with "distorted thoughts" – the method widely used in behavior therapy.
The Mood section will ask you to evaluate your mood, as many times as you wish.
Journal is for your dairy. Write down your notes.
Extras will give you some tips and notes on goal-setting.
If you experience anxiety, stress, and depression, this app will be very helpful for you!
Download for iOS.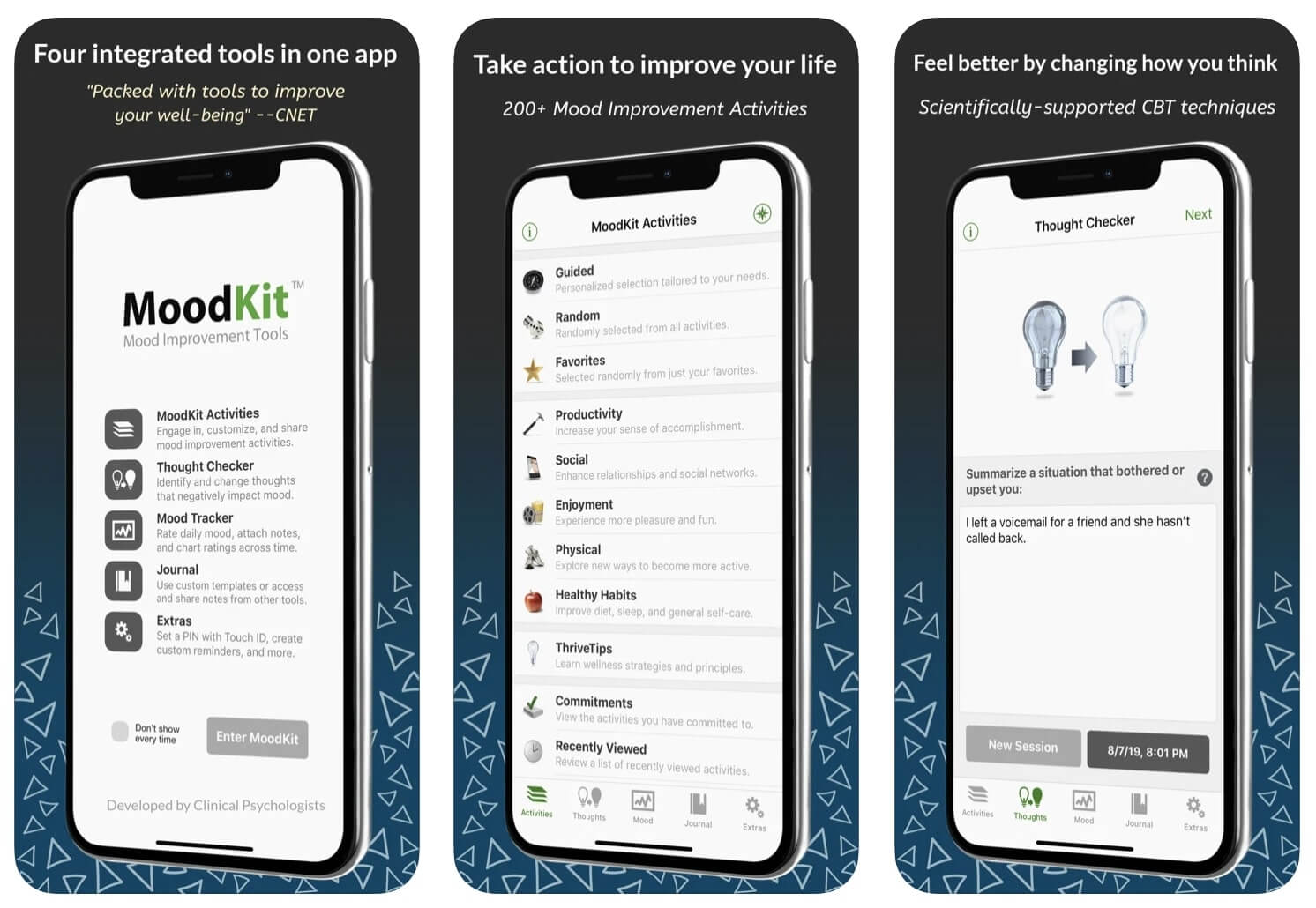 3. Worry Watch
Anxiety and concern will come up if there is something waiting for you ahead and if you think of It, especially in the worst scenario. And, it is not necessarily so in real life. Like, bad won't happen at all!
Here comes Worry Watch, number 3 in our list of mood and habit tracker apps. How does it help?
Guided Anxiety Journal where you can Record an event, describe the Reason, Respond to it, and Reflection.
Guided Coping Techniques will help you to Breathe, Ground things, Visualize something positive, and Meditate.
Mood Journal + Tracker will keep a record of your Mood, Feeling, Energy level, and the Trigger for the events, like where that boiling point was, what it was, and so on.
Positive Affirmations will have such stages/options as Affirm, Strategize, Note, and Quote.
The app also provides reports. One is a line chart where you can check daily or monthly patterns. Or, a pie chart where you will see the category (work, career, life, money, health, social life, and other), and results.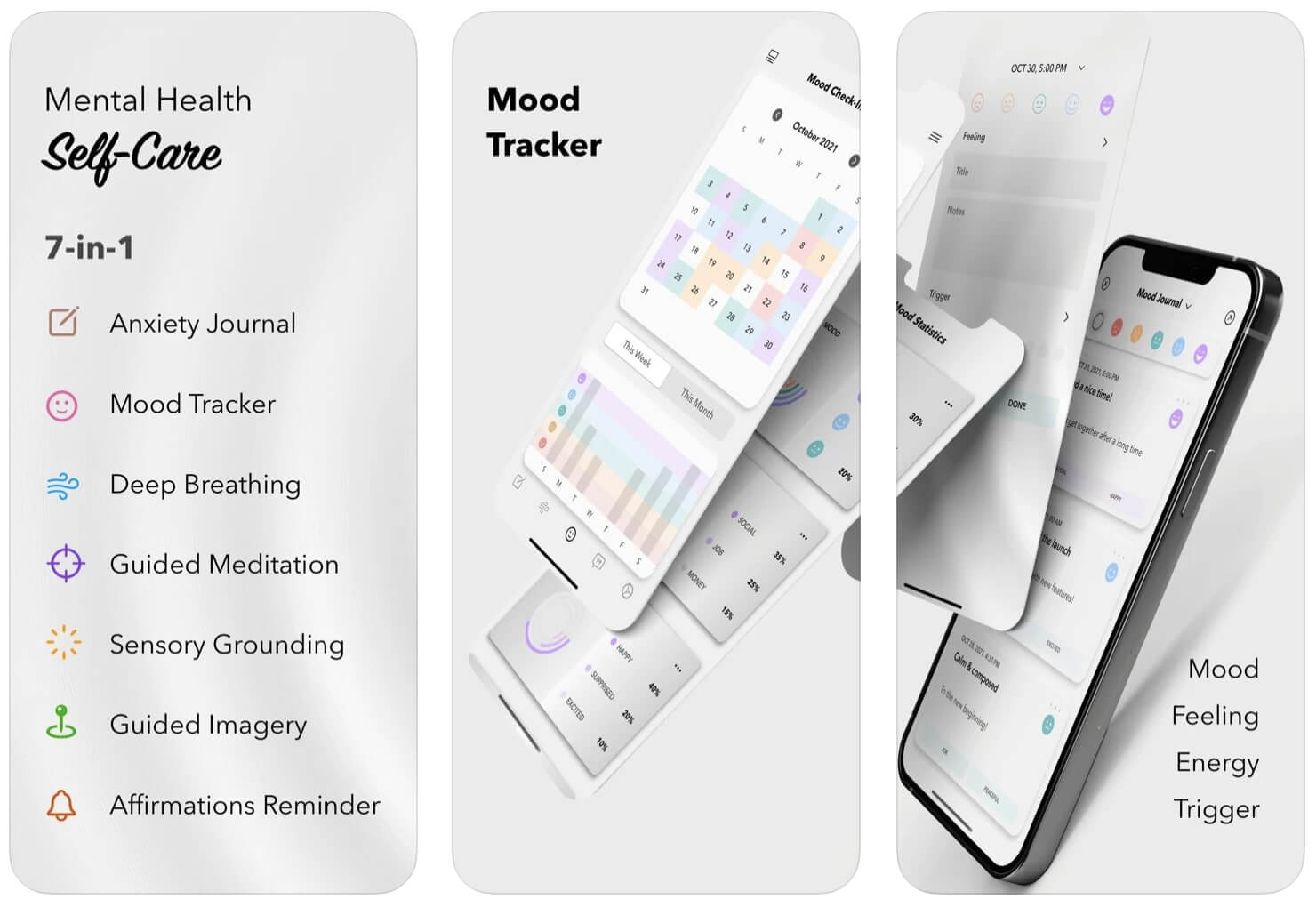 eMoods is a free Mood Tracking app that lets you easily chart your daily highs and lows, sleep, medications, and other symptoms related to Bipolar and other common mood disorders. Send printable reports to your doctor or therapist and receive valuable insights about your triggers and mood patterns.
With eMoods you can:
Log valuable mood data including sleep, symptoms, and medications quickly and easily with just a few taps.
Identify triggers and patterns to help prevent relapses with easy-to-understand graphs. Observe your mood changes.
Export or share your tracked data directly with your Therapist/LCSW, Psychologist, or Doctor to assist during sessions so you can concentrate on treatment and not information recall.
Create peace by understanding your mind by knowing and understanding your mood patterns.
Secure encrypted password authentication protects your account. All data is transmitted over an SSL secured encrypted connection. Your data is ALWAYS yours and you have total control over who sees it.
Easy to use anywhere, because eMoods runs on your phone and desktop web browser. Easily log your mood anytime, anywhere, from any device.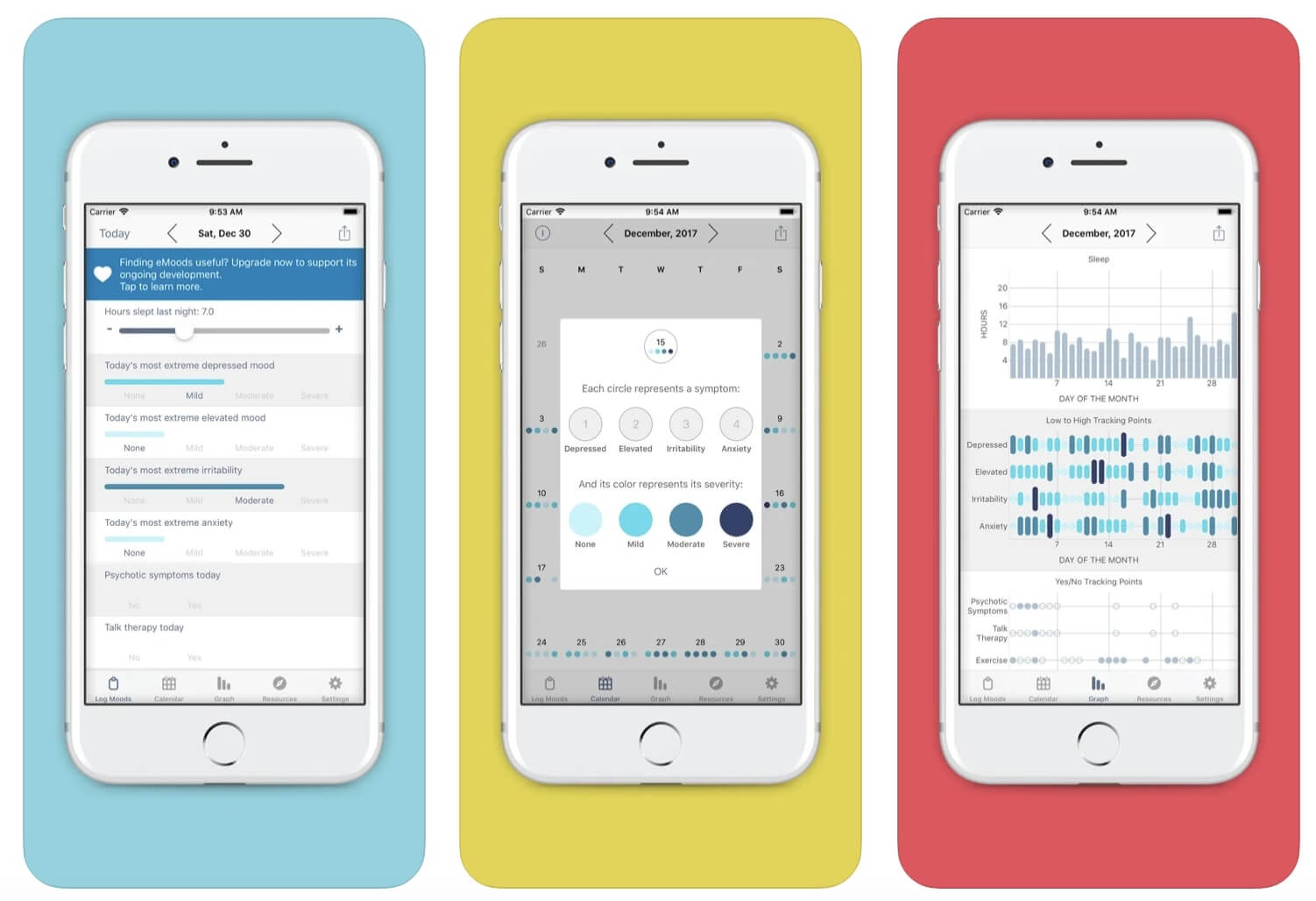 And the last tracker in the list of mood tracker apps for today is here! Let's speak about it and see what it has for us.
This app is made for mood tracking.
Its purpose – is to help people learn how to control their emotions and moods and make better decisions that can affect their lives and feelings.
MoodTrack Diary motivates people to evaluate and note their moods several times a day and, at the same time note meaningful events.
Various graphs with mood evaluation marks are used for discovering patterns for further discovering triggers. The app also lets users communicate through social networks to give, share, and get pieces of advice.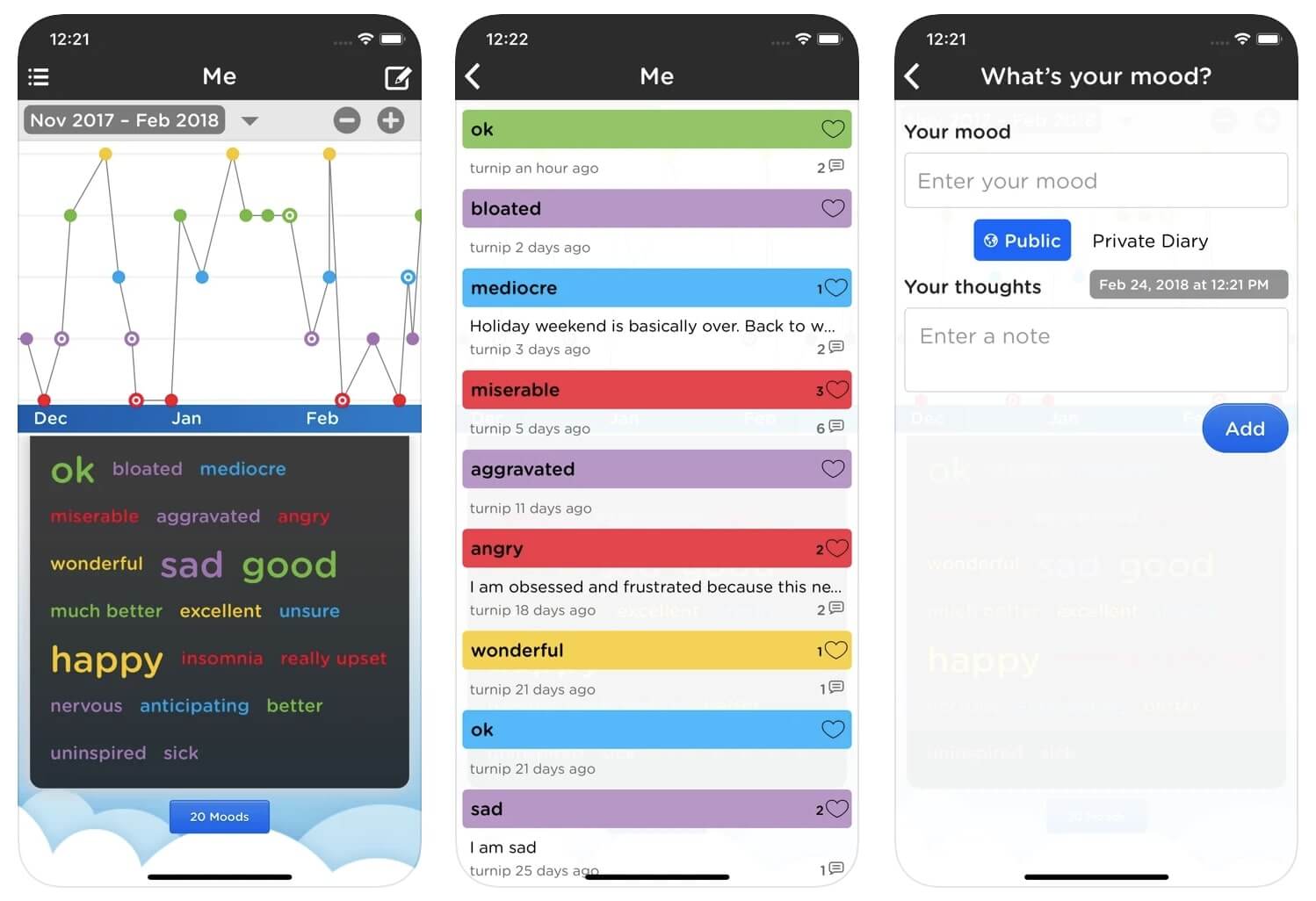 A few words about the night and how it can affect your mood.
Before we finish the article and say bye-bye, I would like to tell you one more thing. The way you feel today may also depend on the way you slept last night!
These and many other reasons can affect your sleep and, as a result, your mood!
There is a saying: sleep over it. If there is something happened during the day, you came back home, tired and exhausted. You have no energy or ideas on how to solve the problem. The best solution is to get a good rest!
But, if you don't get a good rest at night according to some reasons, how can you solve that problem from yesterday?
ShutEyeis here to assist you during the night! It is a trustworthy sleep tracker that will definitely let you have a good rest at night!
It is you, who builds your future! Remember to use the right tools! Stay tuned – stay trendy! ShutEye and the team will provide you with the right things!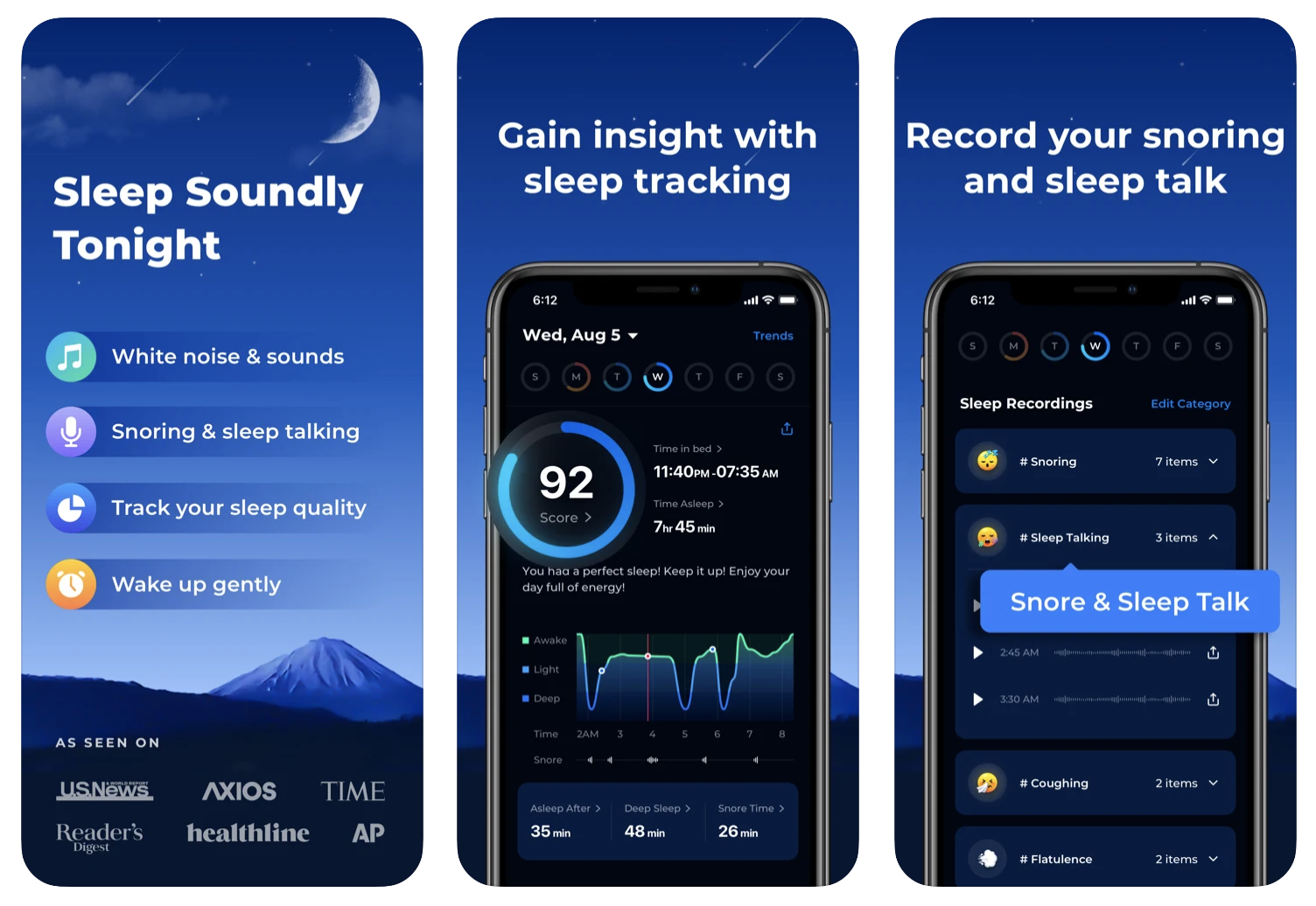 Frequently Asked Questions
How do mood tracker apps help people?
Mood tracker apps help people by allowing them to track their good and bad moods and identify triggers. People who struggle with mood swings can become more aware of patterns in their moods over time. They also provide tools to help manage anxiety, improve well-being, and track lifestyle changes.
Can mood tracker apps be helpful for people with bipolar disorder?
Yes, mood tracker apps can be very helpful for people with bipolar disorder. These apps allow you to track their moods and symptoms related to bipolar disorder, which can help them manage their condition more effectively.
How can mood tracker apps improve well-being?
Mood tracker apps can improve well-being by helping users rate their mood and see patterns in their negative thoughts and behaviors. They can also provide tools for cognitive behavioral therapy (CBT) techniques to manage anxiety, depression, and other mental health issues.
Can mood tracker apps help manage anxiety and depression?
Yes, mood tracker apps can help manage anxiety and depression. They allow users to track their feelings without judgment and provide resources and techniques to learn how to manage these conditions effectively. They can also be helpful with tracking a person's mood swings and panic attacks. 
Do mood tracker apps allow users to write journal entries?
Yes, many mood tracker apps offer a mood diary and journal feature that allows users to log daily journal entries and reflect on their thoughts and feelings.
How often should I use a mood tracker app?
The frequency of using a mood tracker app is up to the individual. Some people find it helpful to track their mood several times throughout the day, while others prefer to do it once a day.