Are you having more good days than bad days? If you want to make sure, it is probably time you consider starting a printable mood tracker bullet journal.
A printable mood tracker is a page in your bullet journal that lets you track your emotions on a daily basis. It's a fun way to keep track of your emotions and triggers throughout the day, week, month, and even year.
Mood tracking, just like bullet journaling, can be a challenging habit to maintain. However, if you take it seriously, it can actually help you better understand yourself and make better decisions in the future.
Does mood tracker bullet journal help?
Mood tracking can be useful for a number of different reasons. It might help you:
Identify external and internal triggers that cause mood changes.
Learn more about how factors such as sleep, diet, and daily activities affect your moods.
Develop coping techniques to help deal with negative moods and unwanted behaviors.
Spot patterns and better understand shifts in mood.
Determine if treatment is helping improve your mood.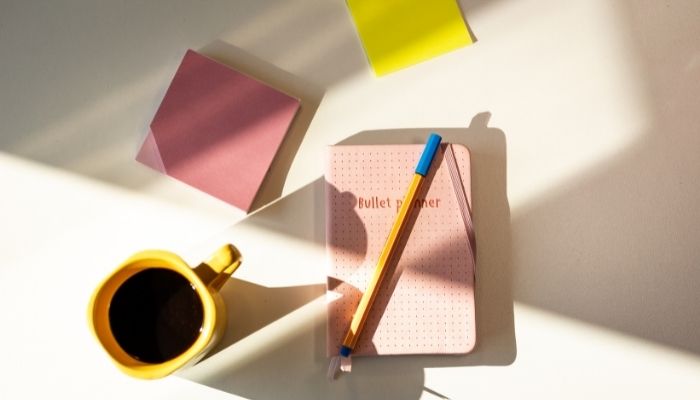 What are different types of moods?
There are really lots of moods or emotions you can track in a mood tracker bullet journal, however, most of the time it may not make sense to track all of them. It makes more sense to keep track of those that appear to you frequently. Or those that you don't see very often but that are crucial for you to experience.
Most are designed to track five different emotions, ranging from extreme happiness to extreme sadness. You can do that as well, and also include a neutral state in the middle. However, there may be other states of mood you would like to track such as excitement, stress, jealousy and calmness.
Below you will find some moods that you may want to evaluate and decide if it is worth tracking them in your bullet journal mood tracker.
Excited
Happy
Sad
Disappointed
Calm
Anxious
Jealous
Energetic
Loved
Creative
Alone
Cranky
Frustrated
Lost
Tired
Grateful
It's a personalized evaluation system of your mental health, so create it in a way that suits your needs. The aim is to discover more about yourself and how you can better your life.
How can I track my mood?
1. Identify your most frequent emotions in a negative/positive category
It may be easiest to start with emotions that feel polar opposites, although this isn't always the case.
Here's an example:
1. Positive
2. Negative
2. Break down these 6 emotions into more granular categories
The sentence "When [SITUATION] happened, I felt [EMOTION]" could be useful. For example, "I felt rejected when they didn't invite me over." This is an emotion that belongs on your second tier. Repeat this scenario for each basic emotion until you feel like you've built a language that can express your day-to-day activities for a month.
Here's an example of how emotions became more nuanced:
| | |
| --- | --- |
| joyful | content, happy, playful |
| proud | respected, creative, accomplished |
| hopeful | safe, relaxed, rested |
| angry | irritated, violated, hostile |
| sad | lonely, depressed, rejected |
| overwhelmed | anxious, scared, insecure |
How to create a printable mood tracker bullet journal?
Mood Tracker Set Up
The first decision you'll have to make is whether you want a daily mood tracker or a monthly mood tracker. Both have advantages, and the choice should be based on your needs and desires.
If you want to keep things simple and have a quick overview of your moods, a monthlong mood tracker is ideal.
A daily mood tracker is better if you want to go into more depth and have a wider choice of emotions. You can also be more creative with themes and layout with daily mood trackers.
Mood Tracker Key
Next, you need to decide on your key. This is usually a color code where each different emotion is a particular color for your tracker.
The secret of tracking your moods effectively is to think of your day as a whole. We all feel many emotions during the day but there is usually an overall feeling for the day or one mood that is strongest. That is the one to track.
Mood Tracker Layout
You can create your mood tracker in any way you like! From simple graphs to fun pages that match your theme.
In fact, the only two things you definitely need on your mood tracker are numbered markers/spaces for each day and your key. The rest can be totally up to you and your imagination!
To make the most of your mood tracker, make sure you're always in the moment when you fill it in. Concentrate solely on today.
Get creative with your mood tracker and use designs to match your bullet journal themes. As long as you fill it in every day you will put your mood tracker to good use.