While having audacious goals can help you keep moving forward, it's just as vital to find tiny ways to care for yourself on a daily basis. This self-care challenge is for you because you create it! Rather than putting too much pressure on yourself, consider taking on more bite-size, micro-challenges this year to foster wellness in every aspect of your life.
What is self-care and why is it important?
Self-care is not a new notion, despite its recent prominence in popular culture. It's also not complicated, pompous, or exclusive. It is exactly what it sounds like: it's about looking after oneself. When people talk about self-care these days, they're usually referring to making a conscious and purposeful decision to take care of yourself and your well-being.
It is an essential component of leading a healthy and happy life. It's critical to take care of yourself both mentally and physically if you want to take charge of your health.
We live increasingly busy lives, and it's easy to forget to put yourself first, especially if you're juggling many obligations and caring for others. However, taking care of yourself will make you feel better, and the better you feel, the better you will be in all aspects of your life, including job and relationships.
A 30-day self-care challenge doesn't have to take up a lot of time or cost a lot of money. It could be anything as simple as having a bath, relaxing with a nice book, going for a walk outside, or simply eating your favourite dish. It's about making a commitment to prioritising oneself, even if only for a short time.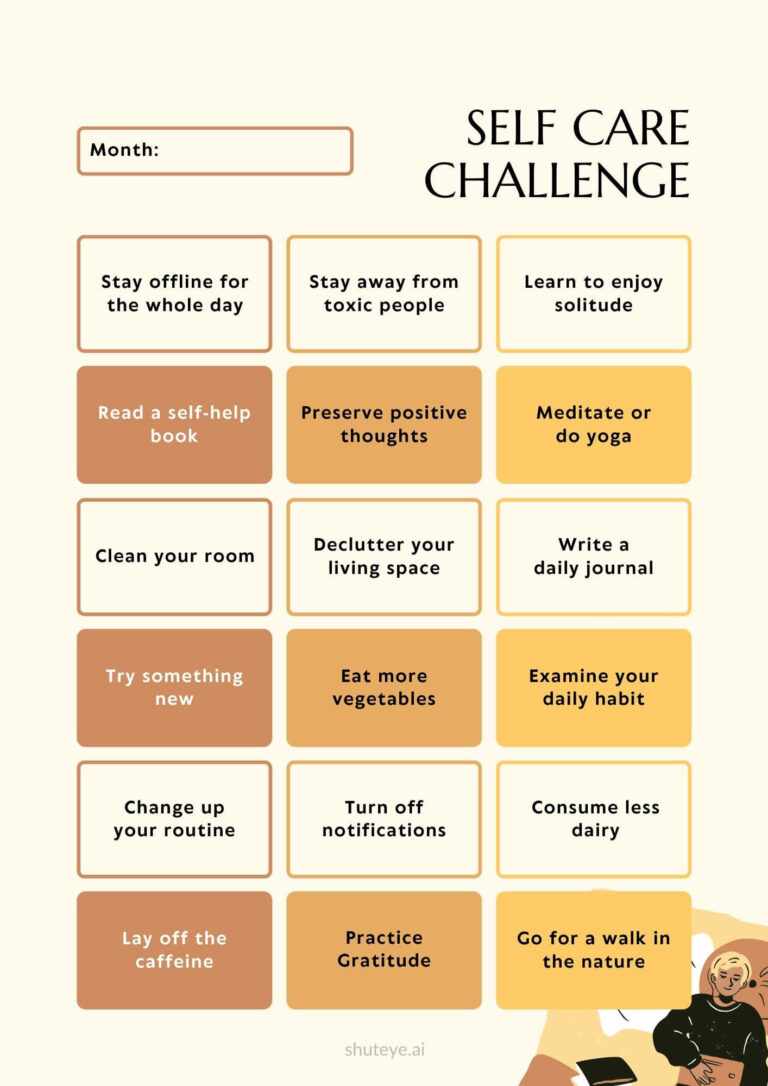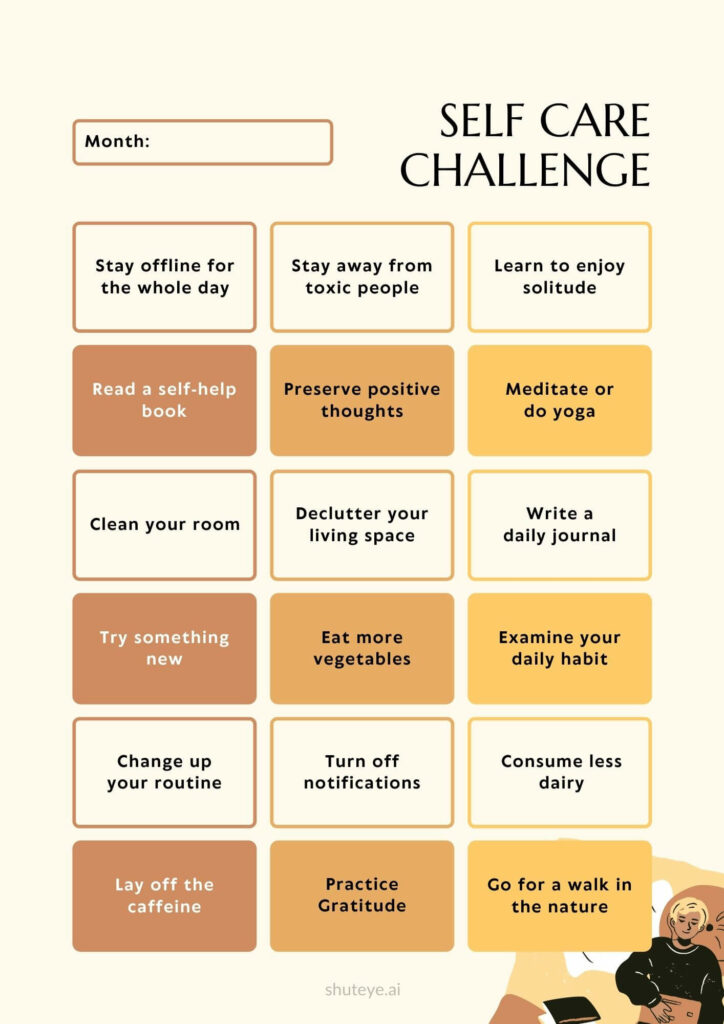 How can I improve myself in 30 days?
Taking care of yourself on both a mental and physical level is critical to regaining control. Thirty-day self-care challenges seem doable; after all, you can do practically anything for thirty days. A self-care challenge can also be used as an experiment. If it improves your life, you'll get momentum, which will encourage you to make further positive changes.
Create daily white space in your calendar. For 30 days, dedicate a bit of free time every day. Set aside stop and relax time.
Set a "no expectation" rule for 30 days. What expectations do you have for yourself? Be kind to yourself and stop obsessing over small mistakes.
Take a 20-minute walks each day. With great health benefits and the opportunity to clear your head. Find time to walk every day.
Compliment someone each day. What goes around, comes around! Celebrate random acts of kindness.
Take one photo a day and reflect on these moments. Make a 30-day photo diary with only one photo a day. This challenge will make you look for little moments harder.
Write down 3 things you are grateful for every day. Start a thankfulness journal and write down three things you're grateful for every evening before going to bed.
Try to avoid negative affirmations for 30 days. The purpose of this challenge is for you to establish the habit of using fewer contractions in your words.
Go to bed at the same time every day (and wake up at the same time). It is critical to have a good night's sleep. However, many people do not have a nighttime routine, and as a result, they are exhausted and anxious.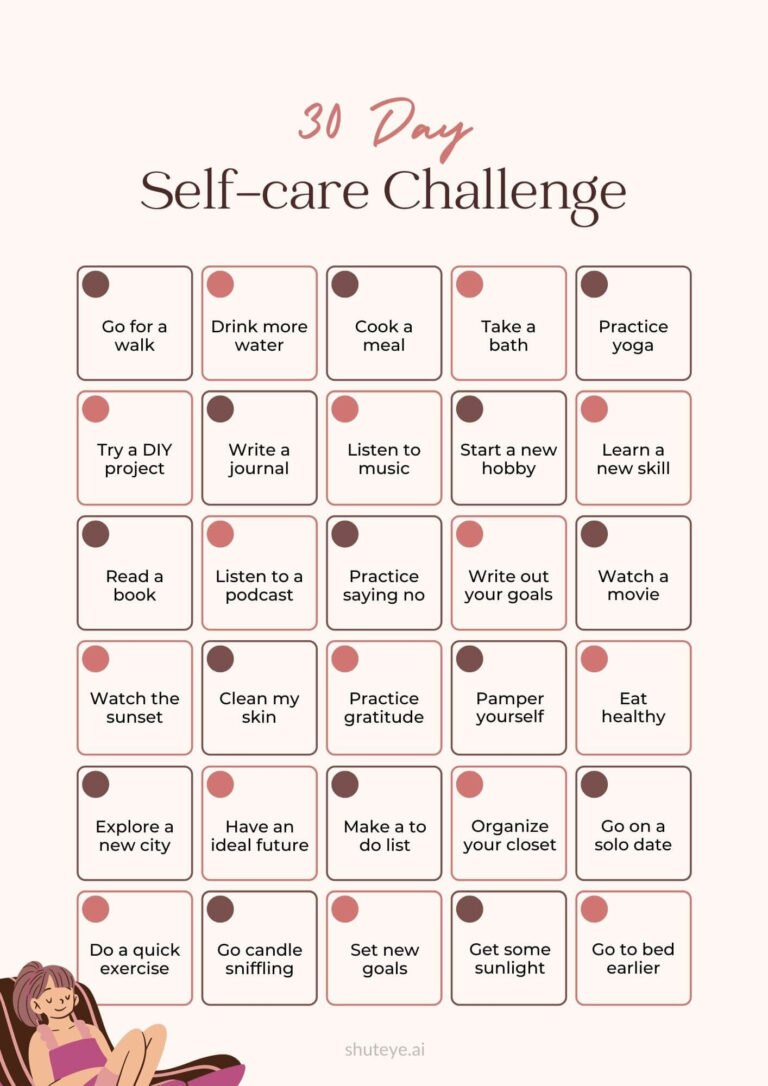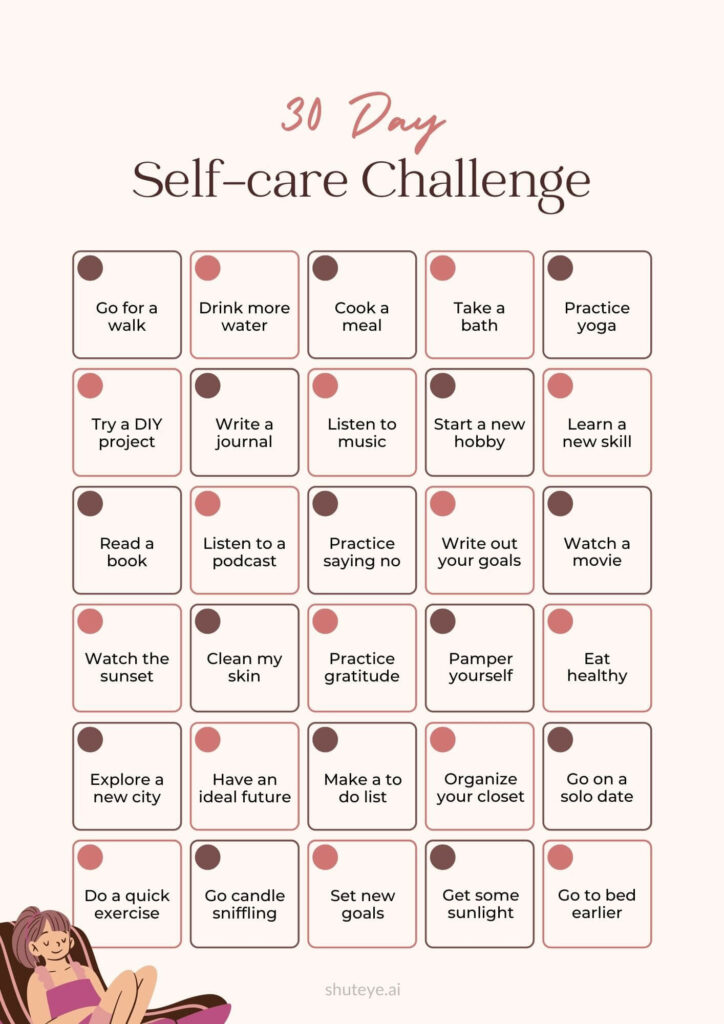 How do you make a self-care challenge?
Every good challenge begins with a list. To begin this challenge, you can compile a list of things and activities that you enjoy, that bring you joy, or that help you relax. This list has no rules; make it as long or as short as you like, and include whatever you want!
After you've compiled your list of potential items, you'll need to decide on a time range. What is the duration of your challenge? Is it really only one week, is it really only 12 days, is it really a month and is it really three months?
Be practical while deciding on the length of your stay. Your endeavor will almost certainly fail if you plan for more than is feasible. Another thing to remember is that it takes 21 days to form a habit, so if you want to develop a regular self-care routine, start small and work your way up to a 30-day challenge!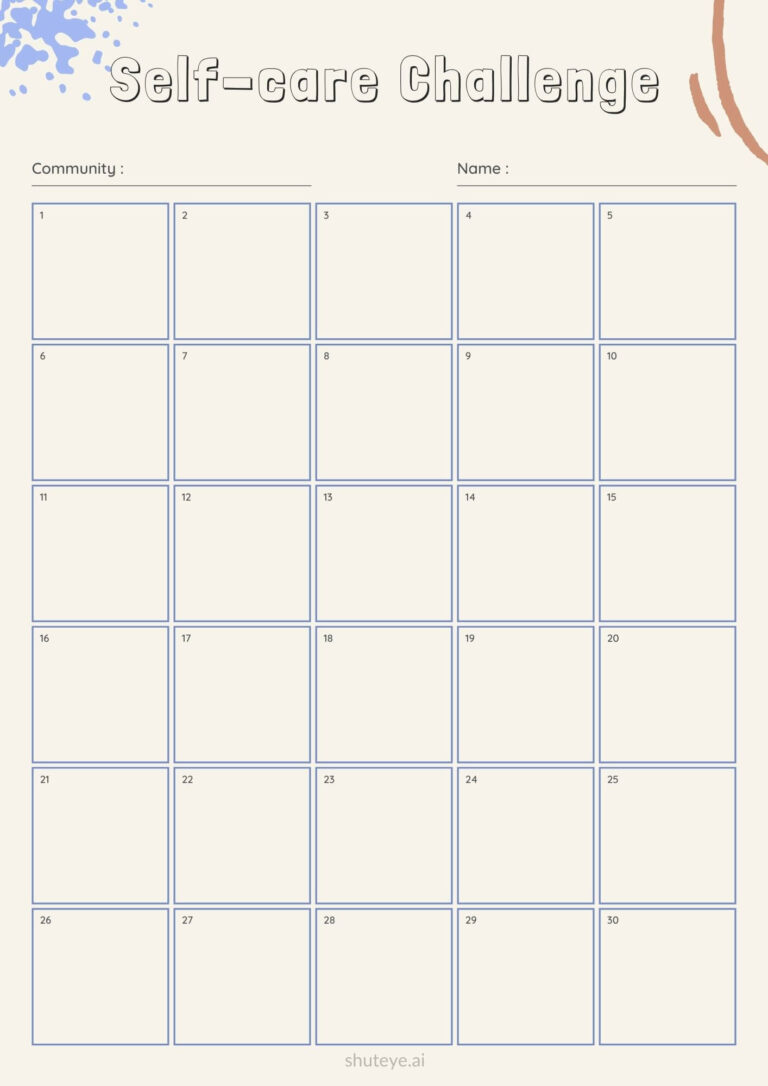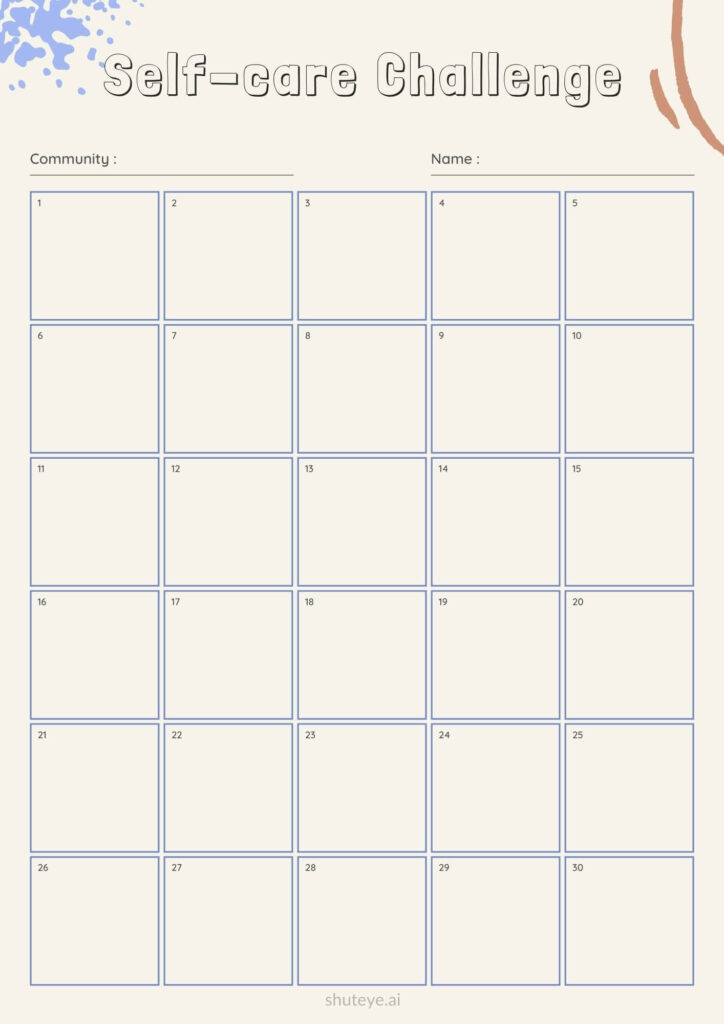 What are some self-care challenges?
Time Management Challenge
Mental Health Challenge
General Health Improvement Challenge
Digital Detox Challenge
Mindful Eating Challenge
30-Day Fitness Challenge
30-Day Meditation Challenge
30-Day Couple Challenge
Drink More Water Challenge
365-Day Book Reading Challenge
30-Day Morning Routine Challenge
365-Day New Language Learning Challenge
Time Management Challenge
Create a challenge that will help you prioritise your activities and manage your time better, whether you procrastinate too much or never have time to complete the things you truly want to do in life. Here are some ideas for reducing time wasters or adding time to achieve more:
Limit yourself to 10 minutes of social media every day.
Give up watching television.
Schedule your time in 15-minute increments.
At 8 p.m., turn off all electronics.
Schedule 30 minutes each day to work on a certain skill or project you'd like to complete.
Mental Health Challenge
Start a mental strength challenge for yourself if you want to feel less stressed, eliminate negative thinking, and better regulate your emotions. Here are a few ideas for how you might strengthen your brain muscles in 30 days:
Begin keeping a gratitude notebook.
Practice saying kind things to yourself.
Keep your contact with harmful people to a minimum.
Make it impossible for yourself to feel sorry for yourself.
Set up 30 minutes to worry (to reduce rumination)
General Health Improvement Challenge
There are various challenges that might address your health, from changing your food to improving your fitness routines, to obtaining more sleep and taking your vitamins. Here are some challenges that may assist you in resetting your habits:
Write down everything you eat every day.
Eliminate a certain food or ingredient (like sugar or caffeine).
Exercise for 20 minutes.
Walk one mile.
Go to the gym every day.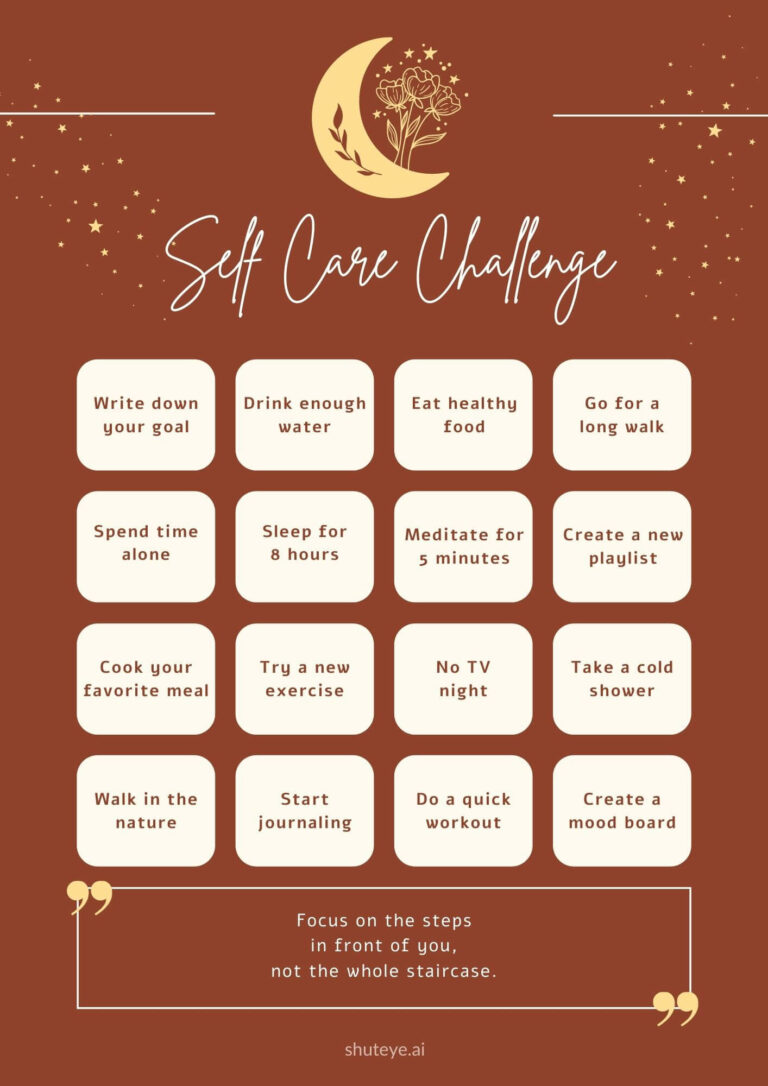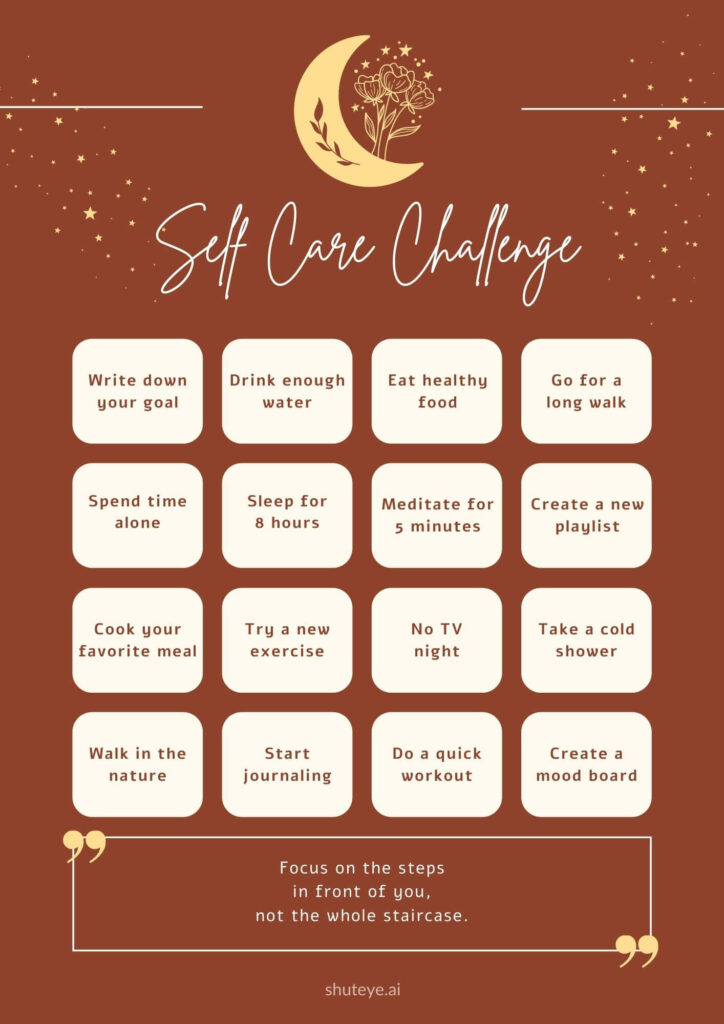 Digital Detox Challenge
Commit to a week-long challenge of minimizing screen time.
Set specific time slots for checking emails and social media.
Replace digital activities with analog ones, such as reading physical books or engaging in outdoor activities.
Reflect on how the reduction in digital exposure impacts your mood and focus.
Gradually reintegrate technology with a mindful approach.
30-Day Sleep Challenge
A self-care challenge wouldn't be complete without the sleep challenge. It's well-known that sleep is closely linked to health. The high-quality sleep helps reduce stress, stabilize circadian rhythm, boost mood, maintain a healthy immune system, and much more. Don't wait—start your 30-day sleep challenge NOW!
Set a Consistent Bedtime. Choose a bedtime that allows for 7-8 hours of sleep. Stick to this bedtime every night for the entire challenge.
Establish a Relaxing Pre-Sleep Ritual. Develop a calming routine before bedtime, such as reading a book or taking a warm bath.
Optimize Your Sleep Environment. Make your bedroom conducive to sleep – comfortable mattress, dark curtains, and a cool temperature. Consider using blackout curtains or an eye mask for complete darkness.
Monitor and Limit Stimulants. Track your caffeine intake and avoid consuming any caffeine after 2 p.m. Limit alcohol intake before bedtime, as it can disrupt sleep cycles.
Practice Gratitude Journaling. Write down three things you're grateful for each night before turning off the lights.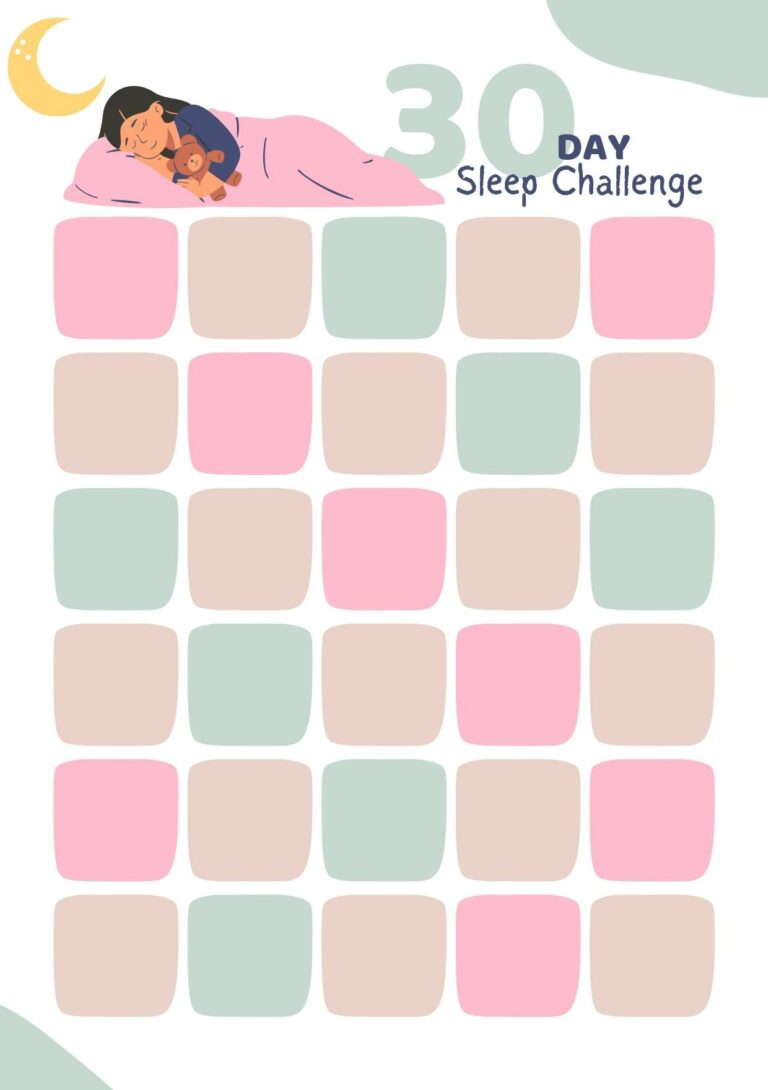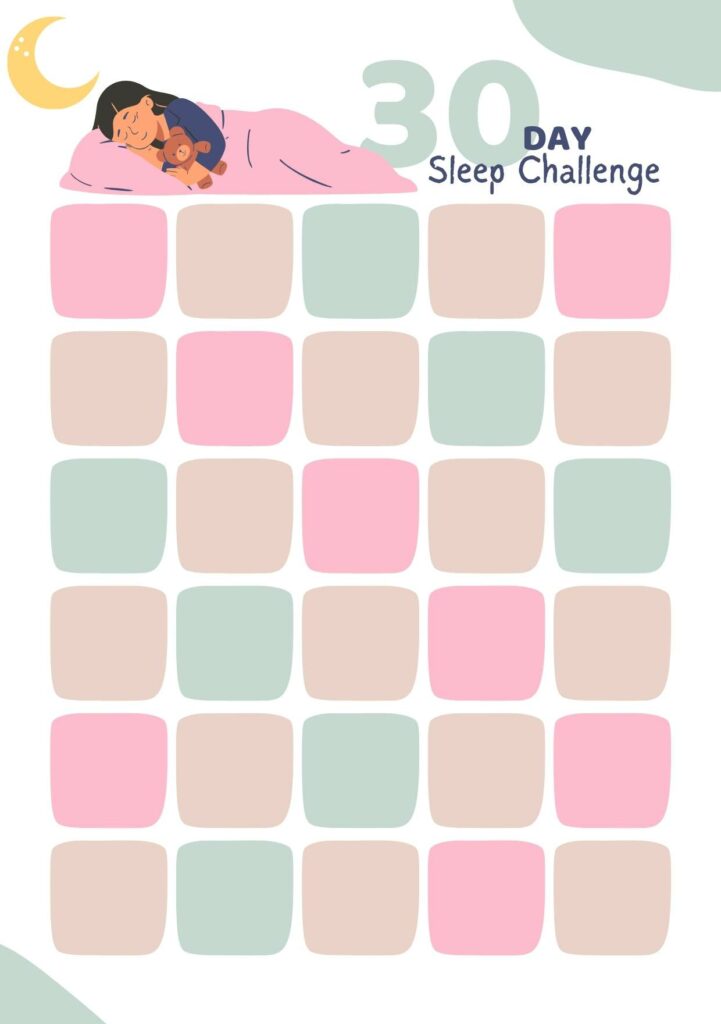 Mindful Eating Challenge
Practice mindful eating by focusing on the sensory experience of each meal.
Avoid distractions such as TV or smartphones during meals.
Experiment with new and healthy recipes to broaden your culinary horizons.
Pay attention to hunger and fullness cues, aiming for balanced and nourishing meals.
Reflect on the connection between mindful eating and overall well-being, both physically and mentally.
30-Day Fitness Challenge
Ready to boost your energy levels? Sport is the best self-care activity possible that stimulates mental and physical health. Get inspired from the following fitness challenge to improve your overall physical wellbeing.
Plan a series of outdoor adventures, such as hiking, biking, or exploring new trails.
Incorporate a variety of physical activities to challenge different muscle groups.
Set weekly fitness goals and track your progress.
Include friends or family members to make it a social and supportive experience.
Reflect on the physical and mental benefits of regular outdoor activities and how it enhances your fitness journey.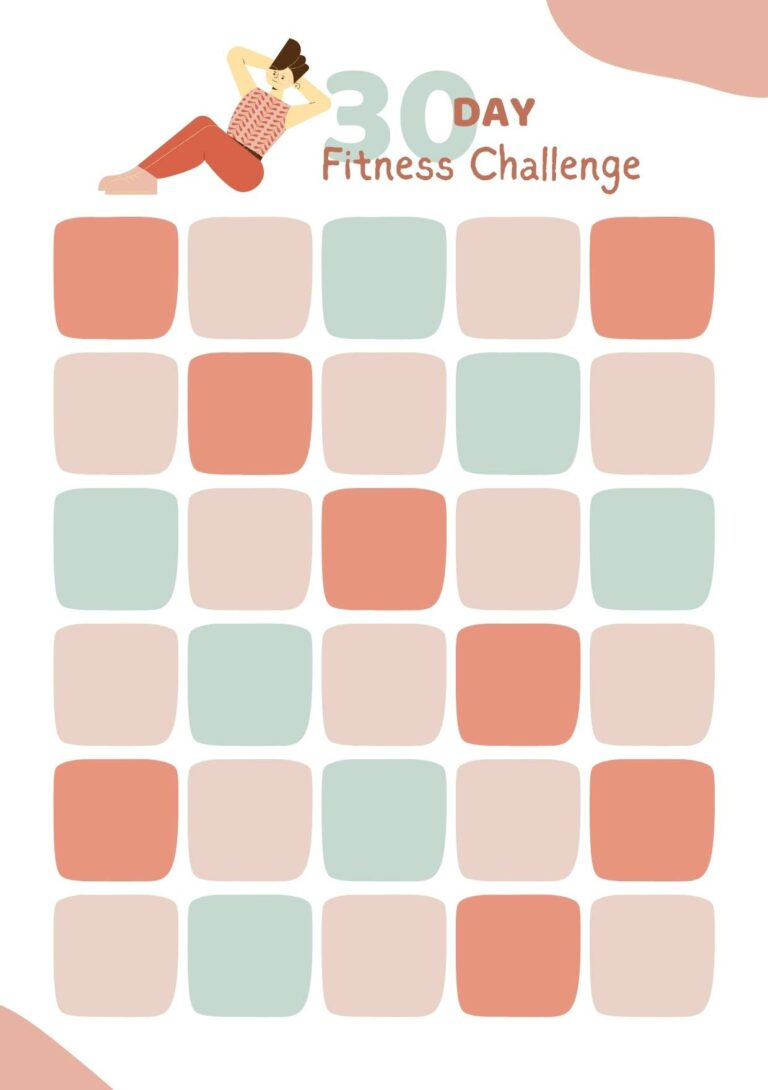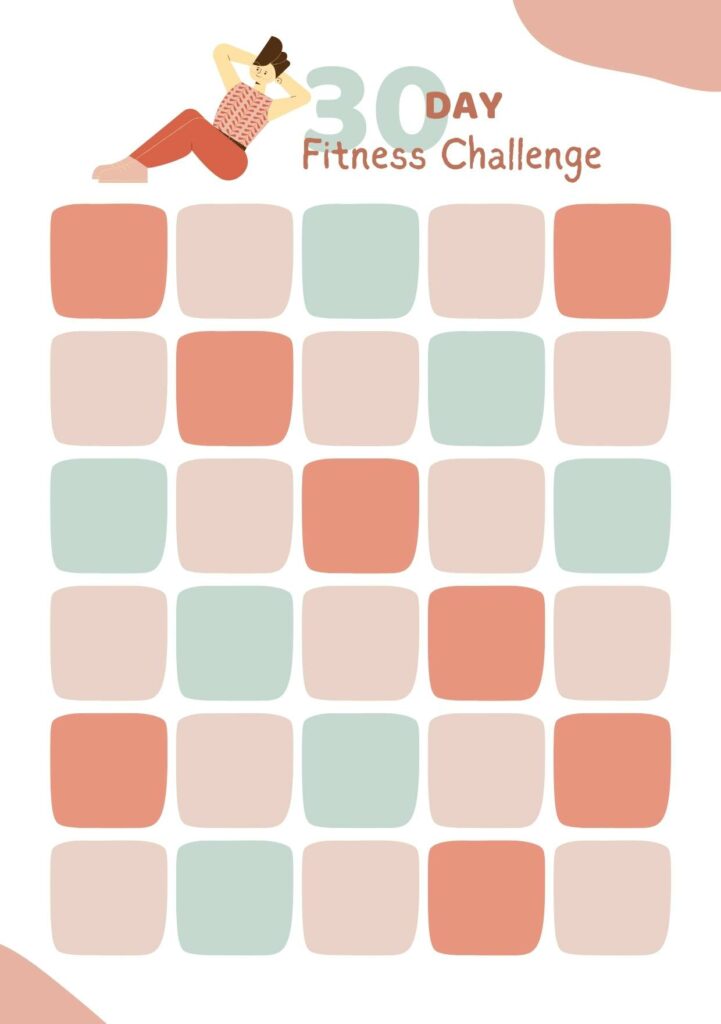 30-Day Meditation Challenge
Set aside a specific time each day for meditation, making it a non-negotiable part of your routine.
Explore different meditation techniques, such as mindfulness, body scan, or focused breathing, to keep your practice diverse and engaging.
Create a designated and comfortable meditation space where you can retreat for a few minutes of mindfulness.
Incorporate short mindful breaks throughout the day, focusing on your breath to cultivate awareness in the present moment.
Maintain a meditation journal to capture insights, experiences, and the evolution of your practice over the 30 days.
Drink More Water Challenge
Use a water bottle with volume markings or a hydration app to track daily water intake.
Set reminders on your phone or use apps to prompt you to drink water at regular intervals.
Experiment with different infused water recipes to make hydration more enjoyable.
Partner with a friend or family member to encourage each other to stay hydrated.
Reflect on the positive effects of staying hydrated, such as improved energy and clearer skin.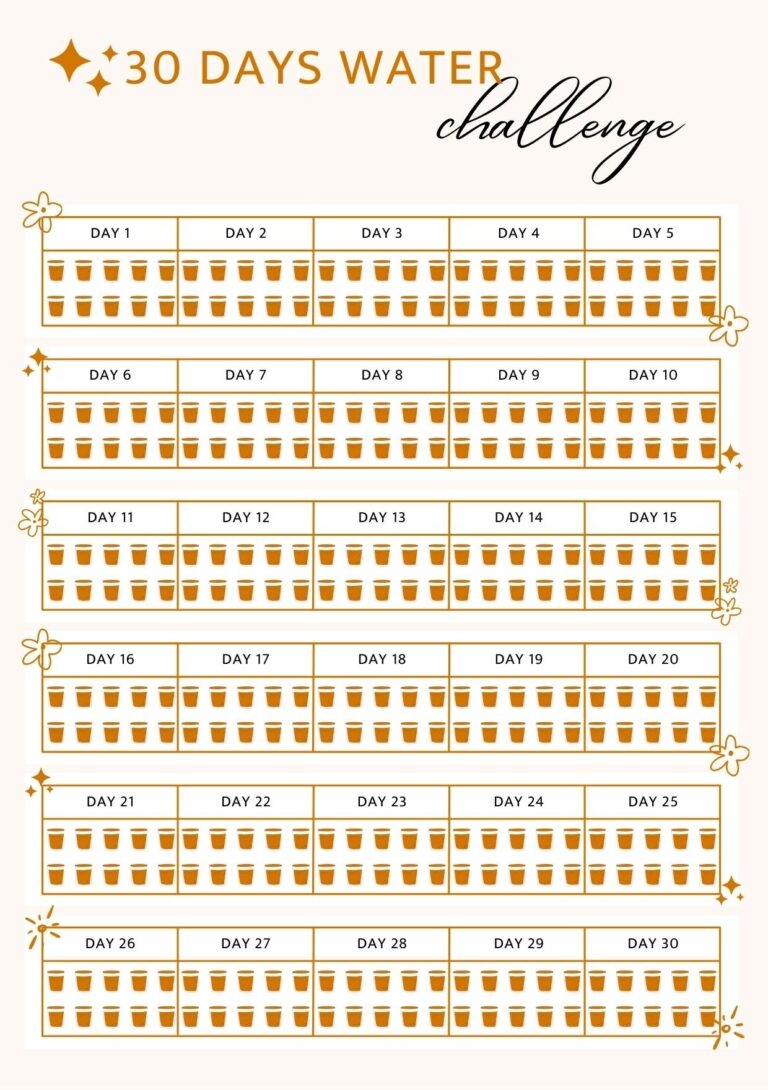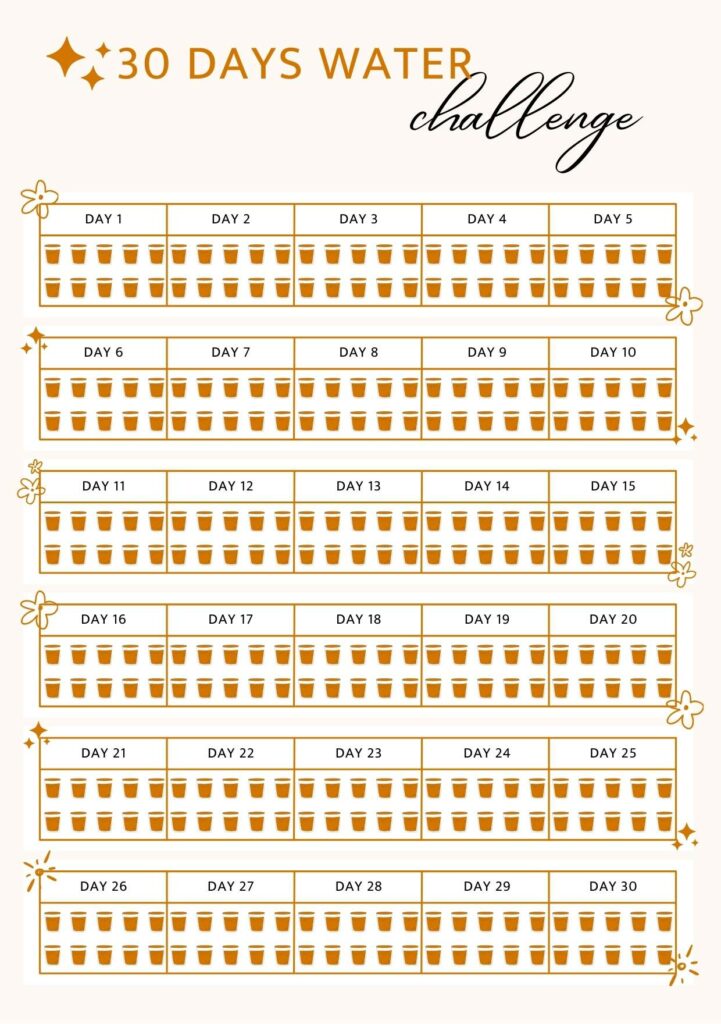 30-Day Couple Challenge
Schedule a dedicated date night each week to spend quality time together.
Exchange handwritten notes expressing appreciation and love.
Plan and embark on a new adventure or activity together each month.
Practice active listening and open communication by discussing feelings and goals regularly.
Set and work towards a shared goal, whether it's fitness, travel, or a creative project.
100-Day Book Challenge
Read a book from a different genre each month to broaden your literary preferences.
Partner with friends or join a book club for shared discussions and recommendations.
Dedicate a month to reading books by a particular author to delve deeper into their works.
Commit to reading non-fiction books on topics you're curious about or want to learn more about.
Read a book that has been adapted into a movie, then have a movie night to compare and discuss.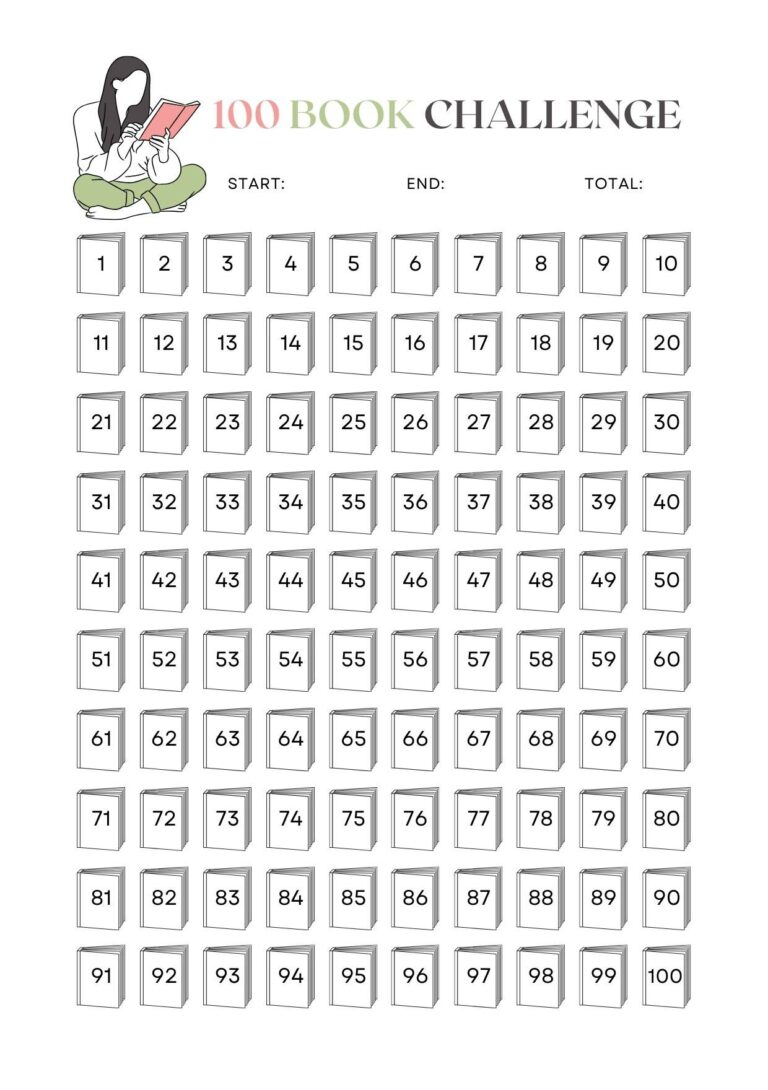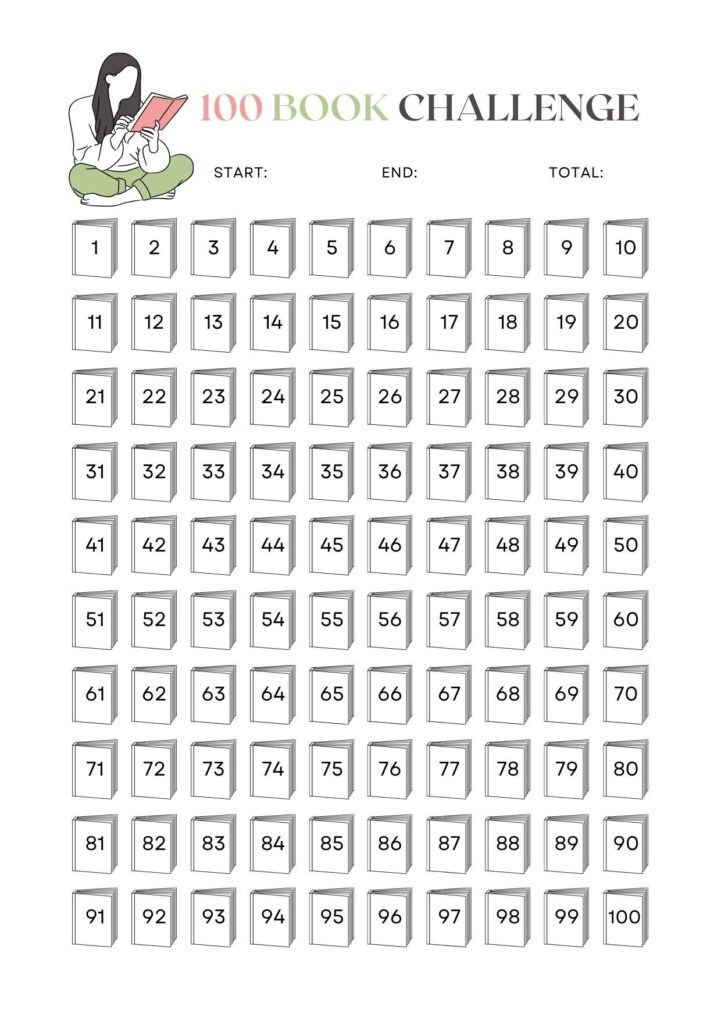 365-Day New Language Learning Challenge
Dedicate a specific time each day for language learning, ensuring consistency.
Use language learning apps for interactive lessons and practice.
Find a language exchange partner to practice speaking and enhance your conversational skills.
Explore media in the target language, such as movies, music, and books, to immerse yourself in the culture.
Reflect on your weekly progress, celebrate achievements, and adjust your learning strategies as needed.
Embrace Every Month as an Opportunity for a New Challenge
Consider each month as a chance to begin a new 30-day experiment. You'll discover a lot about yourself and the tactics that can help you live your best life, whether you break a negative habit or build a healthier routine.
Sometimes all it takes is one small alteration to improve one's life. So start exploring and set a monthly goal for yourself to try something new.