Getting your child to fall asleep (and stay asleep) is not a task for the faint of heart. Overtired and overexcited babies are some of the hardest to get to sleep. Even though you know it's what's best for them, they certainly seem to disagree. White noise apps for babies can be a true lifesaver. It's a great tool to soothe fussing and boost sleep.
Luckily, a wide selection of apps has risen to your aid. Rather than filling your home with big sound machines, you can turn your phone into a relaxing soundbox offering white noise for the baby. This article looks at five of the best apps to help your baby sleep.
Are white noise apps safe for babies?
Which white noise can help babies sleep?
The following types of white noise might help babies fall asleep:
Rain sounds
Soft wind sounds
Water sounds
Womb sounds
Why are white noise apps helpful for babies to fall asleep?
White noise can help to reduce stress in babies.
The relaxing sound can soothe babies before sleep.
The lullabies can prevent babies from crying while sleeping.
| | | |
| --- | --- | --- |
| 5 Best White Noise Apps for Babies | Why we chose it | App Store Rating |
| ShutEye | Best Overall | 4.8/5 |
| Baby Sleep | Best Calming Sounds | 4.7/5(Google Play) |
| Sound Sleeper | Best Nature Sounds | 4.8/5 |
| Mix White Noise | Best Mixed Sounds | – |
| White Noise Baby | Best White Noise | 4.7/5 |
Which white noise apps are best for babies?
1. ShutEye
There are many white noise apps out there, but if you want the most comprehensive and most detailed (not to mention most popular) option for new moms & dads, check out ShutEye.
Most babies prefer the oscillating fan setting, but there are tons of options like rain, train ride, and hairdryer. And this easy-to-use app gives you a range of time settings so you can customize how long a sound is played for.
2. Baby Sleep – White Noise
You don't need an internet connection to help your little one fall asleep. The calming sounds of this app have been designed with babies in mind, and you can choose from over 40 relaxing sound options.
Download Baby Sleep for Android
3. Sound Sleeper: White noise
You'll get the most from this app if you're willing to pay a few dollars to get the full version. It has a dark mode so that you won't distract your little one when operating it at night time.
Featuring nature sounds and other noises that you might hear in your home, there are plenty of noise options to choose from in this app.
Download Sound Sleeper for iOS
4. Mix White Noise
This app is a white-noise mixer that's bound to have a sound to help your baby fall and stay, fast asleep.
You can combine nature sounds with a preset lullaby, or save your baby's favorite mix as an audio loop for optimal bedtime usage.
Download Mix White Noise for iOS
5. White Noise Baby
White Noise Baby brings a wide variety of tools to help your little one fall asleep and stay asleep.
It has not only nature sounds and ambient noise to help tots settle down, but also a sleep tracker feature to understand your baby's sleep cycle from a scientific perspective.
Download White Noise Baby for iOS
If you or your babies have sleep trouble, try ShutEye, a great sleep app. It brings a wide variety of tools to help you fall asleep and stay asleep. It creates a comfortable sleep space with relaxing sounds and ambient noise. So stop tossing and turning all night, and starting falling asleep in a healthy and natural way.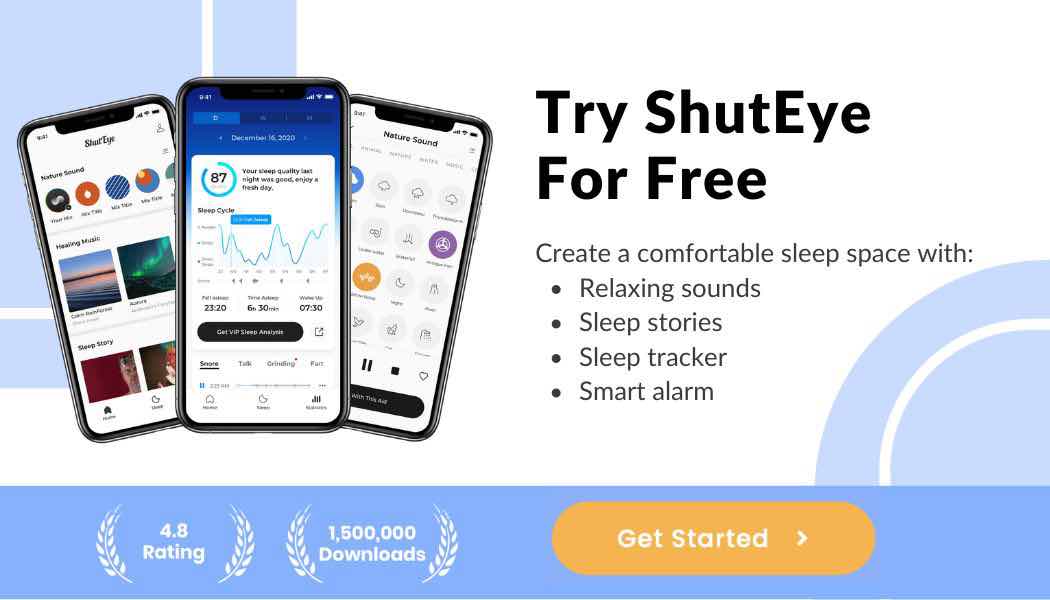 More To Read:
White Noise for Babies | Can white noise help babies sleep?
How to make your baby sleep without crying?
How to stop your baby from kicking off blankets while sleeping?