Hi! Is it too noisy or too quiet around you? Do you want your environment to be relaxing during lunch break, or focusing on study/work, or maybe you need some help falling asleep? Here are the tools for any reason related to sounds! White noise machine vs app. Which one is the best for You? No one knows until one tries! Let's learn more about your sound options in this article!
What is a white noise machine used for?
Do white noise machines actually work?
Are white noise apps effective?
Are white noise apps as good in sound quality as white noise machines?
Takeaway. Which one fits you more?
Now, it is time to get the most valuable information about white noise machines and apps.
| 3 Best White Noise Apps | Why We Choose It | App Store Rating |
| --- | --- | --- |
| ShutEye | Best Overall | 4.8/5 |
| White Noise Lite | Best Calming Sounds | 4.8/5(App Store),4.6/5(Google Play) |
| Baby Sleep White Noise | Best Sounds for Baby | 4.5/5(Google Play) |
The choice of a white noise machine vs an app is a tough one. It all depends on portability and sound quality preferences. Machines offer superior sound quality, while apps provide convenience and mobility.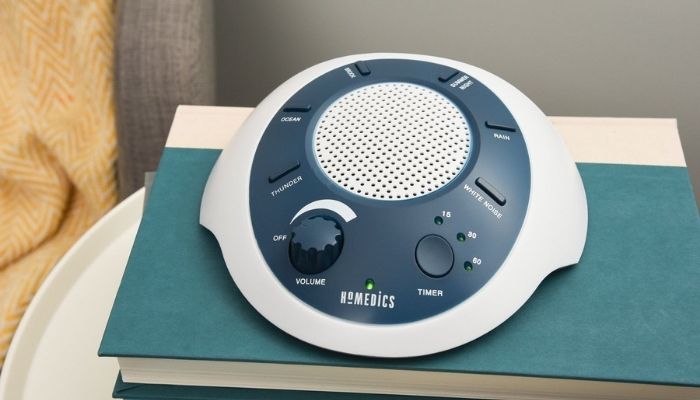 Key Takeaways
White noise machines are used to create a soothing, constant background noise that can help mask irritant sounds.
Studies have shown that white noise machines can help reduce sleep disturbances caused by environmental sounds
White noise apps are more convenient and portable, making them a great choice if you can sleep with earphones and value mobility.
White noise machines offer simplicity, natural sound, and suitability for those with more space or who share a bedroom. The choice ultimately depends on your preferences and needs.
What is a white noise machine used for?
Noise can affect our health, especially while sleeping. The sound range between 40 to 55 dB can distract most people's sleep. WHO says that irritant sounds within 55 dB increase the risk of developing heart disease and can lead to insomnia.
But not all noises that we hear are bad to our ears. White Noise is a good guy. This is a permanent sound with balanced levels of all frequencies. High, medium, and low. These frequencies help to get rid of irritant sounds and enjoy a perfect environment.
Key Takeaway: If there are sounds that you don't want to hear, get a white noise machine to get rid of them. Because these sounds are healthy.
Do white noise machines actually work?
Yes? No? It depends. Use a white noise machine if you are:
A light sleeper (even the softest sound can wake you up);
Living on a busy street (with a high noise level, full of any kinds of disturbing sounds);
Cannot bear total silence (need at least some little sound);
It can create some kind of ritual or lullaby or, if you like, a special atmosphere if you are experiencing trouble with sleep.
It is like when you turn on a white noise machine, your brain gets a signal that it is time to sleep.
There are also some studies around white noise machines. For example, Sleep Foundation found out that at least 5% of Americans sleep with various ambient sounds on for the whole night. They can be:
There is one more study that was held in 2005; researchers tested two groups of sleepers.
One group had to listen to the hospital sounds with a white noise machine on.
Another group didn't have any white noise, only hospital sounds.
As a result, those sleepers who had white noise machines on were hardly disturbed by hospital sounds.
Those, who were without any white noise source, couldn't sleep well enough.
There are 2 more studies:
A 2012 study in the Journal of Theoretical Biology found that people who listened to pink noise had a better sleep quality during the night.
A 2017 study by Northwestern University found that older adults' memory abilities improved after they slept with pink noise accompanying them.
There are various researches about different types of noises. But the best conclusion that we can come to is – try it by yourself and see what kind of noise you like the most.
Also, I would like to mention that, naturally, we don't need any of these sounds. Even though, when we were young, our parents could sing/read lullabies or stories before sleep.
Key takeaway: try them by yourself and then decide on the sounds you prefer. But do remember everything in moderation. Be careful; sleeping while listening to sounds can form an addiction.
Are white noise apps effective?
We continue talking about listening to White Noise Machine vs App. Nowadays, almost all people on the Earth have smartphones that can have various applications. White Noise apps, too.
Speaking about effectiveness, we can underline one and the most important factor that makes an app that plays white noises more effective than machines: we can take the noise with us anywhere we go. We just need a pocket or a little bag. No need for a direct connection to the socket or big-size power bank to power the machine.
All noises are already on our smartphone app. Click, open, and enjoy your white noise as a sleep aid.
There are several differences between white noise machines and white noise apps. That we will discuss in the next paragraph.
Key takeaway: Easy and convenient! 3600 use! Smartphones can go anywhere with us, so the apps can do.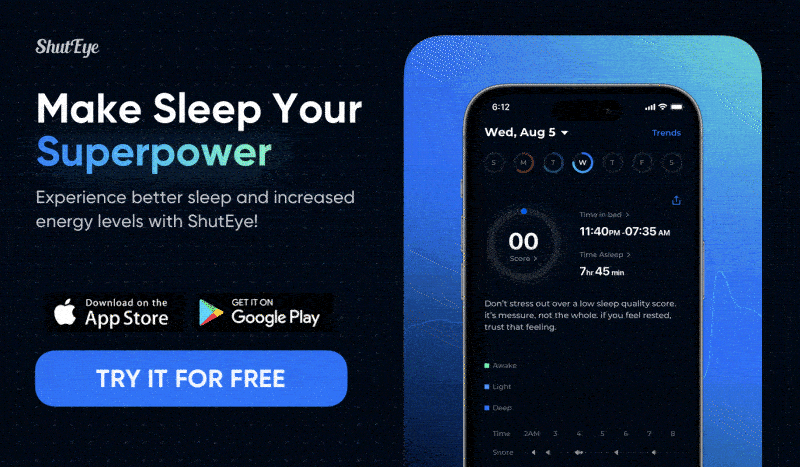 Are white noise apps as good as white noise machines?
To answer this question, we can have a look at their advantages and disadvantages and then recommend some of them.
Advantages of white noise apps:
Usability. We can use them anywhere and anytime until our smartphones have enough energy;
Variability. We can choose different sounds or ambient noises, and if we want more, we can pay or download more apps for free;
Availability. Can work online, offline, on Android, iOS, and other devices.
Disadvantages of white noise apps:
Not that healthy. Can't keep a smartphone with a white noise app nearby for a long time (for example, near your pillow during the night);
Energy consumption. Using a white noise app will surely require some amount of your smartphone's energy (mind setting a timer for the app);
Not always free. Some white noise apps require premium subscriptions to enjoy full services:
Not for everyone! If you are not single and there is only one bedroom in your place, that will be a challenge. Or, you just have to buy headphonesto listen to your white noise without disturbing your bedpartner.
Other points usually can be identified while you use an app. There are many apps that are available for free and provide great services. I invite you to learn about them now.
What is the best white noise app?
I like the apps, that provide free services to try first before buying them. And, of course, as many of us, I like a lot of free content.
ShutEye has it!
Where? Online on their website! They have an Online Background Noise Generator.
Even though it is just a peak of an iceberg, and more sounds are waiting for you in the App, you can listen to these noises/sounds online on your smartphone for free.
This is the place, where your first acquaintance happens. Next, I recommend you download this app for free for iOS devices.
This app is a true combination of the scientific approach applied, and simple language explained.
More than 3 years of providing healthier lives for 3 000 000 people!
Sleep sound, learn how to sleep and how you slept!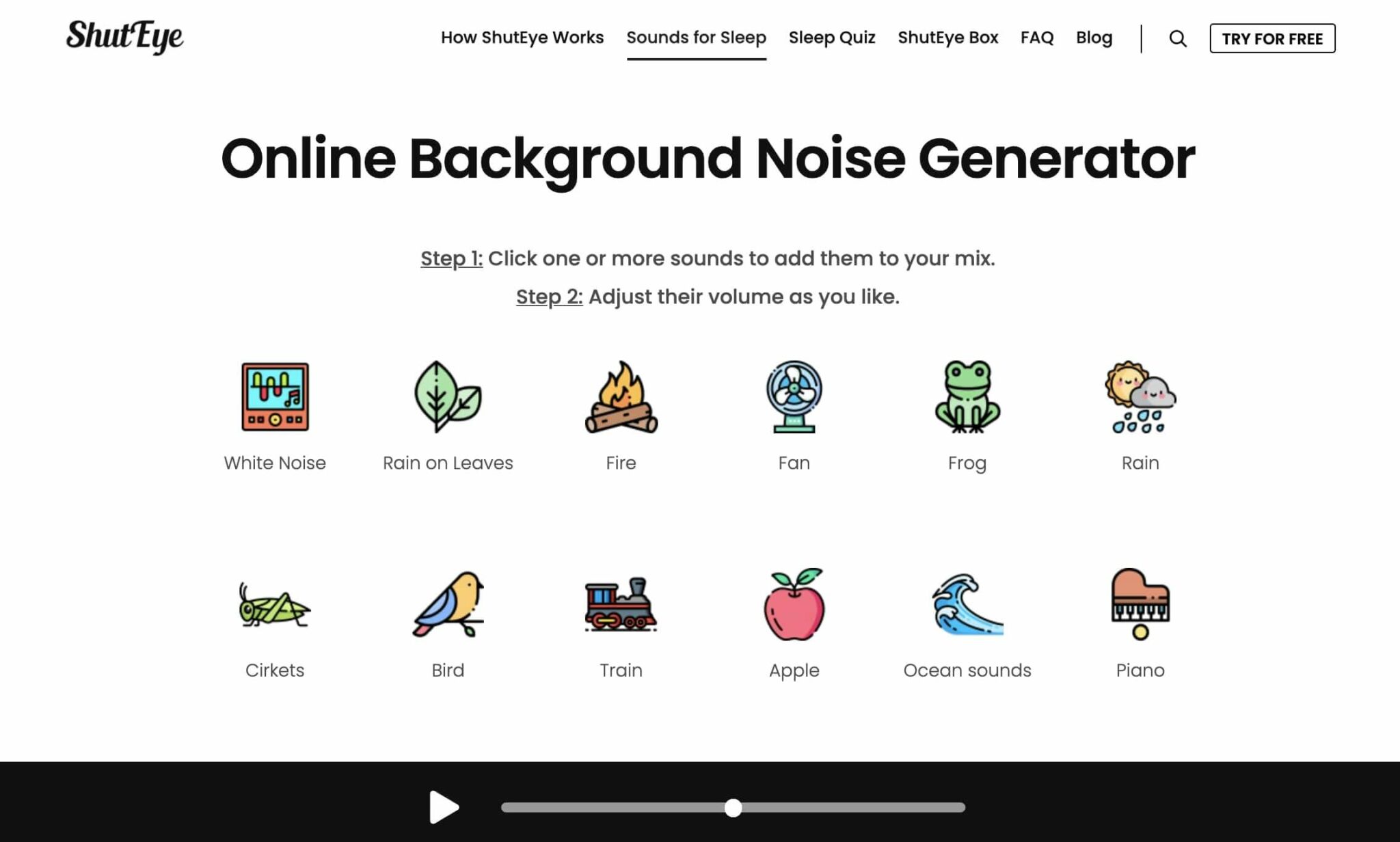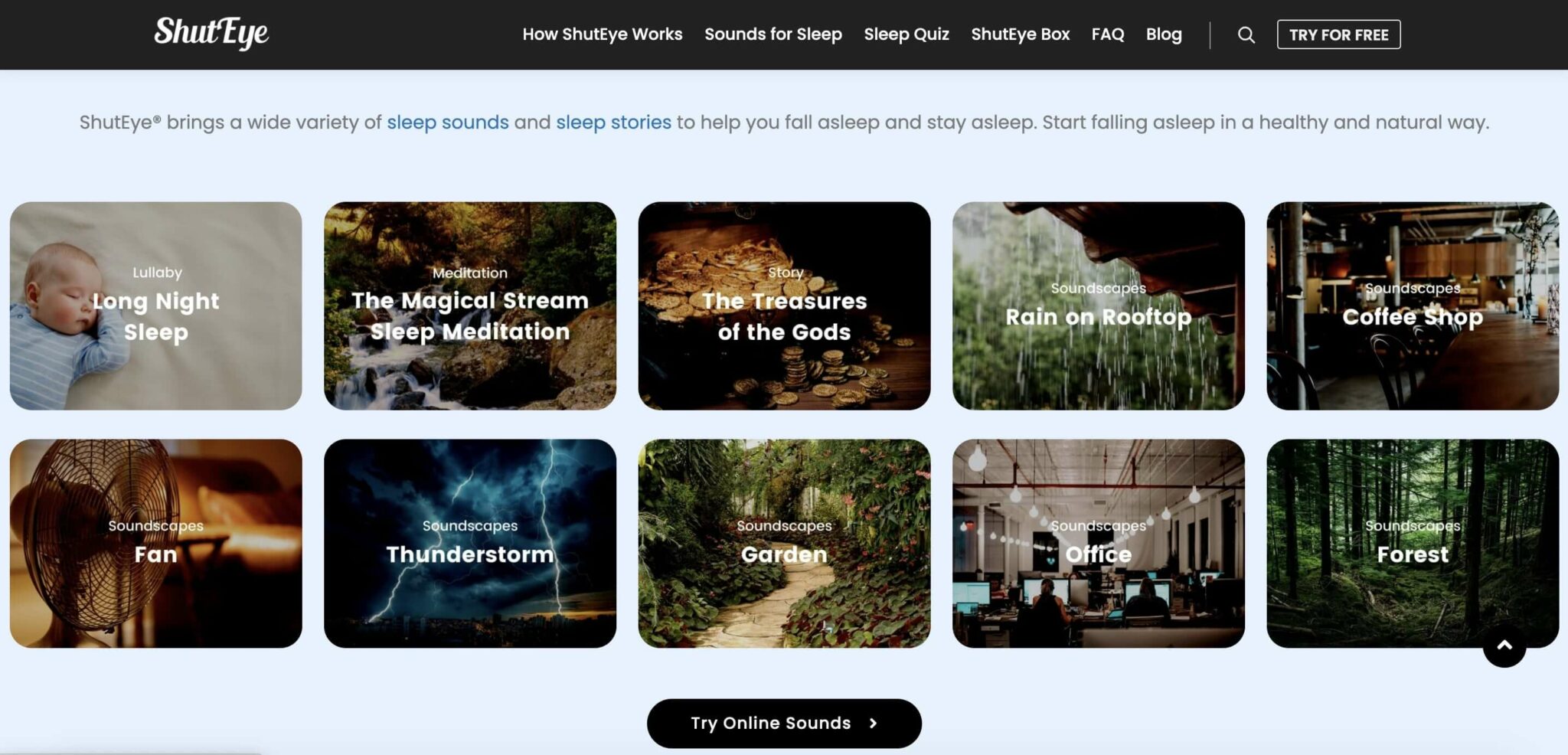 Another app in our list of White Noise Machine or App. This app is purely for sounds!
This app can help you to:
Sleep better by blocking destructions;
Relax and reduce stress;
Calm down your baby;
Focus on work/study;
Get rid of headaches and migraines;
Mask tinnitus (noise in ears);
This app is a new player on the market. If you need only sounds and noises – Go ahead! It's a good choice.
Download for free on Android and iOS.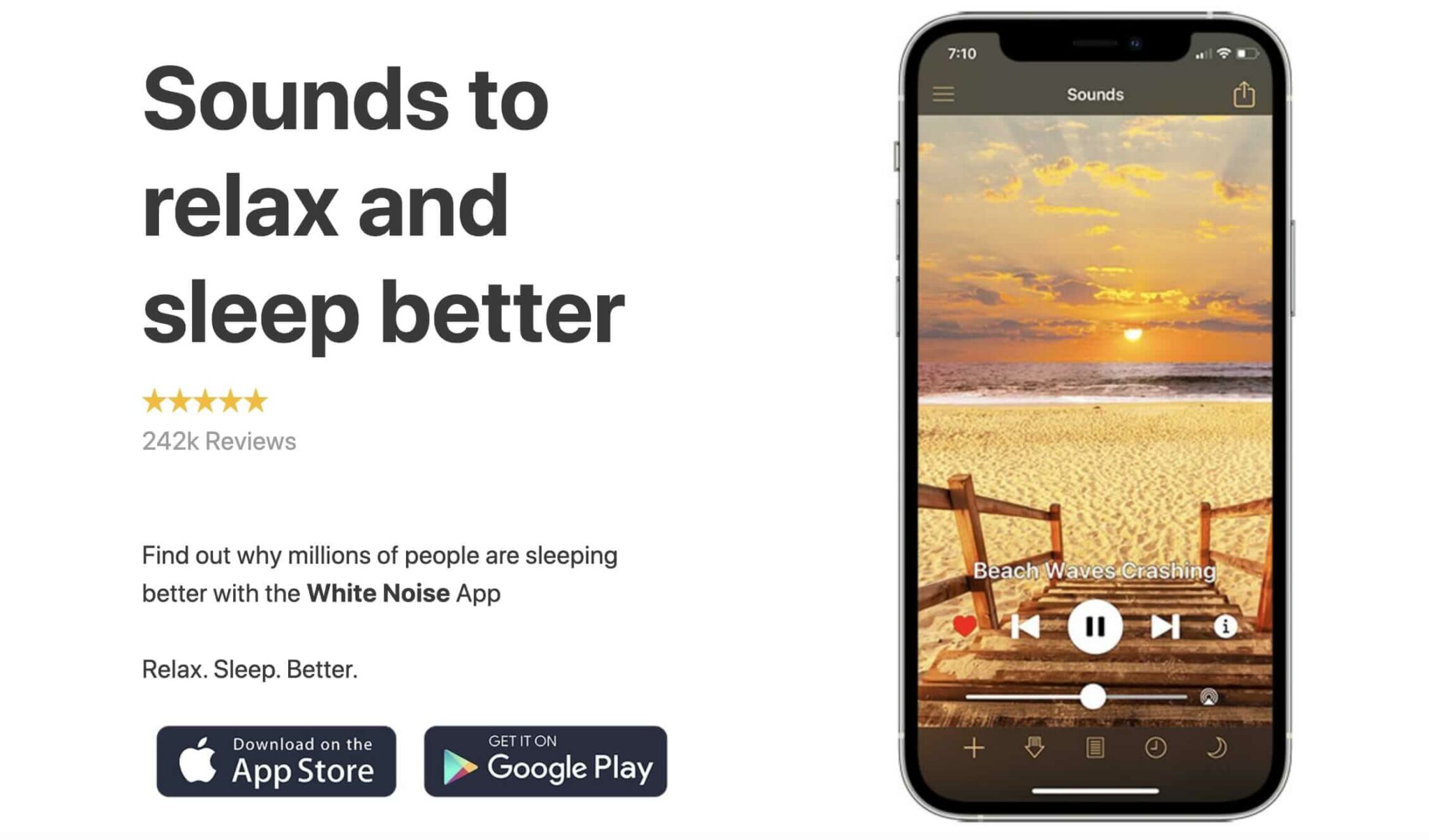 If you have a baby or more than one. This app will help you a lot as its white noise will:
Reduce stress in babies;
Help babies to sleep;
Help babies to cry less;
And, eventually, help You sleep better!
All that babies need is here. Even the user interface looks very nice. Pink with different cartoon-style icons!
Let the little ones and big ones sleep sound and sweet!
Download for free on your Android device.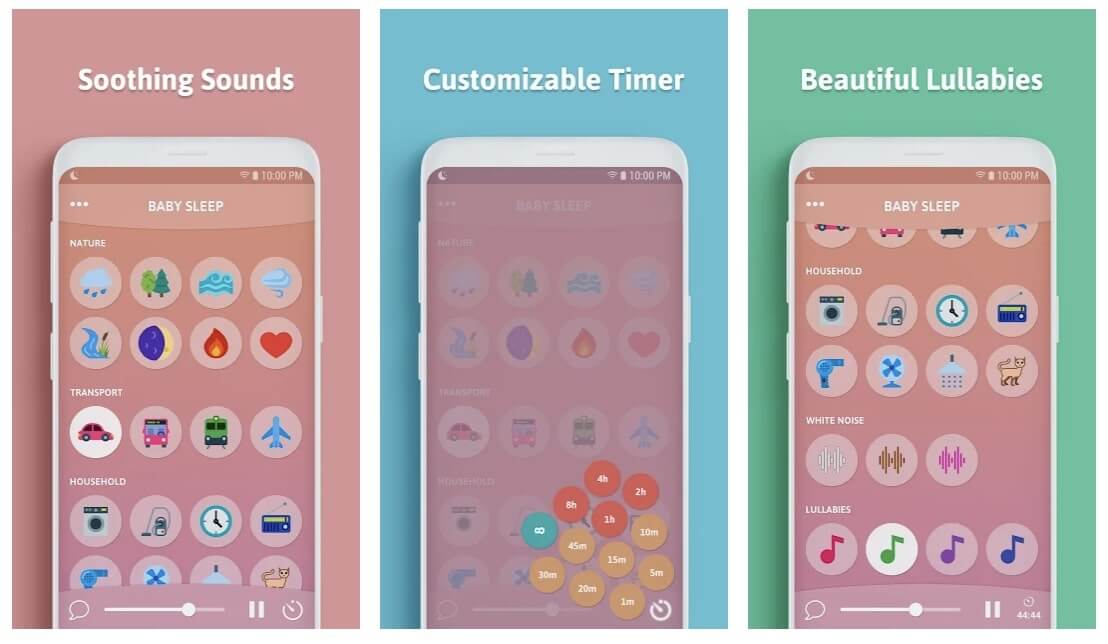 White Noise Machines' turn! Let's see what we will have if we use them.
Advantages of white noise machines:
Simple and healthy! Usually, white noise machines are quite simple and easy to use. There are also models that can have different soft lights on while working:
Use everywhere! Some models may have a battery inside that will let you take your white noise machine anywhere you go;
Design. You can choose between classic, modern, simple or special for children/babies designs;
Almost real. Some of the sound machines may have something special under their covers. For example, some of them even use a little fan that starts whirling and intensifying its sound.
Disadvantages of white noise machines:
Sizes. Sometimes can be a bit cumbersome. Like, need to find a place where to put it;
A limited number of sounds. If we use a smartphone, we can easily download new sounds, or just download a new app. In our situation, we just have to buy a new white noise machine;
Good for single people, opposite for married ones. Again, the same as with smartphones apps, we have to use some earphones or move to another room to enjoy the sounds and take the best of them;
And, there are some interesting models you can check, too.
This is the white noise machine that I slightly mentioned before. It has a little fan inside!
The main idea of this little fan is the sound of wind without actual cooling or moving air on you!
As this is not a digital sound but a natural one, you will enjoy the constant whirring of white noise. Just choose your preferred intensity and speed.
By the way, it is compact and light. Convenient to use. Enjoy white noise, relax more, sleep better and live great!
Key takeaway: for the best fan noise, directly here! No digital sounds. Only true ones. Adjustable speed, volume, and pitch. No disturbing cooling and waving air effects. Only relaxing and calming white noise.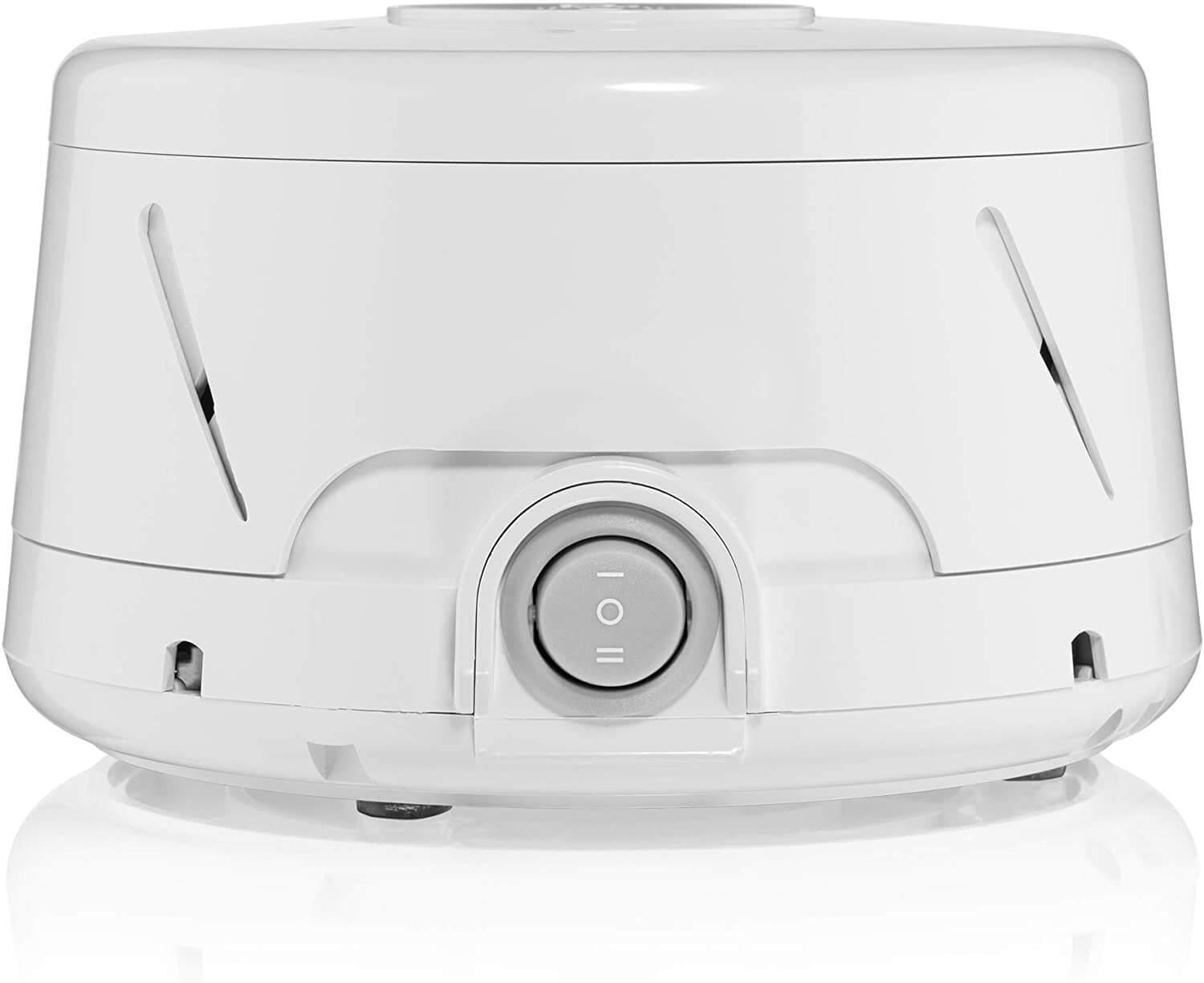 Here comes one more white noise machine. This time – digital one! It has:
24 sounds with 3 sound types;
10 nature sounds;
7 white noise sounds;
7 fan sounds;
A great speaker;
Timer 30-90;
LED Nightlight;
Compact Size.
Depends on you, which side you would like to go to. Natural or Digital?
Key takeaway: an amazing digital white noise machine with soothing sounds and warm LED lights. A huge audio library. Enjoy!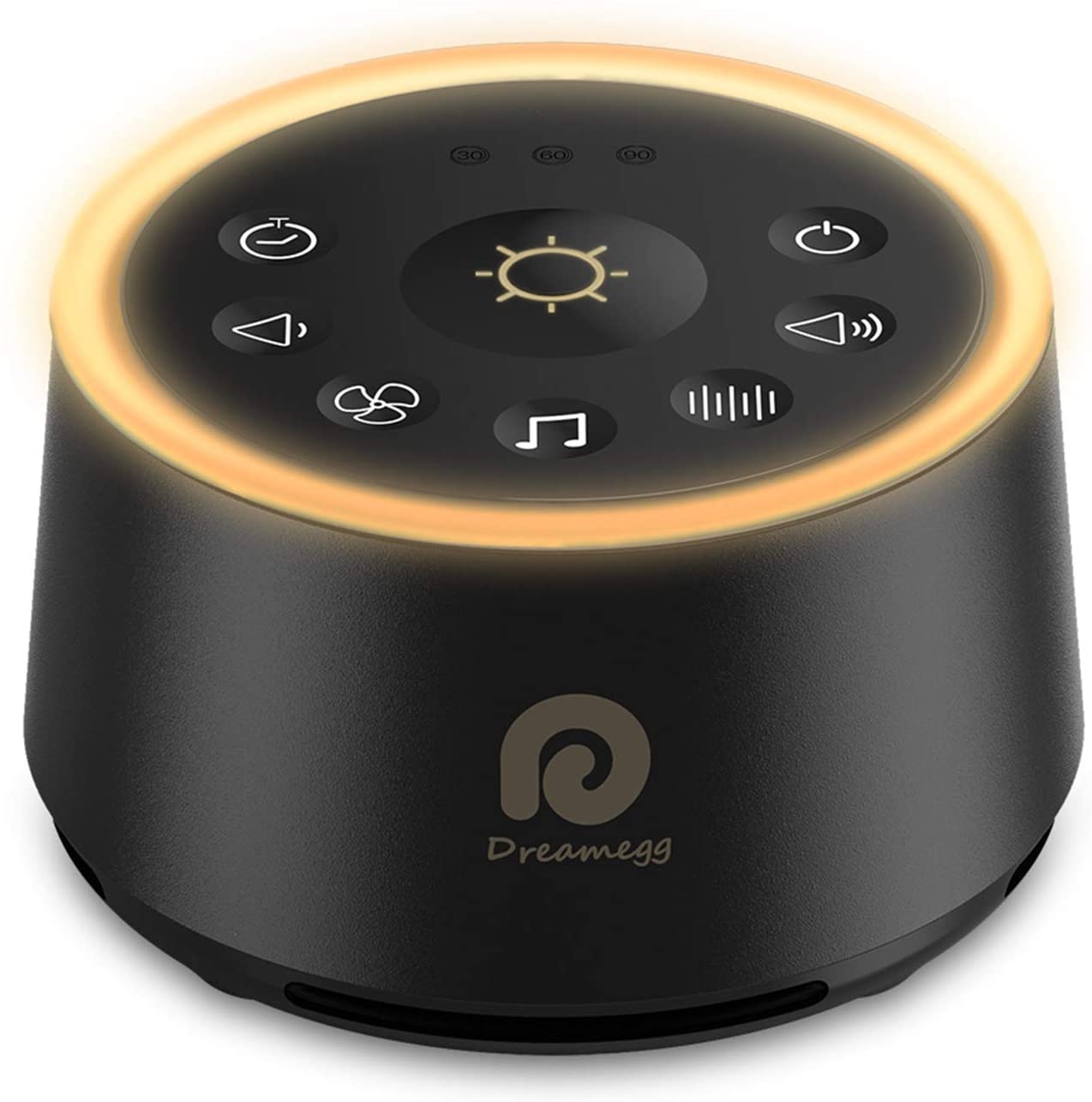 Our list of White Noise Machine vs App is about to be full. One more sound machine is here. This one is the most beautiful and useful, of course. After clicking the link, you will see a light blue lamp with a speaker and several icons. Nice one!
What else does it have?
7 color night lights and a breathing light. The lights are quite warm and soft. Won't disturb you from falling asleep. Breathing Light also can help with anxiety andstress. Check whether you follow any of these 14 Sleep Hygiene Tips For A Better Night's Rest;
16 Soothing Sounds in total:
6 white noises;
4 lullabies;
6 nature sounds;
Timer 15-120 min.
Key takeaway: this white noise machine is useful, beautiful, and suitable for kids. Adults will find their peace here too! Don't forget to click the link in its name to find out more information.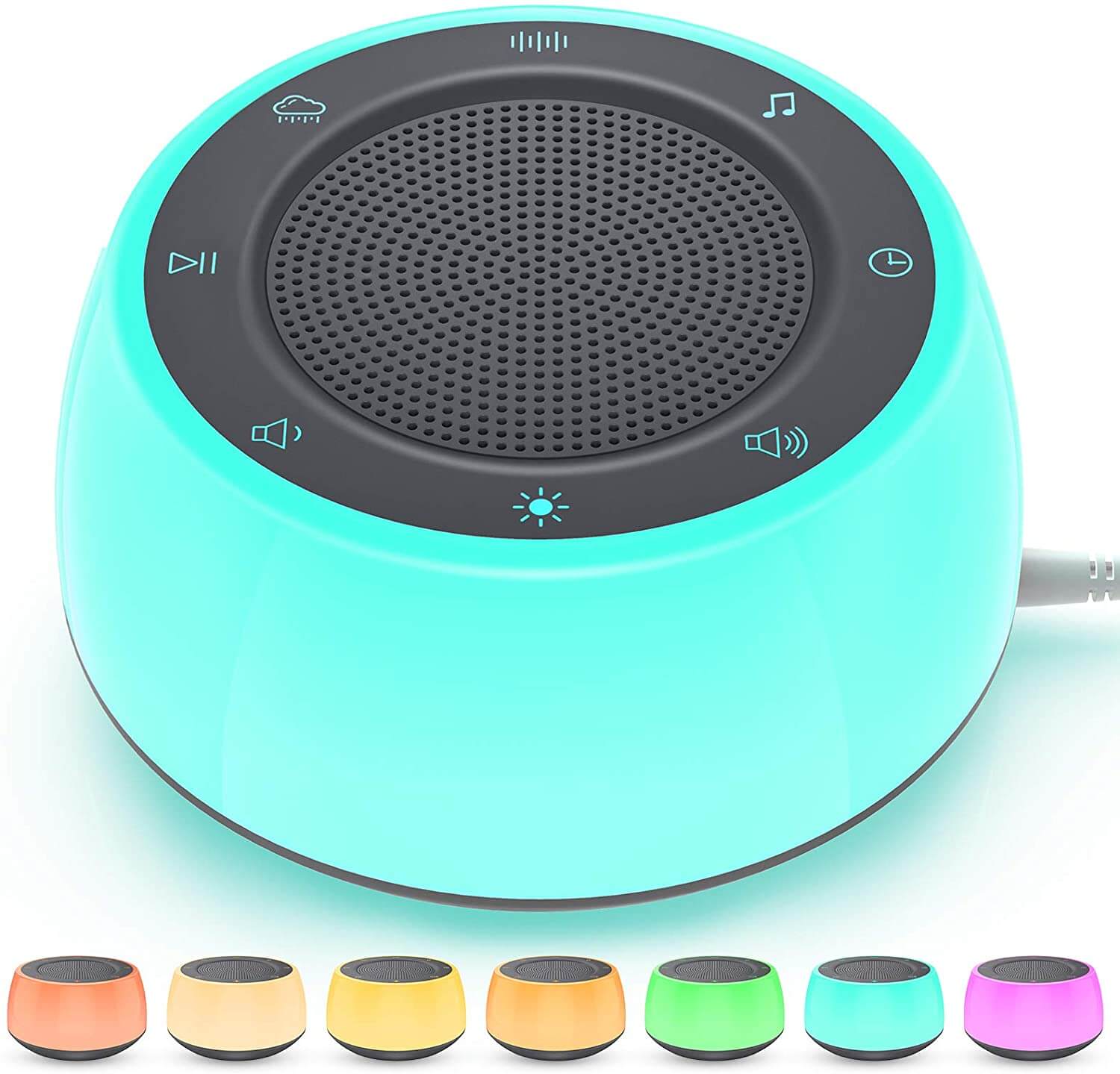 Here we are! The article is over, and it is time to make a conclusion.
Takeaway
White noise machine vs white noise app, which one is better? White noise apps are more suitable for those people, who can sleep with earphones on, if not sleep, but in general, enjoy listening to any sounds through earphones. And ready to pay for premium options. Free ones are also great! Mobility and usability everywhere.
Choose a white noise machine if you are single, live in a big house, or can sleep separately from your family members so as not to disturb them, or just all people enjoy the same sounds. Once you buy a white noise machine, plug it into the socket, and with the volume control adjusted, it can be enjoyed where it is.
FAQ
Can a white noise machine generate other types of noise besides white noise?
Yes, many white noise machines offer a variety of sounds beyond just white noise. They typically provide a range of different white noise variations, such as brown noise, blue noise, red noise, and more. These variations have different characteristics and pitches, allowing you to find the sound that best suits your preferences and creates the most conducive environment for sleep.
Can apps produce the same quality of white noise as dedicated machines?
While apps can provide white noise options, the sound quality may not be as good as that produced by dedicated white noise machines. White noise machines are specially designed to generate high-quality and consistent sound, ensuring a better sleep experience. However, if you are not extremely sensitive to sound quality or you're just looking for a basic white noise feature, apps can be a convenient and cost-effective alternative.
Are white noise machines louder than apps?
White noise machines can vary in terms of volume levels. Some machines offer adjustable volume settings, allowing you to choose the desired sound intensity. On the other hand, apps generally rely on the speaker quality of your device, which may not produce sound as loud as a dedicated machine. However, if you use a white noise machine in conjunction with a smart speaker or external speakers, you can achieve louder volume levels.
Is it worth buying a white noise machine if I already have a free app for white noise?
It depends on your needs and preferences. While a free app can provide basic white noise sounds, a dedicated white noise machine offers a higher sound quality, a wider range of sound options, and often additional features like adjustable volume control, timer settings, and portable designs. If you find that the free app is sufficient for your needs and you're satisfied with its quality, then upgrading to a white noise machine may not be necessary. However, if you're looking for a better sleep experience and more customization options, investing in a white noise machine might be worth it.
Can I use a white noise machine and an app together?
Absolutely! Combining a white noise machine and an app can provide you with even more options for masking noise and creating a soothing environment for sleep. You can use the white noise machine as your main source of sound and supplement it with additional sounds from the app. This allows you to have a wider range of white noise variations and customize your sleep environment to your liking.