Are you feeling anxious? Do you want to know what can help you to overcome your worries and fears? Here is the article with the list of apps for anxiety. With us – you will get quick help and all the necessary information about them. Beat the anxiety! Don't worry. Be happy! We will tell you how.
Smartphones and wearable devices are always ready to help us control our health. But not only in measuring the number of steps and our heart rate.
They can also help to observe our psychological state. Of course, an App, is not a doctor or psychologist. But an App can control, record, help, and provide necessary recommendations. Or inform you when professional help is needed.
How can I stop my anxiety?
There are many ways how to stop your anxiety and calm down. Let's see these 11 steps and try them. Before we move to apps for anxiety, you can also try these methods:
Write down your thoughts. When your anxiety is uncontrollable – Face your fears – it will help to evaluate the whole situation. When your thoughts are written on paper, they can be easily arranged and solved.
Aromatherapy is a great natural remedy to get rid of anxiety, worries, fears, and insomnia. If you can't fall asleep because of the anxious feelings, you can try making your own essential oils for sleep spray that you can spread around not only your pillow and bed cloth but also around your room.
Make your anxiety unreal. Don't run away from your fears. Imagine, visualize the one you are afraid of the most. And compare your current situation with the worst one.
Breath deep and right. For example, several months ago, my heart was beating very fast. I used the following breathing exercise: 6 cycles (1 min) 5 secs Inhale and 5 secs Exhale. It helped me. I did 3 cycles and my heart rate got back to normal. Your breath should be deep, natural, and equal/even. Sit straight.
Try doing some simple head massage. It will help to relax muscles and improve blood circulation.
Have some tea. Green or any herbal tea will help a lot. And, instead of sweets, eat some bananas. It has a lot of helpful vitamins and minerals for the nervous system.
Listen to your favorite music. Music will help to calm down, relieve stress, and relax.
Meditation! Also very important!
Do some cardio exercises! Thanks to physical exercises, the level of serotonin will increase. 7-10 minutes is enough. Your blood circulation, muscles, and energy will boost up!
There is one more way to stop your anxiety without apps for anxiety. Let's learn about it more in the following paragraph.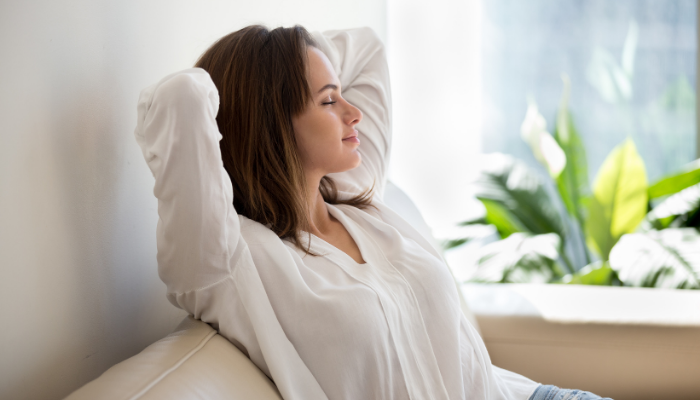 What is the "3-3-3 rule" for anxiety?
This is a very simple technique or tool which will help you to relieve stress, calm down, and get rid of anxiety. Relax, and follow these steps:
First, take a pause and look around you. Find 3 physical objects and describe them by asking and answering different questions.
Second, have a look at 3 things you can see and hear clearly. Listen to the sounds you hear and name them. Try to describe those sounds.
Third, choose 3 body parts that you can easily move. It is like doing some simple and easy exercises. Just let your body parts move, blood circulate and muscles flex.
The first and the second steps will help you to abstract from your anxiety without leaving the place where you are now. The third step will engage your physical strength and give you more power, as well as energy.
And, finally, we came to the apps for anxiety. Prepare your devices, we will need them now! iOS and Android are required!
| | | |
| --- | --- | --- |
| 6 Best Apps for Anxiety | Why We Choose It | App Store Rating |
| ShutEye | Best Overall | 4.8/5 |
| Calm | Best Calming App | 4.8/5, 4.3/5(Google Play) |
| Happify | Best Science of Happiness | 4.3/5, 3.6/5(Google Play) |
| Headspace | Best App for Anxiety | 4.8/5, 4.3/5(Google Play) |
| HelloMind | Best Peaceful App | 4.1/5, 4.0/5(Google Play) |
| Moodnotes | Best Mood Tracker | 4.7/5 |
What are the best apps for anxiety?
Besides being a great, perfect sleep tracker, ShutEye also has a lot of healing music sets. You can listen to them separately, or combine them in a mix like a DJ.
You can check our Online Background Noise Generator to become familiar with the sounds first, and then, download the app for free and enjoy the healing power of the app.
Download for iOS.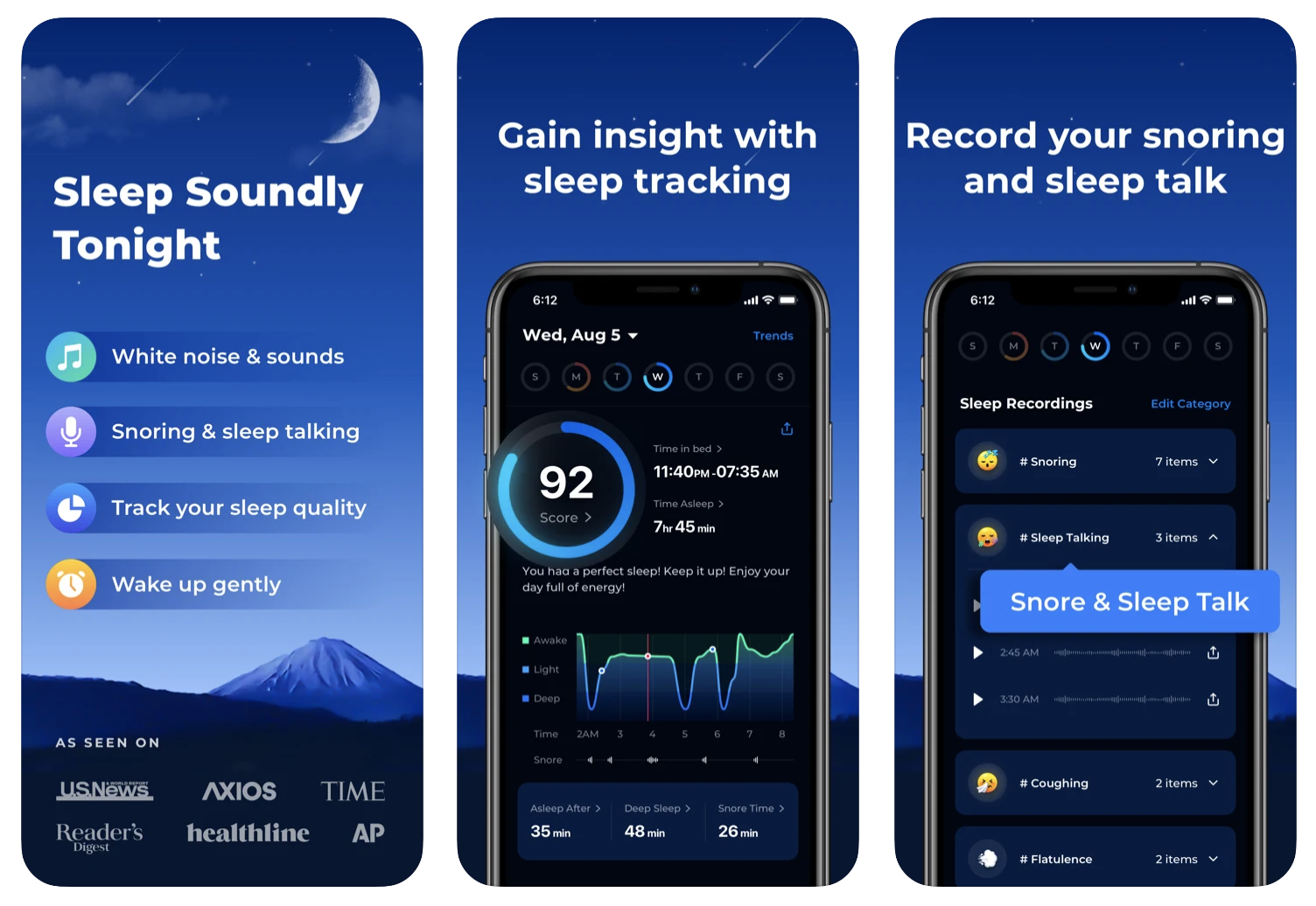 The name speaks for itself: keep calm and move on! Meditation is the key to peace and calm. Even their website looks very calming. This app will give you:
Dozens of meditations
Ambient music
Sounds of nature
And many other features and things to help you relax during the day or calmly and peacefully go to bed. All standard meditations are available for free, but if you need more, just buy a monthly or yearly subscription.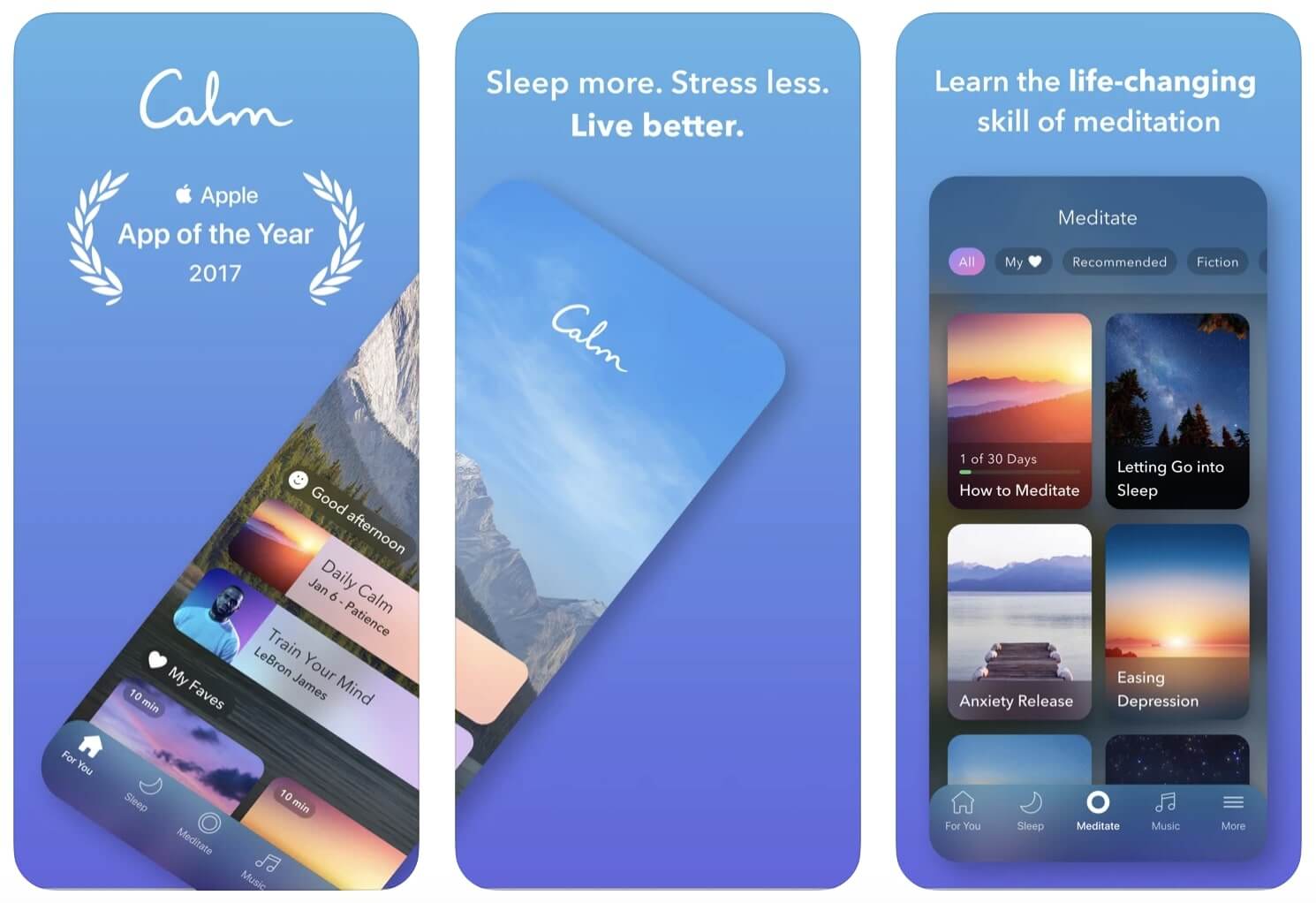 This app's goal is to show you how to live in a harmony with your feelings and get the best of life. It helps you to break the habit of negative thinking and teaches you how to see the world positively.
Simple exercises are masked by easy games, that is based on the research of the psychology of happiness. In the beginning, the app is free, later it offers monthly or yearly subscriptions.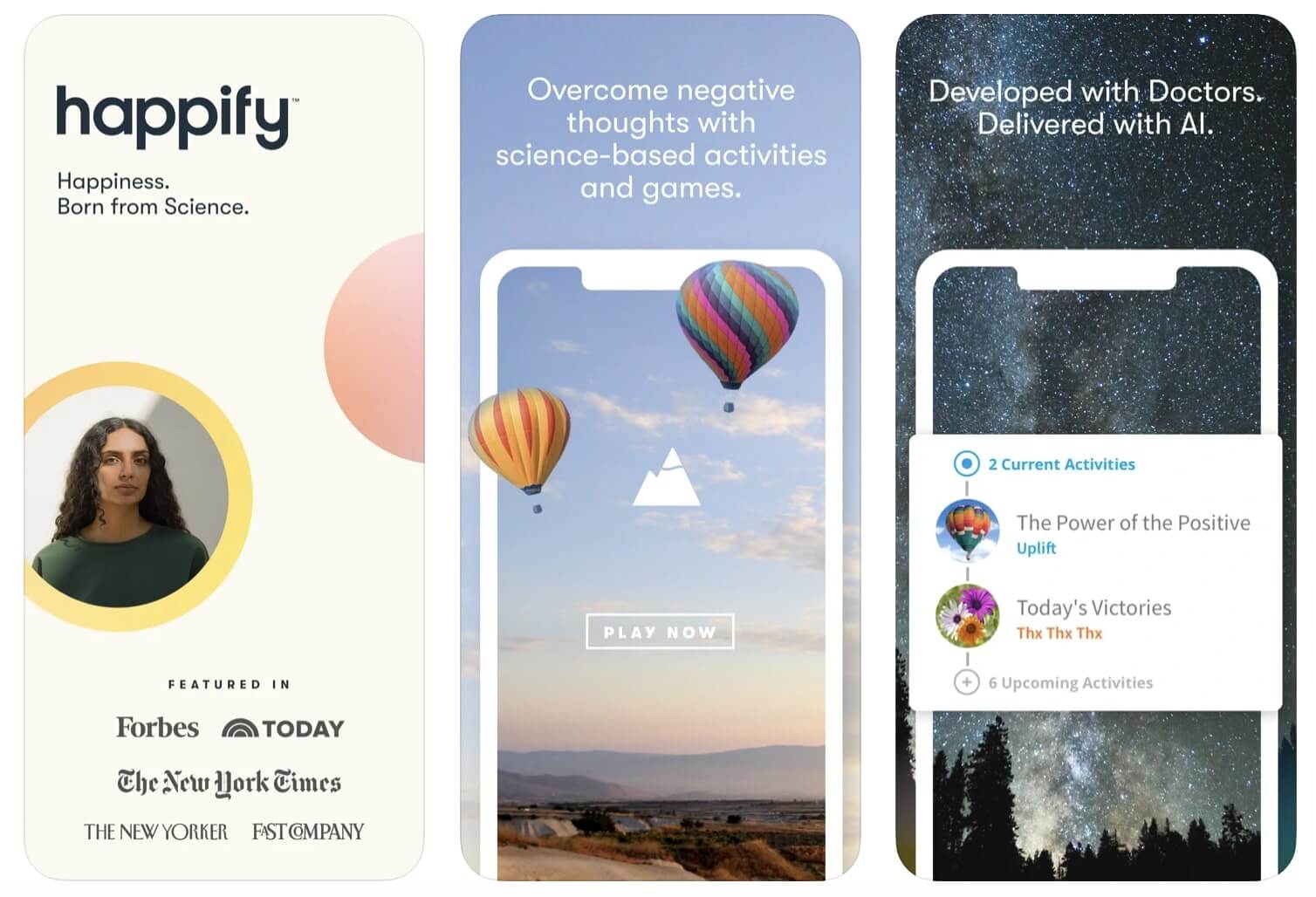 The next app in the list of apps for anxiety was invented by a Buddhist Monk from England Andy Puddicombe. A nice and simple app helps to choose a meditation program depending on your environment and time availability.
As Andy says, it is very important to meditate in the mornings. It helps to deal with stress during the following day. Here you can choose monthly and yearly subscriptions respectively.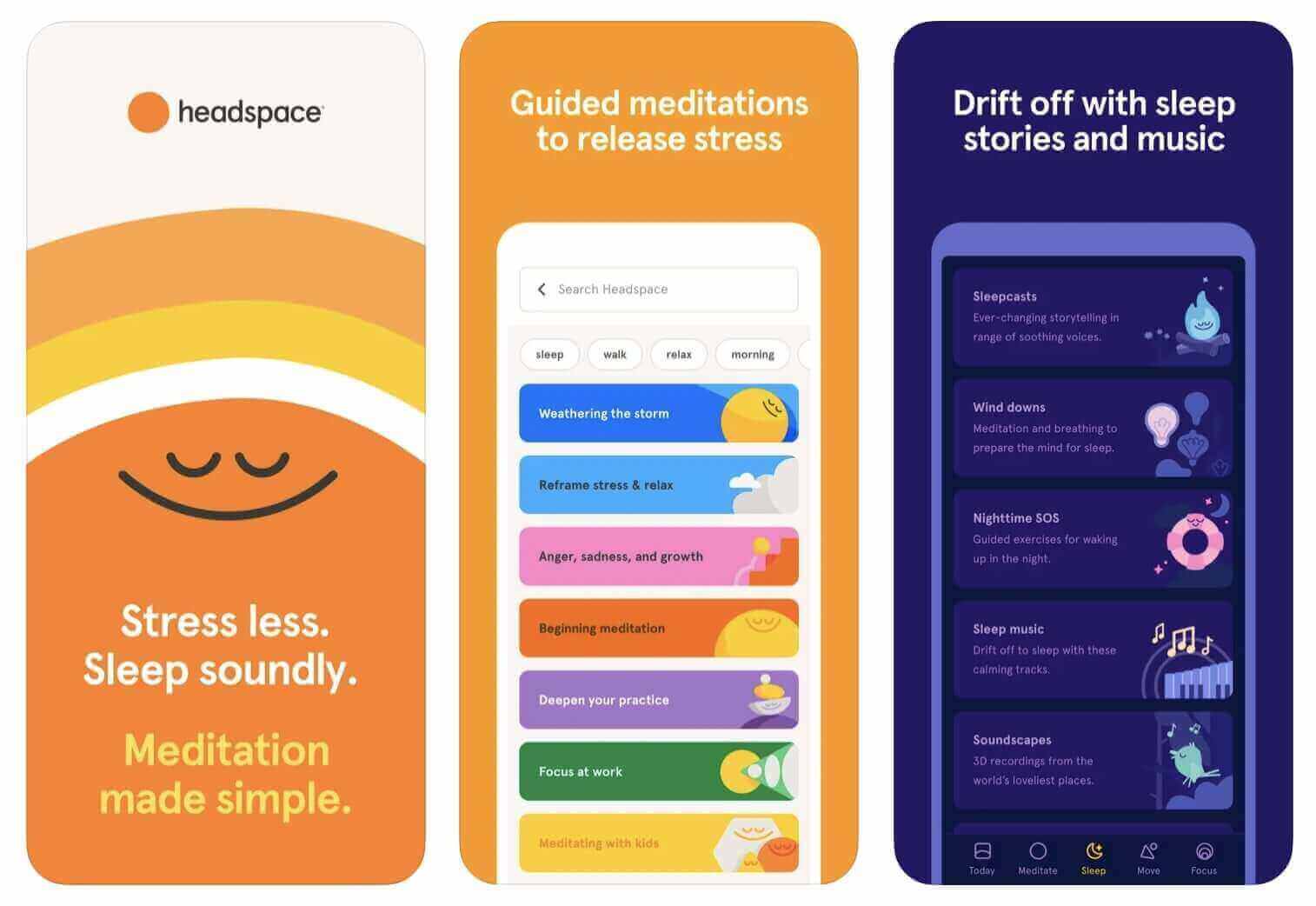 Green and white. Leaves and snow or water. Calming and peaceful colors of the next app in the list of apps for anxiety.
All you need to do is: choose a problem and treatment, then relax and listen to the sessions. Headphones, please! You can also turn on an Airplane Mode to fully abstract yourself.
There are a lot of other features, I want to mention those which can help to kick that anxiety for good with sessions like:
Be calmer
Get rid of your fear of panicking
My ability to de-stress
Learn more by clicking, and downloading for Android and iOS.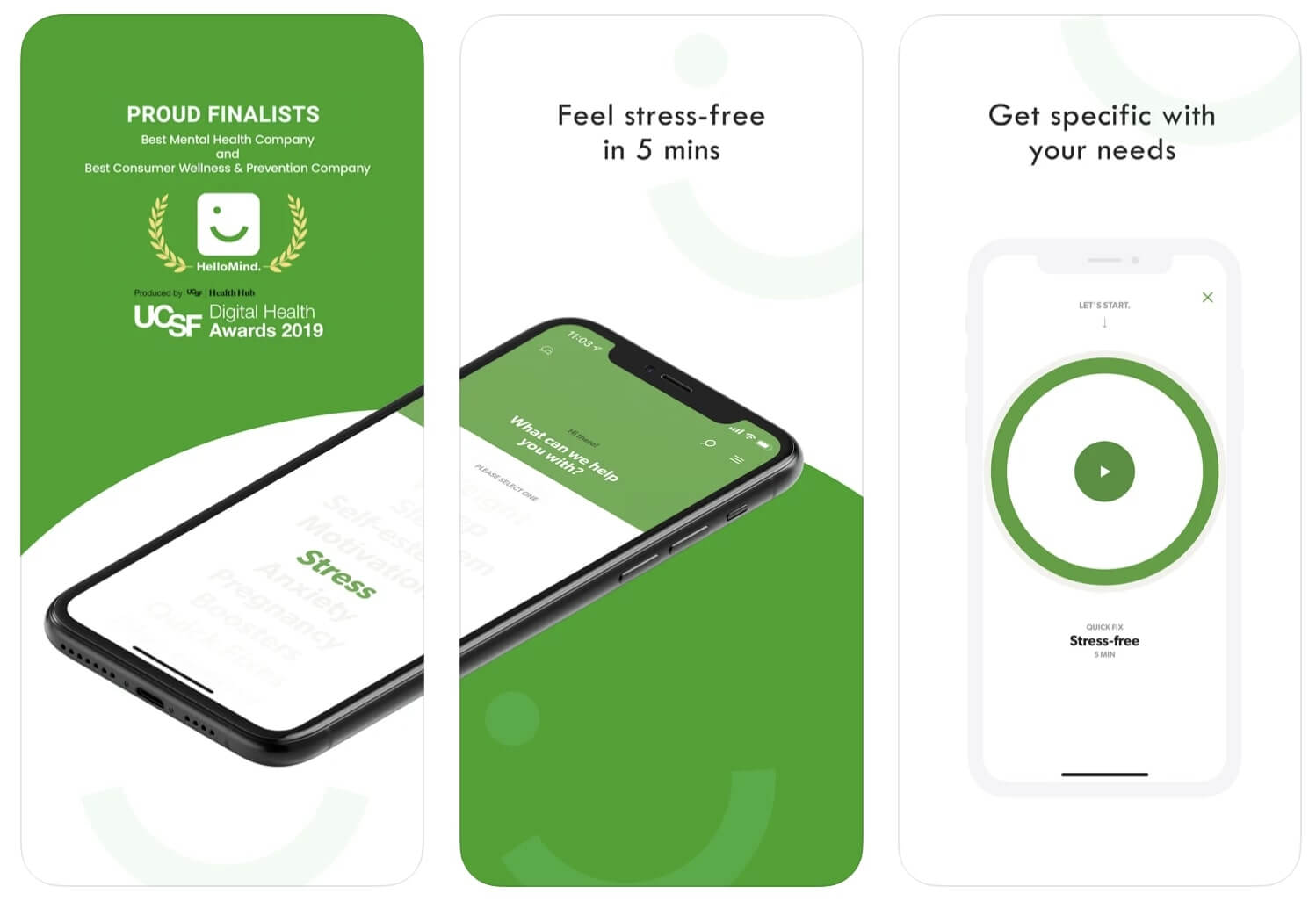 And the last but not the least app for anxiety for today is here. Once, in the article dedicated to 5 Best Mood Tracker Apps of 2022, we mentioned this developer. The previous was about mood tracking. Now, we have another app of this great developer.
The idea of the app is: in the beginning, you need to describe all that you feel, how do you feel today/about/in general, etc. Then you start your mood tracker journal.
As if you are talking to your app, it asks you, you tell it, describe your mood, events, reactions, and so on. Everything that happens during the day.
Immediate help is also here. You can even simply scan your face and the app will help you to choose treatment or will select appropriate content for your mood/anxiety.
So far, the app is only available for iOS.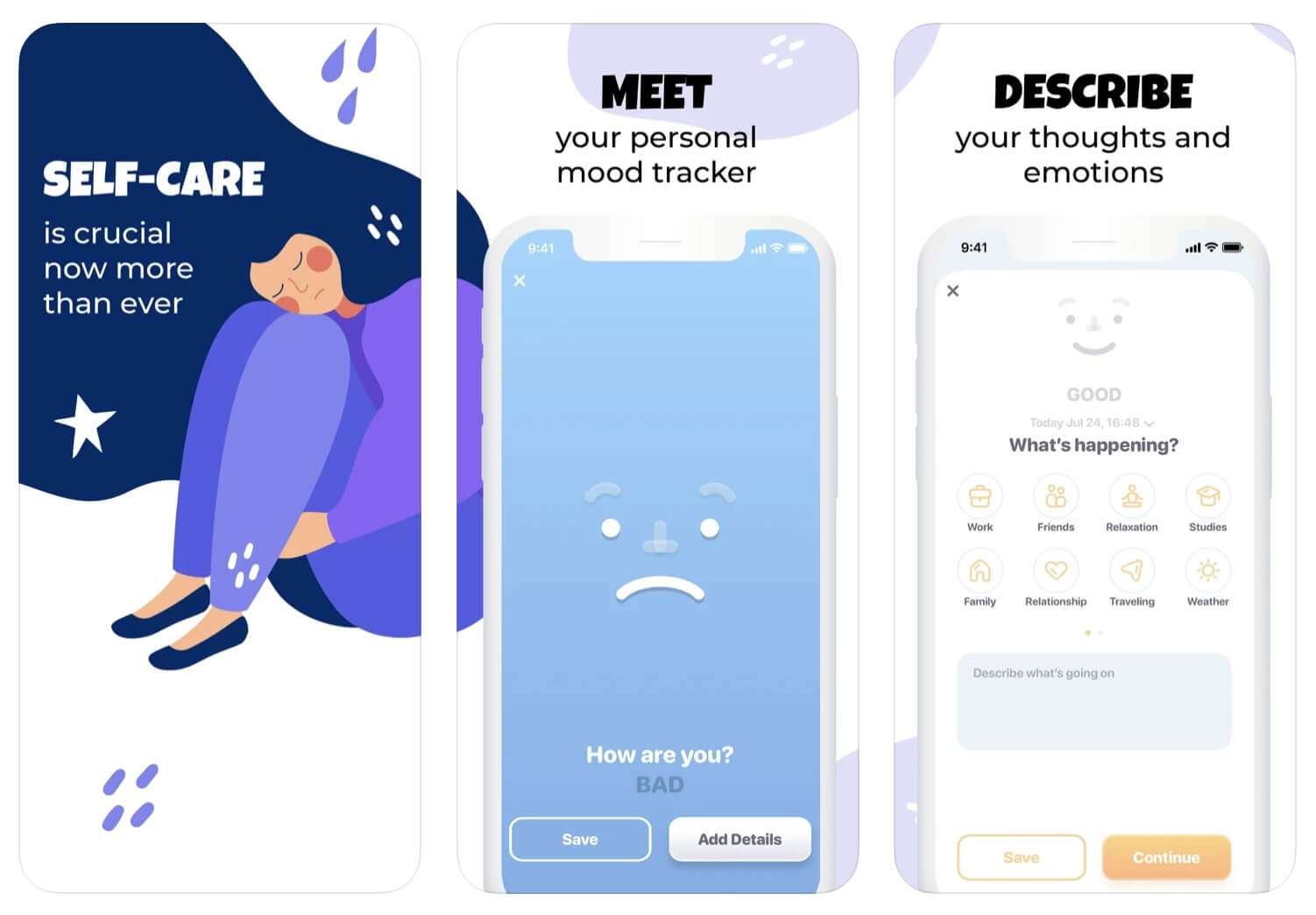 The article cannot be considered to be done without mentioning the app of all time!
Have a look at these articles, that are closely related to today's topic:
So, now, we can finish the article! Thank you for your time! We hope, you've liked the article and found it informative!