Nowadays, sleep is the most precious gift we can have. But the modern way of life is not that generous for giveaways. Nevertheless, there are two sleep tracking apps that can present you with a good night's sleep! Let's choose the best one Autosleep vs Pillow.
| | | |
| --- | --- | --- |
| Best Sleep Tracker App | Why We Choose It | App Store Rating |
| AutoSleep | Efficient and convenient | 4.6/5 |
| Pillow | Abundant Free Functions | 4.3/5 |
| ShutEye | Accurate and Simple | 4.8/5 |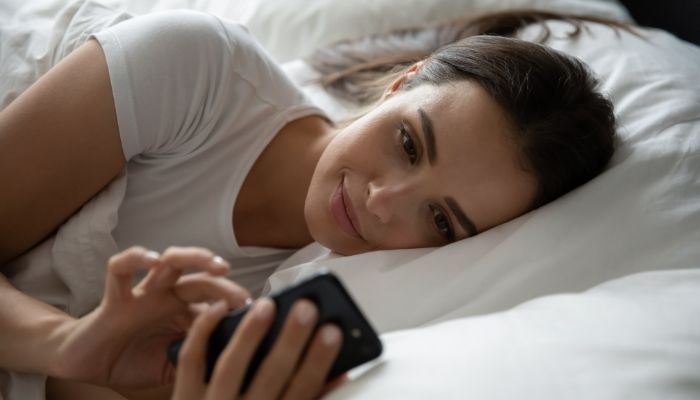 If we check AppStore that is the only store where you can download this sleep tracker, their screenshots are not lying.
Listed as the best app 2018-2021.
More than 100.000 feedbacks.
The average score is 4.6.
Most of the feedbacks are positive. People like its simplicity and efficiency.
How does autosleep work?
First of all, this app is for iPhone and you don't need to install it on your Apple Watch. Just wear your Watch while sleeping and all the necessary information will be transferred to the app.
The heart rate that comes from your Apple Watch to your iPhone is analyzed by the app and gives you information about your sleep. The report will inform you about:
How long you've slept
Time of falling asleep and waking up
Tips on making your sleep better if it's not sufficient
In this way, we may see that this sleep tracker app is quite accurate as it is connected close to our body (part).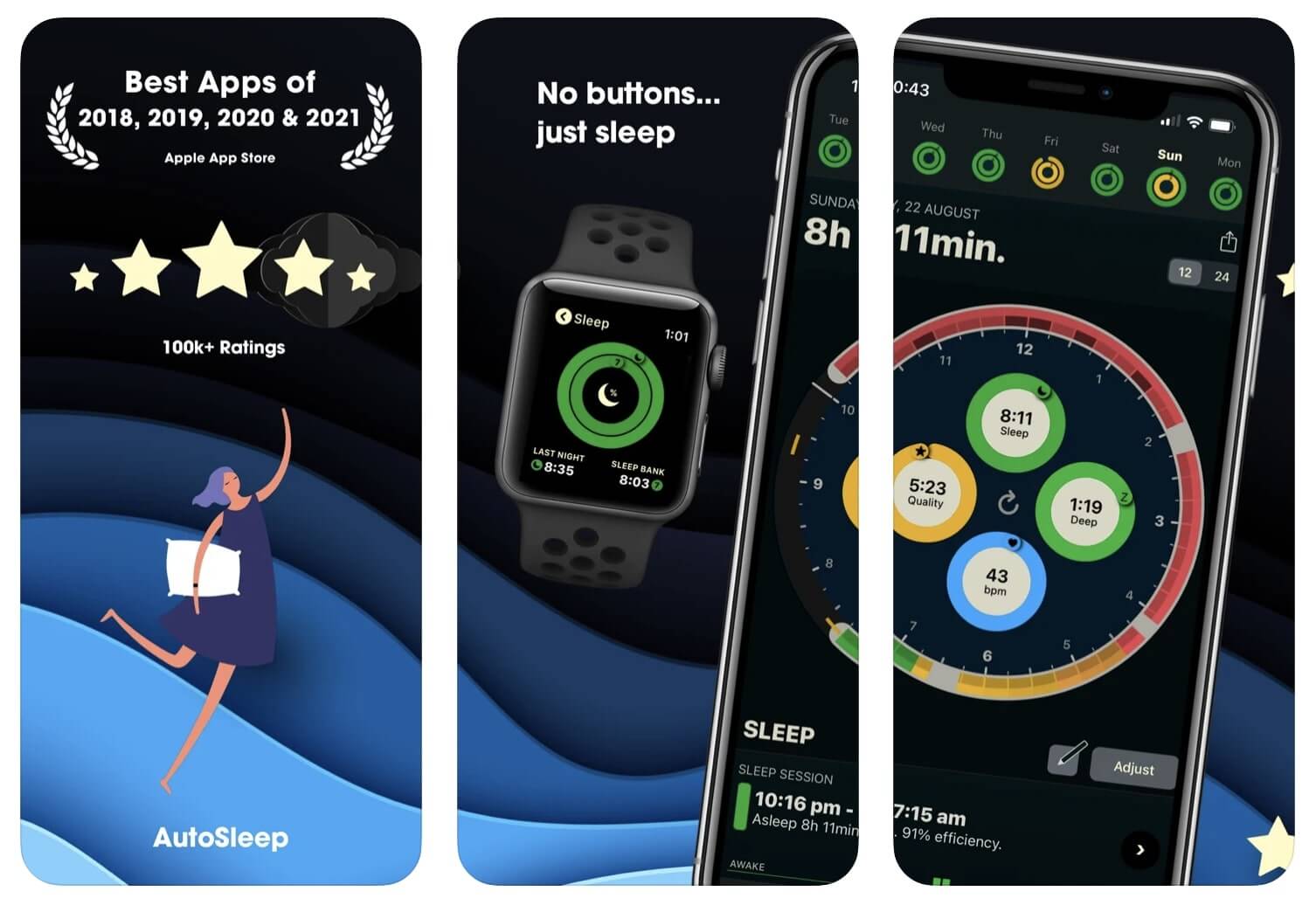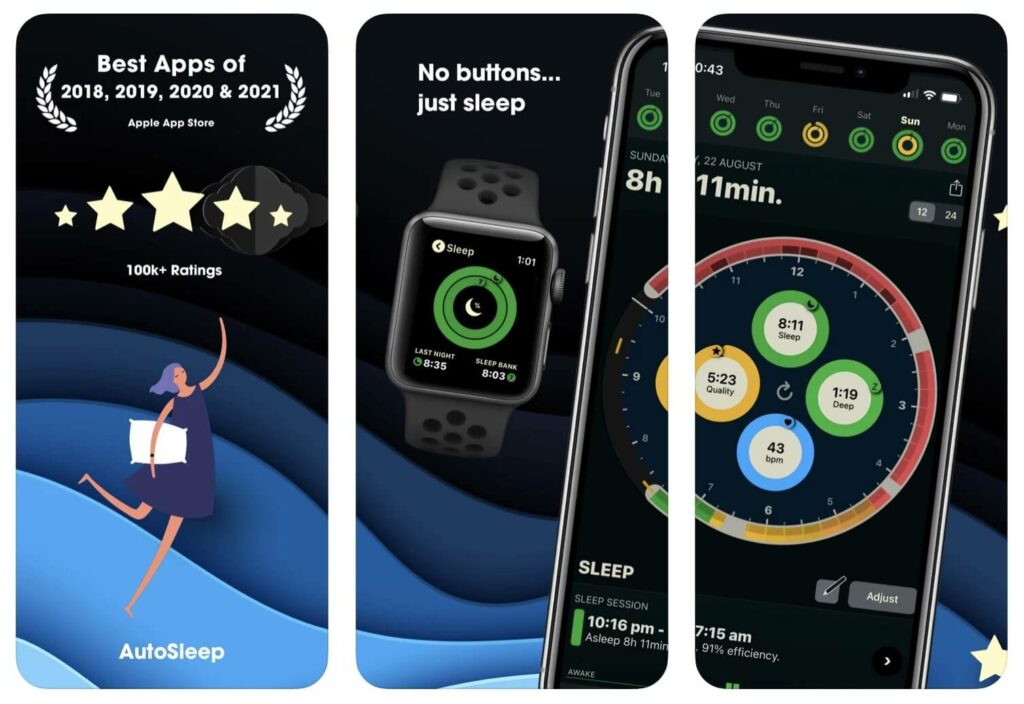 Autosleep Advantages:
No need to download the app on Apple Watch.
By constantly wearing Apple Watch on your hand it will automatically track your sleep. You don't need to click anything. Just do your normal things. The detailed report you will get in the morning.
Even if you charge your watch overnight and unblock it in the morning, Autosleep will inform you of any other data is collected and prepared during the night.
In case you like to read books before sleep, there is an option called Lights OFF. The app will as accurately as possible adjust falling asleep time and other following functions.
Autosleep Disadvantages:
Smart Alarm Clock isn't always smart
Calibrate manually automatic functions are not always correct
Vibration is not enough to wake you up
A bit complicated user interface may need some time to make things clear
Key Takeaway: not expensive but efficient wearable iOS sleep tracker. Fully automatic, calibrating, and adjusting UI as well as Features.
Is the Pillow app accurate?
Now let's speak about one more sleep tracker. This one can work both on iPhone and AppleWatch. This is a smart alarm clock with the functionality of a sleep tracker.
Its rating is around 4.3 with 64.3K feedbacks.
Once was chosen as Editor's Choice.
What helps to make this sleep tracker accurate? Features!
Track your sleep automatically
Sleep cycle & heart rate analysis
Audio recordings
Optimal Bedtime
Personalized insights & sleep tips
Sleep trends
Backup & synchronize
Alarm presets & naps
Mood & notes
Sleep aid melodies and wake sounds
And so on.
Here we can see quite a lot of features. They are useful and work. Most of the users' feedbacks are positive. People admit sleep tracker's functionality and smart alarm clock usability.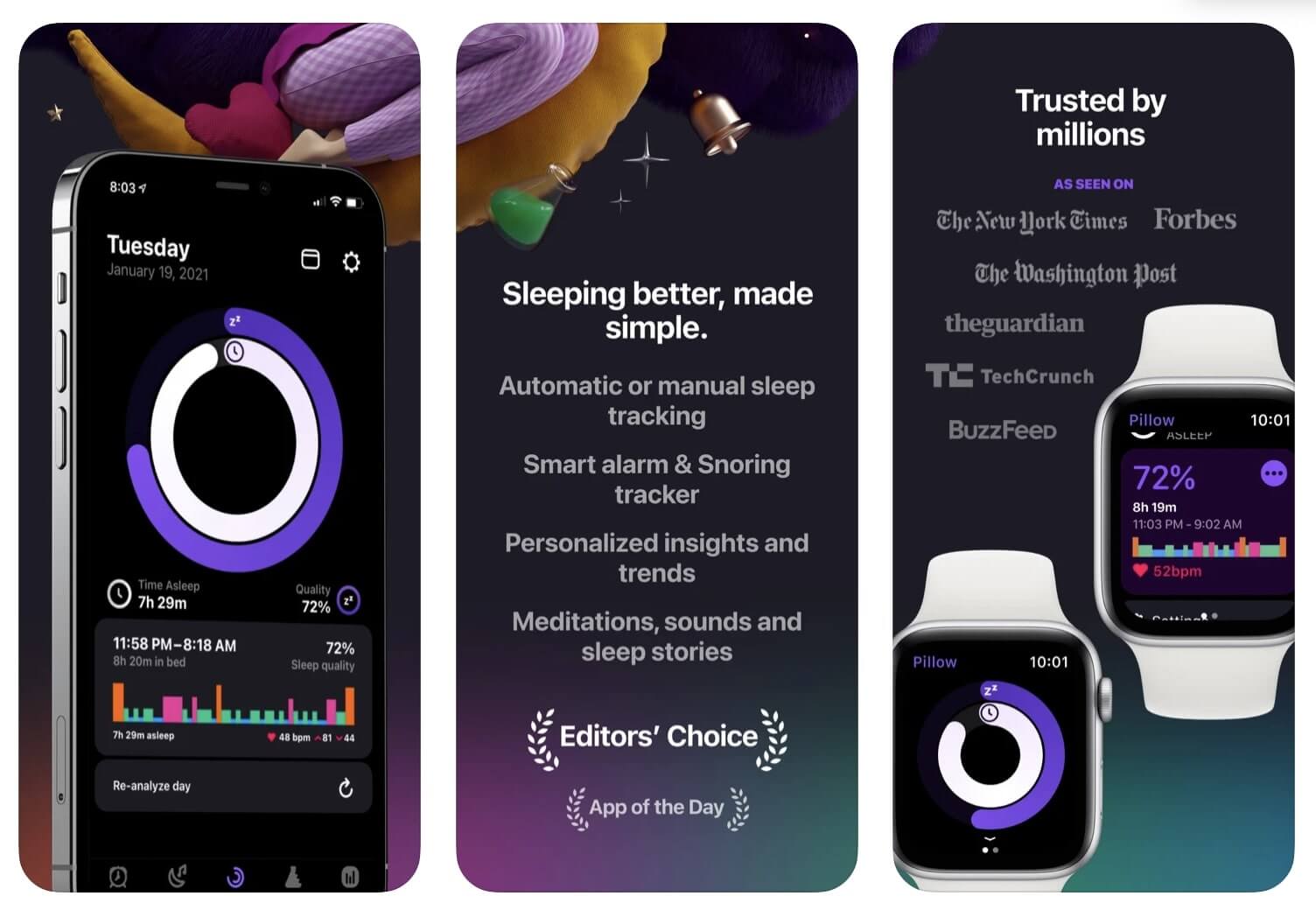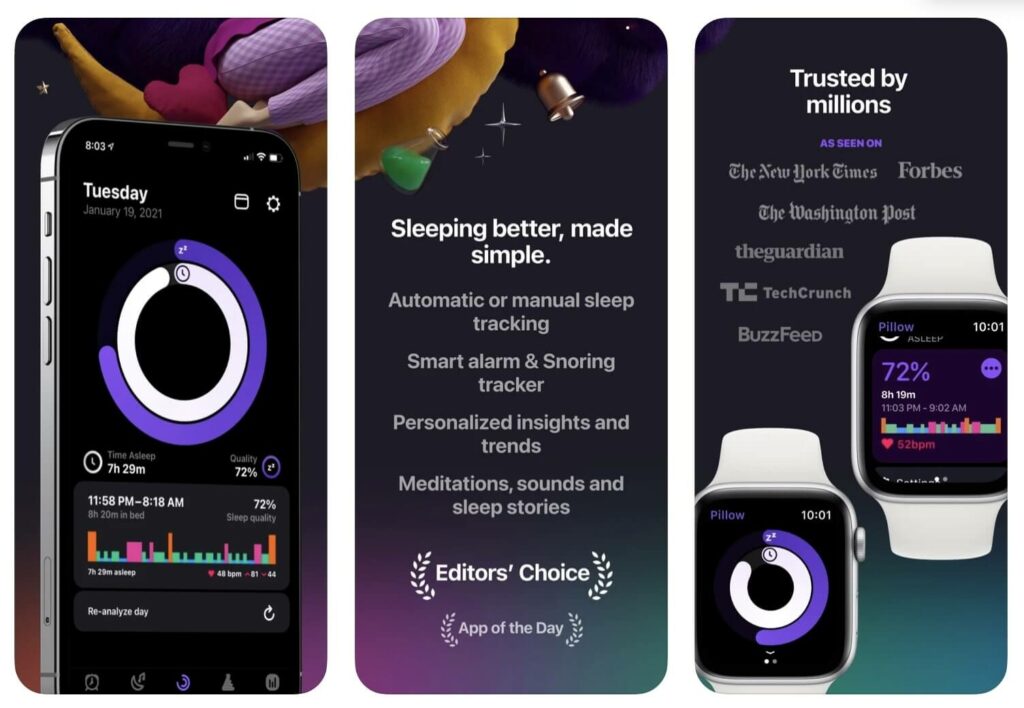 Pillow Advantages:
Functionality a lot of modes and various sleep data after sleep.
Good for eyes after setting the alarm clock, the app turns off the screen(s) and in case of waking up at the night, eyes won't hurt.
You can write some notes after waking up, you can leave some feedback and then, compare your data and, eventually find the best conditions for a good rest.
A lot of functions are for free. Yeah, nothing is for free in this life, but this alarm clock/sleep tracker has many features and options available for free.
Check out the features list there are hidden advantages 😀
Pillow Disadvantages:
To close to my head if you don't have Apple Watch, you will have to keep your iPhone/iPad close to your head. Of course, if you want to get a detailed sleep report. If you need just an alarm clock, okay, just keep your phone nearby.
Battery energy consumption. it will be better if you hold your device connected to a power source during the night.
Tracking sleep and automatic alarm emm… We all make mistakes, AI too. Some people say that this tracker can decide that you sleep but actually you are on fire doing something. Or it can wake you up at the time it decides like (9 a.m. instead of 6 a.m., sleep stages, you know).
Key Takeaway: a good alarm clock that combines sleep tracking functions, allowing you to sleep well, sleep better and wake up happy.
Autosleep vs Pillow. Which is the best sleep tracker?
It is always hard to judge, choose and make decisions. So instead of jumping to conclusions, I recommend you try these 2 apps and see which one fits you the most. We are all individual and tastes differ, as they say.
The most important thing in our Autosleep vs Pillow competition is that they have free features available to try.
If it is okay to include here my personal preference/opinion, I am the person who chooses brands, developers, or any other kind of manufacturers who are well-known, trusted, have awards, recognition.
Okay, some brands and labels require a bit more money to buy them, but as a result, you get quality, efficiency, and a long-lasting thing that you can enjoy for many years.
Following this logic, I would prefer Autosleep to Pillow. The Choice is yours.
One more sleep tracker app
If it occurred to you and you think that these two apps are still not the best match for you, I strongly recommend you to have a closer look at ShutEye.
It is available for free for iOS devices.
Number 5 all over App Store in Health & Fitness.
Rating is tremendous 4.8 with 75.6K evaluations. And the prices for Premium/Annual/Monthly subscriptions are much lower!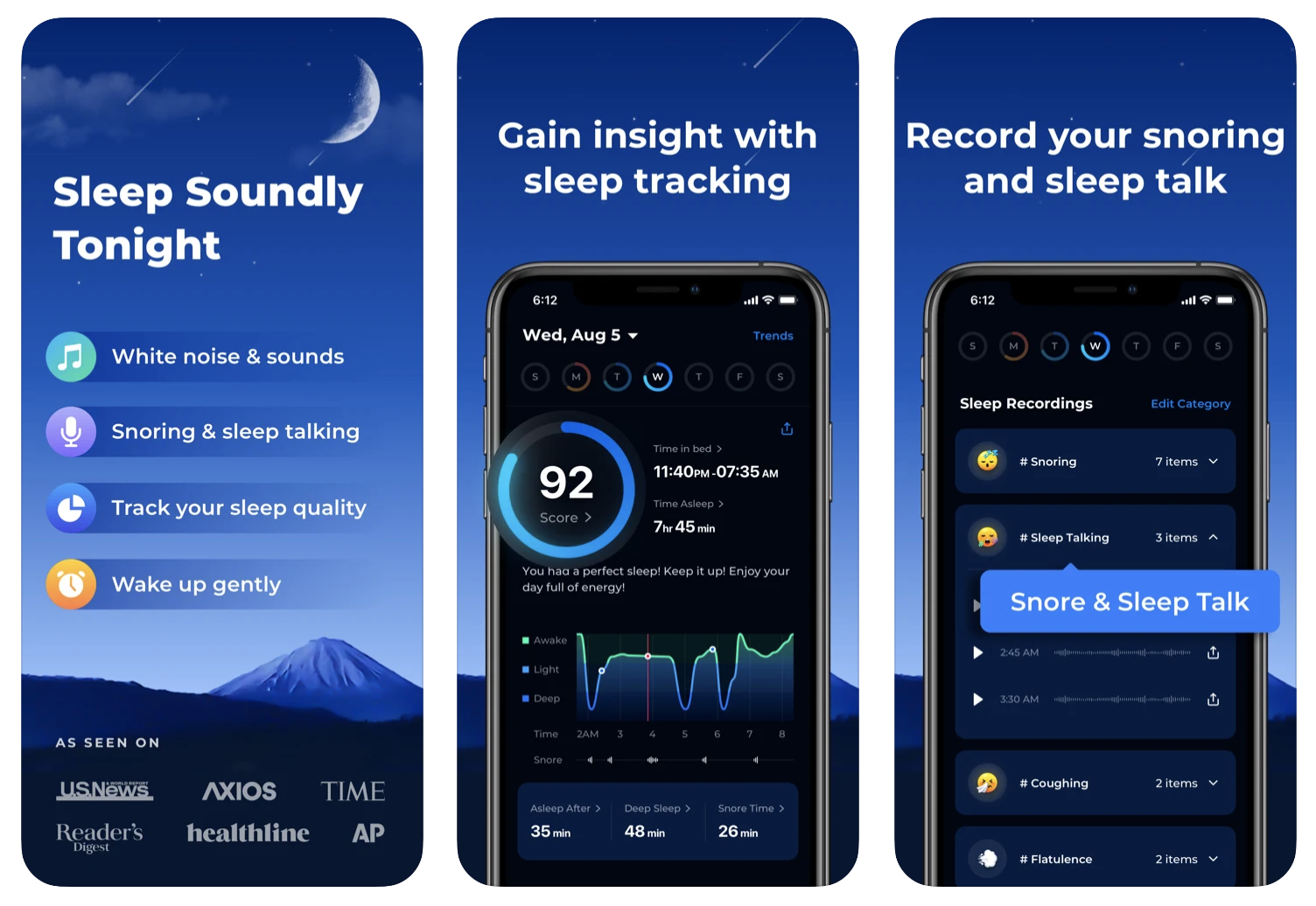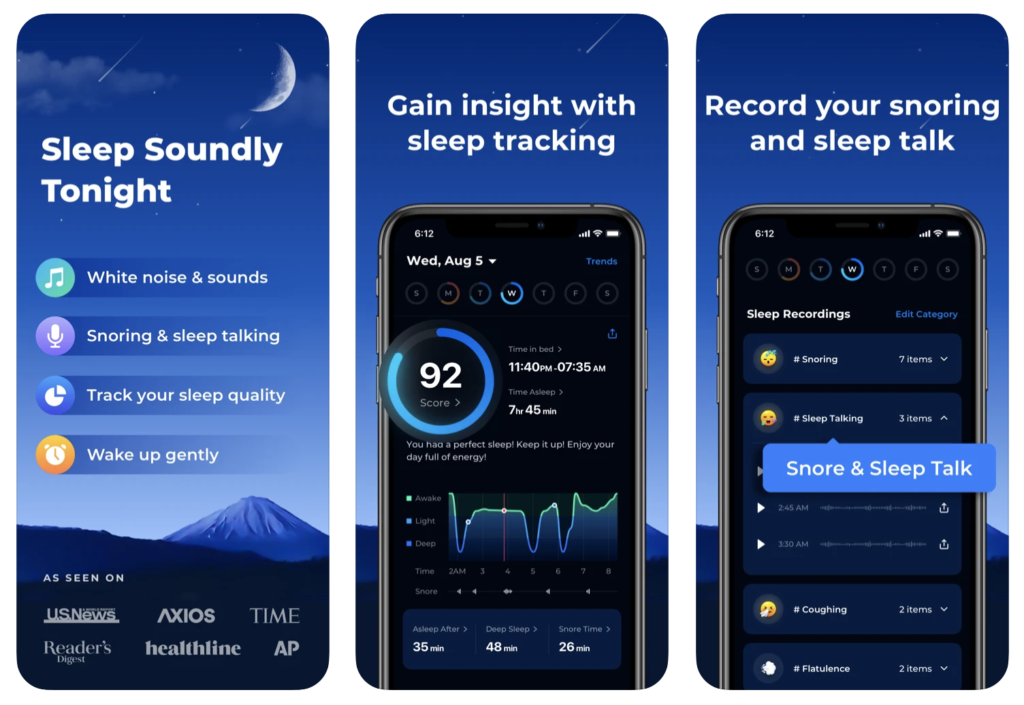 By downloading this sleep tracker app, you get everything needed for a good nights' rest! Sleep tracking, sounds recording, sleep stages issues, sounds for sleep and waking up, detailed reports, smart alarm, sleep stories, snore detectors, and a lot more coming, updating improving!
One more good thing, some of the features/options are even available for trying on the Website.
Online Background Noise Generator
Blog Sleep Tips and Sleep Science Articles
How does ShutEye sleep tracker work?
That's all for AutoSleep vs Pillow! I hope it was useful for you and we answered all of your questions! If there is still something we could help you with, please kindly live your comments below!