If you find that your snoring is causing significant disturbances, such as shaking walls and rattling windows, it's time to address the issue. In this regard, we introduce a selection of best snoring apps that can be of assistance. If these apps do not yield the desired results, we also have a range of practical advice on how to quickly and effectively alleviate snoring. Let's explore these solutions further.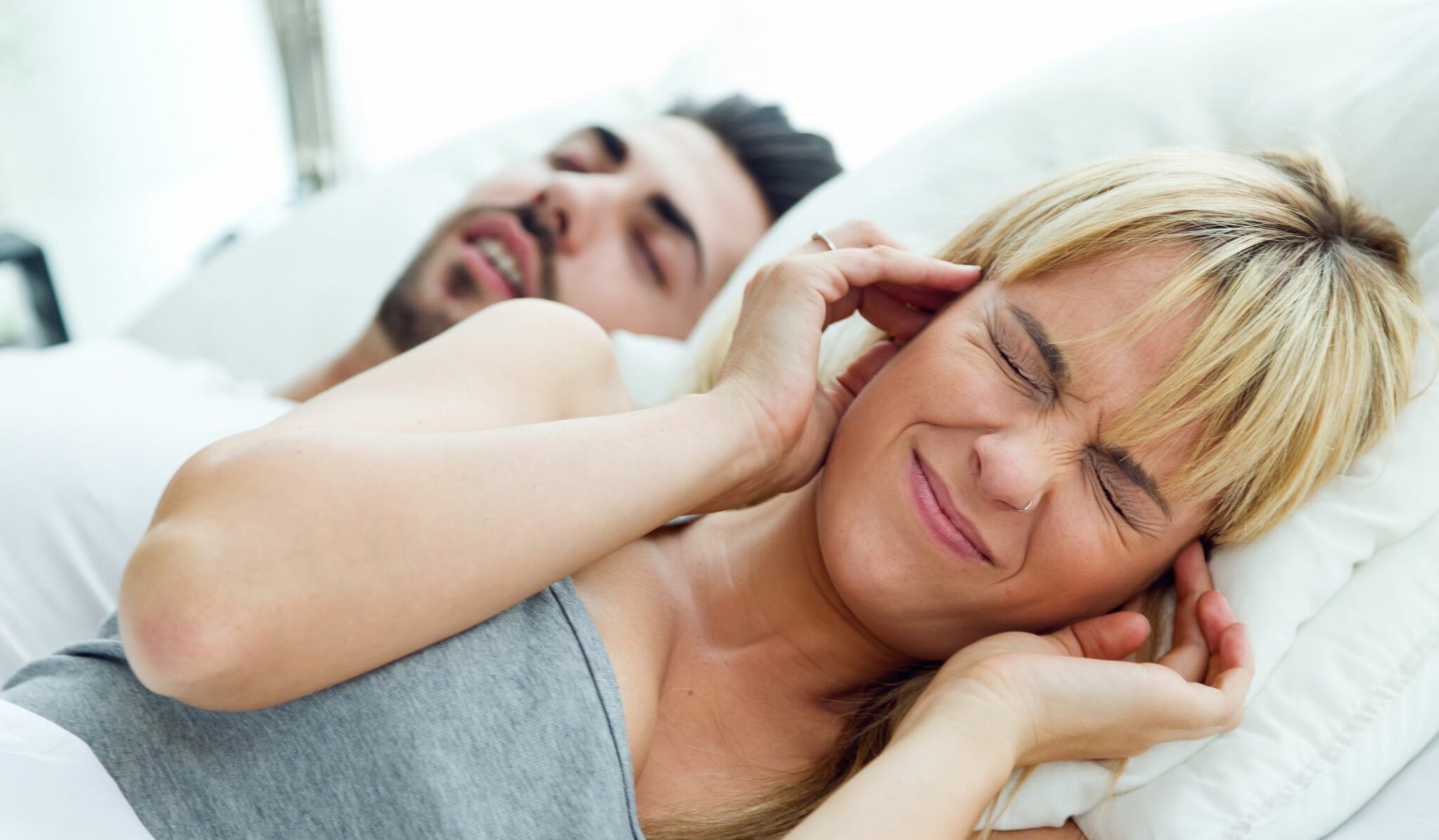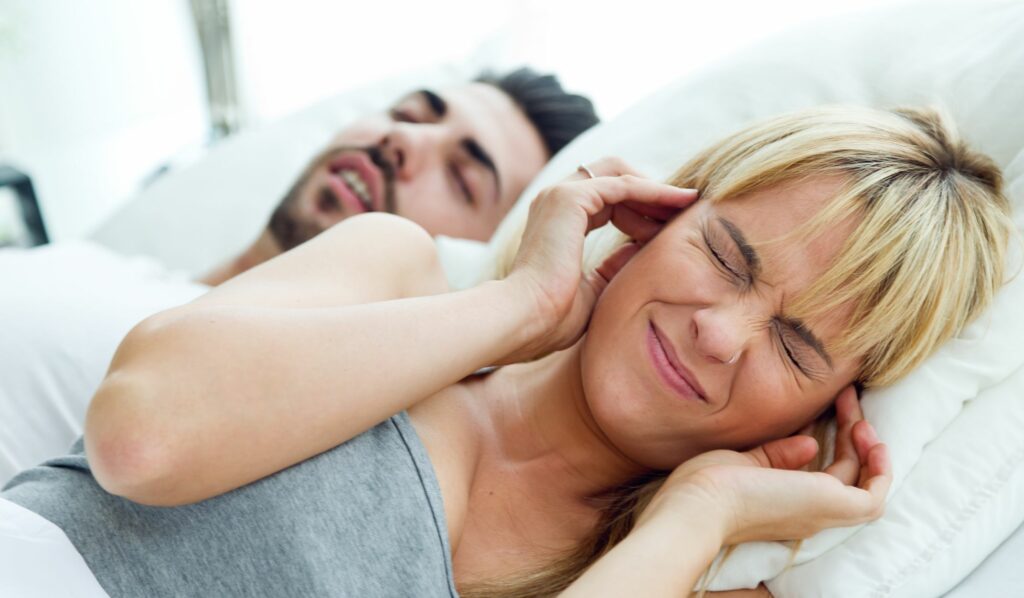 Common Causes of Snoring
Snoring, a common nighttime disturbance, can be attributed to various factors. One prevalent cause is obesity, as excess weight can lead to throat narrowing and obstructed airflow. Additionally, a blocked nose, often resulting from allergies or illnesses, can force individuals to breathe through their mouths, increasing the likelihood of snoring. The relaxation of throat muscles during sleep, often exacerbated by a regular alcohol consumption or drinking alcohol just before sleeping, is another frequent culprit. Sleeping position also plays a role, with certain positions promoting airway obstruction. Exploring these common causes of snoring can help individuals better understand and address this disruptive issue, ultimately improving their sleep quality and that of their bedmates.
What is a Snoring App / Snore Recorder?
A Snoring recording device can track your sleep and your movements while you're sleeping. Those are not anti-snoring devices, but rather tools that monitor your snoring pattern through night recording. Different snoring and sleep tracking apps offer various features and functions. It's a fact that certain products are superior to others. In general, all good choices, however, share some similarities that we will explore further.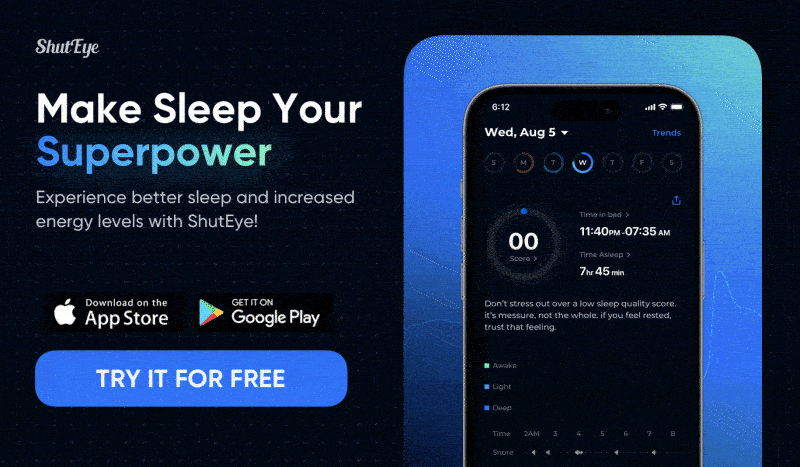 How does a Snore Recorder App work?
The use of snore recorder apps is straightforward and can greatly aid in monitoring sleep disturbances caused by snoring habits. These innovative applications utilize your smartphone's microphone to record snoring sounds and possibly other sleeping noises, like sleep talking. Once recorded, the snore recorder app's software then diligently analyzes these audio recordings, providing you with comprehensive reports that shed light on how your snoring affects your overall sleep quality. This insightful data can be pivotal in recognizing any abnormal breathing patterns or sleep disturbances, ensuring you stay well-informed about your sleep health.
Are snoring apps accurate?
Yes. Most of snore recorder app are accurate because they use almost the same technology as a voice recorder. Sure thing that there are factors affecting the quality of the recording. The factors may be the following:
Environmental noise
Phone characteristics
Position of the phone
App features
And others
The thing that will surely help you get the best out of the snoring app is – following the instructions they give.
What is the best app to track snoring?
Here is the table summarizing the best snoring apps. In the next paragraph, we will provide detailed descriptions of each of these snore recorder apps, highlighting their key features and compatibility.
| | | |
| --- | --- | --- |
| 5 Best Snoring Apps | Why we chose it | App Store Rating |
| ShutEye | Best Overall | 4.8/5 |
| Snorelab | Best Snore Tracker | 4.7/5 |
| Do I Snore or Grind | Best Grind Recorder | 4.3/5 |
| SnoreApp | Best Snore Analysis | 4.8/5 |
| Snore Free | Best Snore Solution | 4.3/5 |
Trusted by more than 8 million people around the world. With 4.8 as the highest score rated by 82.6K happy users. ShutEye is one of the best snoring apps.
With this multifunctional sleep tracker app, you can record all the sounds you're making while sleeping. This innovative app records:
Teeth grinding
Environmental sounds
Your mouth breathing
Sleep talking
Other members of the family who are near you
Disturbing sounds and so on.
Thanks to its effective algorithms, ShutEye can record your sleep time and provide a detailed sleep report in the morning. You will be able to detect your snoring patterns and even, snoring intensity on the exact sleep cycle period.
This sleep tracker and snore monitor app is a powerful tool for detecting, analyzing, and getting rid of the sleep problems you have now.
Even though this app is not your physician, it can be a great source of information for a final doctor diagnose before trying more serious snoring remedies.The sleep study created by ShutEye can be shared with anyone through anything.
But that's not all! ShutEye developed a smart alarm to gently wake you up during a light sleep cycle.
Rest assured, your privacy is of utmost importance. The ShutEye Team guarantees that your personal information remains completely confidential; only you and those you specifically grant access to will have access to your sleep data. Moreover, for Apple users, the ShutEye app connects to Apple Health, enhancing the integration of your sleep insights into your overall health tracking.
Download for Android and iOS to take advantage of this invaluable resource to gain snore control and a deeper understanding of your sleep and snore habits, all while waking up feeling more refreshed and revitalized.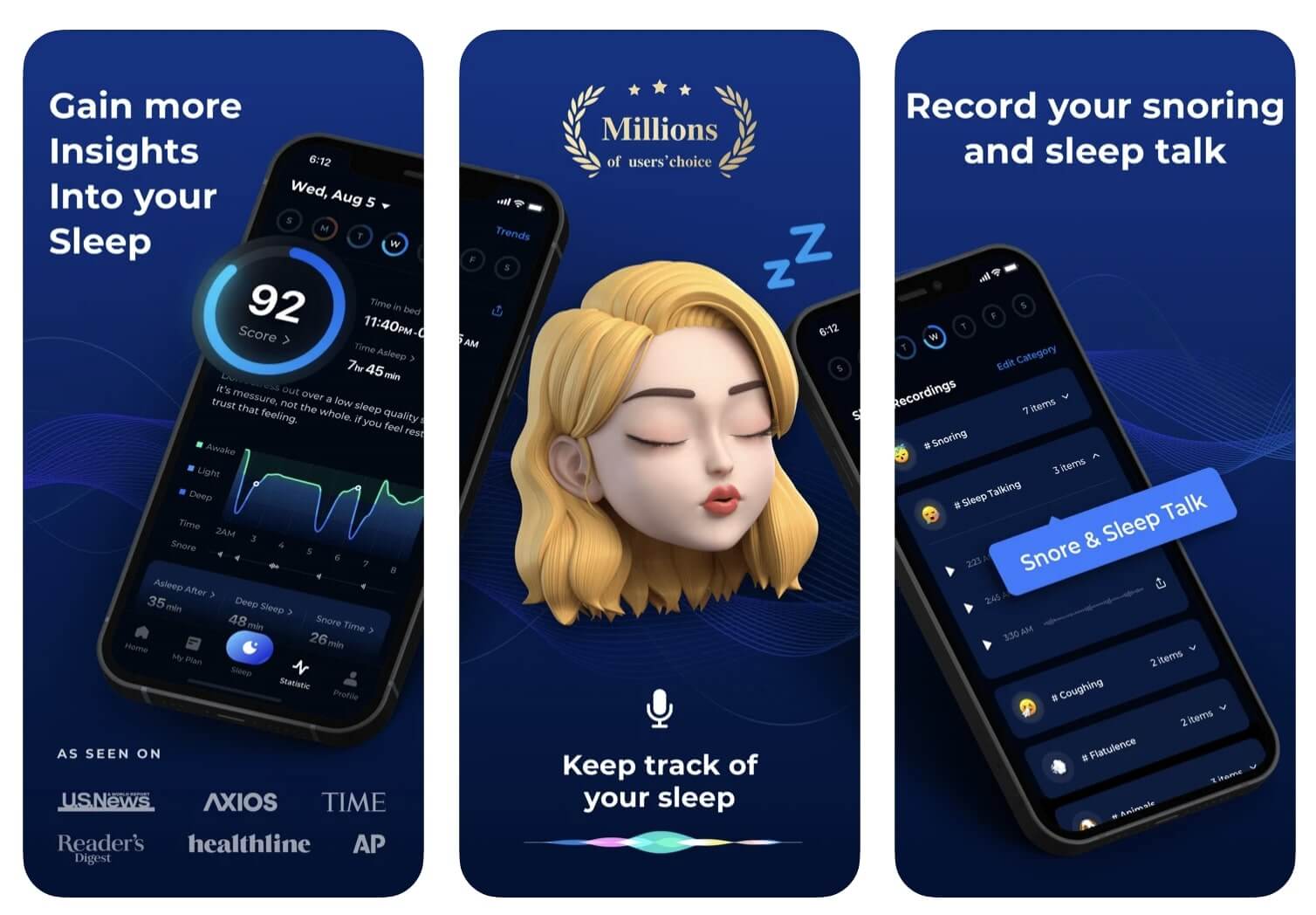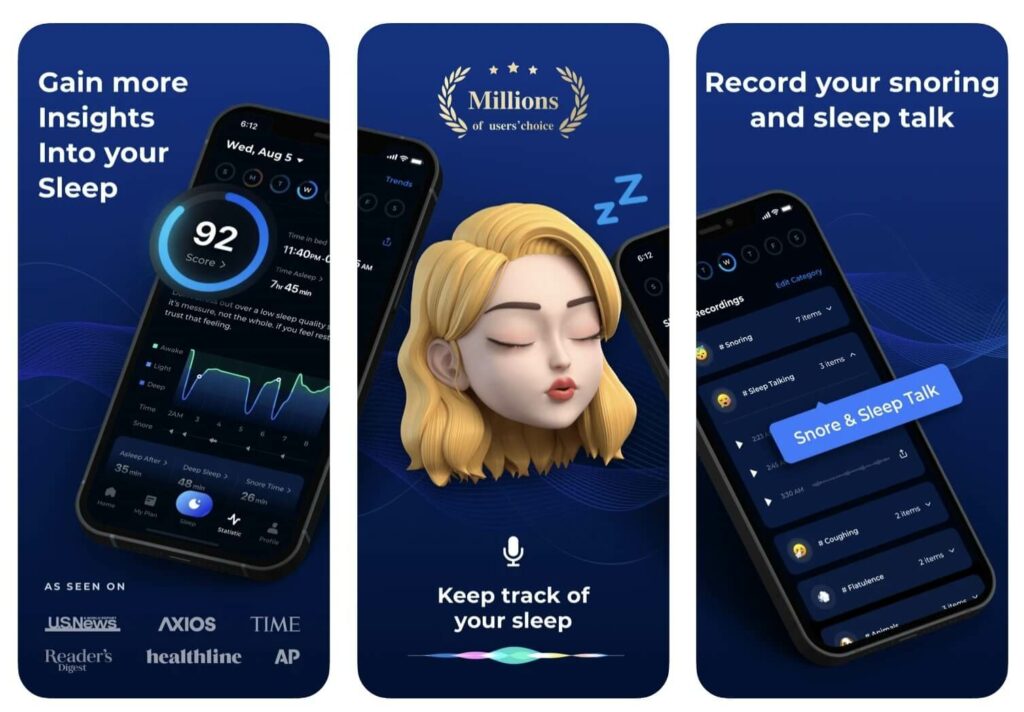 Snorers paradise! This snoring app is developed for snorers. They (developers) promise to look at your snore from all aspects. How does snore start? What are the reasons? How to improve?
With 4.7 as the highest score rated by 43.7K satisfied users. It would be a good choice for you if you are looking for an app that is mainly optimized for snore.
This app is also trusted by millions of users. They claim to have monitored around 50 million nights. So, that's good for you.
Regarding the features of this snoring app, we can highlight:
Advanced snoring detection algorithms
Compares snoring across nights
Shows whether your remedies are useful or not and how they help
SnoreLab records sleep statistics
Can share snore files
Provides snore score
And so on.
As we have already mentioned, this will be a good choice for the users who want to focus mainly on snoring!
Download for iOS and Android to discover more details by clicking the app's name.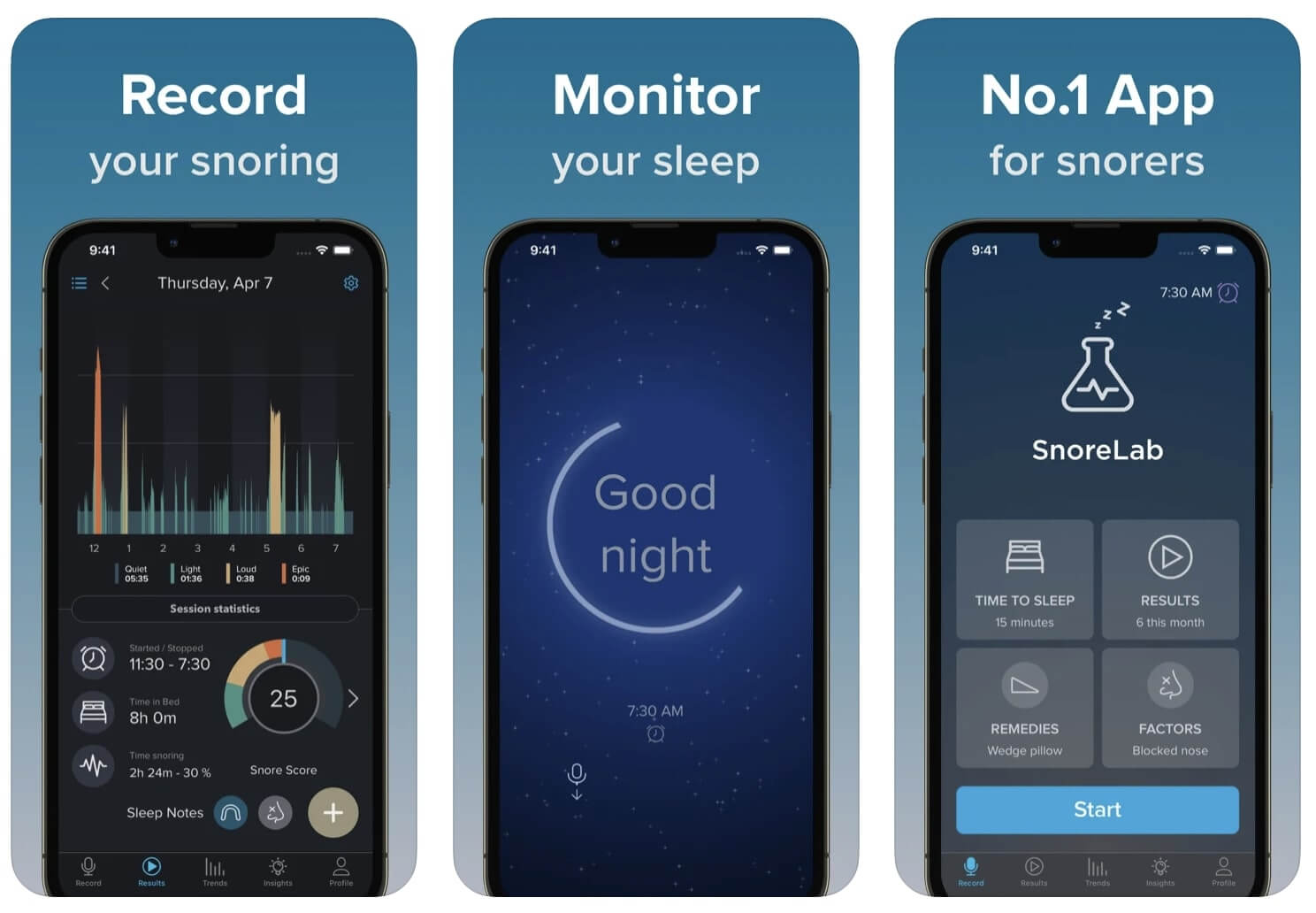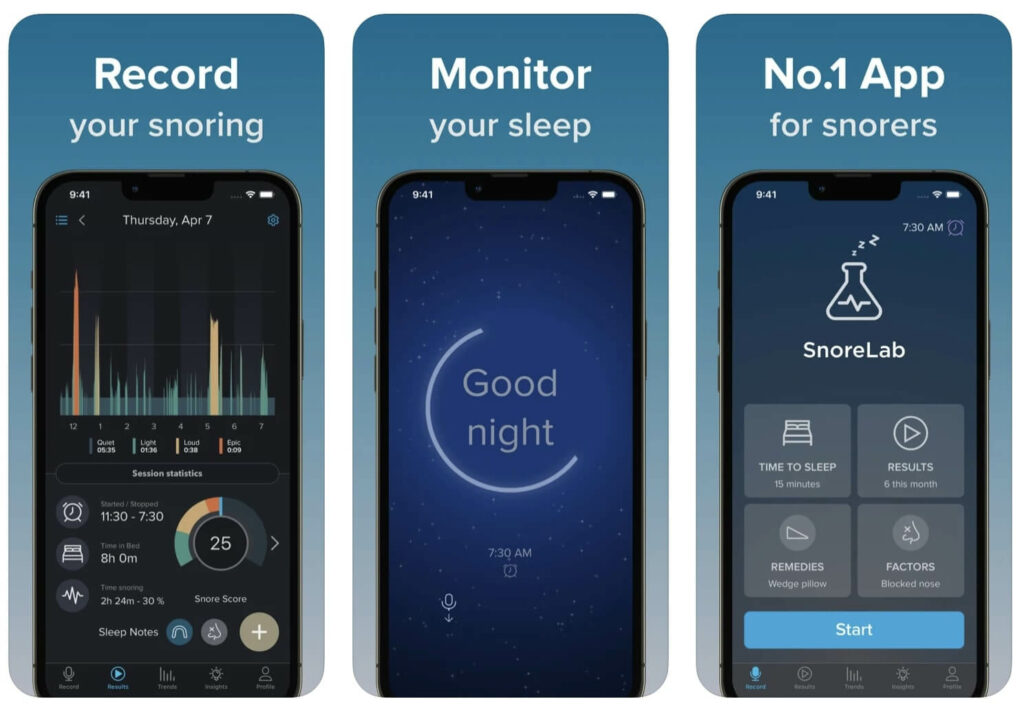 If the previous app was mainly about snoring, regarding the name of this app, users will also be able to listen to their teeth grinding. Extra sound.
Quite a useful feature. Did you know that Teeth Grinding is also called Sleep Bruxism? We highly recommend checking the article.
With 4.3 as the highest score rated by 4.8K satisfied users. This snore detecting app will be useful for you if you want to get more insights about snoring thanks to its basic recording feature. For example:
Snoring sensitivity: adjust the app's sensitivity
Snoring self-test: find out what category you are (mouth/nose or tongue-based snorer)
The snoring shop: find the best solutions
Sleep tracking + sleep cycles
And so on.
Track your sleep, snoring, and many other sounds with the help of this free snore app. One more good alternative to the list of snoring apps.
Download for iOS and Android to discover more details by clicking on the app's name.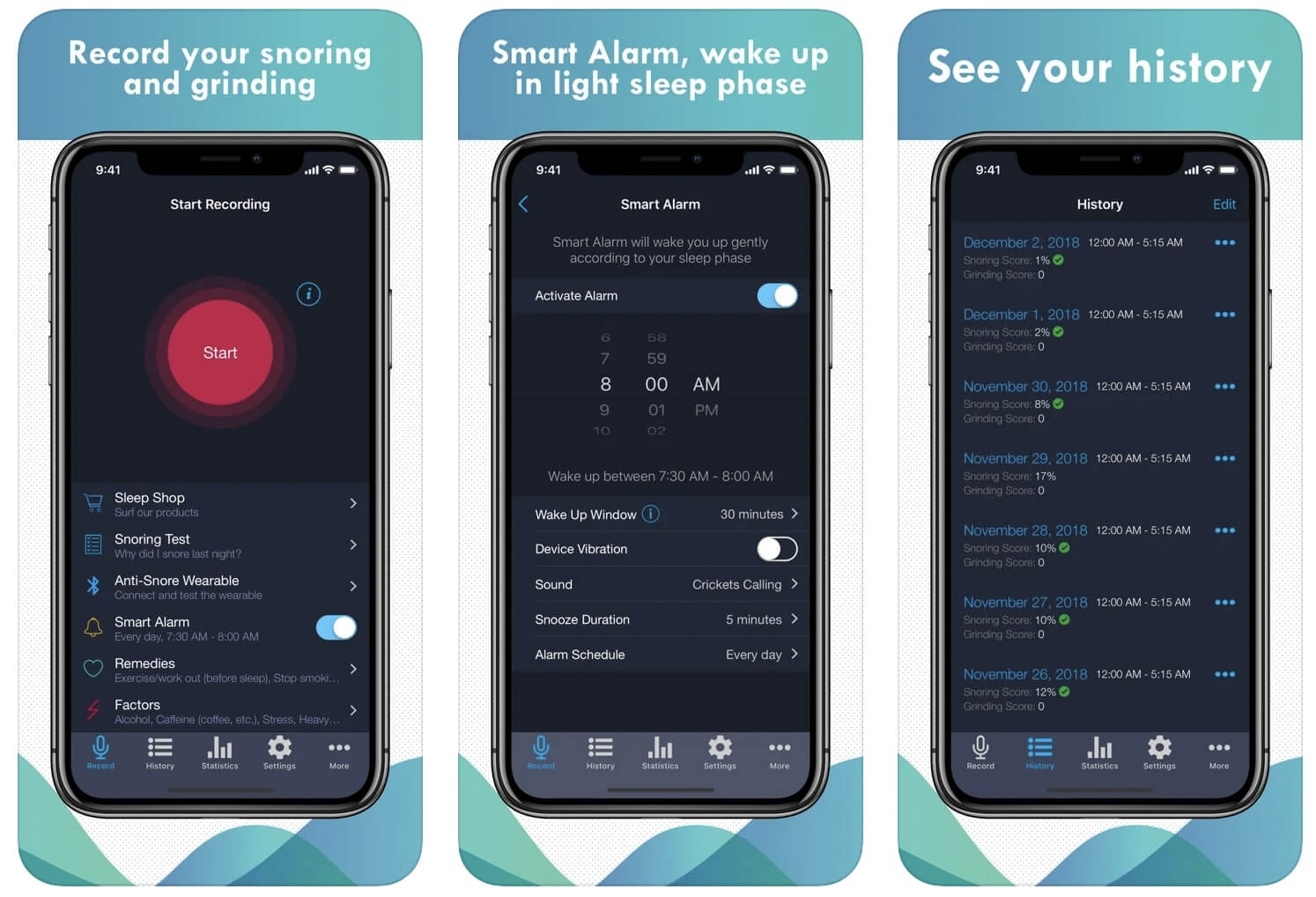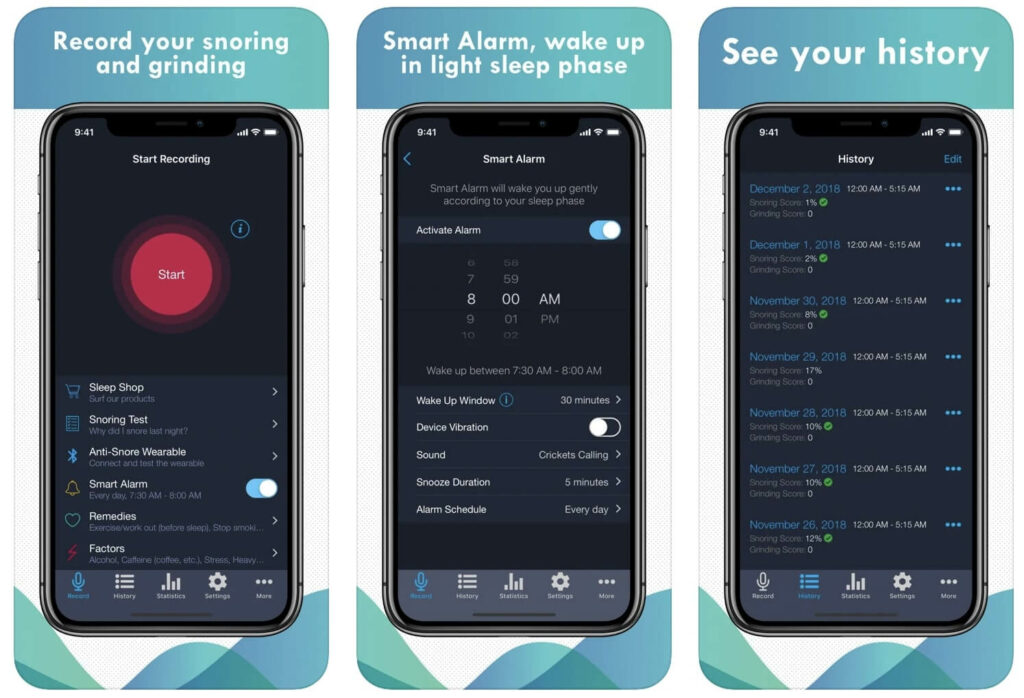 4. SnoreApp: Snoring Detection & Snore Analysis
One more snore app for you. The more snoring apps we provide you with the better choice you can make. At least, we think so.
This is a quite new app. And it is quite promising.
With 4.8 as the highest score rated by 528 satisfied users. Yeah, very few. But according to the feedback left by the users this app is worthy of trying.
Let's have a look at the features this app has:
Little power consumption
Well-developed algorithm
The intensity of a snore (and its type)
Optional vibration when the snoring sound is detected
An informative and user-friendly interface and so on.
Despite the age of this app, it is a good choice if you want something new and fresh. Who knows how this app is going to develop in the future. I think it won't be wrong to choose this app and give it a try.
Download for Android and learn more details in the Play Store.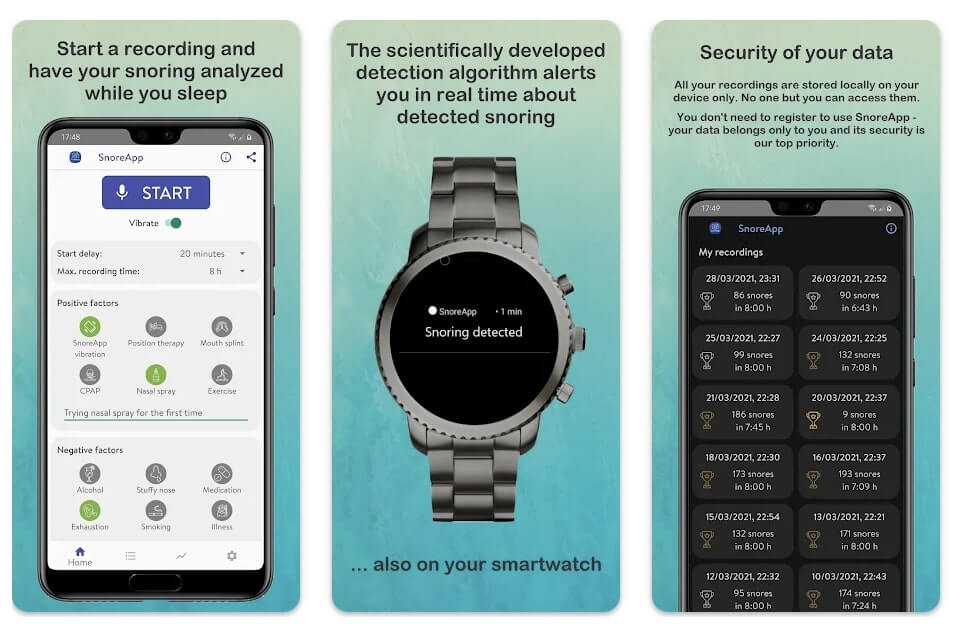 5. Snore Free: Stop Snoring Gym, Deep Sleep Solution
And the last snore app is Snore Free. This app is a recent addition from the developer's lab.
It is a coaching app that will provide you with exercises, advices, and a theory about how to stop snoring!
No remedies or any Premium version are needed. This app only offers a free version. You can help yourself without any third-party assistance and try to reduce snoring naturally!
With 4.3 as the highest score rated by 245 satisfied users. Again, the numbers are not big but the main is its uniqueness.
In any case, one can never truly understand the solution until they give it a shot. If you find yourself desperate in your quest to stop snoring, why not give it a try?
The main features are:
The collection of 49 videos
4 levels of exercises
You can adjust levels and exercises
User-friendly interface
Reminders
Animations and easy explanations
Meditations (need to rest after hard mouth work)
Tips & tricks on how to eliminate snoring habit
And many other functions.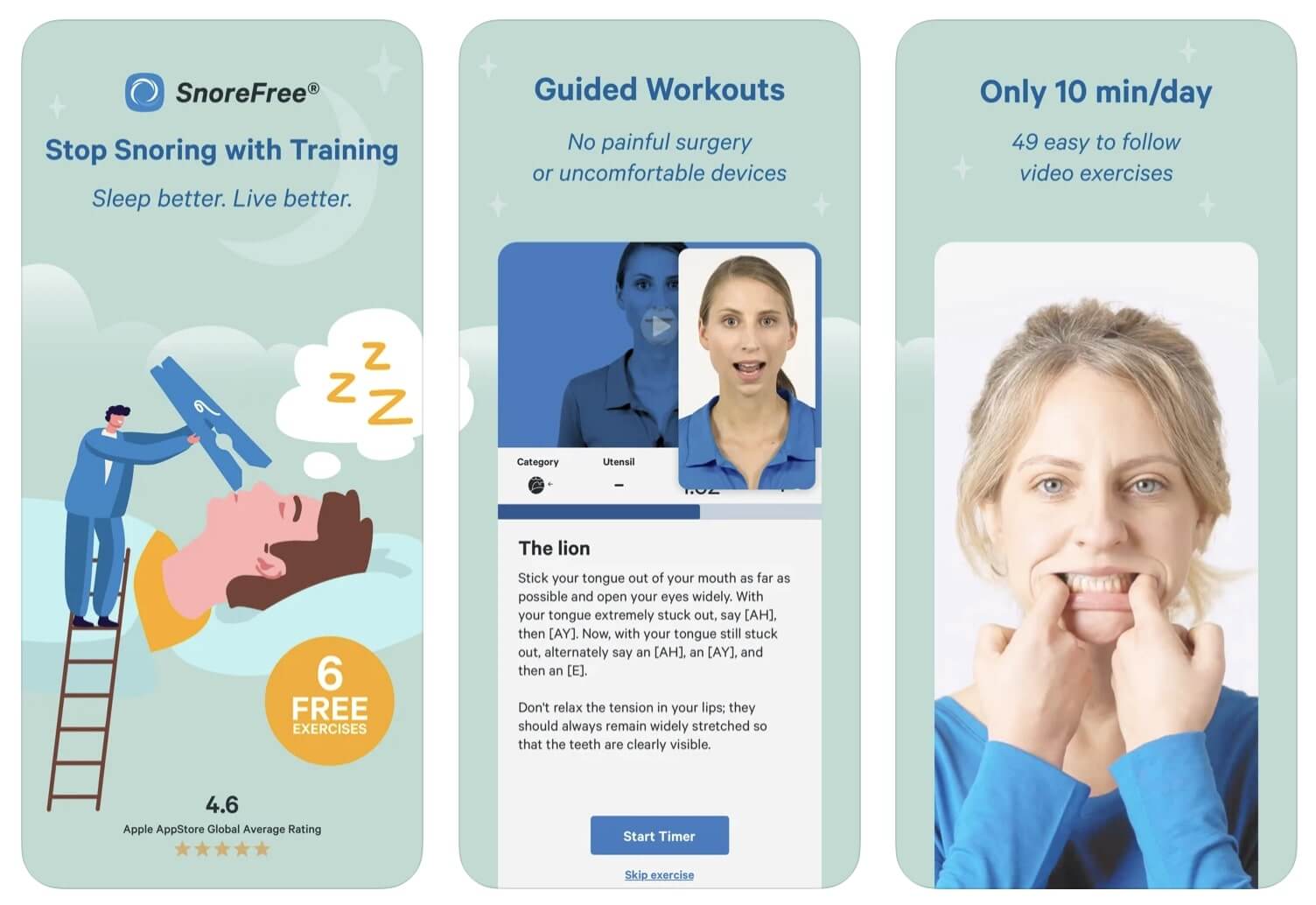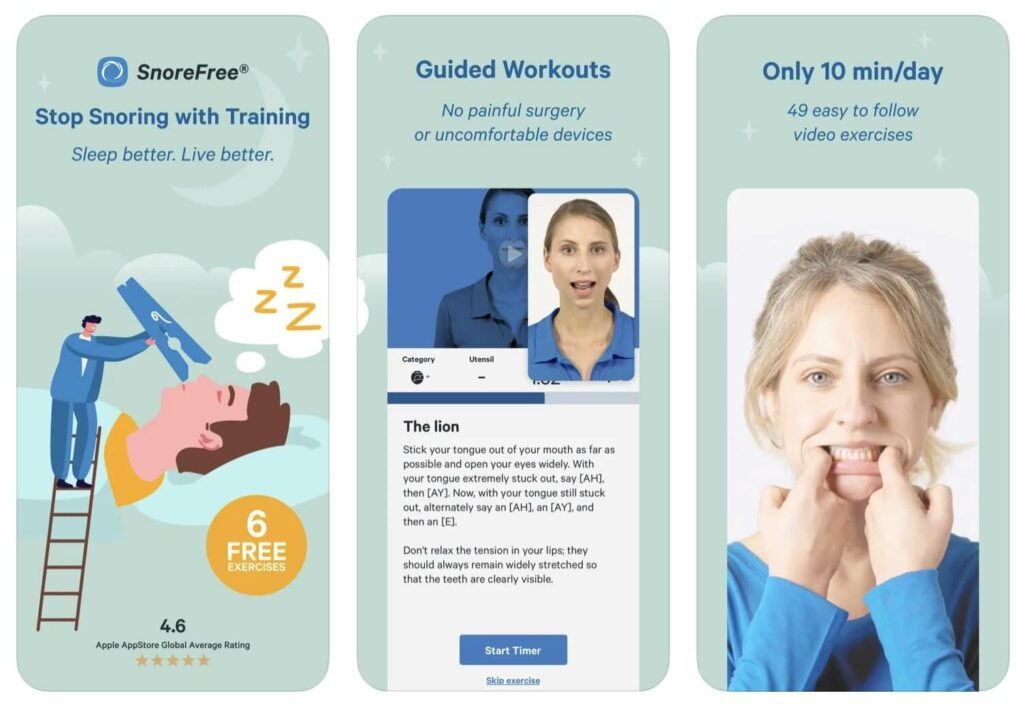 How to stop snoring quickly?
Once you've selected your preferred snoring app, let's dive into a concise introduction to several lifestyle factors and effective solutions to add to your daily routine that can help you stop snoring.
Don't smoke before going to sleep: At least two hours before bed. If it happened and you had a cigarette, gargle your throat well. Otherwise, the mucous membranes of the respiratory tract will swell and obstruct breathing. You will end up with sore throat and snore at night.
Don't drink alcohol before bed: Alcohol relaxes muscles and slow downs the brain's reactions.
Try reducing your intake of sleeping pills and tranquilizers: They cause addiction and affect the mucous membranes of the respiratory tract too.
Choose the right pillow: It shouldn't be too high or too low. Your neck should be in the right position, in one line with the body so that your head isn't high or low. An anatomical pillow will be the best choice.
Sleep on your sides. Sometimes snoring and obstructive sleep apnea are caused by sleeping on the back. Here, additional pillows can help. You can also buy a special side sleeping pillow.
Obesity can cause snoring too: If you have a few extra pounds, try to get rid of them. It will benefit the whole body.
Train your tongue, soft palate, and throat muscles: Yeah, they have muscles too. You can find a lot of free videos online or get one of the recommended snore recorder apps.
Devices that will help you to snore less. They can be placed into the mouth, nose, or outside. Amazon has some good offers. Make your choice according to your individual preferences. 
Conclusion
In conclusion, snoring disrupts not only our sleep (and our bedmates') but also our sleep habits and overall well-being. Fortunately, thanks to modern technology, there are now several snore recorder apps available for both iOS and Android users. What's even better is that you can start monitoring those troublesome snoring sounds without the need for an Apple Watch or any other smartwatch for Android smartphone. With our list of the best apps in hand, you can take the first step towards a quieter, more restful night's sleep, and improved sleep habits. Say goodbye to the sleep disruptions caused by snoring and hello to better nights ahead!