2022 is already in action, and what about your New Year resolutions? It seems to me they aren't in action yet. Don't worry, you are not alone here. Let's start with your health and explore health journal apps to help us live better and healthier lives right now, right here. No more postpones! No more tomorrows! Start here and achieve your goals with us! Are you ready? Go!
| | | |
| --- | --- | --- |
| 6 Best Health Journal Apps | Why We Choose It | App Store Rating |
| ShutEye | Best Overall | 4.8/5 |
| Reflectly | Most Helpful App | 4.6/5, 4.3/5(Google Play) |
| CBT Thought Diary | Best Health Journal App  | 4.8/5, 4.5/5(Google Play) |
| Mind Journal | Best Health Journal App | 4.5/5(Google Play) |
| VOS | Personal Well-being App | 4.7/5, 4.4/5(Google Play) |
| Bearable | Symptom & Mood Tracker | 4.7/5, 4.6/5(Google Play) |
What should I record in health a journal?
In the previous article that was about 5 Best Mood Tracker Apps of 2022 we listed several mood tracker apps and pointed out what we can use them for. As well as health journal apps we can record:
health condition
aches, pains, and other discomforting feelings
medications (whether you take them or not)
fatigue, tiredness, or high spirits state of health
mental health
physical activities and many other options
Literally, you can record all your life there. Every option has its sub-option. Most of the apps do not require typing even a single letter. All you need to do is just tap the appropriate emoji, picture, or word, choose several more and here you are! The Record is ready! The apps that we are going to show you today are amazing from the user interface perspective and wonderful from the way we can use them. Usability and design are very important points.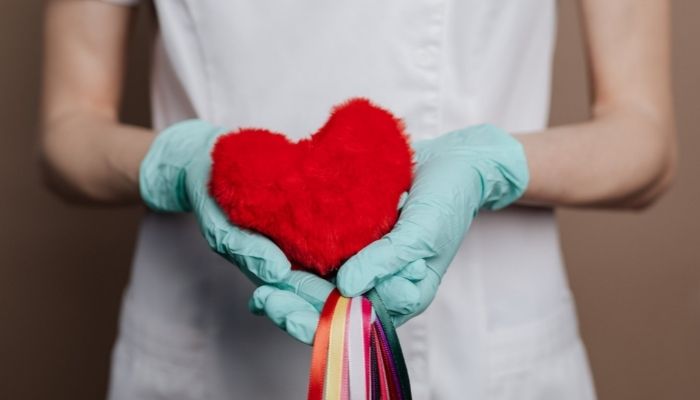 How do you keep a daily health journal?
Day by day, you can open the health journal apps, and record anything you feel, experience, do. You can also make your plans, write some notes, describe details and so on.
Of course, it is way better if you keep your records on a daily basis. It will help in forming weekly/monthly/yearly reports! Reports can be analyzed and used in various ways.
For example, if you want to inform your physician about some health condition, health reports provided by health journal apps can be very useful, as you kept recording your symptoms and other feelings/health conditions you've experienced during the period of time.
The very useful thing is that you don't need a pen and a sheet of paper to record your data.
Let's imagine a situation: you had some painful feeling somewhere in your body. But you were busy with your work and didn't record it. You thought like: it is okay; no problem will talk to my doctor later. And, eventually, you forgot about it. That's all. Why forgot? Because didn't record it! Why didn't record? Were too busy to write it with a pen. But what was near you? Your smartphone! Should you have any of the health journal apps installed on your cellphone, you could have recorded your bad experience. And then went to the hospital and showed it to your physician! We can avoid many problems should we be more responsible and with the right tools to use.
What is the best health journal app?
So, that is why we need to consider installing one or two of the following health journal apps.
The first one is here. This app is quite nice and user-friendly! Easy to use and very helpful.
Reflectly is the number one journaling app that's like your best friend. Vent your thoughts & feelings to track your mood & increase happiness. Get daily insights & explore how you feel with your own digital diary. It's the world's first intelligent journal app that gives you personalized morning motivation & affirmations the more you use it.
Write down how you feel each day.
Using AI & smart tech.
Personalized questions based on your journal entries so you can reflect deeper, solve problems & express gratitude.
Read or edit previous journal entries.
Receive daily, weekly, and monthly overviews with personalized insights.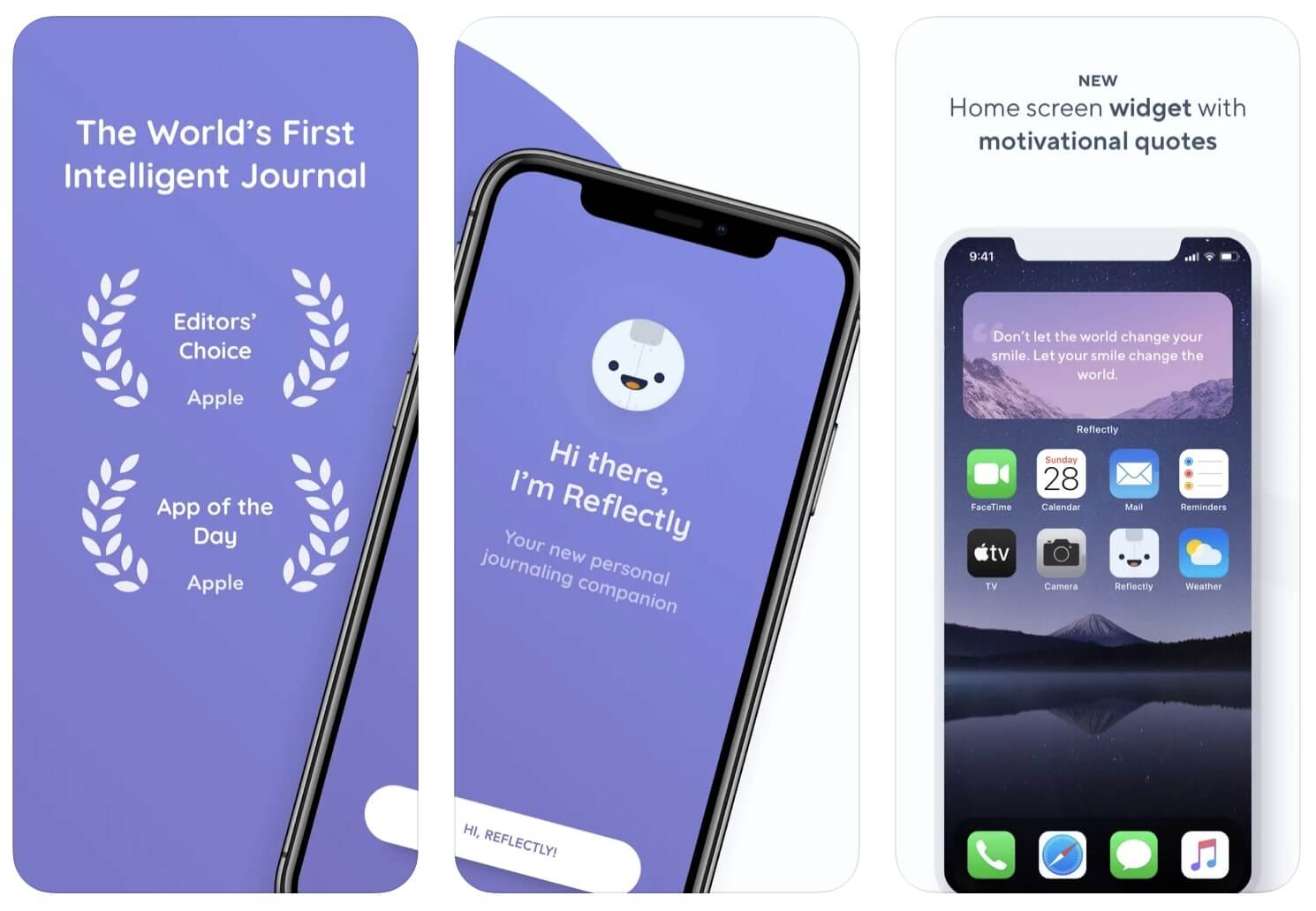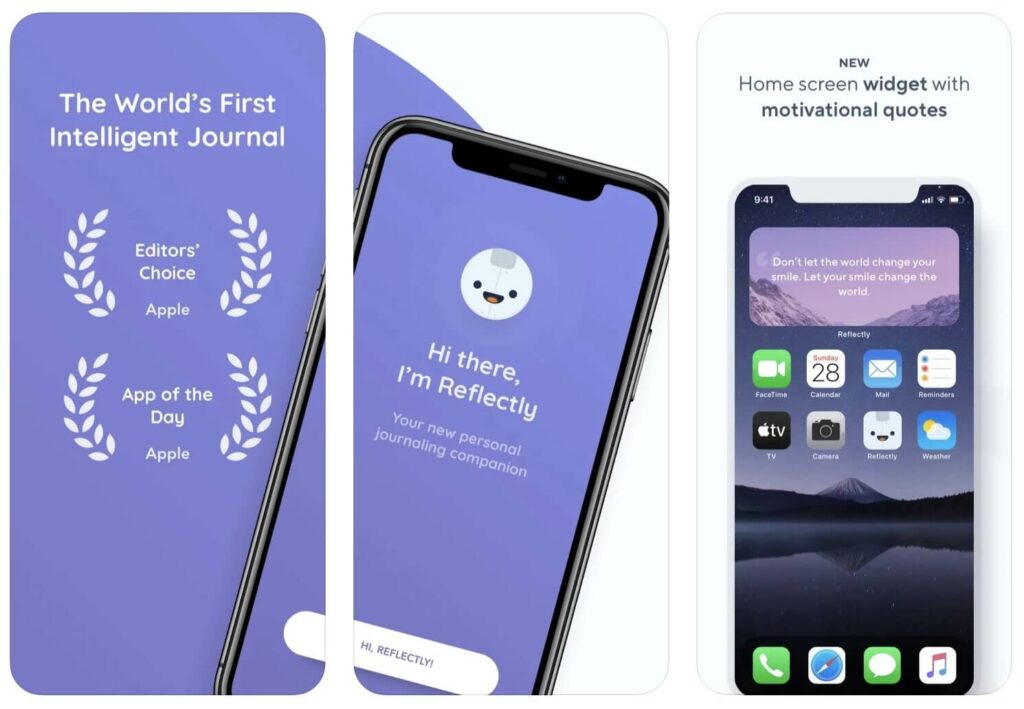 The next app in the list of health journal apps uses a lot of scientific approaches to improve its users' lives.
CBT Thought Diary is a journal with a purpose: it uses effective tools from Cognitive Behavioral Therapy (CBT), Acceptance and Commitment Therapy (ACT), Dialectical Behavioral Therapy (DBT), and Positive Psychology to help improve your mood.
As we can see from its name, this app is mostly aimed mainly at improving mental health.
If you often have some sad feelings, or bad mood, this app is a great solution.
You can keep tracking your "bad days", and the app will help you to analyze them. It will help you to improve yourself day by day.
I definitely recommend this app, because mental health and our physical health are related to each other. Bad thoughts, negative emotions, feelings gradually, slowly impact our physical conditions. So, do mind your mental health, please.
And, don't worry about privacy, you are well protected. Share your thoughts here, this app will help you but won't tell anyone else.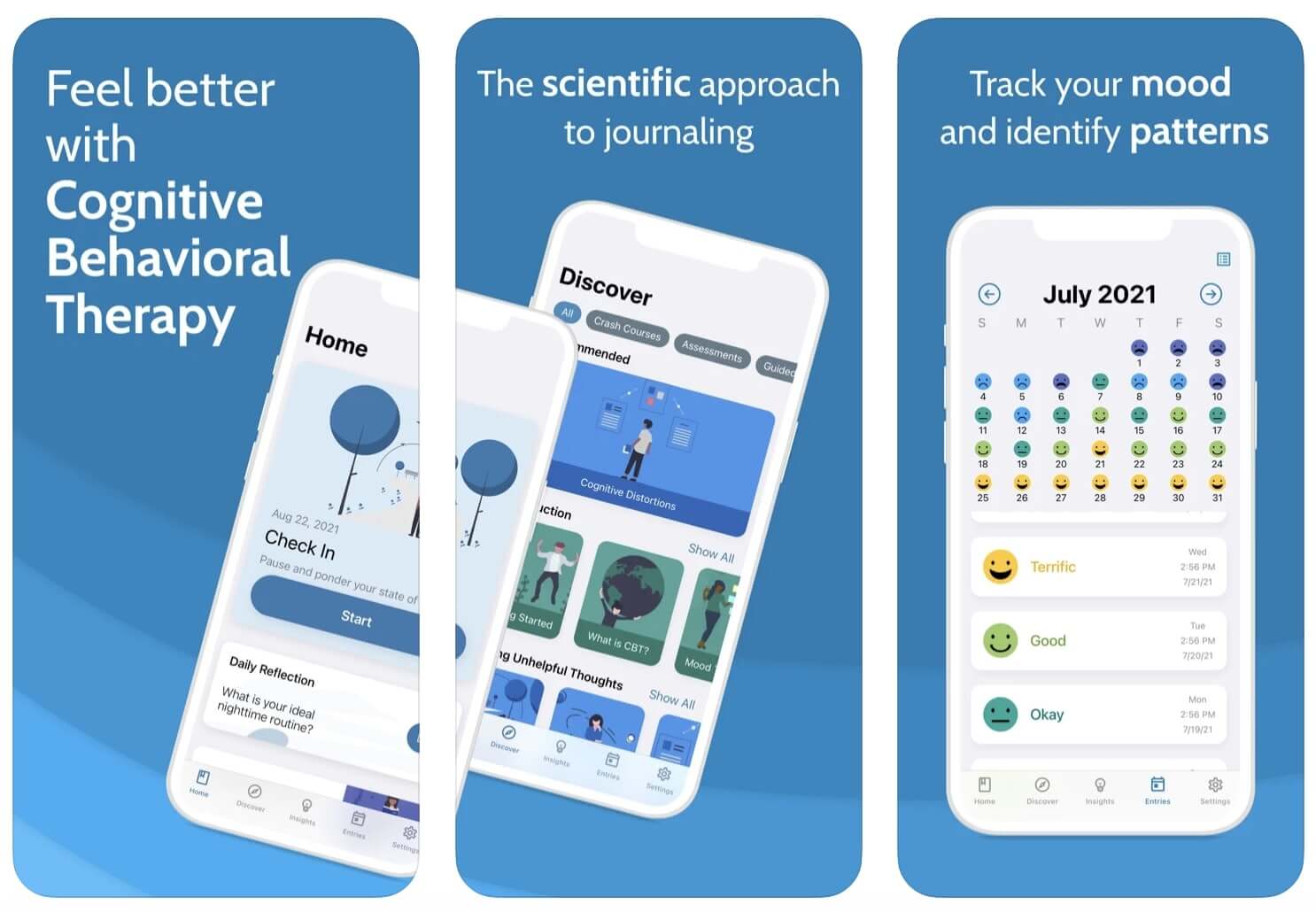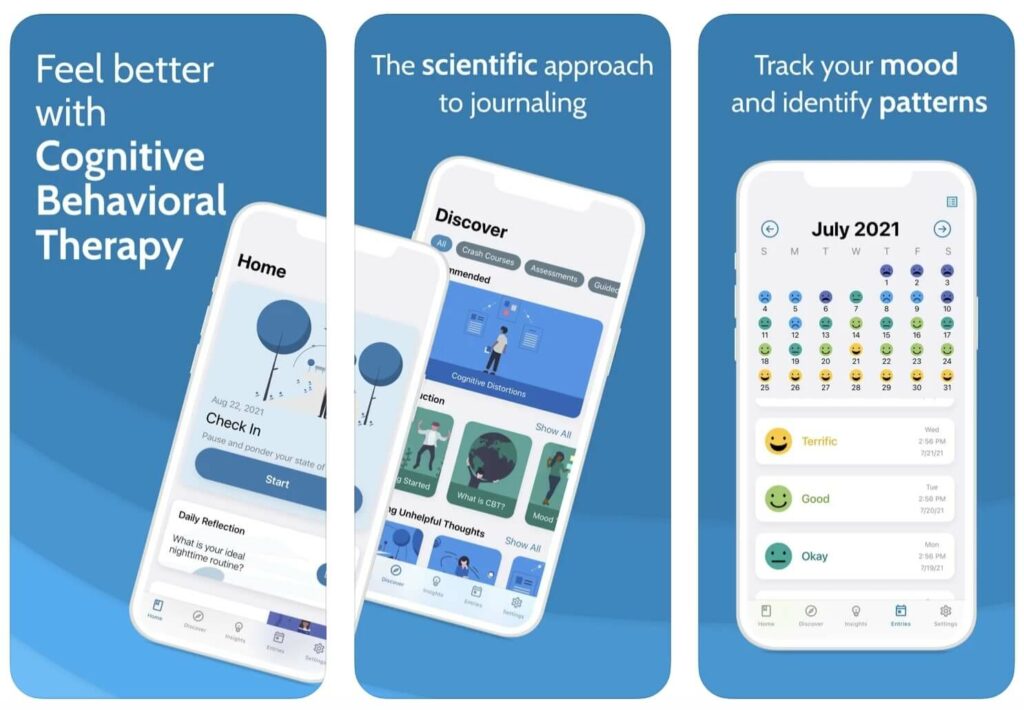 To give you more options and variants to choose from. We decide to include this app into our list of health journal apps too. It is available only for Android so far.
And again, here we will speak about Mental health.
Cognitive behavior therapy (CBT) journal comes to help through dozens of effective techniques:
– Mindfulness journaling lets you unwind at the end of the day
– Guided reflection improves mindfulness and teach gratitude
– Mood tracker diary allows keeping track of mood dynamics
– Self-care diary serves for learning new ways of thinking and overcoming depression
– Journal itself makes bipolar smoother
And, one more thing to mention. This app's interface and design are so cozy and nice. I think, even when you just open the app, you already feel better. Designers did their best here! There are still many things to explore, check them out and download for Android.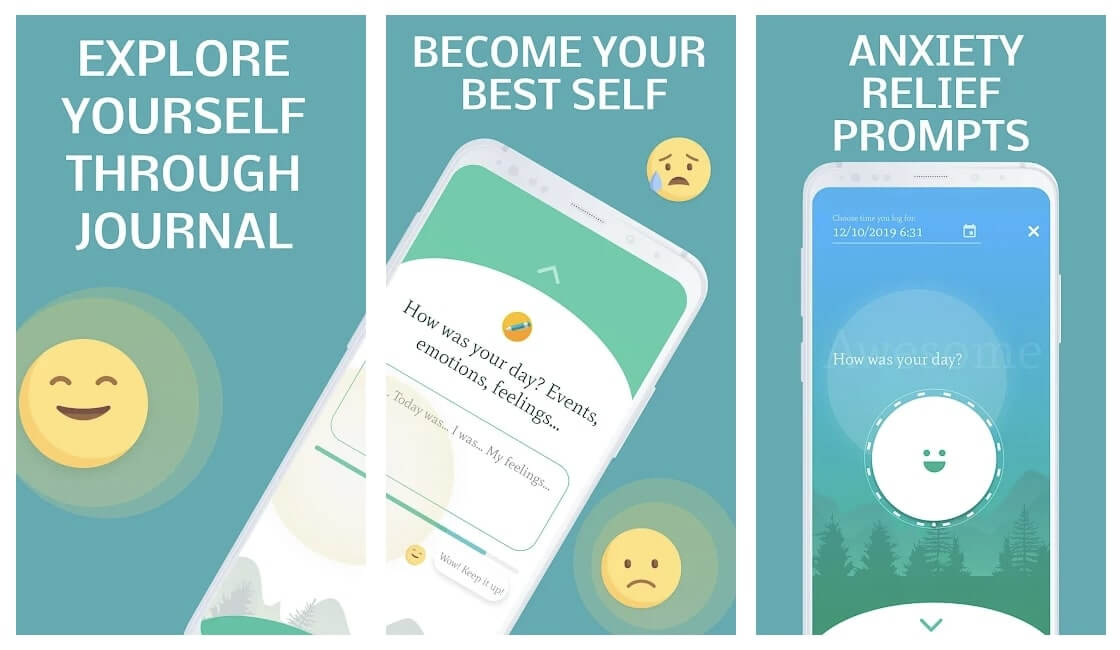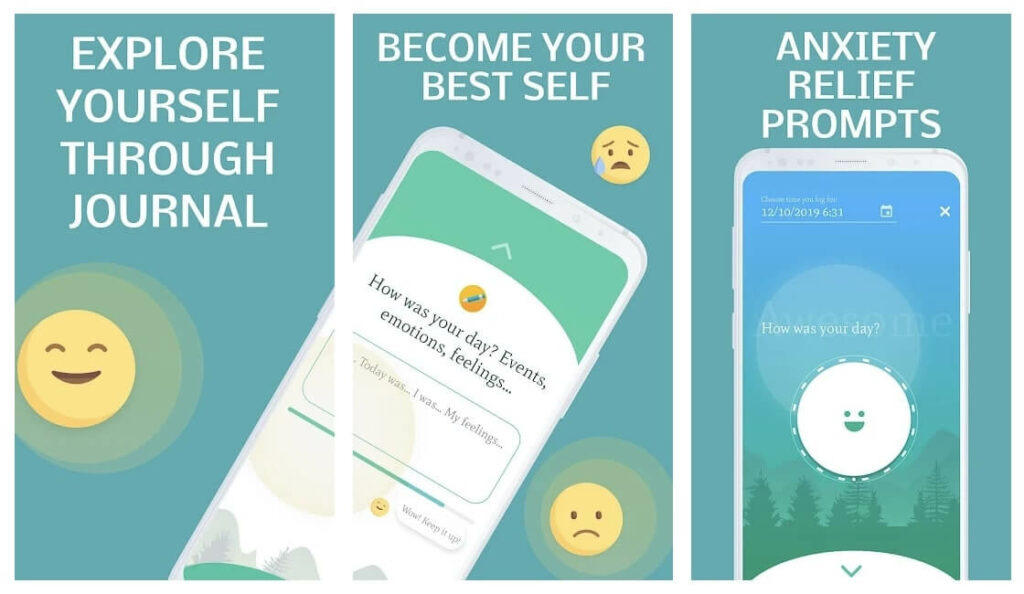 The following app is a kind of a guide on how to improve life from several aspects. Let's have a brief look at them:
What would you like to improve in your life?
Sleep
Fitness
Focus
Anxiety/stress
Relationships
Eating habits
How it works?
Practice gratitude with guided journaling (VOS asks you one question every day and lets you compare your answers as time goes by. You can use it as a diary or a note-keeping app.)
Increase productivity with mood tracking & analytics (Capture your mood as often as you like, and see personalized mood analytics – observe how it changes over time and affects your life daily.)
Relieve stress and anxiety with breathing exercises (Focusing on our breathing can be really helpful in uncomfortable and tense situations. Now you can try different breathing techniques directly in the app to feel more relaxed and calm.)
Ask for help with crisis hotlines (Crisis hotlines will help you to find numbers for telephone and chat services that you can reach out to, any time you're feeling overwhelmed or distressed.)
Drift towards positive thinking with (Affirmations that will help you rewire negative thought patterns and drift more towards positive thinking. With our new iOS widget, you can practice affirmations at your convenience.)
Get personalized tips based on your data (By connecting your data from Google Fit & Apple Health integration, the app will provide the best insights and smart recommendations for you.)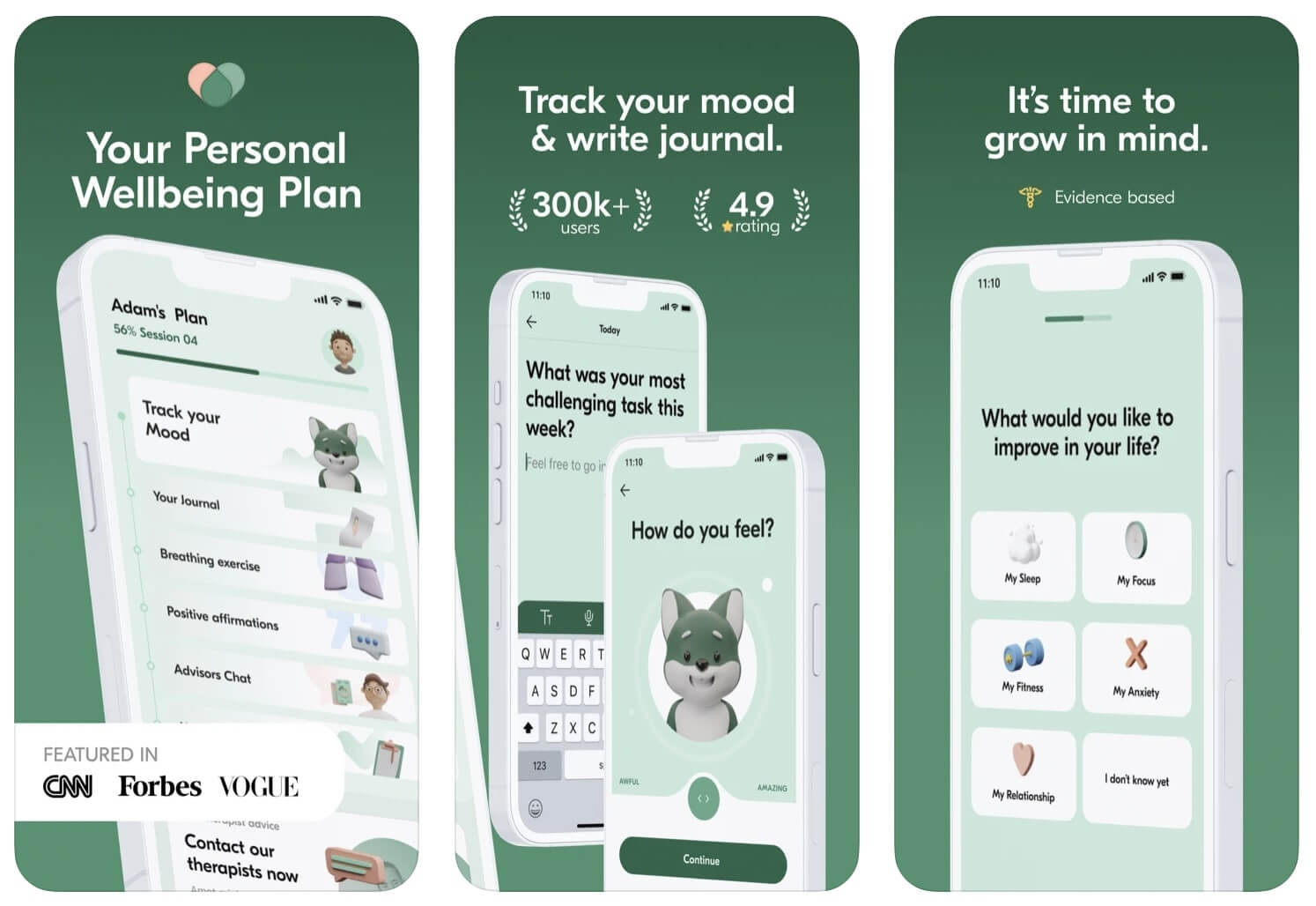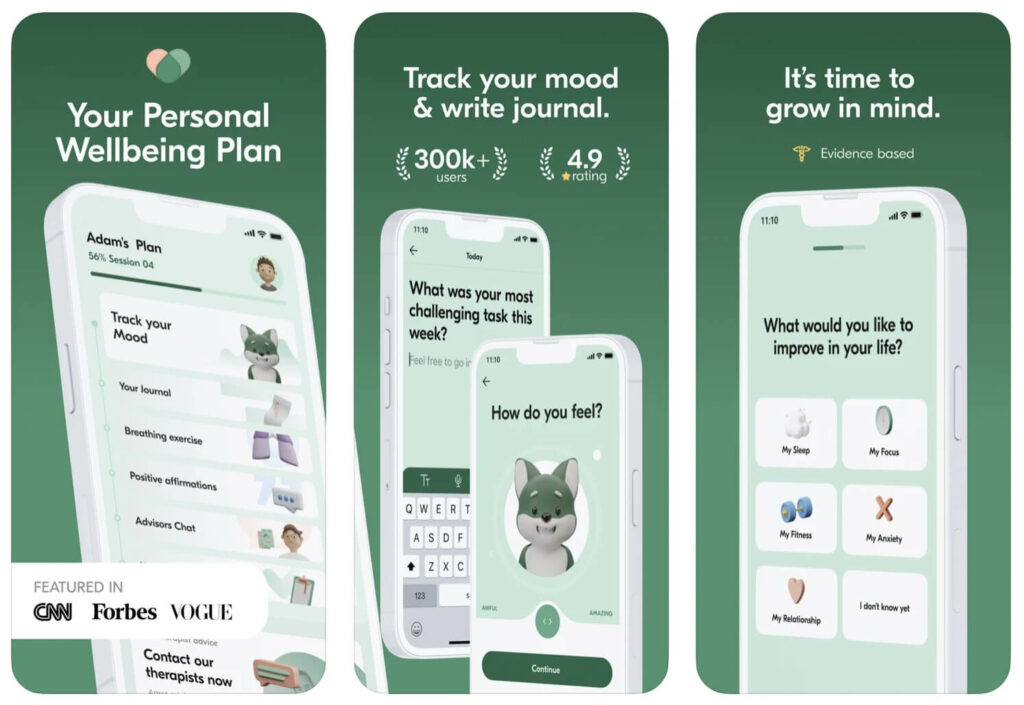 Track anything and discover how it affects your health is the moto of the app! It sounds very useful! Check it out!
Features:
Record your mood, energy, sleep, symptoms, habits, medication, and bowel movements in seconds
Track daily activities such as habits, diet, social life, exercise, medication, supplements & self-care
Spot correlations, patterns, and trends in your health
Come prepared to your next doctor or therapist appointment
Make journaling a healthy habit
Usability:
Customise reminders for diary entries, medication, and more.
Sync Health Data from Apple Health and Apple Health Kit.
Restore data across devices
Export data securely
Use Dark mode
Track:
Moods & Emotions
Physical Health Symptoms
Mental Health Symptoms
Pain & Symptom Severity
Sleep Quality & Quantity
Energy Levels
Medication
Steps & Heart Rate
Gratitude & Notes
Pills & Medication
The long list of what you can get! Consider trying them all!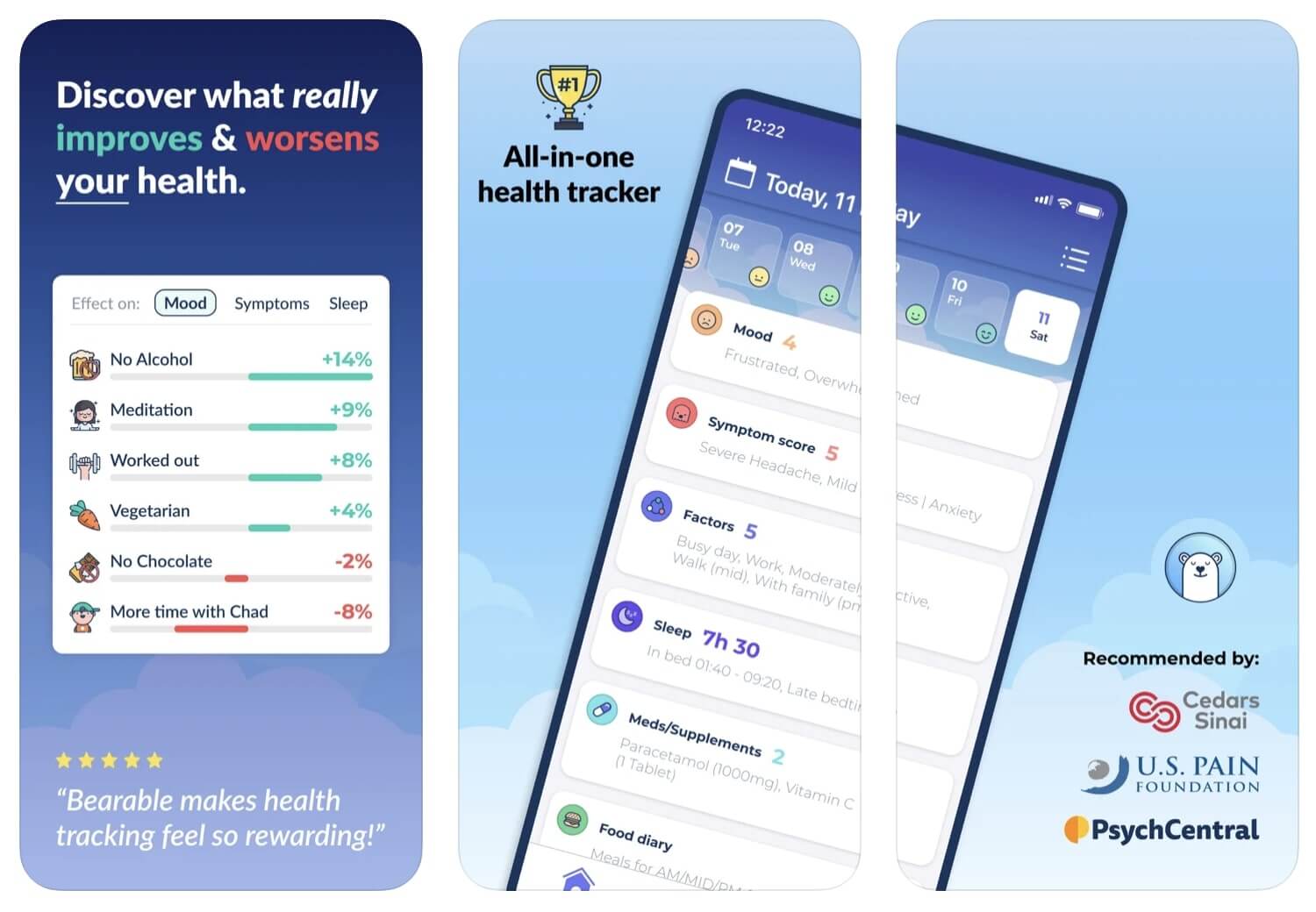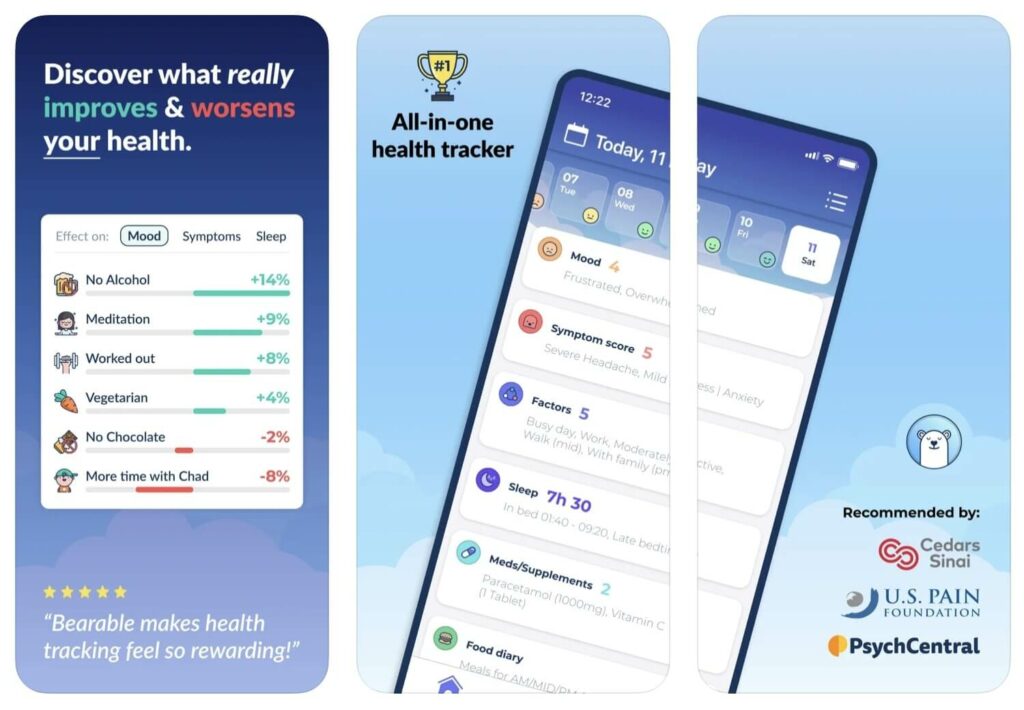 6. ShutEye
And there is one more thing to mention. As you know, many factors affecting our health condition. What and how we act during the daytime, is important, yes. But the night, is of a great importance too!
Imagine situation: you didn't sleep well, and from the very morning until the end of the day, you will probably feel not in your high spirits. Health condition won't be affected too much because of the lack of rest by a single case. But, if it happens again and again. Yeah, there are might be problems.
So, to minimize number of problems and enrich our today's list of health journal apps, I would like to mention ShutEye that is available for iOS devices.
This Sleep Tracker app will take care of the whole night and provide you with the sleep report in the morning. Scientific approach explained by a simple language.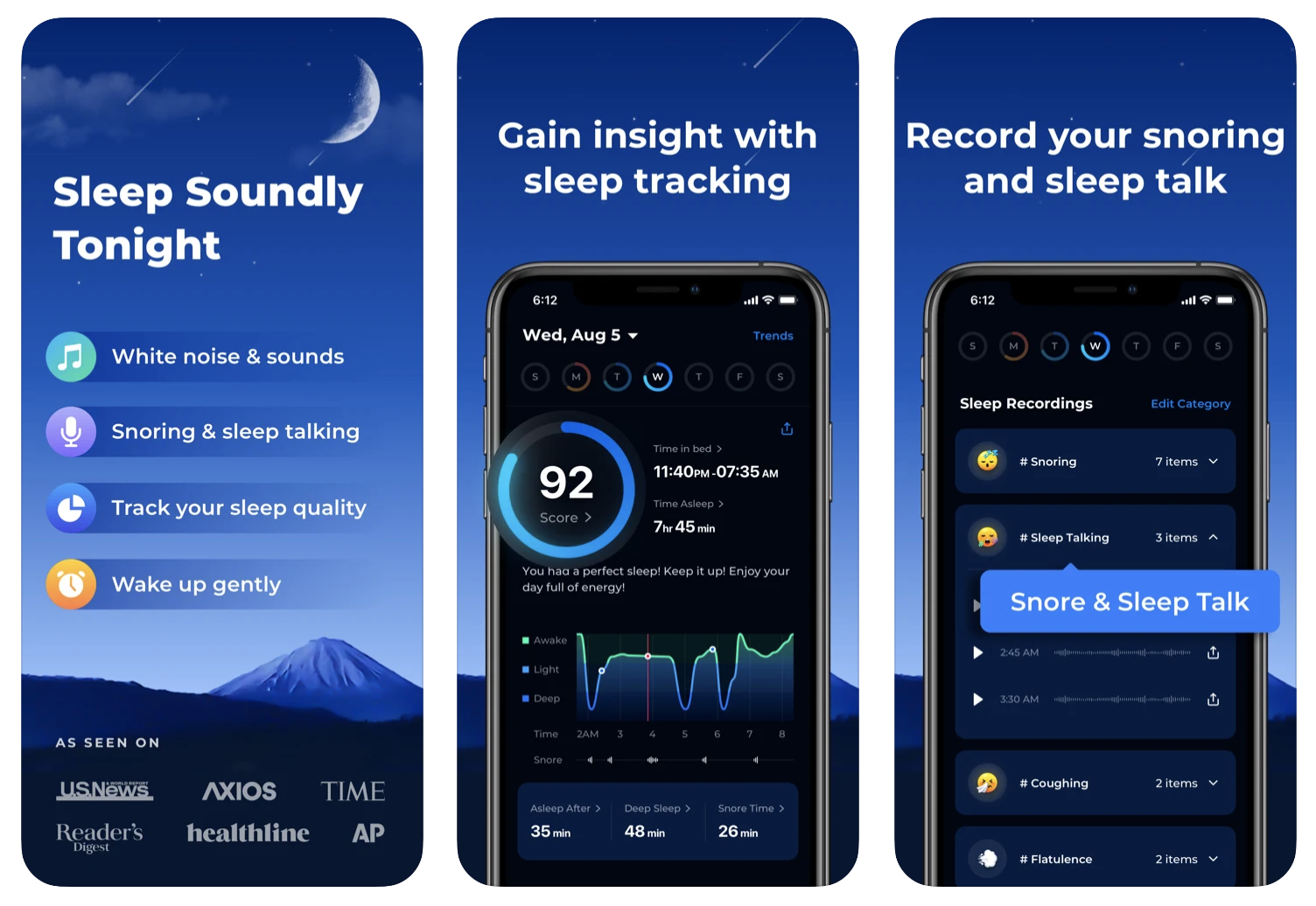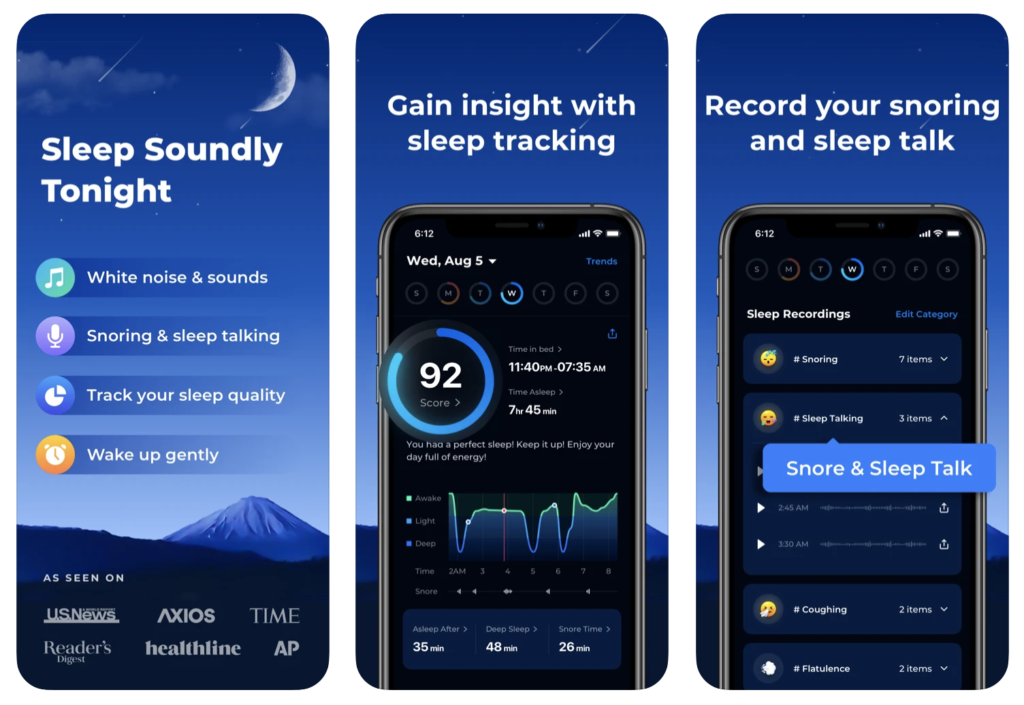 Thank you for your time, we hope this article was useful for you! Bye-bye! Stay healthy and take care!