Waking up can be quite a challenge. Nobody enjoys the idea of waking up early and dragging themselves through the next six hours of the day, especially not on a Saturday morning when you'd rather sleep in. However, the reality is that we have no choice but to wake up eventually. So, how can you make this daily struggle more bearable? Here, we've gathered some funny waking up memes to brighten your day.
Whether you're a night owl reluctantly rising with the sun or an early bird looking to share a chuckle with friends, our selection of funny wake up memes is here to make your mornings a little more entertaining.
And for those who find themselves unable to sleep, don't worry – we've also prepared some can't sleep memes and a free access to the ShutEye mobile application for 7 days. Try it now.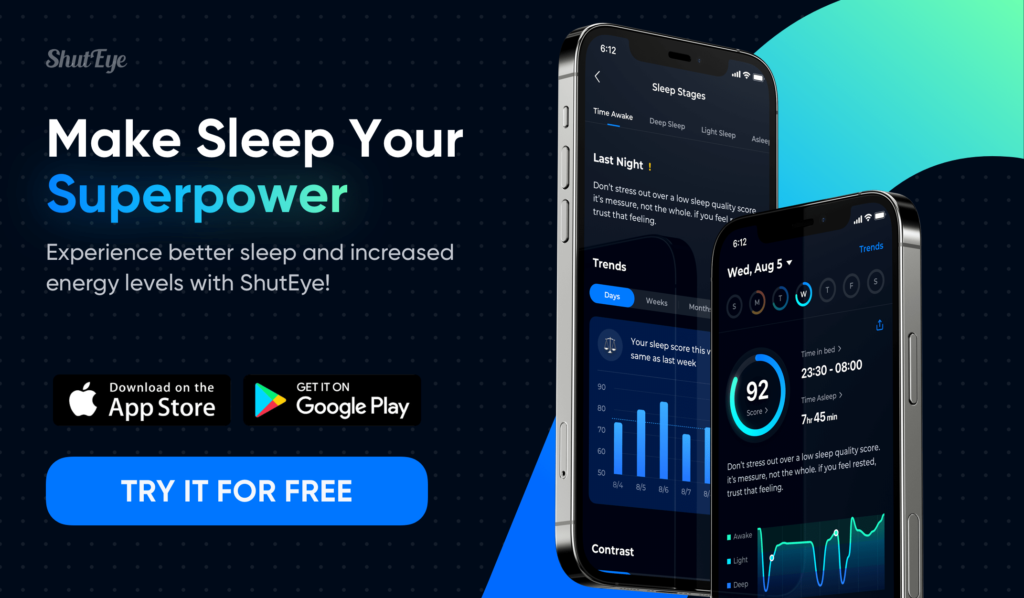 And now, let's start with funny waking up memes!
When you have to actually get up
You're certainly familiar with this feeling—being far from a morning person yet still having to wake up. Grab some funny morning memes that are sure to make you laugh. Who knows, maybe your typically grumpy mornings will transform into a great day? Let us know in the comment below!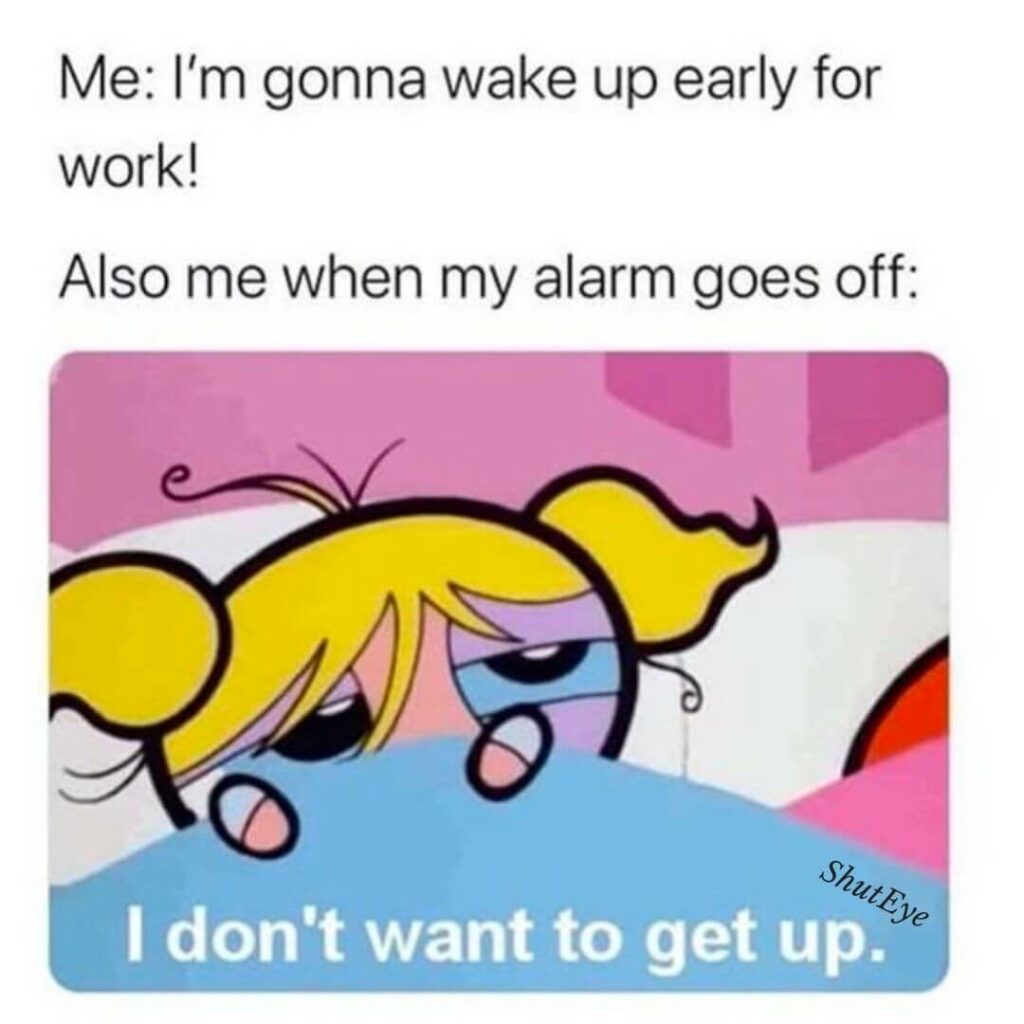 When the alarm goes off but you hit snooze.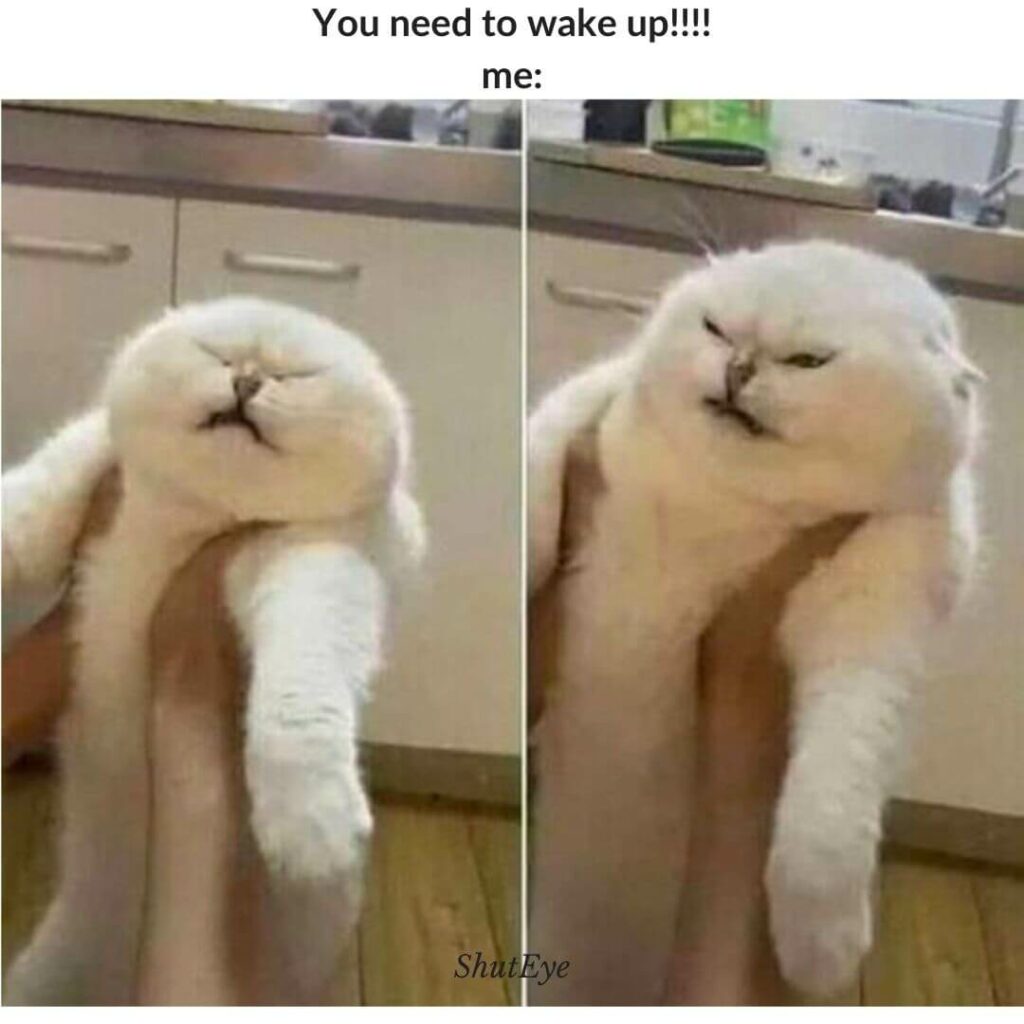 Do you know that there is a solution that can transform your mornings into a delightful experience? It's ShutEye sleep app. Designed to help you not only wake up feeling refreshed but also make the process enjoyable, ShutEye offers a variety of features that can revolutionize your morning routine. From soothing alarm tones to personalized wake-up challenges. Try it now!

How I feel when I wake up in the morning and how I feel at night after a long day of work.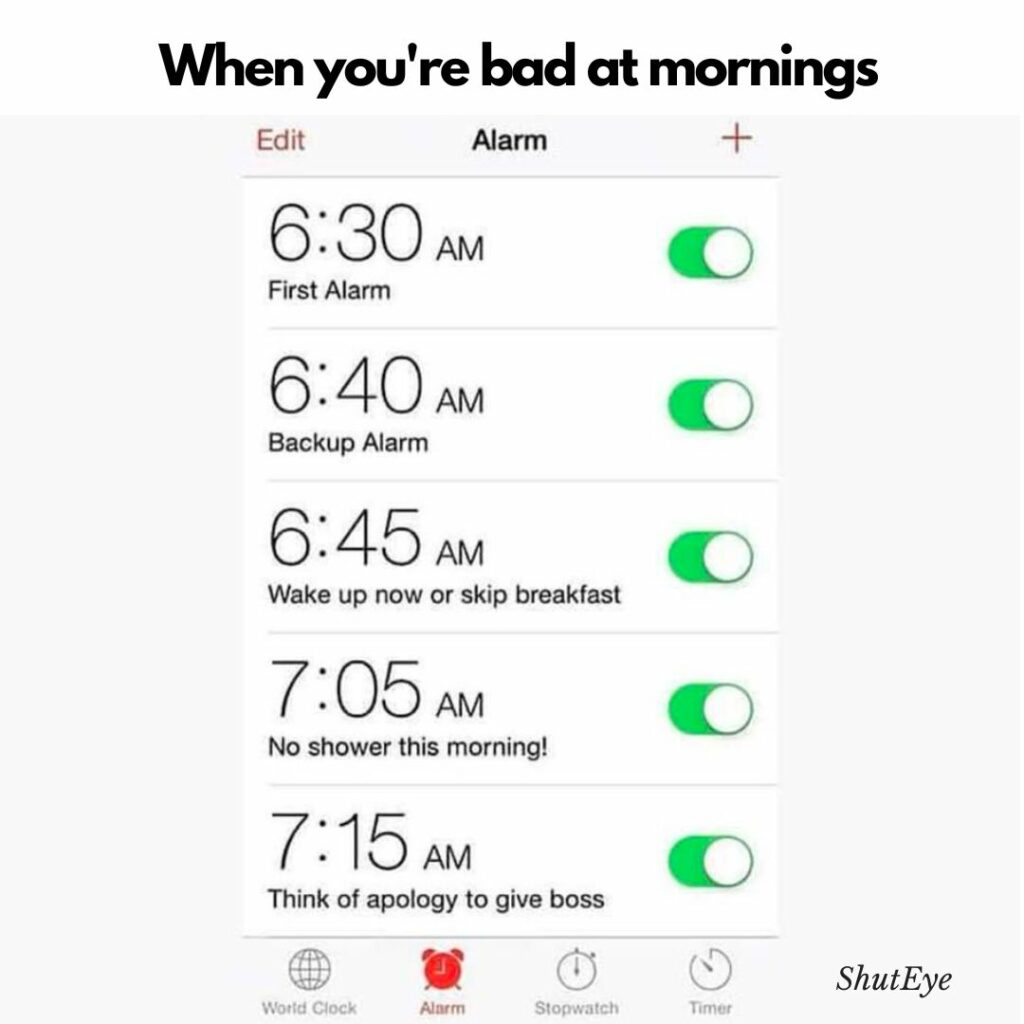 When you wake up and realize it's still Monday.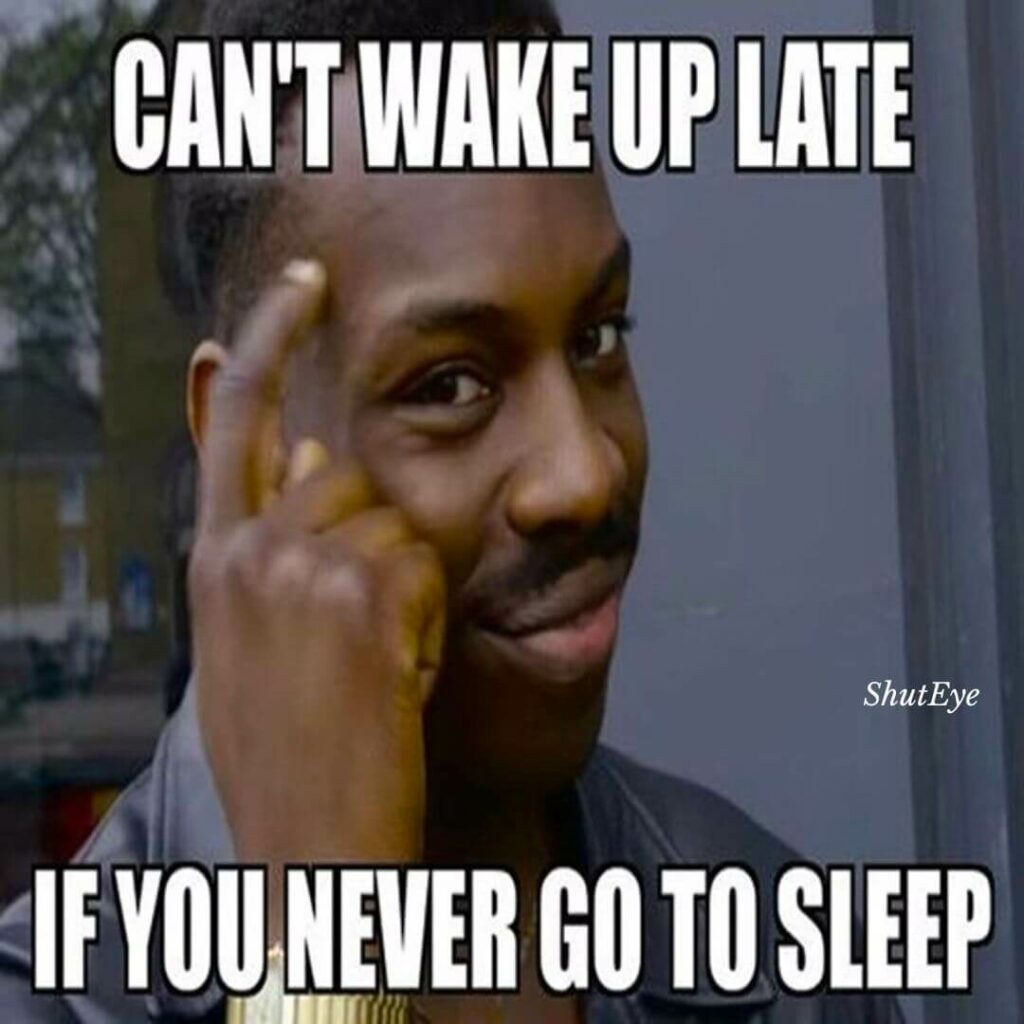 The Sunday night to Monday morning transition can often be a bit stressful. Rest assured, you're not alone in feeling a bit grumpy and stressed before heading to work or school on a Monday. It's entirely normal to have some pre-week anxiety and have trouble sleeping. Fortunately, there are several ways to deal with this.
First and foremost, make sure to unwind and relax over the weekend so that you wake up with a positive attitude on Monday. Avoid working or dwelling on stressful matters during your days off. Go our with you friend and kids, enjoy a delicious cup of coffee outside to forget about work stress. Equally important, stick to your regular sleep schedule even on weekends. Go to bed and wake up at your usual time, as this will make waking up on early Monday more manageable. And finally, if you find it difficult to fall asleep on Sunday night due to anxiety, consider trying relaxing sounds and sleep meditation with ShutEye. You can make the most of their 7-day free trial to help you find your inner peace.

When your first thought when you wake up is, "I should have slept longer."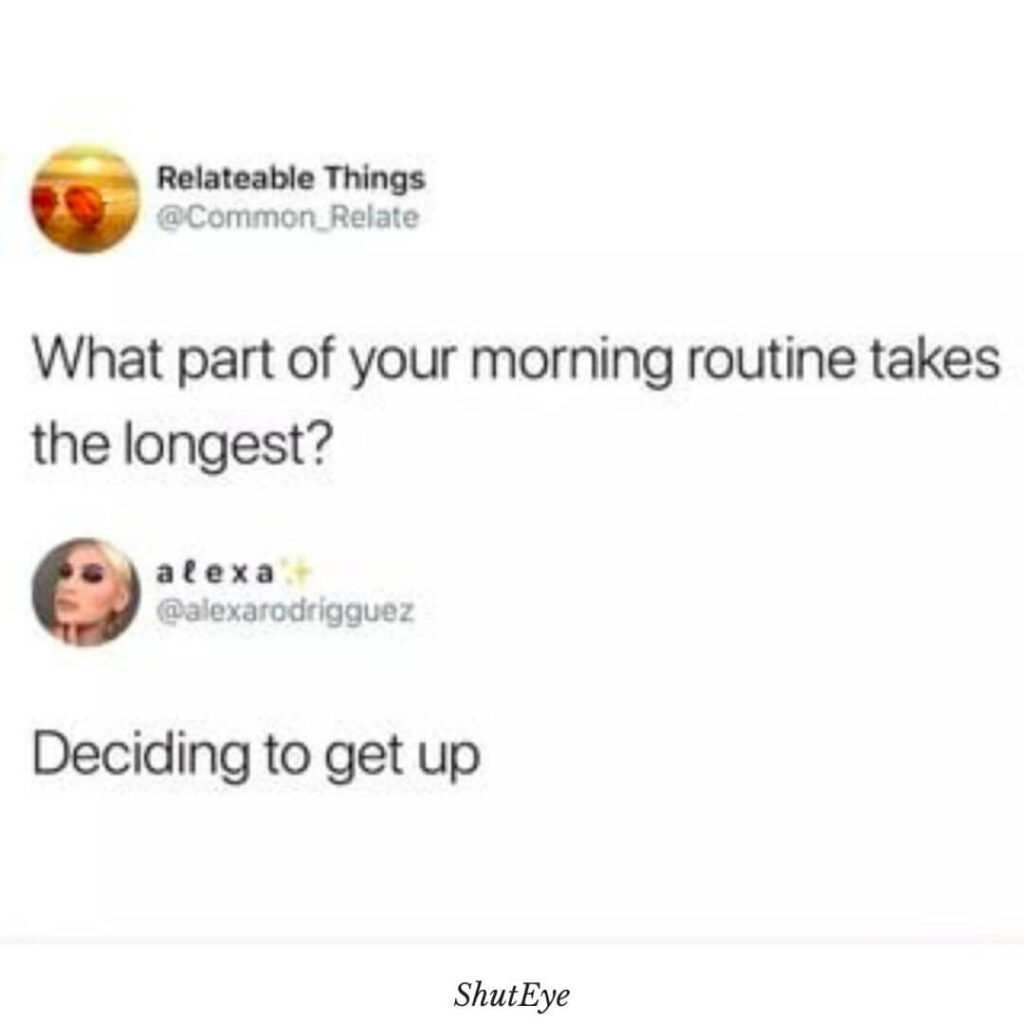 What funny morning meme can you relate to? Let us know in the comment below!
When you wake up from a dream that felt like reality.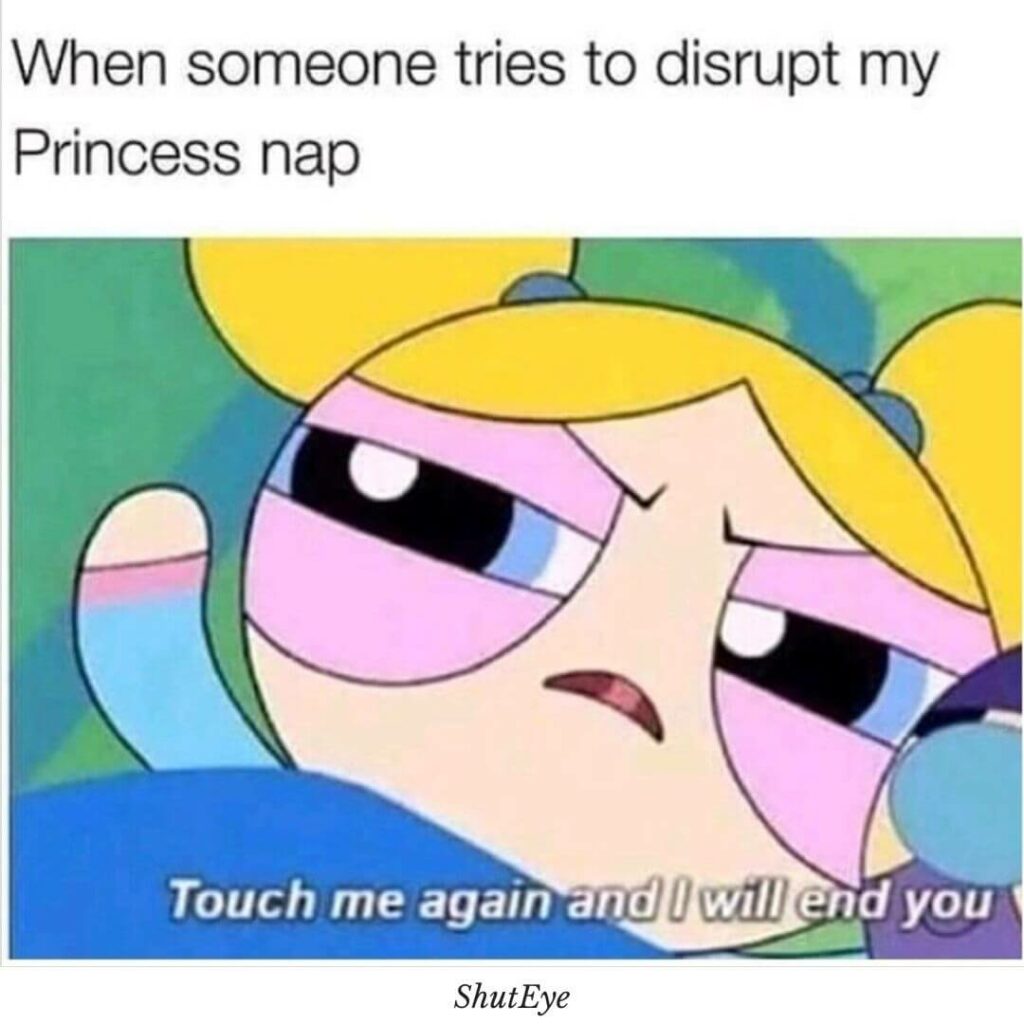 The struggle is real when you work nights.
Do you or your night shift friends know the struggle of waking up late? If so, you'll surely relate to these funny wake up memes that perfectly capture the struggle moment of emerging from slumber in the midst of the night-shift chaos!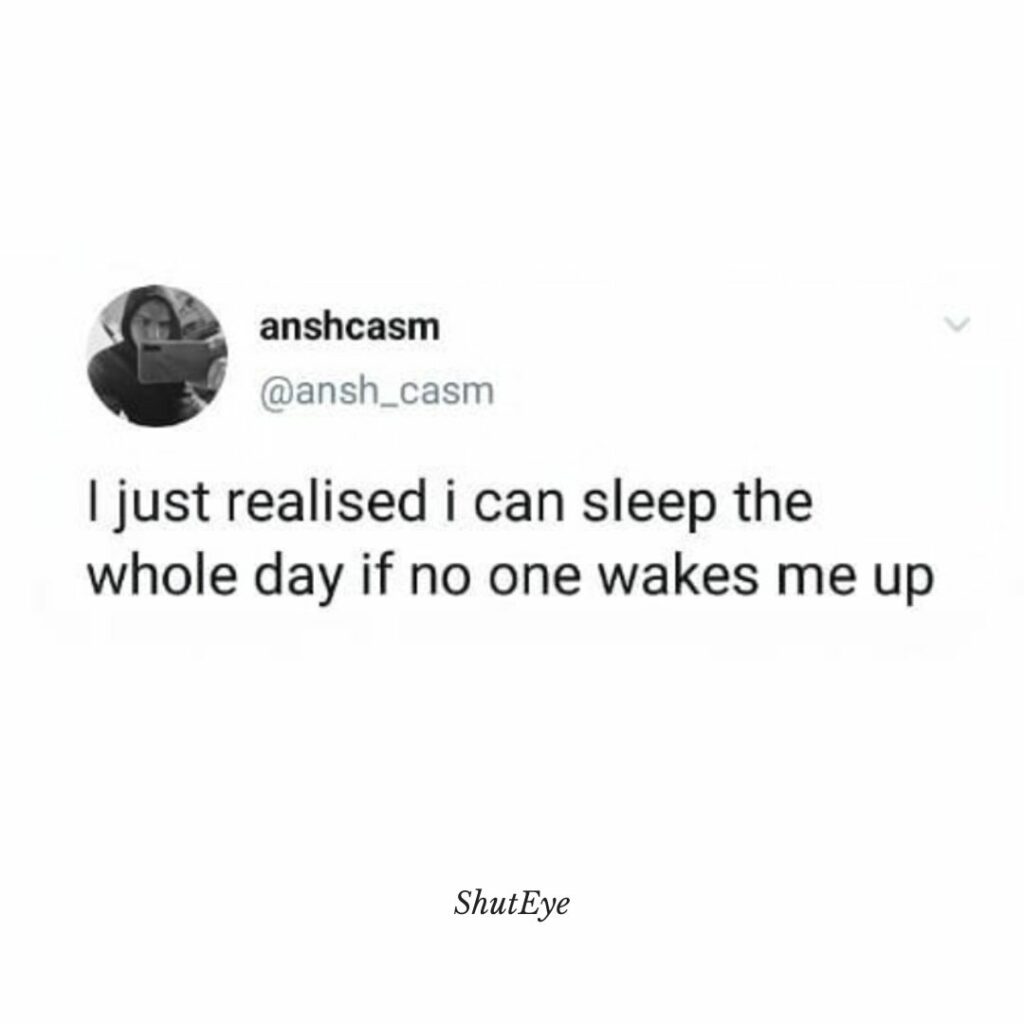 The face of worry as soon as you wake up!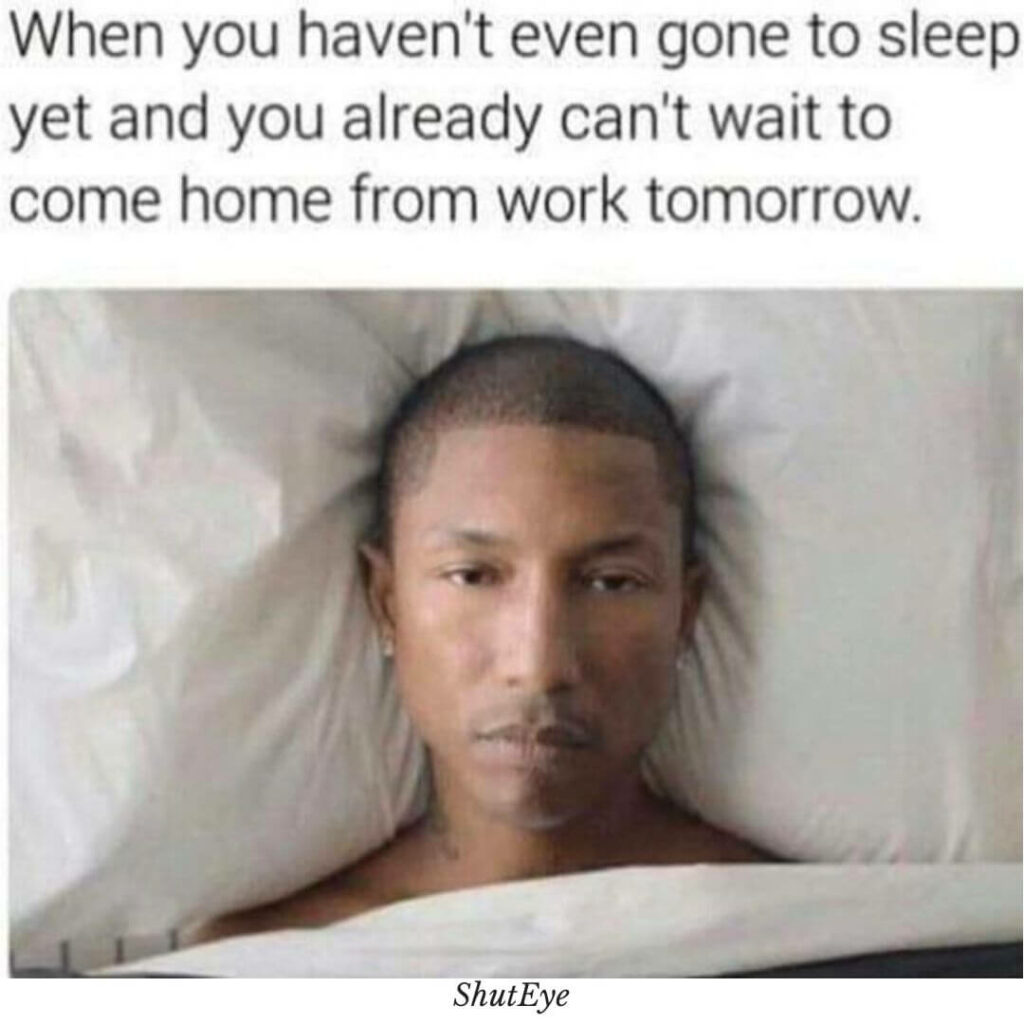 Do you know that you can find more memes like this in our application ShutEye? From can't sleep images to funny good morning memes, get ShutEye to keep you distracted and improve your sleep!


That moment the clock goes off in the morning and you want to throw it through a window!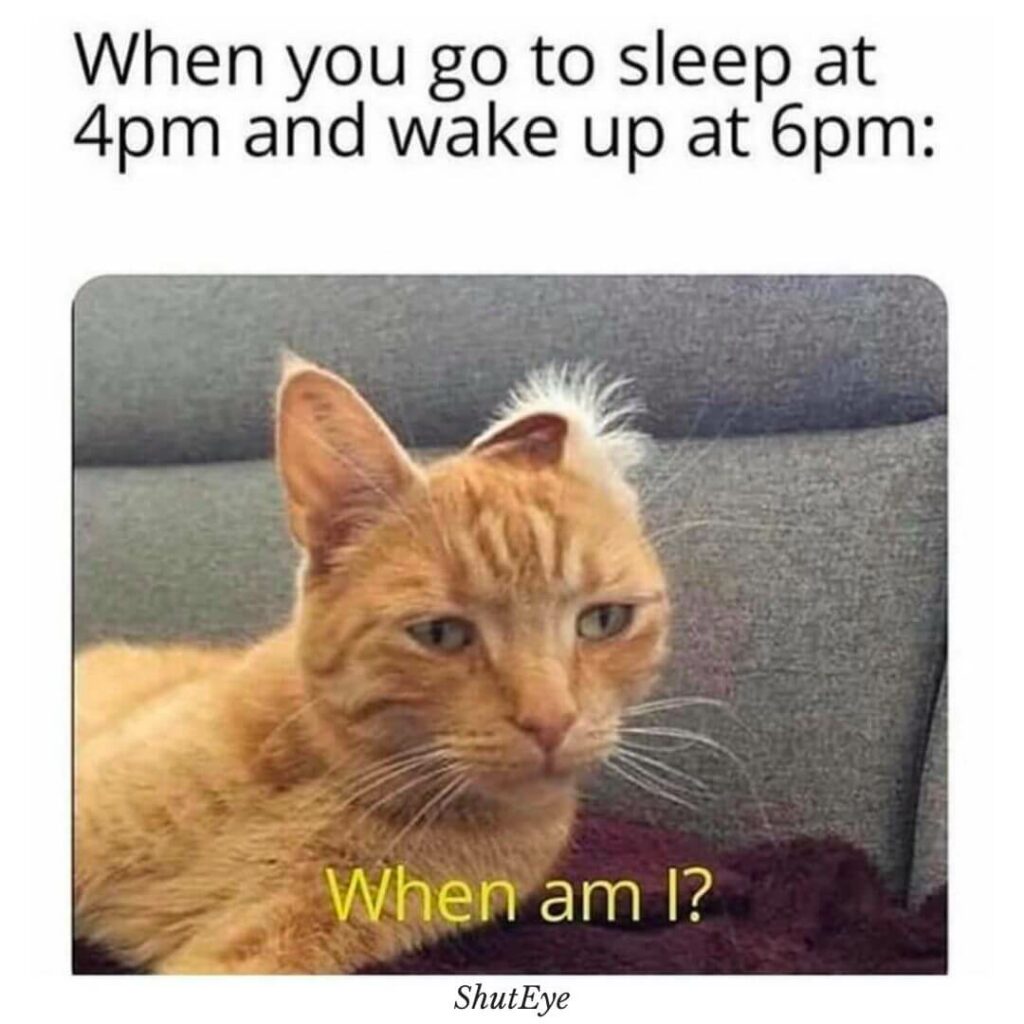 When you dive under your covers for more sleep, but you hit your head on the wall instead!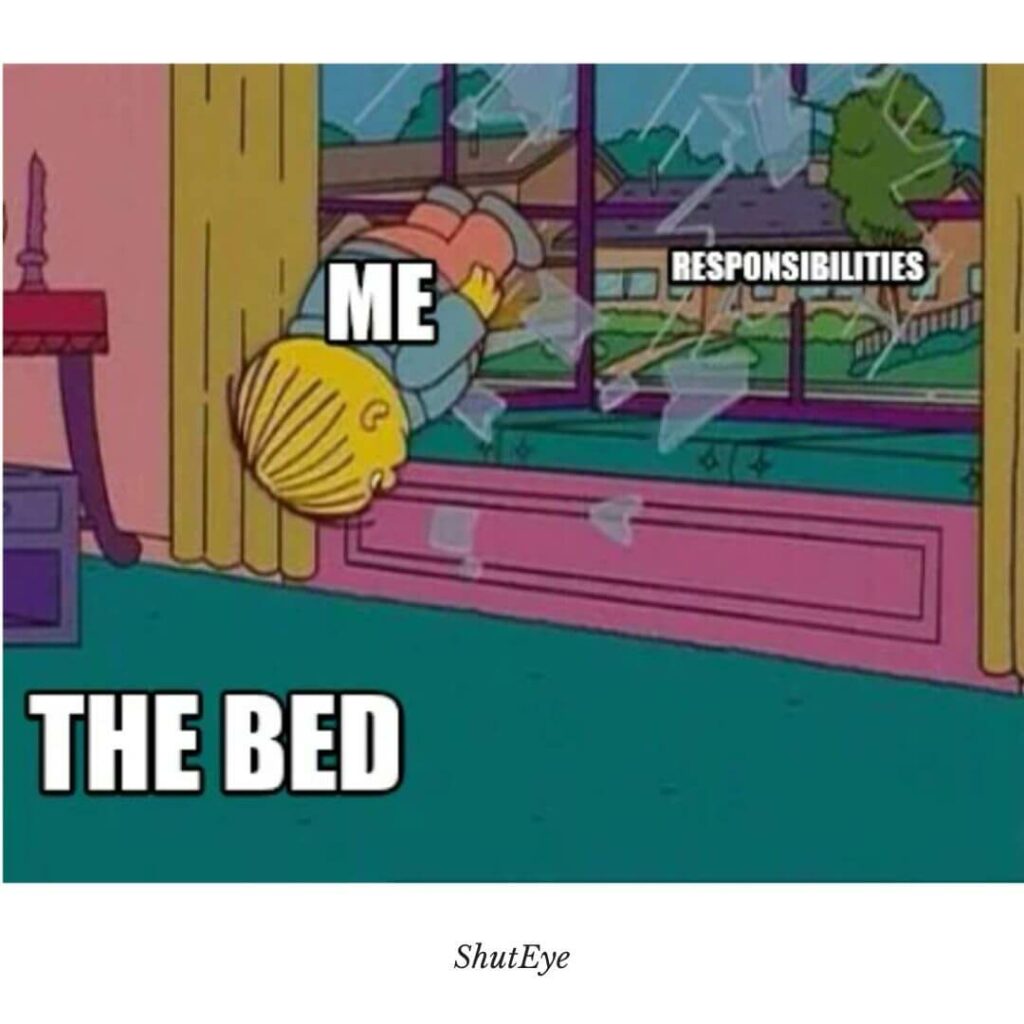 Takeaway: Waking up may not be everyone's favorite task, but it's necessary if you want to function during the day.
Waking up in the morning can often feel like a really tough job, especially when our warm bed is inviting, and the thought of facing the day makes us a little anxious. But, as they say, we have no choice, we have to get up and get ready for work or school. Fortunately, in the battle against hitting the snooze button, we've found an unexpected friend – funny wake up memes! These clever and funny pictures not only bring a dose of humor but also help take our minds off the daily routine. They've become our secret weapon in the fight against feeling tired and stressed in the morning.
We hope you enjoyed our funny wake up memes, and we look forward to having you back on our blog for more entertaining content related to sleep. For those struggling with the daily challenge of waking up, consider trying our ShutEye app – it's designed to make this task more enjoyable.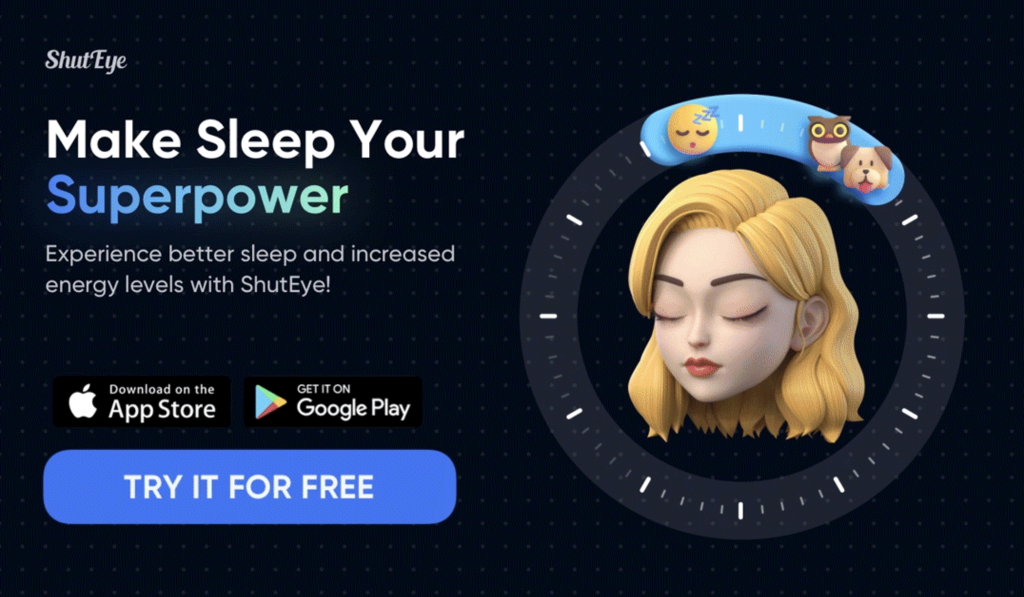 Have a great morning and see you soon!