During sleep, it's typical to have a dream about falling. If you or a loved one has been having these types of dreams at night, you might be wondering what they indicate.
Different people interpret dream about falling in different ways. Some people will concentrate on the emotions involved, while others will concentrate on the dream scene. Some people may believe that they should avoid spicy foods before going to bed.
Common Dream Meanings Your Should Never Ignore.
What does the dream of falling mean?
Falling dreams may have a physiological foundation. Blood pressure and heart rate drop as the body drifts further into sleep and the neurological system quiets, and this physiological transition of "falling" asleep can induce a falling dream, in which the dreamer "jerks" up.
Falling is the dreamer's mind's metaphorical way of alerting you to a scenario in your waking life when you feels out of control or where things are truly heading downhill.
1. Dreams of yourself falling
Falling dreams may reflect feelings of helplessness or rejection. Dreaming of falling could mean that you feel:
insecure or unstable
inadequate or inferior
anxious
overwhelmed
out of control
Being pushed off a cliff could mean that you don't feel secure with others or with unseen forces. Tripping and accidentally falling off a cliff might say that you lack self-confidence. Either way, things are out of control or you're trying to hang on to something.
Dreaming that you parachuted out of an airplane or took a graceful dive into a safety net isn't so scary. This could be a sign that you're letting go of something negative or setting yourself free.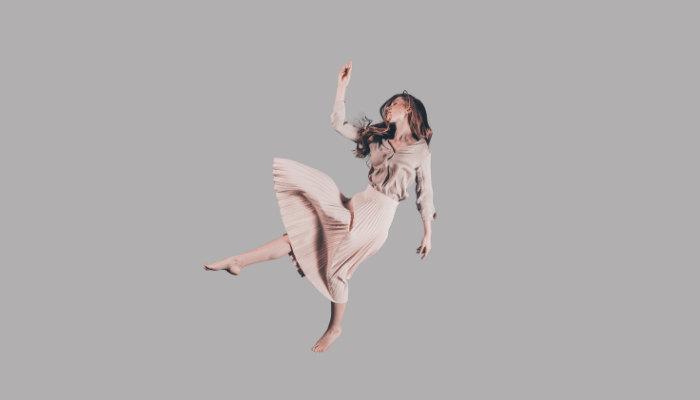 2. Dream of someone else falling
It's possible that you're deeply concerned about someone you know whose life is spinning out of control. Or maybe you're worried that someone is leaving you, emotionally or physically.
3. Dream of falling then waking up
When you dream about falling, your legs jerk and you wake up with a start, a motion that saves you from the fall. It's a discombobulating way to wake up.
Hypnic jerks are sudden, involuntary muscle contractions that usually occur just as you're falling asleep.
So don't worry. This phenomenon probably has more to do with your body falling asleep than your mind trying to tell you something.
What can I learn about myself by having a falling dream?
Understanding the meaning of a falling dream in your waking life is crucial, just like any other dream symbol. Consider the numerous areas of your life where you may be feeling overwhelmed or vulnerable, such as your job, relationships, finances, or even your physical well-being. With that knowledge, you should be able to better deal with your concerns or worries and reclaim your sense of control.
How can I prevent or induce dreams about falling?
If a dream about falling makes you feel vulnerable and afraid, remember to work with those dreams in your waking state to deal with the worries you have about the scenario so you can regain your balance.
Some tips to prevent falling dreams:
Establish a regular, relaxing routine before bedtime
Learn to manage stress with meditation
Limit or avoid caffeine/alcohol before sleep
Keep a dream journal
Don't eat before bed
Do exercises frequently
Use a white noise machine or sleep app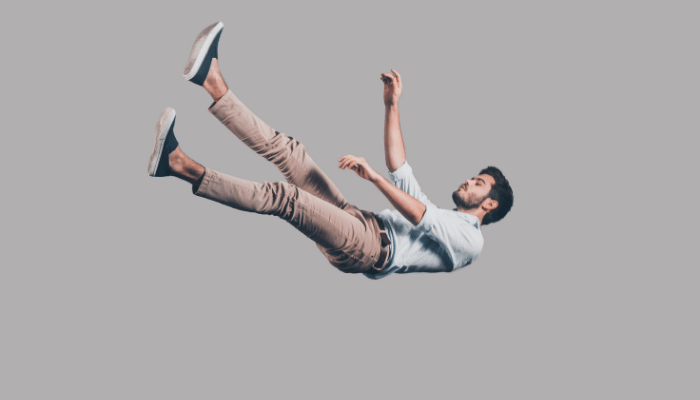 Falling dreams can be unsettling, but they're usually a good indication. Your subconscious is sorting through the realities of a problematic circumstance while your conscious mind catches up. The impact of hitting the ground often wakes you up in nightmares of falling. If you fall to the ground and continue to dream, it could mean that your ability to tackle your concerns has improved, and you're in a better mental position than previously.
If you have trouble sleeping, try ShutEye, an all-in-one sleep app. ShutEye brings a wide variety of tools to help you fall asleep. And you can understand your sleep cycles from a scientific perspective.
So stop tossing and turning all night, and starting falling asleep in a healthy and natural way.
You may also like:
Are You Stressed? | 3-Minute Stress Test
14 Sleep Hygiene Tips For Better Sleep
8 Relaxing Sounds to Help You Sleep Better and Relieve Stress