Essential oils for sleep spray. What are they and how can they help? Are they healthy? How to make them at home? Answers to these questions and many others you will find out in this article dedicated to this healthy, pleasant and fragrant way of solving sleep problems.
Essential oils are very useful and helpful in solving various problems people may experience in their lives. Stress, anxiety, sleep problems and so on. Generally, they are healthy but, sure, there are individual characteristics of every person and oil that should be consulted with your physician first. Nevertheless, one of the easiest and safest ways to use essential oils is by making a sleep spray.
Even if your DIY abilities are not high enough to win any competition awards, the article you are going to read, will help you to master the skills of making essential oils for sleep spray. All what it takes is a little know-how, a bottle, water, and your essential oil or oils if you want to combine flavors. Keep reading for everything you want and need to know about how to make essential oils for sleep spray.
Which essential oils can I spray on my pillow to help me sleep?
These essential oils can help relieve the stress, emotional distress, or anxiety that is affecting your sleep.
Sweet orange – This mood-boosting essential oil may seem an odd choice for helping sleep, but it has an anti-anxiety effect that fights against depression which is making sleep difficult.
Lavender – One of the best overall essential oils for mood and anxiety, as it relieves stress to let sleep to come.
Vetiver – Vetiver is rich and deep and helps to calm down the flow of numerous thoughts. It is a great choice for essential oils for sleep spray.
Roman Chamomile – Chamomile clams both the digestive system and the nervous system which means if anxiety and nervousness are keeping you away from sleep, this is one of essential oils for sleep spray.
Ylang Ylang – Pretty and balancing, ylang ylang essential oil is a balancing essential oil that has a calming and stress-relieving effect.
Do essential oils help you to sleep?
As was mentioned above, each kind of essential oils helps in its own way. Sure, they positively influence the quality of your sleep. Firstly, essential oils are oils derived from plants, usually by crushing and steaming distilling parts of the plants. Secondly, a variety of essential oils have been used as medical treatments since ancient times.
Aromatherapy involves inhaling essential oils scents or vapor. There are numerous researches that demonstrate real facts of smells affecting sleep, incorporating certain essential oils into your bedtime routine may help people to sleep better.
Which essential oils are the best for sleep?
Here is the list the of the best essential oils for sleep spray and scopes of application:
Lavender essential oils
Lavender can be put on a pillow to be inhaled during the night combined with other oils. It also can be used for massage, as it is easily absorbed by the skin. It can help if you have insomnia and belong to the following groups of people such as women 45-55 years old, younger people, students, ischemic heart disease patients, hospital patients with coronary artery disease, postpartum mothers.
Bergamot essential oils
Bergamot is a fragrant herb native to North America. Research suggests bergamot may help with a variety of ailments. Bergamot essential oil may also be inhaled or diffused throughout a room. When bergamot essential oil is experienced as aromatherapy, it may lower blood pressure and improve mental health. Possible mixtures can be bergamot, lavender and ylang-ylang.
Chamomile essential oils
Chamomile plants have two types: Roman and German. Roman chamomile essential oil is more effective against anxiety, while German chamomile is known for relieving pain. Reducing these symptoms can improve sleep. Roman chamomile, lavender and neroli is an essential oil blend for sleep that has been scientifically studied.
Cedarwood essential oils
Cedarwood is an essential oil for those who enjoy woodsy scents. It has a sedative effect due to a chemical compound called cedrol. Inhaling an essential oil mixture that contains cedrol has been scientifically studied and demonstrated to improve sleep quality in both young, healthy adults and other adults with dementia, because it activates the parasympathetic nerous system. It is recommender to use cedarwood oil for at least 20 nights to see effects. Cedarwood oil, along with other essential oils, may increase total sleep time and reduce early morning awakenings.
Clary Sage essential oils
Clary Sage Oil is native to Southern Europe, clary sage is an herb. Studies show that clary sage oil has an antidepressant effect and reduces cortisol levels. Since cortisol impacts circadian rhythms and appears to be tied to alertness, reducing cortisol may promote sleep. In another study, clary sage oil inhalation appeared to reduce stress in medical patients by lowering their blood pressure and respiratory rate.
How to DIY essential oils for sleep spray?
Let's get started with the basics. Follow this guide to learn how to DIY your own essential oils for sleep spray. It will work for rooms, body, or linens.
Ingredients
4 oz spray container
3 fl oz distilled water
1 fl oz ethanol alcohol
48 drops of essential oils (2% dilution), blend of choice.
Directions
Gather the Materials. If you want to make essential oils for sleep spray, the first thing is to get the materials needed for the project. The ingredients required include essential oils, distilled water, a small amount of alcohol, and a 4 oz spray bottle. Glass bottles are preferred over plastic bottles.
Label the Bottles. Labeling the bottle is necessary for easy identification. This will help your household members not to ingest the content in any way. Also, if you make multiple sprays, this will help you keep them apart.
Start with Alcohol. After labeling the spray bottle, add 1 fl oz of minimum 60% ethanol content alcohol, such as Everclear grain alcohol or rubbing alcohol. This step is NOT optional. Alcohol not only helps the oils to bind better and the scent to last longer, it also eliminates microbial growth and contamination in your spray.
Add Essential Oils. Now it is time to put the drops of chosen essential oils into the bottle. Blend the oils according to your choice or specific health needs. Let this mixture sit, covered, for at least an hour to allow the aromas to develop.
Top Up with Distilled Water. Finish off your oil spray recipe by pouring the distilled water to the top of the container.
Shake Well. After adding your ingredients, shake the bottle vigorously. This will cause the oil particles to dissolve completely in the water. Always shake the bottle again just before you want to use your spray.
Spray. Spray your homemade aromatherapy spray around your room and surroundings. You will inhale the soothing fragrance, and benefit from the therapeutic properties.
Precautions
Please remember that alcohol is a solvent and so are many essential oils. Avoid direct contact with counter tops or finished wood to avoid damage to finished surfaces.
Avoid spraying around open flames or flammable areas such as gas or propane stoves, or candles. Both the alcohol and essential oils are volatile substances.
If you're making a body spray, avoid phototoxic essential oils if you plan to be exposed to the sun in any way while outdoors after use.
With the alcohol content stabilizing the spray, you don't need to store it in the refrigerator. It can last for months with no concerns. If you wish to refrigerate, you can, but it is not needed.
Well, that's all for today's guide! Thank you for your time! We hope that this article will help you in your battle against problems with sleep!
ShutEye is the perfect way out if you encounter any kinds of troubles with sleeping. ShutEye is a unique combination of useful tools that help you before, while and after sleeping! It also provides data from scientific prospective to help you to understand your sleep cycles. Healthy sleep is real! ShutEye makes dreams come true!
Subscribe to get more useful tips and helpful information! Good night and have a wonderful sleep filled with wonderful fragrancies and miracle dreams!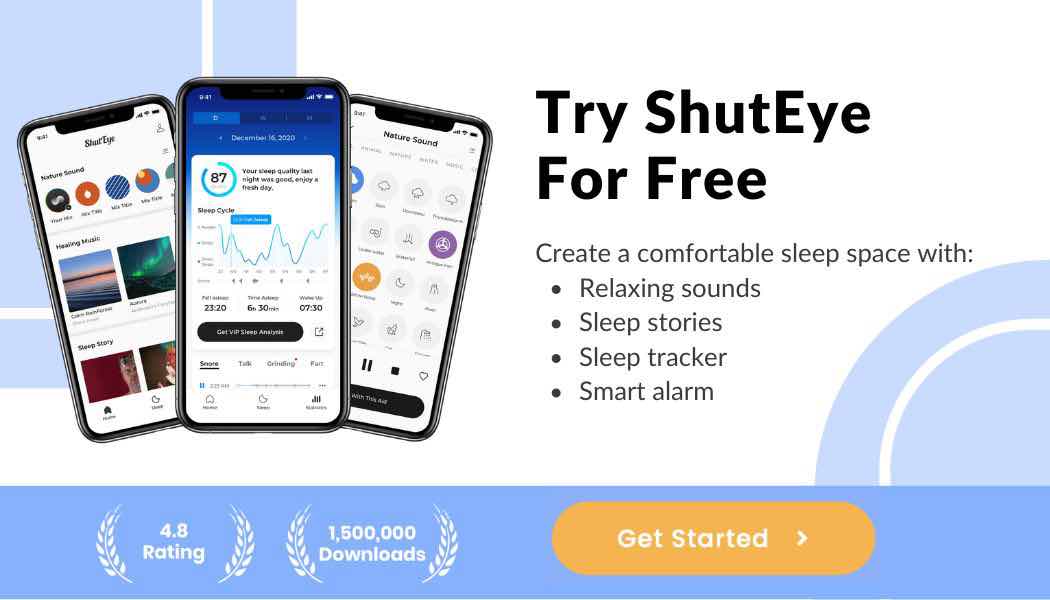 You may also like:
Are You Stressed? | 3-Minute Stress Test
10 Best Sleep Products to Help You Fall Asleep Faster
8 Relaxing Sounds to Help You Sleep Better and Relieve Stress