Sleep is something that we treasure more only when we grow older. And the older we are, the harder it becomes to get a deep, satisfying sleep. When you sleep with headphones, it's a great way to lull yourself without interrupting others who might be sharing the same bed or room with you. This kind of lullaby could probably remind our parents when they were singing or telling some stories before sleep. Lovely time.
Everything seems to be okay, but the only problem is that most headphones are bulky and not designed to be slept in. You have probably experienced boxed-in ears, or suffering from a stiff neck the next morning because you couldn't sleep on your side.
That's why this article is suitable for you to read! We will help you to find the solution! Keep on reading!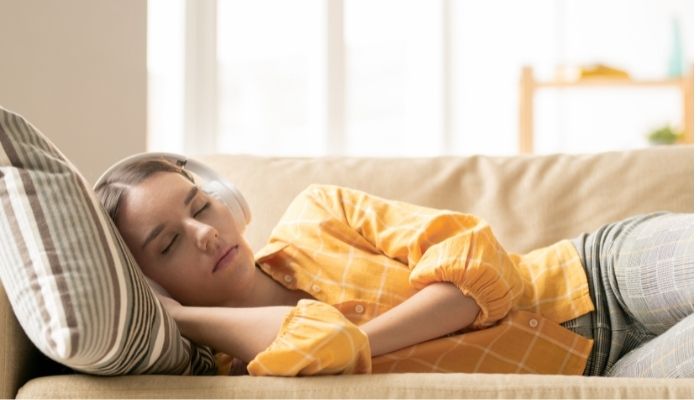 What you will learn:
Is sleeping with headphones dangerous?
Disadvantages of sleeping with headphones every night
Advantages of sleeping with headphones
Tips for using headphones while sleeping
Conclusion
Is sleeping with headphones dangerous?
Previously on ShutEye, we have talked about sleeping with earbuds on. It is quite useful if you use earbuds instead of headphones. The points mentioned about earbuds are close to the effect of wearing headphones, yet there are some differences. As for the last ones, the main impact can be caused by the sound headphones produce or technical characteristics such as design and wires. Now, let's see what these disadvantages are.
Disadvantages of using headphones for sleep every night
Sound cannot be too loud, because it will affect hearing abilities in general. It is better to listen to the music at a low level. Anyway, we are going to sleep, not have a party, aren't we? There is a scientific fact: listening to loud music keeps our brain awake! For example, truck drivers listen to music if they have to drive during the night.
And as for the design part, wires can play a dirty trick. The wires can become tangled around your neck. You will start toss and turn in sleep. And then, you will experience restriction of breathing. This can cause loss of breath and death sometimes.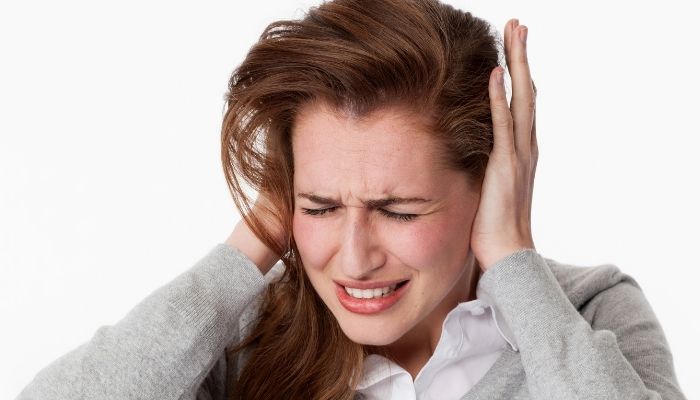 So, in this way, even though headphones can give us beautiful sounds so that we could see wonderful dreams, be careful while using them and remember:
Safety first!
Advantages of using headphones for sleep
Now, good news! Let's speak about why sleep with headphones is a good idea!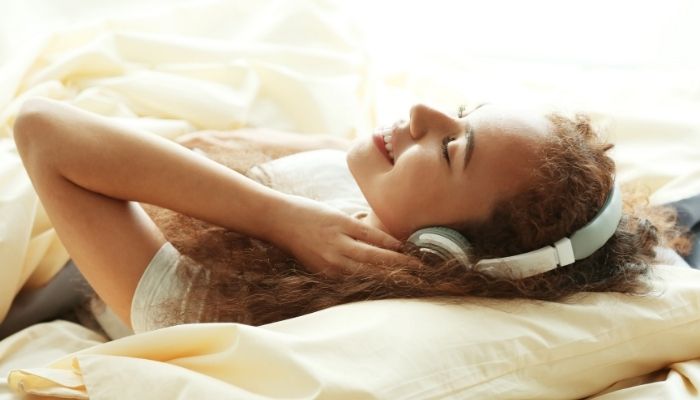 Relaxation – Numerous studies show that listening to the right kind of music induces a relaxation response in your body. It slows down your heart rate and breathing, allowing you to let go of the stresses of the day and fall into a deep sleep quickly. It can even help patients with insomnia and post-traumatic stress disorder (PTSD).
Happy brain chemicals – Listening to music releases dopamine. When you listen to anything you like, including music, a podcast, a movie, your brain also releases dopamine. This natural chemical helps you feel good so you can go to sleep more easily. For instance, this study shows listening to music positively affects the autonomic nervous system, which regulates bodily functions, so you can recover from stressful events more easily.
Distraction-free nighttime environment – Sleeping with earbuds or headphones blocks out loud and excessive sounds that can keep you up all night long.
Tips for how to sleep with headphones
This cannot be considered a useful article if there are no life-hacks in it. We've got something for you, read carefully!
Tip 1. The Original Pillow with a Hole
As you can tell by its name, The Original Pillow With a Hole has a 4-inch x 4-inch hole in the middle to provide just the right amount of space for one of the ear cups to go through. Don't forget to pull the wires through the hole.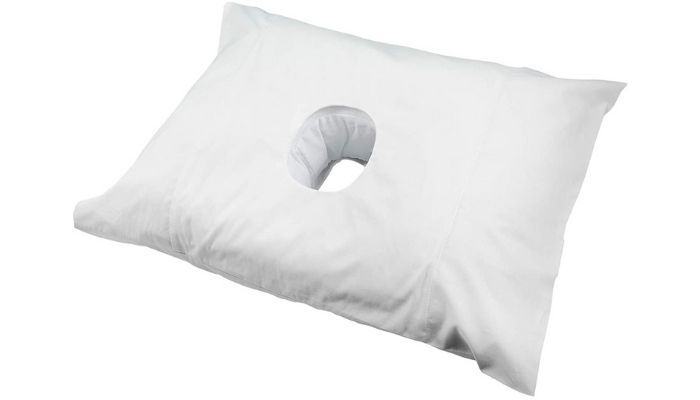 Tip 2. Travel pillow
This is the best friend of people on the go. It can be used to relieve pressure on the headphones in two ways. One is when you're sleeping upright or sitting down, and the second is when you sleep on your side.
Travel pillows snuggly fit around your neck to give your chin and jawline an area to fall and rest on. It will not come in contact with your headphones so pressure while sleeping won't be a problem.
Much like the pillow with a hole, travel pillows also have a crater in the middle where your headphones could easily slot in.
This is a great and innovative way to sleep on your side while wearing headphones.
Tip 3. Get headphones that make sleeping easier
Typically, these headphones have a low profile and don't protrude from the ear so that when you turn to the side, you feel nothing pressing against your ear.
There are a few types of headphones in this category.
These look like a regular sports headband that's made of fabric and wraps around the head, but they have a pair of ultra-slim, padded speakers inserted inside. The fabric can be washed, but always remember to remove the speakers first.
Popular brands include:
SleepPhones – These are lightweight headband headphones that can be plugged into a standard 3.5-mm jack. A wireless Bluetooth version is also available so you can move around without restriction.
CozyPhones – These have a contoured design that allows the headband to conform to the shape of your head. They also double as an eye mask for blocking out light. CozyPhones are available for adults and children.
Jarvania – If you're looking for sleep headphones that you can also use while exercising, check out Jarvania. They have a built-in mic so you can make calls hands-free during your workout.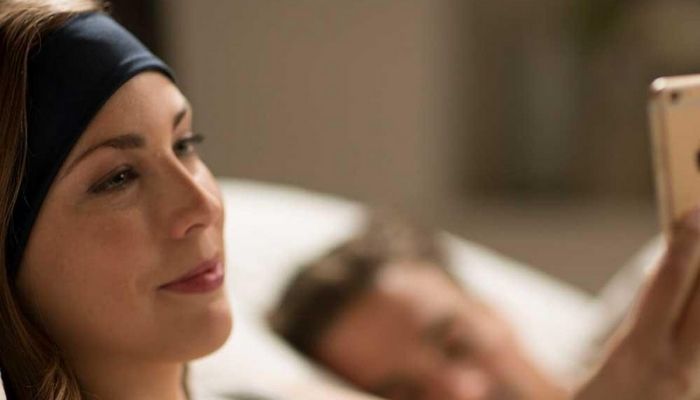 Low-profile earphones usually have soft silicone tips that follow the shape of your ears so that you barely feel a thing. These were designed especially for people who want to sleep with headphones on.
Popular brands include:
Bedphones by Moonbow – These are on-ear headphones with ¼-inch-thick ear cups that sit flat on your ears. The rubber-coated memory wire conforms to the shape of your outer ears so you can adjust the headphones for maximum comfort.
QuietOn Sleep Earphones –These earphones come with active noise-canceling to drown out low-frequency sounds like snoring and city traffic. Ear tips also come in small and medium sizes to accommodate various ear sizes.
Moondrop Kanas Pro – If you want to keep your earbuds in while sleeping, get this pair of earphones. The Kanas Pro by Moondrop has an over-the-ear memory cable that can be adjusted so that it fits snugly over your outer ears. It also comes with soft, light ear tips in various sizes so you can choose the right size for your ears.
Conclusion
Alright, we have talked enough for today. Now it is time to put your earphones on and listen to the sounds you like! One more thing I wanted to mention, if you struggle with finding and selecting sounds for your sleep, ShutEye is the thing you need. Our website also has a great library of sounds. Become the most calming and relaxing DJ ever existed with Online Background Noise Generator. Are you feeling too hot and dry? It is high time for you to humidify your environment with this authentic Free Rain Sounds Background Noise, I even feel it in my lungs already.
Now, it is your turn! Indulge yourself with the most calming, relaxing, and authentic sounds. Join the healthy sleeping people circle guided by the scientific approach of the ShutEye Team. Learn more about science in a simply explained well to sleep the best night you ever had. Good night and sweet dreams!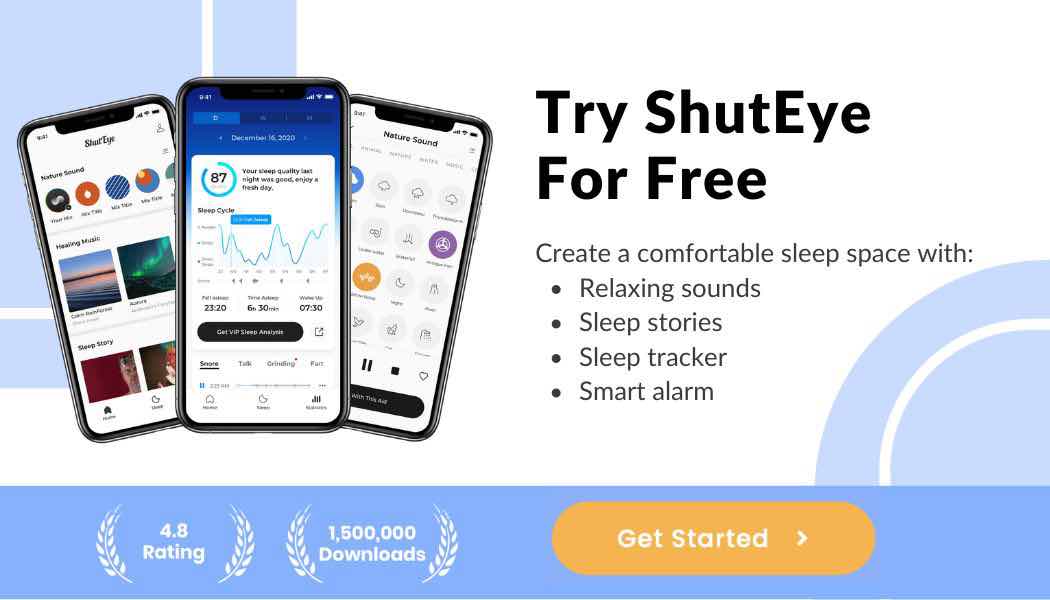 You may also like:
Is sleeping with earbuds on bad for your health?
8 Relaxing Sounds to Help You Sleep Better and Relieve Stress