Sleep is something we tend to value more as we age. The older we get, the more challenging it becomes to achieve a deep and satisfying sleep. Sleeping with headphones can offer a wonderful way to soothe oneself without disturbing others who may share the same bed or room. This type of auditory experience might even evoke fond memories of our parents singing or sharing bedtime stories. What a lovely time that was.
However, there is a significant issue to contend with- most headphones are bulky and not designed for comfortable sleep. You've likely experienced the discomfort of boxed-in ears or woke up with a stiff neck because you couldn't sleep on your side.
That's where this article comes in handy! We're here to help you find a solution. Keep reading to discover how!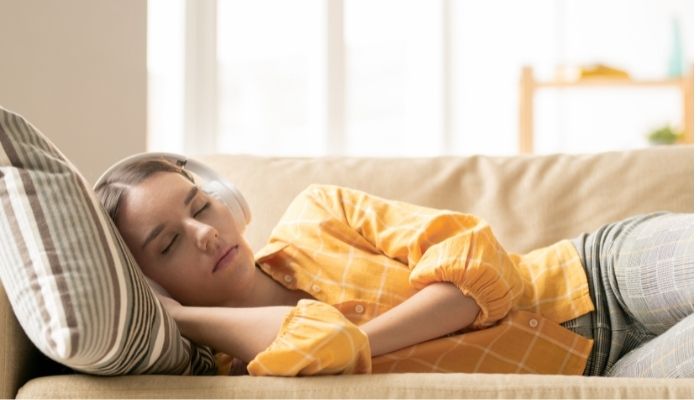 Why people choose to sleep with headphones
Many individuals opt to sleep with headphones for various reasons, as it offers a unique blend of comfort and practicality. For some, soothing music or calming nature sounds can create a serene and relaxing atmosphere that helps ease them into a restful slumber. Others may find that blocking out external noises, such as street traffic or a snoring partner, is essential for achieving a peaceful night's rest. Podcasts and audiobooks are also popular choices, providing an opportunity for late-night learning or entertainment without disturbing anyone else.
Ultimately, sleeping with headphones has become a convenient and customizable solution to tailor the sleeping environment to one's personal preferences, fostering a more restorative and enjoyable night's sleep.

Is sleeping with headphones dangerous?
In our previous article about the practice of wearing earbuds while sleeping, we have addressed their utility as a potential substitute for traditional headphones. The points mentioned about earbuds are close to the effect of wearing headphones, yet there are some differences. As for the last ones, the main impact can be caused by the sound headphones produce or technical characteristics such as design and wires.
Now, let's see in detail what are the disadvantages and advantages of sleeping with headphones.
7 Disadvantages of using headphones for sleep every night
1. Tangled wires
Sound cannot be too loud, because it will affect hearing abilities in general. It is better to listen to the music at a low level. Anyway, we are going to sleep, not have a party, aren't we? There is a scientific fact: listening to loud music keeps our brain awake! For example, truck drivers listen to music if they have to drive during the night.
2. Tangled wires
Regarding the design aspect, dealing with wires can pose challenges. Wired headphones may become entangled around your neck, leading to restlessness during sleep and potentially restricting your breathing. This could ultimately result in a loss of breath and, in some cases, even lead to fatal consequences.
3. Ear infections
The constant moisture and warmth inside your ears when you wear headphones can create a conducive environment for bacteria to grow, potentially leading to ear infections.
4. Ear discomfort
Wearing headphones for an extended period while lying down can lead to discomfort and pressure on your ears, making it challenging to find a comfortable sleeping position.
5. Reduced awareness
Wearing headphones while you sleep can make you less aware of your surroundings, which can be dangerous in emergency situations, such as a fire alarm or other unexpected events.
6. Dependency
Relying on headphones to fall asleep faster can create a dependency on external audio sources for sleep, making it difficult to sleep without them in the long run.
7. Limited sleeping positions
Sleeping with headphones can limit the sleep positions in which you can comfortably sleep, as the headphones may dig into your ears or feel uncomfortable in certain positions.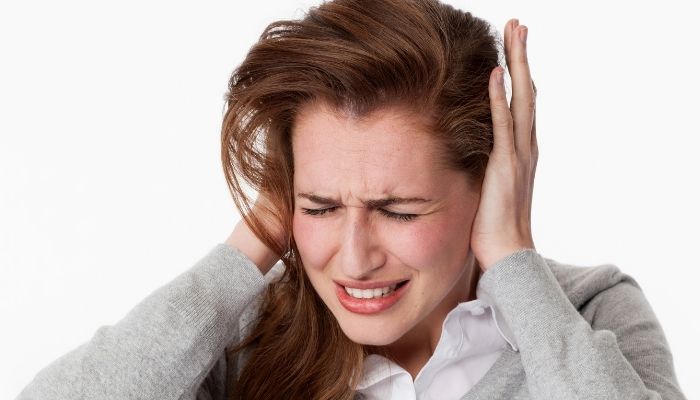 7 Advantages of using headphones for sleep
Now, let's speak about benefits of sleeping with headphones.
1. Relaxation
Numerous studies show that listening to the right kind of music helps relax your body and regulate your mood. It slows down your heart rate and breathing, allowing you to let go of the stresses of the day and fall into a deep sleep quickly. It can even help patients with insomnia and post-traumatic stress disorder (PTSD).
2. Noise isolation
Headphones can block out ambient noise, allowing you to create a more peaceful sleep environment, especially in noisy or crowded places. This is the reason some individuals living in big cities use noise cancelling headphones to fall asleep.
3. Reduced anxiety
Listening to music can trigger the release of dopamine. When you engage with content you enjoy, such as music, a podcast, or a movie, your brain also releases dopamine. This natural chemical can help reduce anxiety and stress levels, making it easier to relax and fall asleep.
4. Privacy
If you share a room or living space with others, using headphones can provide privacy and prevent your sleep sounds from disturbing them.
5. Blocking Out Snoring
If your partner snores loudly, using headphones can help you ignore or mask the noise, improving your ability to sleep through the night.
6. Tinnitus Relief
People with tinnitus (ringing in the ears) can benefit from using headphones to play masking sounds that drown out the ringing and improve sleep quality.
7. Consistent Sound
Unlike traditional speakers, headphones provide a consistent audio experience even if you shift positions in bed.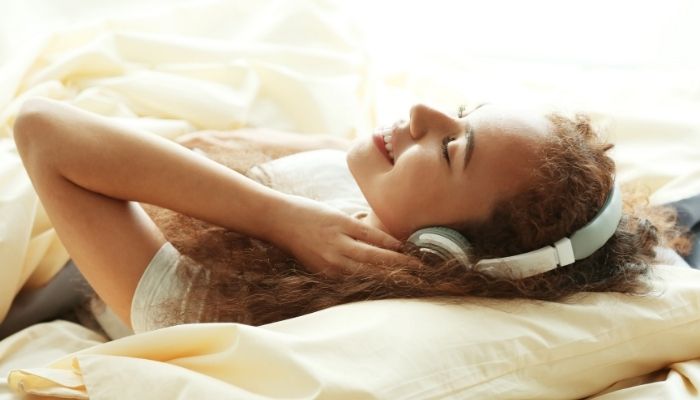 Tips for how to sleep with headphones
This cannot be considered a useful article if there are no life-hacks in it. We've got something for you, read carefully!
Tip 1: The Original Pillow with a Hole
As you can tell by its name, The Original Pillow With a Hole has a 4-inch x 4-inch hole in the middle to provide just the right amount of space for one of the ear cups to go through. Don't forget to pull the wires through the hole.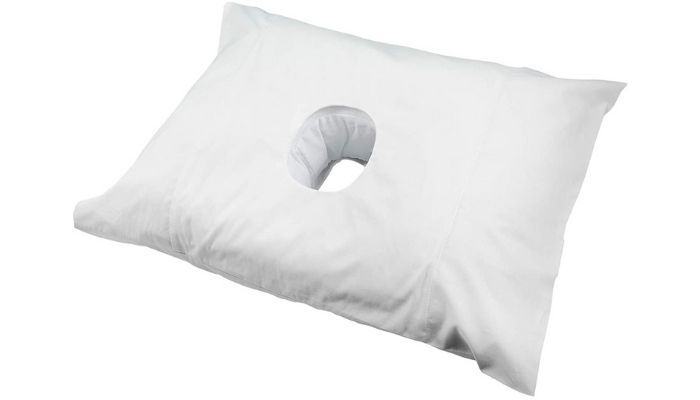 Tip 2: Travel pillow
This is the best friend of people on the go. It can be used to relieve pressure on the headphones in two ways. One is when you're sleeping upright or sitting down, and the second is when you sleep on your side.
Travel pillows snuggly fit around your neck to give your chin and jawline an area to fall and rest on. It will not come in contact with your headphones so pressure while sleeping won't be a problem.
Much like the pillow with a hole, travel pillows also have a crater in the middle where your headphones could easily slot in. This is a great and innovative way to sleep on your side while wearing headphones.
Tip 3: Get headphones that make sleeping easier
Typically, these headphones have a low profile and don't protrude from the ear so that when you turn to the side, you feel nothing pressing against your ear.
Different Types of Headphones
There are a few types of headphones in this category.
1. Sleeping Headband Headphones
These look like a regular sports headband that's made of fabric and wraps around the head, but they have a pair of ultra-slim, padded speakers inserted inside. The fabric can be washed, but always remember to remove the speakers first.
Popular brands include:
SleepPhones – These are lightweight headband headphones that can be plugged into a standard 3.5-mm jack. A wireless Bluetooth version is also available so you can move around without restriction.
CozyPhones – These have a contoured design that allows the headband to conform to the shape of your head. They also double as an eye mask for blocking out light. CozyPhones are available for adults and children.
Jarvania – If you're looking for sleep headphones that you can also use while exercising, check out Jarvania. They have a built-in mic so you can make calls hands-free during your workout.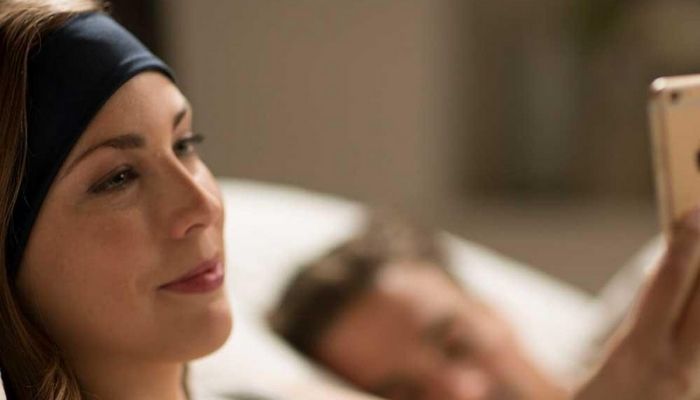 2. Low-profile earphones
They usually have soft silicone tips that follow the shape of your ears so that you barely feel a thing. These were designed especially for people who want to sleep with headphones on.
Popular brands include:
Bedphones by Moonbow – These are on-ear headphones with ¼-inch-thick ear cups that sit flat on your ears. The rubber-coated memory wire conforms to the shape of your outer ears so you can adjust the headphones for maximum comfort.
QuietOn Sleep Earphones –These earphones come with active noise-canceling to drown out low-frequency sounds like snoring and city traffic. Ear tips also come in small and medium sizes to accommodate various ear sizes.
Moondrop Kanas Pro – If you want to keep your earbuds in while sleeping, get this pair of earphones. The Kanas Pro by Moondrop has an over-the-ear memory cable that can be adjusted so that it fits snugly over your outer ears. It also comes with soft, light ear tips in various sizes so you can choose the right size for your ears.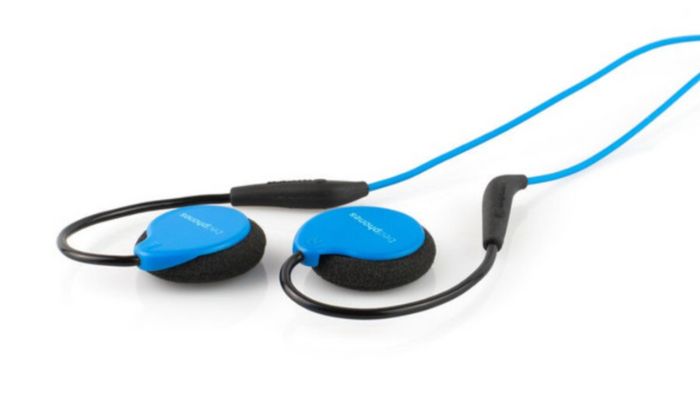 3. Wireless Sleep Headphones
These headphones connect to your devices via Bluetooth, eliminating the hassle of tangled wires. They come in various forms, including earbuds, headbands, and even sleep masks with integrated speakers. Bluetooth sleep headphones offer the freedom to move around without being tethered to a device.
Popular brands include:
Bose Sleepbuds: Bose is known for its high-quality audio products, and the Sleepbuds were designed specifically for sleep, offering comfortable earbuds with pre-loaded soothing sounds.
Sony Wireless Headphones: Sony offers a range of wireless headphones, including models suitable for sleep. Their noise-canceling technology can help block out unwanted disturbances.
CozyPhones: CozyPhones produces a variety of sleep headphones, including headbands with built-in Bluetooth speakers, making them comfortable for side sleepers.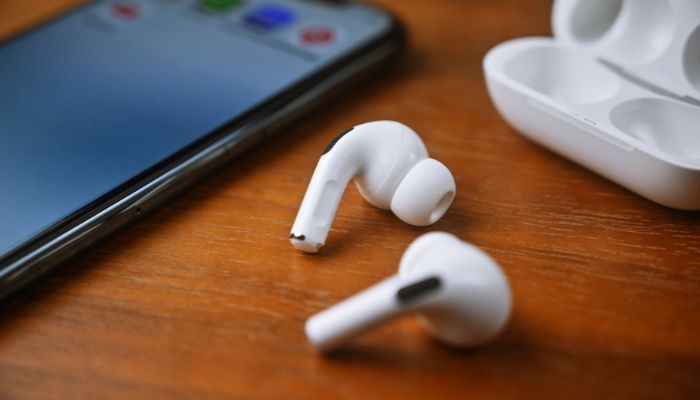 4. Sleeping Pillow Speakers
These are not traditional headphones but are designed to be placed inside or under your pillow. They produce sound that is audible only to the person resting on the pillow, so they won't disturb a partner. Pillow speakers are a great option if you don't like wearing anything in or on your ears.
Popular brands include:
SoundAsleep Pillow: The SoundAsleep Pillow is a popular option with built-in speakers that allow you to listen to music or audio while you sleep. It's designed to be comfortable and unobtrusive.
iMusic Pillow: The iMusic Pillow is another brand that offers pillows with integrated speakers. They are designed to provide a comfortable and immersive audio experience while you sleep.
Sound Oasis Pillow Speakers: Sound Oasis offers a variety of sleep sound products, including pillow speakers that can be placed inside your pillowcase for a personalized audio experience.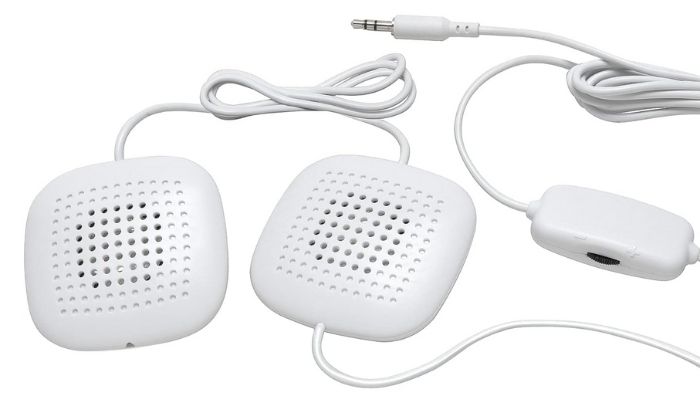 5. Sleeping Bone Conduction Headphones
Bone conduction headphones sit just in front of your ears and transmit sound through vibrations in your cheekbones or jawbone. They don't cover your ears, allowing you to hear ambient sounds while listening to your preferred audio, making them a safer choice if you need to remain aware of your surroundings.
Popular brands include:
Aftershokz: Aftershokz is a well-known brand for bone conduction headphones. While they primarily focus on sport and outdoor activities, some of their models may be suitable for sleeping.
Vidonn: Vidonn is another brand that produces bone conduction headphones, and they have a range of models that could potentially be used for sleeping.
Nuraphone: While not purely bone conduction headphones, Nuraphone combines in-ear and over-ear technology to provide a unique listening experience, which might be suitable for sleeping for some users.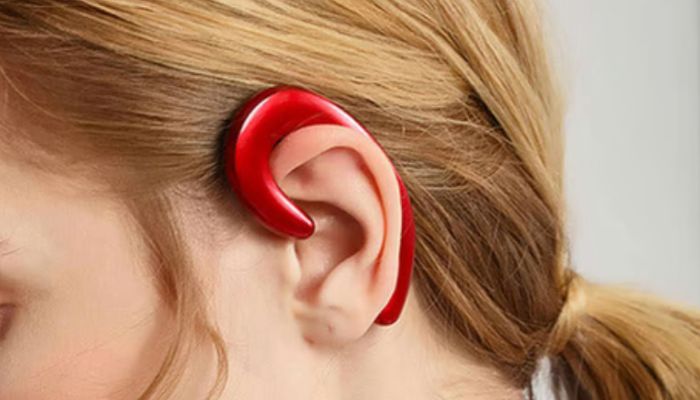 What are the alternatives to sleeping with headphones on?
When it comes to optimizing sleep quality and comfort, many individuals seek alternatives to sleeping with headphones on. One popular alternative is the use of white noise machines or apps that generate soothing sounds like rainfall, ocean waves, or gentle breezes. These ambient sounds can drown out unwanted noise and create a relaxing environment conducive to sleep.
If you're looking for a convenient solution, we recommend trying our sleep app, ShutEye. ShutEye offers a wide range of sleep sounds and relaxing music meticulously designed to promote a restful night's sleep. With customizable features and a user-friendly interface, it's a great choice for those seeking a peaceful and headphone-free sleep experience.

Another option is the utilization of specialized sleep earplugs designed to reduce external noise while remaining comfortable during the night. Additionally, some people explore wireless or bone conduction headphones mentioned above that are specifically designed for sleep, as they are less intrusive and more comfortable than traditional headphones.
Conclusion
Alright, we have talked enough for today. Now it is time to put your earphones on and listen to the sounds you like! One more thing I wanted to mention, if you struggle with finding and selecting sounds for your sleep, ShutEye is the thing you need. Our website also has a great library of sounds. Become the most calming and relaxing DJ ever existed with Online Background Noise Generator. Are you feeling too hot and dry? It is high time for you to humidify your environment with this authentic Free Rain Sounds Background Noise, I even feel it in my lungs already.
Now, it is your turn! Indulge yourself with the most calming, relaxing, and authentic sounds. Join the healthy sleeping people circle guided by the scientific approach of the ShutEye Team. Learn more about science in a simply explained well to sleep the best night you ever had. Good night and sweet dreams!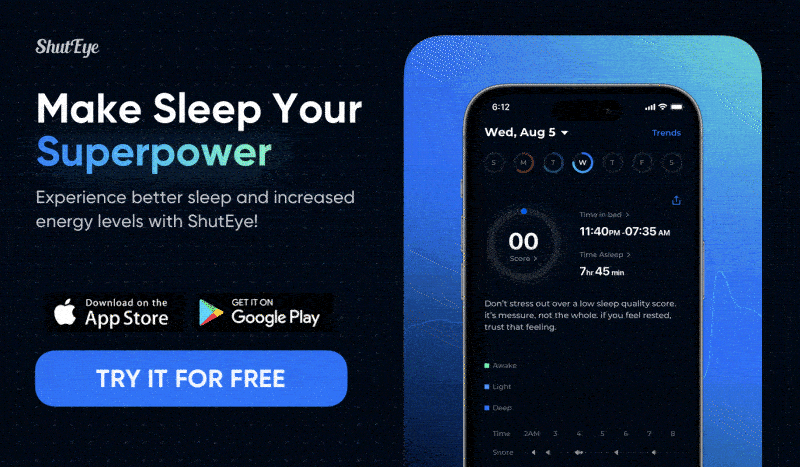 FAQ: Sleeping with headphones
Can sleeping with headphones cause headaches?
Yes, sleeping with headphones can potentially cause headaches if they are uncomfortable, too tight, or if the volume is too loud, leading to discomfort or pressure on the head. It's important to use comfortable, low-volume headphones if you choose to sleep with them to minimize the risk of headaches.
Is sleeping with music bad?
Sleeping with music can have both positive and negative effects, depending on individual preferences and the type of music. Some people find it relaxing and helpful for falling asleep, while others may be disturbed by it. If it helps you sleep better and doesn't disrupt your rest, it's not necessarily "bad." However, loud or stimulating music may interfere with sleep quality, so it's essential to choose music that suits your needs and doesn't disrupt your rest.
Can sleeping with headphones cause ear infections?
Sleeping with headphones can potentially increase the risk of ear infections if the headphones are not kept clean or if they trap moisture in the ears. To minimize this risk, it's important to clean your headphones regularly and ensure your ears are dry before using them for sleep.
Can sleeping with headphones cause hearing loss?
Yes, sleeping with headphones, especially at high volumes, can potentially cause hearing loss over time. The close proximity of headphones to your ears can expose your ears to prolonged loud sounds, which may damage your hearing. It's crucial to keep the volume at a safe level when using headphones, especially during sleep, to protect your hearing.
Is It bad to sleep with noise-canceling headphones?
Sleeping with noise-canceling headphones can be potentially risky because they may block out important sounds like alarms or emergency alerts. Additionally, extended use of headphones, even with noise-canceling technology, can lead to discomfort or pressure on the head and ears, potentially affecting sleep quality. It's generally not recommended for safety and comfort reasons, but if you choose to do so, use them cautiously and at a low volume to mitigate these risks. Opt for headphones designed for noise cancellation.
You may also like:
Is sleeping with earbuds on bad for your health?
8 Relaxing Sounds to Help You Sleep Better and Relieve Stress