21st century, the age of technological progress. Every day most of people listen wear something with wires or wireless. Watches, earphones, earbuds and many others. But, we don't limit ourselves only daytime wearing. There are people, who are sleeping with earbuds on.
I guess, you would probably like to know whether it is good or bad for your health? Undoubtedly, there are pros and cons for earbuds. So, here is the question, sleeping with earbuds bad for your health or not? Let's find out! P.s. personally me, cannot imagine myself being outside of my house without music in my ears. If you are as me, it will double interesting for you to read the article up to the end.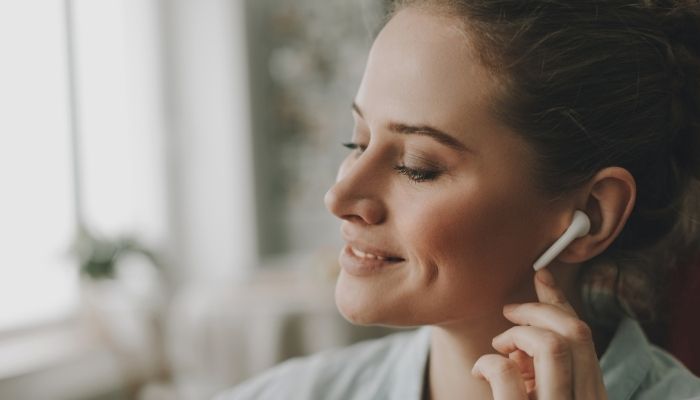 Risks of sleeping with earbuds on
Let's start with the most important – our health. If during day time, we can control our devices, night time – we are under control of gadgets. Did you watch the famous series of The Terminator? Machines are not so peaceful as may seem to be. When used appropriately, sleeping with earphones, earbuds or headphones can be safe, and they help you fall asleep more easily. In case of headphones, you have to be careful with the volume of the music so that you don't put pressure on your ears and damage them over a period of time. With normal earbuds, you have to be conscious of the same and keep in mind that they are not going too deep into your ears. So, what are these risks and side-effects? Let's find out:
Ear Wax Accumulation
If you are wearing earbuds that sit a little more deeply in your ear, you might risk developing a build-up of ear wax in your ears. This is because the earbuds will block the air circulation around your ear, causing the wax to be more easily pressed into your eardrum. If a lot of ear wax builds up over time, it might be difficult to remove it without causing damage to your ears. So, sleeping with earbuds on like these is bad for your health. Check the size before use! Try them on well!
Otitis Externa
This is the name given to a condition which involves irritation to your ear canal. Worst case, the skin around your ear canal area will slowly wear out and cause fluid to get into the ear. This will also result in pain in the outer ear. The ear canal is important as it connects the outer ear to the eardrum. This condition is common among swimmers but can also happen in people who constantly wear headphones and earbuds. Therefore, you will have to be cautious while wearing them to sleep.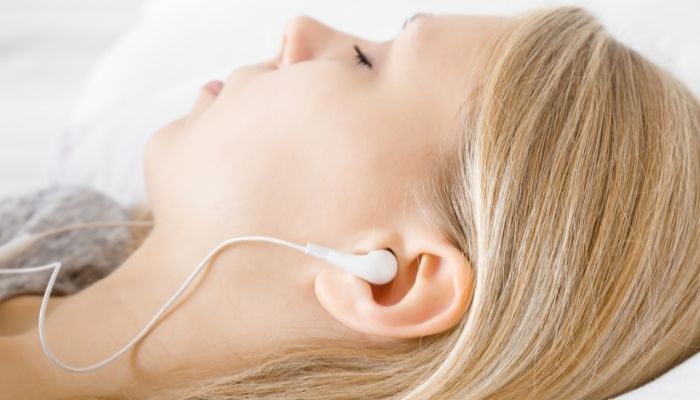 Necrosis
If your earbuds do not fit well, they will exert pressure on the skin inside your ear canal. The skin will start to wear away, and necrosis (death of tissue) can happen.
Issues of safety
If you are wearing headphones which have music or any noise-cancelling earbuds, then you face a safety risk of failing to hear an alarm going off in the middle of the night. This can have catastrophic results, especially during emergencies.
Hearing loss from listening to music
If you're sleeping with headphones on, you could accidentally turn the volume up. Listening to loud music for too long can cause permanent damage to your ears.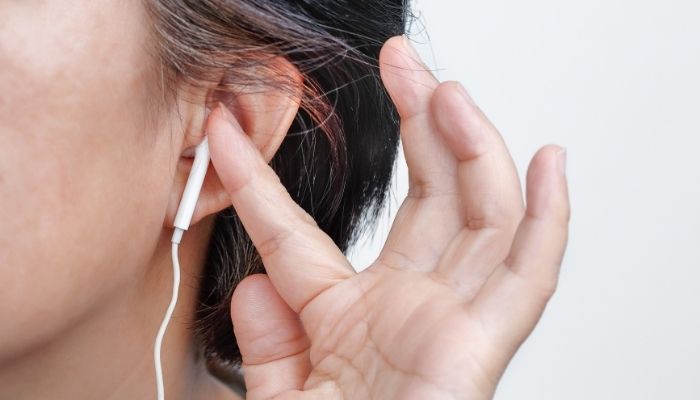 Most headphones have a maximum volume of 85 to 110 decibels. The US Occupational Safety and Health Administration says listening to sound that's 85 decibels and up over an eight-hour period is too loud.
It's equivalent to the loudness of lawnmowers and leaf blowers and can cause hearing loss if the listener doesn't have hearing protection.
For headphones, it's best to keep the volume at 60%. Listening to anything louder than that can lead to hearing problems in the future.
Advantages of sleeping with earbuds on
So, as we may see, there are lot's risks that we can face. Nevertheless, there are some advantages, too.
Earbuds can shut out noise while sleeping
You can use headphones or earbuds to shut out all kinds of noise, like people talking or traffic sounds outside, helping you sleep more peacefully.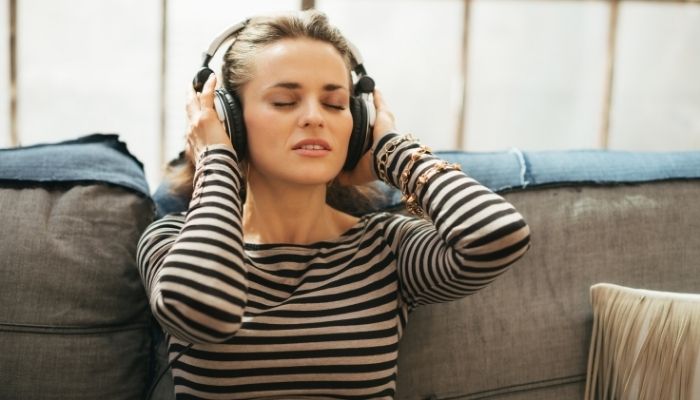 Listening to music can stimulate serotonin
Serotonin is a chemical produced in our brain which makes us feel good. Listening to music we like is a way to stimulate serotonin production and make us feel happy and relaxed. When you're in such a pleasant mood, falling asleep and staying asleep becomes much easier.
If you are thinking that sleeping with earbuds on is bad for your health, luckily ShutEye has something special prepared for you! Let's speak about alternatives to earbuds!
Alternative methods to help you fall asleep
ShutEye is your treasure chest that combines science, theory, and practical tools which are given to anyone in the simplest and the most efficient way! In the context of today's talk, this magic tool can offer you a collection of sounds and noises! Let's discover them together! Make yourself comfortable, relax, and here we go.
First, let me explain what "White Noise" is. White noise is something that can help you sleep comfortably. You can listen to white noise on your headphones to relax and get into a state of sleep. Studies show that music helps to lower your breathing and your heart rate.
Listening to music before you go to bed always can relax your mind, so you can listen to soft music on your headphones or speakers! This will help your body loosen up and focus more on sleeping, instead of on other pesky daytime thoughts.
In case you face some difficulties in choosing your best sound, try our Online Background Noise Generator where you can preview some of the sounds we use in our app ShutEye try them for free and enjoy your own mix of sounds! Are you feeling too hot and dry? It is high time for you to humidify your environment with this authentic Free Rain Sounds Background Noise, I even feel it in my lungs already.
If you want all these sounds to be by your hand and available anytime and anywhere, download our app ShutEye. Join the healthy sleeping circle of millions of people! Numerous functions and options are available for free, the rest is up to your choice!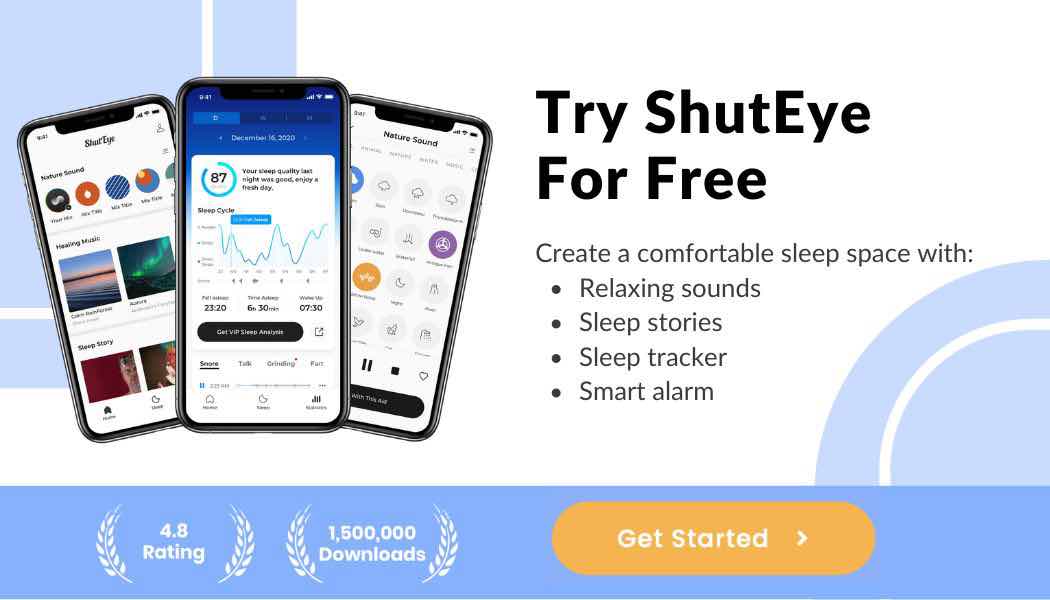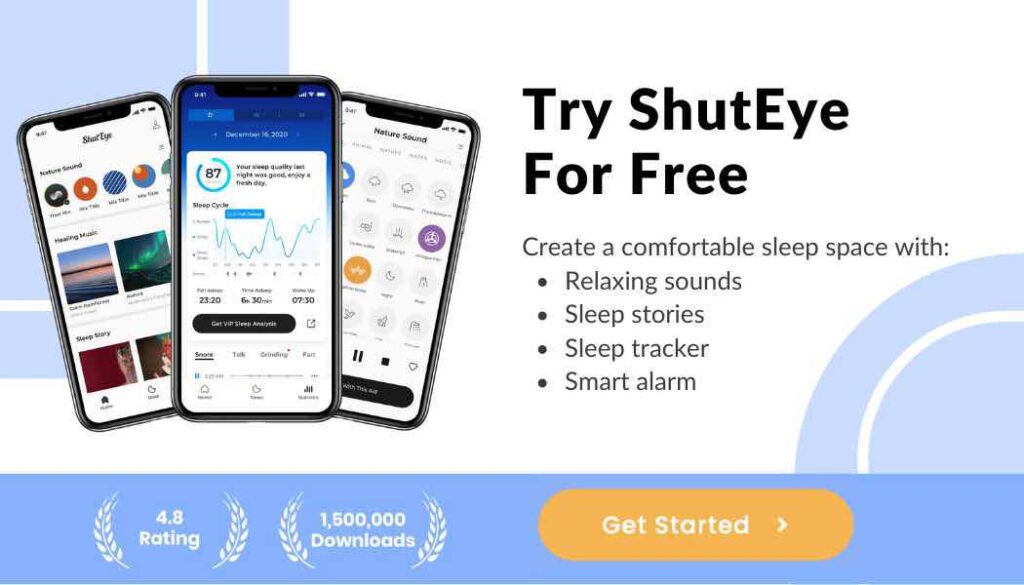 You may also like:
8 Relaxing Sounds to Help You Sleep Better and Relieve Stress
Does ambient noise help sleep?