Actually there is no such thing as bad weather. Weather can be different; we may like it or not. It depends. But today, we want to find out, why can't sleep when weather changes?? Try to be a ray of sunshine in any weather! Because a foul morn may turn a fair day.
We will also speak about seasons and how their changes affect our sleep. So, everything is good in its season! We will also share life hacks about having a good sleep during weather changes! Keep on reading this article up to the end and then, everything will be as right as rain! Together with ShutEye you can weather the storm!
Why can't sleep when weather changes?
With September fall comes! Days become shorter our bodies don't get enough sunlight. We are mostly exposed to lamplight during, which affects melatonin production (as you might know, melatonin is a hormone that is secreted by the pineal gland. This hormone in other words helps in maintaining the normal circadian rhythms.) Check out more detailed information on Wikipedia.
Moreover, our bodies are still in a summer state and they are not quite ready to strengthen the immune system. We catch cold or have blocked noses, coughing and sneezing more frequently during changes of the seasons. There is one more thing that happens, vitamin deficiency. If you have some chronic diseases, fall is their blooming season!
In general, during a change of seasons, especially from hot to cold, we feel more tired than before. Everything changes, so do we. Cold weather comes to our cities. Draughts and little chill wind can be tricky. Even though we don't feel too cold when we meet them, they do their bad things. Please, make sure you spend as much as possible time under the Sun. Wear more warm clothes and take vitamins fruits or medical supplies all can be considered.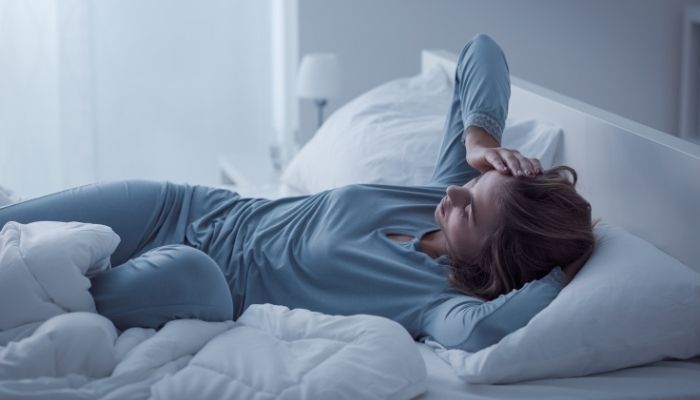 Does cold air affect sleep?
One should know where to draw the line, as they say. So, let's find out more about cold airstreams blowing in your bedroom.
It appears that when temperatures are cool, this facilitates deep sleep. In contrast, warm temperatures may make sleep less restful.
In a Huffington Post article, professor Michael Decker, Ph.D., spokesman for the American Academy of Sleep Medicine, discusses temperature and rest. "As we sleep, our body acclimates to the room temperature," he says. " If we lower our body temperature a little bit in a cooler room, we tend to sleep better."
Dr. Christopher Winter went into more detail in another article, saying that the sleep cycle is typically initiated when our core body temperatures drop and that people with higher internal temperatures (like athletes) may have trouble sleeping when the room is not cool enough to allow this to occur. Studies he mentions find that ideal temperatures are between 60-67 degrees, with cooler temperatures in this range being linked to deeper sleep.
However, cool temperatures can also have some risks, particularly when they are extreme or coincide with health conditions.
A 2012 review of data on temperature and sleep from the Journal of Physiological Anthropology found that heat and humidity affected slow-wave and REM sleep while cold did not. Cold temperatures were shown to affect cardiac activity, raising blood pressure and decreasing heart rate, which authors say may contribute to increased cardiac events in colder months, and say the room temperature should always be above 10 degrees Celsius (50F). Click here to know more about the importance of sleep cycles.
Essentially, the prevailing wisdom is that somewhere in the 60s to low 70s is best, depending on what you find most comfortable. In the winter, that means a low thermostat at night not only cuts your heating costs but may also help you sleep better.
Try a few different thermostat settings for a couple of nights each to see where your Goldilocks' zone resides. If your thermostat is programmable, try working with your body's rhythms – set temperatures to gradually cool off around your bedtime, and raise slightly a little before your alarm goes off. All is fair in love and war, click here to check out the best sleep alternatives of 2021.
Mind the temperature! Choose the best one for you through trial and error.
How can weather changes affect sleep?
Temperature is the most noticeable and adjustable thing when the weather changes. As we mentioned before, the hotter/warmer your room is, the more difficult to fall asleep and stay asleep throughout the night.
Try using very thick blackout curtains even during the daytime, it will keep your home relatively cooler than with opened windows. As a result, you may save some penny on electricity. Drink more water! Make sure your bedding breathes! Air-condition is on! Check out more Summer Sleep Tips & Get A Summer Ready Bedroom.
Besides hot and warm temperatures during summer days and nights, winter is also a noteworthy season. It is cold. Don't make your room to cold! As we mentioned before, if it is too cold, you won't sleep well. You will just get shivers and try hard to hide your body under the blankets, but not getting rest and good sleep.
Winter and fall are relatively cold and harsh seasons, so, make at least your morning be nice to you by using Light Alarm Clocks sounds.
By the way, did you know that ShutEye has a smart alarm clock that can slowly wake you up at the right time when a suitable sleep cycle comes? This app has a powerful AI that will be especially useful during the coming cold seasons!
Keep your in-home air humid by using a humidifier (winter air is usually dry). Do some workouts, to let your blood circulate smoothly. It helps us to stay warm!
And sure, find suitable quality bedding! Open this to get more information about best must-have sleep products! Devices and clothes!
Not only can weather affect your sleep, but also seasonal allergies.
Even when the weather is beautiful out and the temperature is just right. You may find that seasonal allergies kick in and start making it difficult for you to get the sleep you need. Different allergies affect different people and can strike year-round. Although spring is often the most common time of year for most seasonal allergy sufferers.
Allergies have the potential to make you feel sick. Itchy eyes, sneezing, coughing, runny nose, and so on. All of this can make it very difficult to get a great night's sleep.
Can stormy weather affect sleep?
When the weather is stormy, the stress or fear alone can be enough to keep you from getting the sleep you need throughout the night.
In less severe storms, thunder and lightning as well as other loud disruptions can also make it difficult to stay asleep throughout the night. This can be especially difficult for children as they have a more difficult time calming themselves down after being startled awake.
Nature is something we cannot control! But we can adapt to the environment we live in. One solution is using White noise, ambient noise or any other background noise you like!
Several ways to get a good night's sleep when the seasons change.
There are a few tips for you on how to get a good night's sleep when the seasons change.
Keep ambient temperatures between 60-72 degrees.
Use a humidifier if your nose or skin feels dry.
Have a couple of layers of blankets on your bed to accommodate changes in temperature or different preferences for couples.
Keep hands and feet warm with socks or a warm water bottle.
Use breathable bedding or climate-control accessories.
Maintain a normal sleep-wake schedule even on the weekends.
Get out in the sunlight at least 20 minutes per day, the earlier the better.
Stay active during winter. Exercise supports better sleep habits—Dr. Ehrnstrom suggests moderate exercise 4 to 5 hours before bedtime to aid in temperature regulation.
Take a warm bath 1-2 hours before bed – the drop in temperature as you get out of the tub can help your body prepare for sleep.
Keep lights low after dark and try not to use smartphones, TVs, and close to your bed.
Eat plenty of vitamin-rich vegetables and fruits and stay hydrated.
So, that's all for today! I think we have answered the main question of this article: Why can't sleep when weather changes? Yes, it can, and in many ways! But do remember one thing: after rain comes fair weather! With ShutEye Team and their smart App you will surely get the best of every night. It has science combined with a simple application. Good night and sweet dreams!