Have you ever had such an experience: when you wake up, you could not move your body and speak through your brain was awake? Once this happened to you, don't be afraid! It is a common sleep condition named sleep paralysis. What is sleep paralysis and how to stop sleep paralysis? This article will present some basic knowledge about sleep paralysis.
If you have sleep trouble, try ShutEye, a great sleep app. (Download ShutEye for Android and iOS.) It brings a wide variety of tools to help you fall asleep and stay asleep. It also creates a comfortable sleep space with relaxing sounds and ambient noise. So stop tossing and turning all night, and starting falling asleep healthily and naturally.
What is sleep paralysis?
Sleep paralysis means to feel awake but unable to move the body. It occurs in the middle of the alternate process of being awake and asleep.
You may not be able to move or speak, and it may even be accompanied by loud noises, suffocation, and soul out.
The length of time might vary from tens of seconds to several minutes. Some people will feel pressure or even suffocation. It may occur simultaneously with other sleep disorder symptoms.
Why does sleep paralysis happen?
Let's take pre-waking sleep paralysis as an example.
As shown in the figure below, there are levels of sleep depth during normal sleep, generally divided into 4 depths. Stage 1 refers to the lightest sleep level while stage 4 represents the deepest level.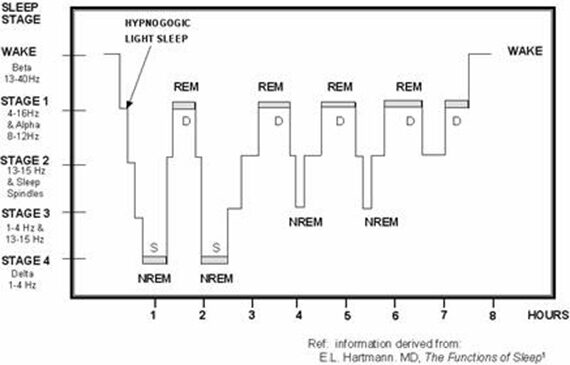 As the figure suggests, part of light sleep 1 and 2 is in the rapid eye movement period (REM), and the rest of sleep stages lie in the non-rapid eye movement period (NREM). If you enter into the last REM, you will wake up at the end of it.
During the NREM period, the body is relaxed, and all parts of the body repair themselves.
During the REM period, most dreams may occur at this time while other parts of the body are still relaxed. The muscles are in the "off" state. If you wake up before the end of the muscle closure period, or the muscle closure period is delayed after waking up, you will find that you cannot move or speak.
As the following picture shows, the purple REM Atonia is the period of muscle shut down and the green means the awake state. The blue is the REM sleep period.
When the purple color exceeds the red line, paralysis will occur. If the muscle closure period stops at the red line, it means waking up normally. If it stops before the red line, sleep talking or even sleepwalking may occur.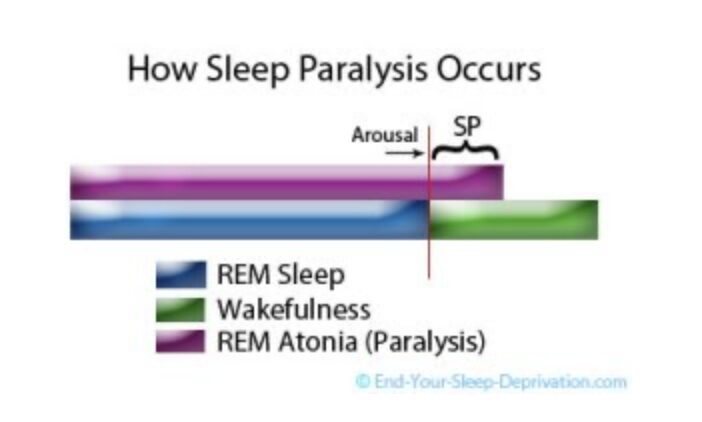 Is sleep paralysis dangerous to people?
Sleep paralysis is theorized to serve as a protective mechanism during rest, preventing individuals from acting out their dreams in reality and thereby averting potential harm. This adaptive feature aligns with the rule of natural selection, suggesting that mammals lacking such protective mechanisms may face challenges in survival.
When considering the recurrence of sleep paralysis, the phenomenon known as recurrent isolated sleep paralysis (RISP) warrants attention. RISP involves repeated episodes of sleep paralysis, often accompanied by a sense of pressure on the chest and vivid hallucinations. While the experience of recurrent sleep paralysis is generally not physically harmful, the frequency and intensity of episodes can significantly impact one's overall well-being.
Moreover, the presence of a family history of sleep paralysis may indicate a genetic predisposition to the phenomenon. Understanding the genetic component adds complexity to the exploration of sleep paralysis and its potential impact on individuals.
In ancient times, the consequences of sleep-related behaviors were more pronounced. For instance, a sleepwalker wandering out of a cave at midnight risked being preyed upon by wild animals. In contemporary settings, a sleepwalker navigating a bedroom with an open window may face the peril of falling from a height while sleepwalking at night.
What are the classifications of sleep paralysis?
Sleep paralysis can be classified based on the timing of its occurrence, distinguishing between two main categories:
Hypnagogic or Predormital Sleep Paralysis: This type of sleep paralysis occurs before going to bed, specifically during the transition from wakefulness to sleep. Individuals experiencing hypnagogic sleep paralysis may encounter vivid hallucinations and a sense of pressure on the chest, contributing to the unique and often unsettling nature of this phenomenon. Understanding the characteristics of hypnagogic sleep paralysis can aid in recognizing and managing these episodes effectively.
Sleep Paralysis Before Waking: Sleep paralysis before waking occurs in the moments before an individual fully awakens from sleep. This classification involves the experience of temporary muscle immobility and a sense of being unable to move or speak. While the individual is aware of their surroundings, they may also encounter hallucinations or a feeling of pressure on the chest. Recognizing the distinctive features of sleep paralysis before waking is crucial for differentiating it from other sleep-related phenomena.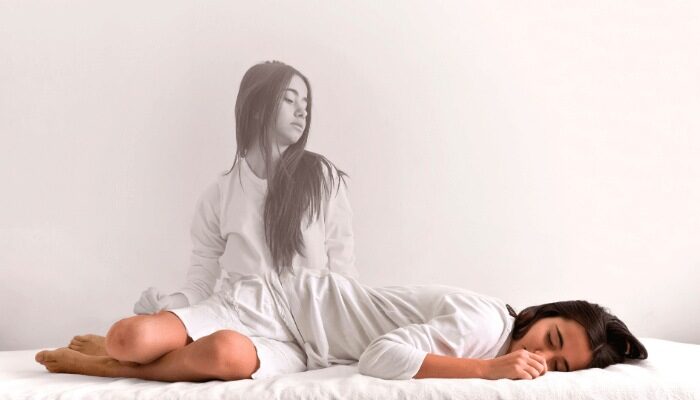 Types of sleep paralysis according to the severity
Types of sleep paralysis according to severity can be further delineated based on the nature and intensity of the experiences:
Common Sleep Paralysis: This type is prevalent among individuals and is characterized by a relatively short duration, typically lasting only tens of seconds. While common sleep paralysis may induce a sense of nervousness, it is a transient phenomenon that does not generally pose long-term risks. Recognizing the commonality of this type can help alleviate concerns and normalize the experience for those who may be unfamiliar with sleep paralysis.
Hallucinatory Sleep Paralysis: This variant of sleep paralysis is relatively rare but distinctive in its characteristics. Typically occurring before going to bed, hallucinatory sleep paralysis is marked by vivid and often disturbing hallucinations, akin to nightmares. The duration of this type can extend up to 7 to 8 minutes, making it a more prolonged and potentially distressing experience. Individuals undergoing hallucinatory sleep paralysis may benefit from understanding the specific features that differentiate it from common sleep paralysis, helping them navigate and cope with the unique challenges it presents.
What causes sleep paralysis?
Sleep paralysis can be attributed to various factors, including:
Lack of Sleep: Irregular sleep schedule, staying up late, and experiencing jet lag can contribute to sleep paralysis.
Sleeping Position: A 2002 study revealed that 58% of respondents experiencing sleep paralysis were lying on their backs, with only 8% lying on their stomachs and 17% sleeping on their sides. Sleeping on the back appears to be a common factor associated with sleep paralysis.
Medication: Certain medications may trigger sleep paralysis as a side effect.
Alcohol Consumption: Drinking alcohol has been linked to an increased likelihood of experiencing sleep paralysis.
Sleep Interruption: Experimentally interrupting sleep, particularly during REM (rapid eye movement) sleep, can lead to the occurrence of sleep paralysis. Subjects who experienced frequent awakenings during REM sleep reported instances of sleep paralysis, suggesting a potential correlation.
Sleep Disorders: Conditions such as narcolepsy and sleep apnea syndrome can contribute to sleep paralysis. If symptoms like drowsiness, sleep paralysis, and hallucinations occur before bedtime during the day, it may indicate narcolepsy.
Mental Health Factors: Anxiety disorders and depression have been closely associated with sleep paralysis, emphasizing the psychological aspect of this phenomenon.
Traumatic Events: Individuals with panic disorder and post traumatic stress disorder (PTSD) are more susceptible to experiencing sleep paralysis, highlighting the impact of traumatic events on sleep-related conditions.
Understanding these potential causes can be essential in managing and preventing episodes of sleep paralysis.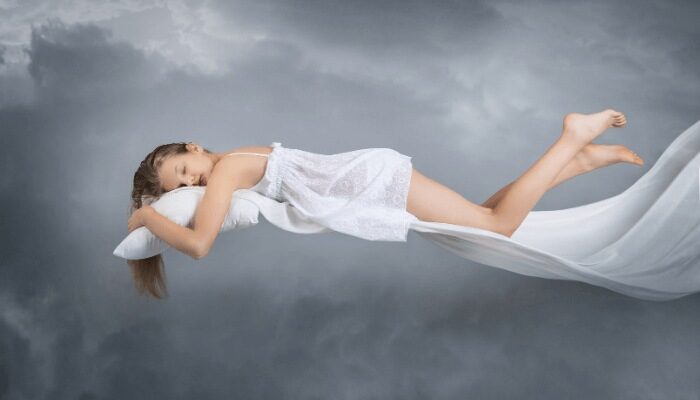 How to stop sleep paralysis?
Most people do not need treatment. But for those with other underlying sleep-related symptoms such as narcolepsy, the following treatments may be helpful:
Improve your sleeping habits, ensure 6-8 hours of sleep a day, avoid coffee at night, and change your sleeping position to lying on your side.
Take antidepressants as prescribed by your doctor to normalize your sleep cycle.
If it causes psychological problems, you need to consult a psychologist.
Treat other sleep disorders, such as narcolepsy and leg cramps.
Avoid compressing the heart, such as avoid putting your hands on your chest, or quilts that are too thick pressing your chest.
Note: If you feel unusual pain in a certain part of your body during sleep paralysis and don't know how to stop sleep paralysis, you must be vigilant and go to the hospital to check the part. Because some hidden diseases will show up in the dream.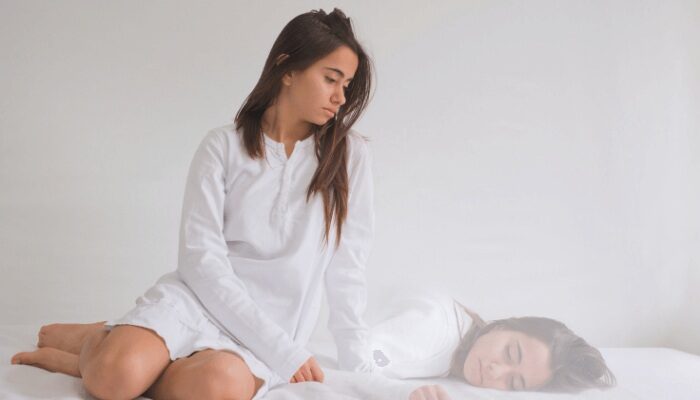 Methods to get rid of sleep paralysis to try carefully
Don't Resist and Let it Be: If experiencing sleep paralysis, try not to resist the sensation. Allow it to pass, and if there is pressure on the chest, follow the pressure without panicking.
Movement Techniques:

Twist your fingers or toes.
Twist your tongue.
Rapidly roll your eyes.
Twist as many facial muscles as possible, incorporating actions like laughing or making funny faces.

Breathing Techniques:

Hold your breath momentarily.
Take a deep breath and inhale as much air as possible. Controlled breathing can help regulate your physiological responses.

Mental Distraction:

Imagine a safe place or picture someone you love. Focusing on positive thoughts can redirect your attention and alleviate anxiety.

Non-Verbal Communication:

If possible, ask for assistance from someone nearby by softly saying "help me" without shouting. Altering your breathing pattern or coughing can also signal others to wake you.

Maintain Regular Sleep Patterns:

For those frequently troubled by sleep paralysis, especially individuals who travel frequently or work overtime, prioritize regular sleep patterns to enhance sleep quality and prevent episodes.

Emphasize Sleep Quality:

Prioritize restful sleep by creating a comfortable sleep environment and practicing good sleep hygiene.

Seek Professional Guidance:

Consider consulting with a healthcare professional or sleep specialist for advice on sleep medicine or talk therapy if sleep paralysis is causing physical or emotional distress.

Keep a Sleep Diary: Maintain a sleep diary to track patterns and identify potential triggers for sleep paralysis, helping in prevention strategies.
If you or your friends are often troubled by sleep paralysis and curious about how to stop sleep paralysis(especially those who travel frequently or work overtime), try to keep regular sleep as much as possible, which will help you relieve symptoms. If it happens again, don't be too anxious. The body is healthy, and it just has some problems with sleep.
FAQ
How do you get out of sleep paralysis?
To overcome sleep paralysis, focus on regulating your breathing and remain calm. Try to move small muscles, like your fingers or toes, and avoid panicking. Additionally, establish a consistent sleep schedule, reduce stress, and improve sleep hygiene to prevent future episodes. If the problem persists, consult a healthcare professional.
Can sleep paralysis hurt you?
No, sleep paralysis itself is not physically harmful. While it can be distressing, the experience is generally temporary and does not cause physical harm. However, managing stress, improving sleep habits, and seeking professional advice can help prevent and alleviate sleep paralysis episodes.
How long are the episodes of sleep paralysis?
Sleep paralysis episodes typically last for a few seconds to a couple of minutes. The duration of sleep paralysis episode can vary among individuals, and the experience may feel longer due to the heightened awareness and fear associated with the phenomenon.
Is sleep paralysis related to underlying health conditions
Yes, sleep paralysis can be associated with certain underlying health conditions, including mental health disorders such as anxiety and narcolepsy. Stress, irregular sleep patterns, and other mental health conditions can contribute to the occurrence of sleep paralysis. If you have concerns about your sleep paralysis episodes, it's advisable to consult with a healthcare professional to explore potential underlying causes and receive appropriate guidance.
More to Read: