Hello, sleepless-mates! Another night, another insomnia? Are you feeling short on sleep? Do you want to know the reasons for your lack of rest at night? Or, maybe you've been already using some devices, for example, watches to record your sleep? But you are probably thinking about something else? In this article, we will speak about some sleep tracker apps that will help you to track sleep without watch. Let your wrist breathe freely!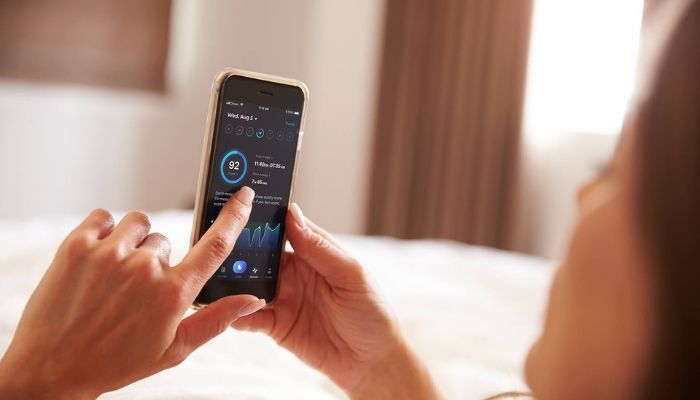 What can I use to track my sleep?
In the 21st century, the age of technologies and smart devices, our smartphones, iPhones, Tablets and iPads, made our lives a lot easier! Not only during the daytime they can help us, but also at night!
We don't mean watching them at night will help – on the contrary, they should be aside from your bed.
However, wearing a smart-watch is another way out. Most of us possibly think that sensors that these devices have, can provide better data upon your sleep. From one side it is true, because the smart-watch has sensor that touches our arm, it measures heart rate from time to time.
As we all know, our bodies go through 5 Stages of the Sleep Cycle, each of them has its purpose and importance. Every organ follows the Stages, as well as our heart. 
So, according to the heart-rate measures, we can decide, whether our heart was resting or working, as hard as athletes during competitions. But, smart-watch cannot record sounds that you could probably make during the night. They (sounds) can be snoring, talking, teeth-grinding, environmental, pets, and so on. 
They key take-out: a smart-watch can be used, but it is not accurate!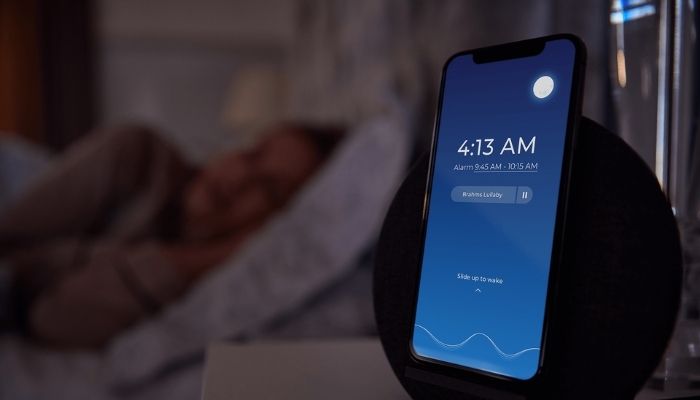 | | | |
| --- | --- | --- |
| 5 Sleep Tracker Apps without Watch | Why we chose it | App Store Rating |
| ShutEye | Best Overall | 4.8/5 |
| Sleep as Android | Best Tracker | 4.4/5(Google Play) |
| Pillow | Best Sleep Analysis | 4.3/5 |
| Sleep Cycle | Best Alarm Clock | 4.7/5 |
| SleepScore | Best Suggestion | 4.4/5 |
How can I track my sleep without a watch?
There are myriads of sleep recorders, that can perform as sleep talk/snore recorders, and create a sleep report for you in the morning. Smartphones or tablets, all of them have microphones. Just allow your sleep tracker app to use microphone and device's storage to start tracking. 
Using your smartphone for tracking your sleep is the most convenient way. Sleep trackers are quite optimized things. They have lots of functions and features. Moreover, they care about privacy. So, you can rest assured that only AI knows what happens at night. Let's choose the best one for you.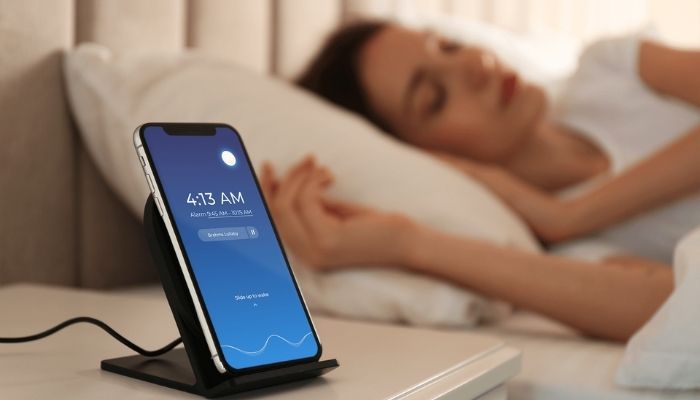 What is the best app to track sleep without watch?
Proved by 8M+ people worldwide, with a rating of 4.8 out of 5 points according to 90K Ratings and Reviews.
ShutEye is here to provide you with the best experience. All in one app which is a perfect combination of science, studies, examinations and deep researches applied in a simply explained and user-friendly interface. It's here to help you track sleep without watch.
All you need to do is:
Install the app
Do some adjustments according to your needs and requirements
Only a few permissions are required (storage and microphone), ShutEye will keep all your data only for you and on your device
Connect your device to the charger, turn the tracker on and good night! In the morning, after you wake up, turn off the tracker and the report will be automatically generated.
And remember, since ShutEye has artificial intelligence and uses machine learning to teach its app, the more times you use the tracker, the better and more precise reports you will get.
And, of course, contact us and we will help you! Sure thing, we are opened to your recommendations and feedback! Our users are the main driving force! We always carefully and attentively read your comments and recommendations.
We are just like you. Our Team is big and all of us are responsible for each of the many parts that make ShutEye so unique. We also have various sleep problems. So this is the way, ShutEye was made. The final decision is yours! Just be sure to make the right one. 8M people already did it.
Download ShutEye for Android and iOS.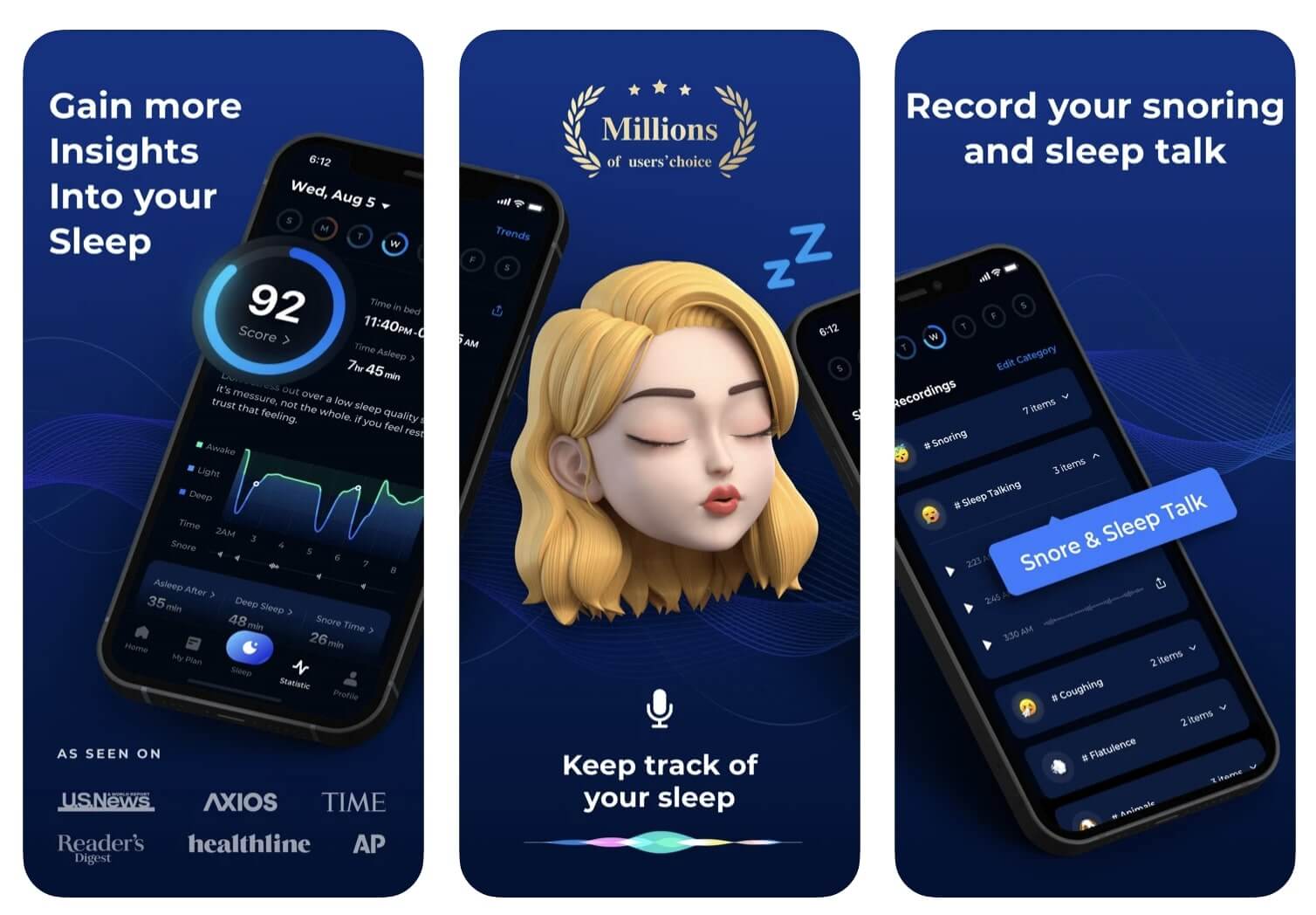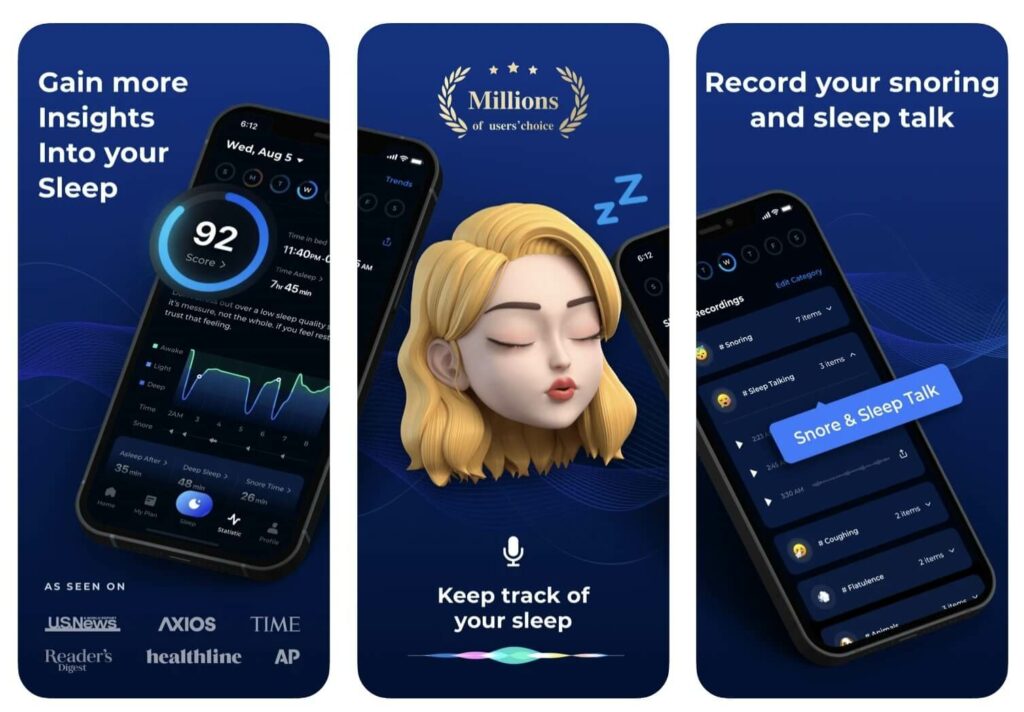 2. Sleep as Android
Few sleep-tracking apps are as comprehensive as Sleep as Android. In addition to actually tracking your slumber, it can help you doze off with the sounds of nature, identify the optimum point in your body's circadian rhythms to wake you up gently, record your snoring and sleep talking.
At the center is sleep tracking. To assess how restful your sleep is, your phone uses its built-in accelerometer, then runs algorithms and statistical analysis to split your slumber up into deep and light periods. Every morning, you'll be able to see how many hours of sleep you got, plus how well you slept, in the form of a score.
There's a huge amount to explore in this app, including alarms that won't shut up until you answer a math equation. Some features, including support for third-party wearables, require a $10 premium upgrade that also removes ads from the app.
Sleep as Android is free for Android.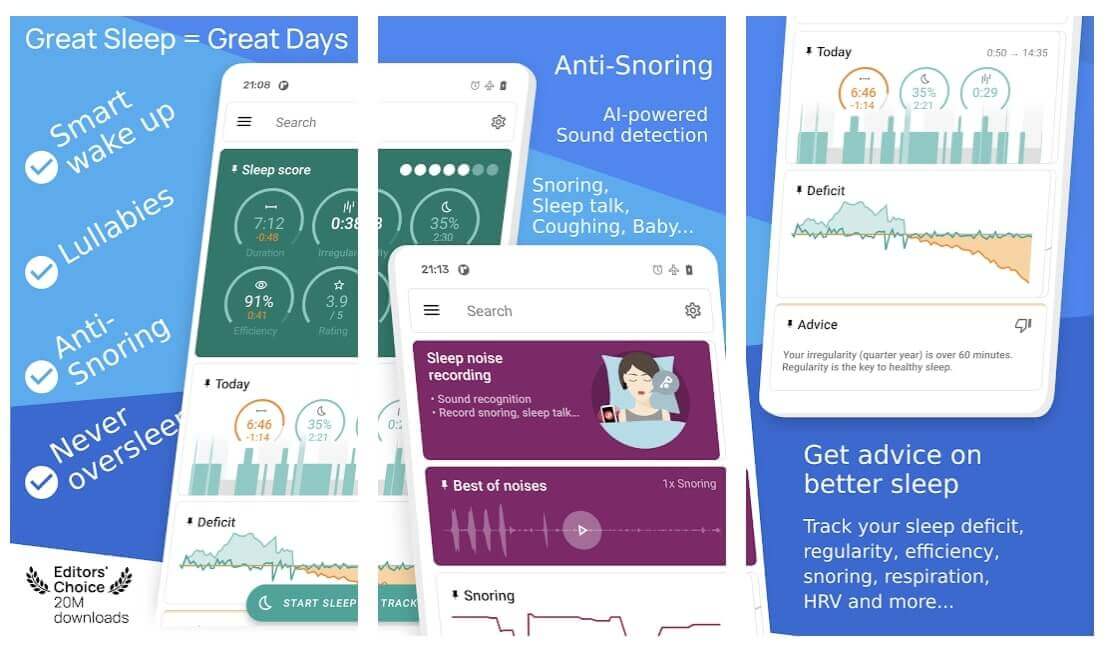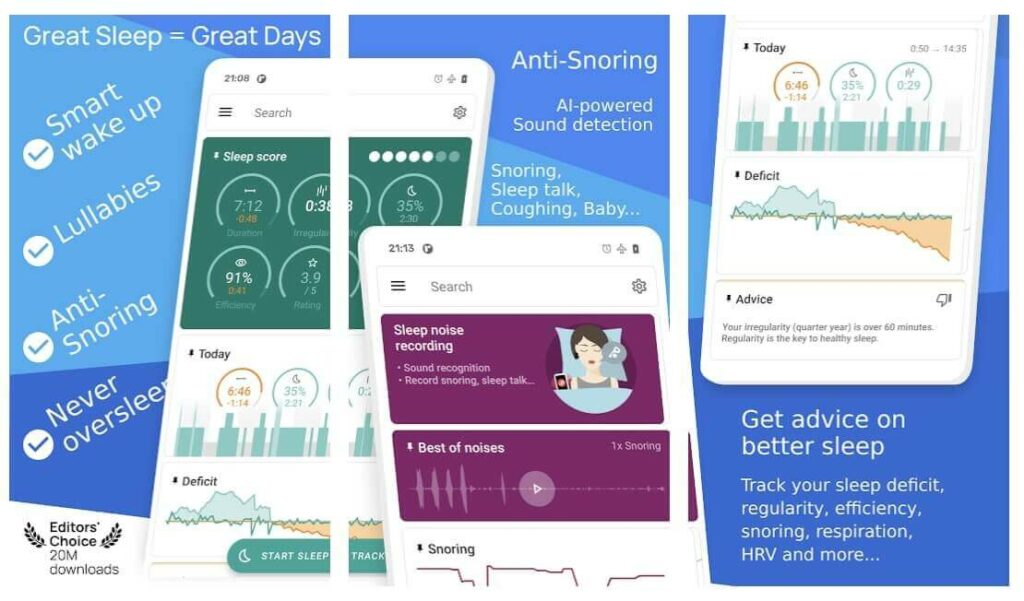 3. Pillow
One of the more polished sleep-tracking apps we've come across, Pillow can work with an Apple Watch or just an iPhone placed on the bed. It analyzes your movements through the night to record how long you've been sleeping for and splits your sleep into three categories: light, deep, and REM.
If you want to study issues like snoring or apnea, the app will also record the noises you make while you sleep and has a smart alarm feature that uses your movements to find the best time (within a preset window) to wake you up in the morning. There's even a nap mode for those shorter bursts of sleep.
You can use Pillow for free, but unlocking the premium version ($5 a month) gives you access to numerous extra features, including monthly and yearly charts of your sleep statistics, custom-made melodies to send you to sleep or wake you up, and the ability to export your data.
Pillow for free iOS.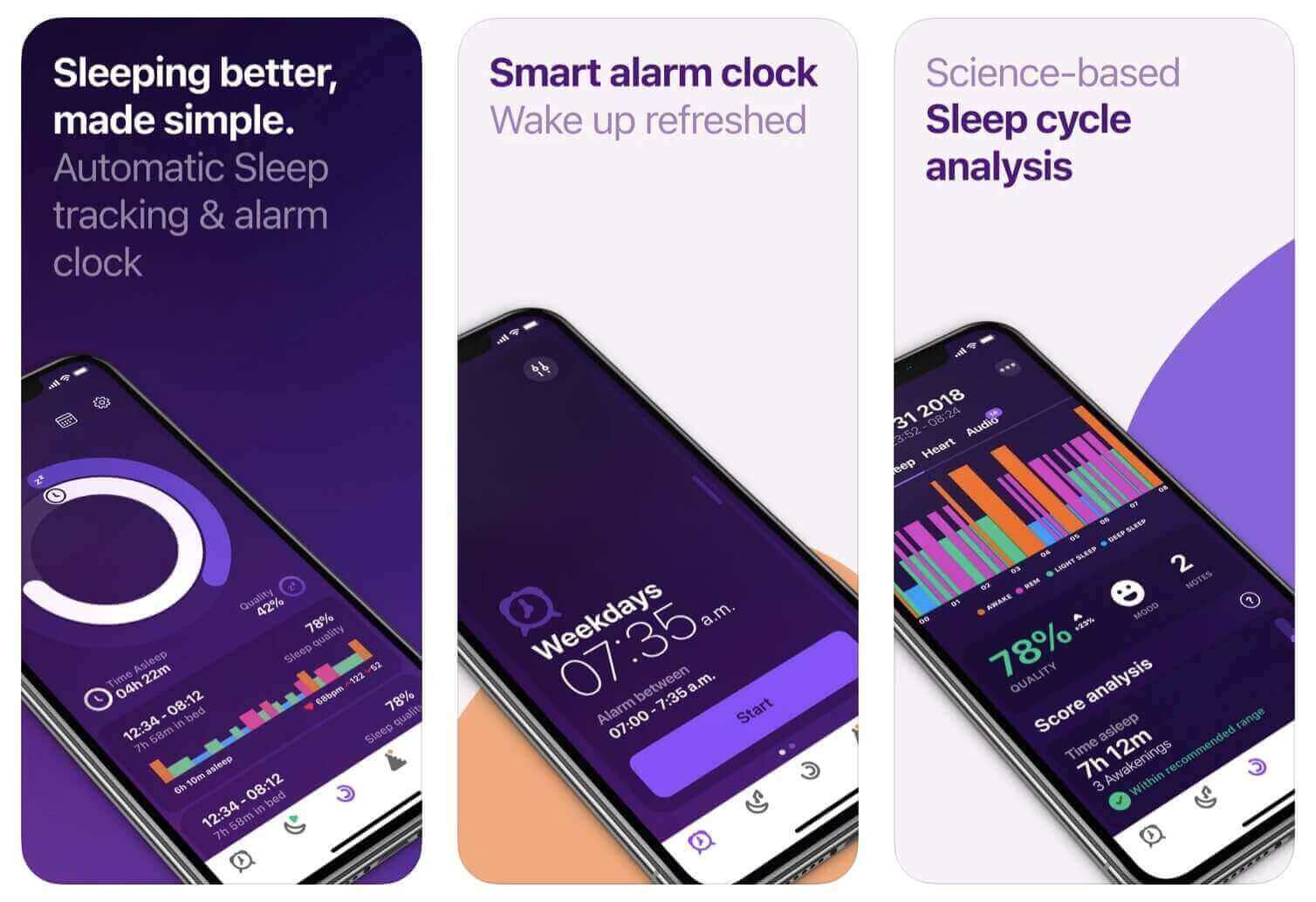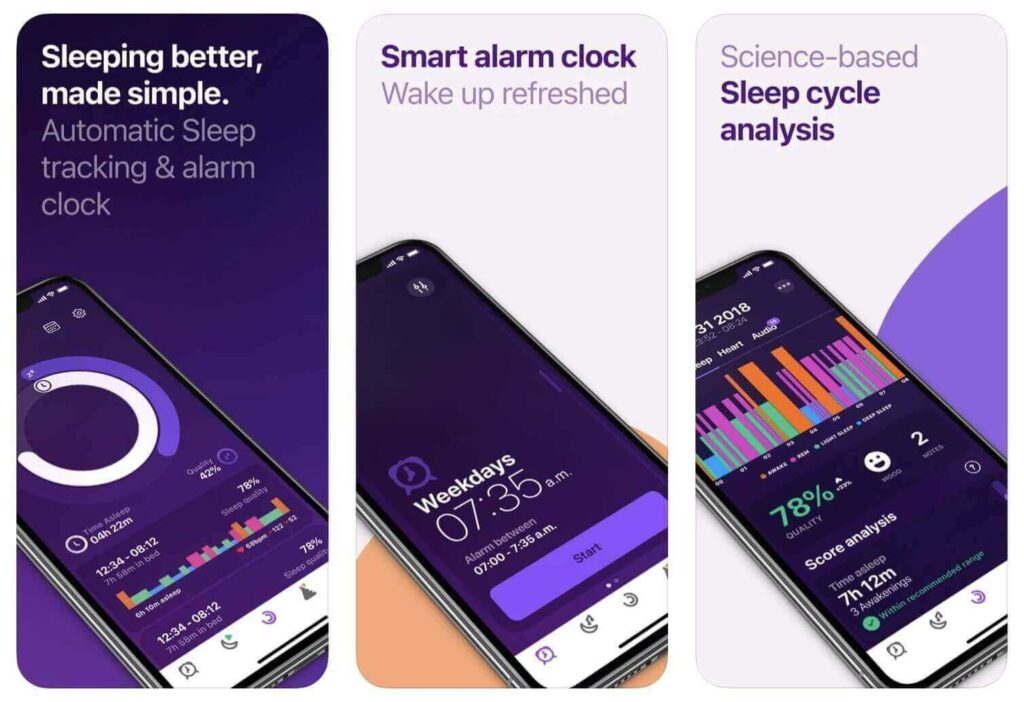 4. Sleep Cycle
Keep your mobile device on your bed overnight, and this platform will give you access to a wealth of information about your sleeping habits. The next morning, you can see your periods of wakefulness, and light and deep sleep, which you can measure over time.
A big part of the app is the smart alarm clock. Within a certain period of time you set—so you won't miss work or your morning workout session—this feature will wake you up when your body is in a lighter period of sleep. There's even a smart snooze function that can delay your wake-up time based on periods of light and deep sleep, rather than a set time period.
You can use all of the core features of Sleep Cycle for free, but if you choose to pay $2 a month, you can take advantage of the data export option, plus the ability to link other information to your sleep patterns, like coffee consumption and exercise.
Sleep Cycle is free for Android and iOS.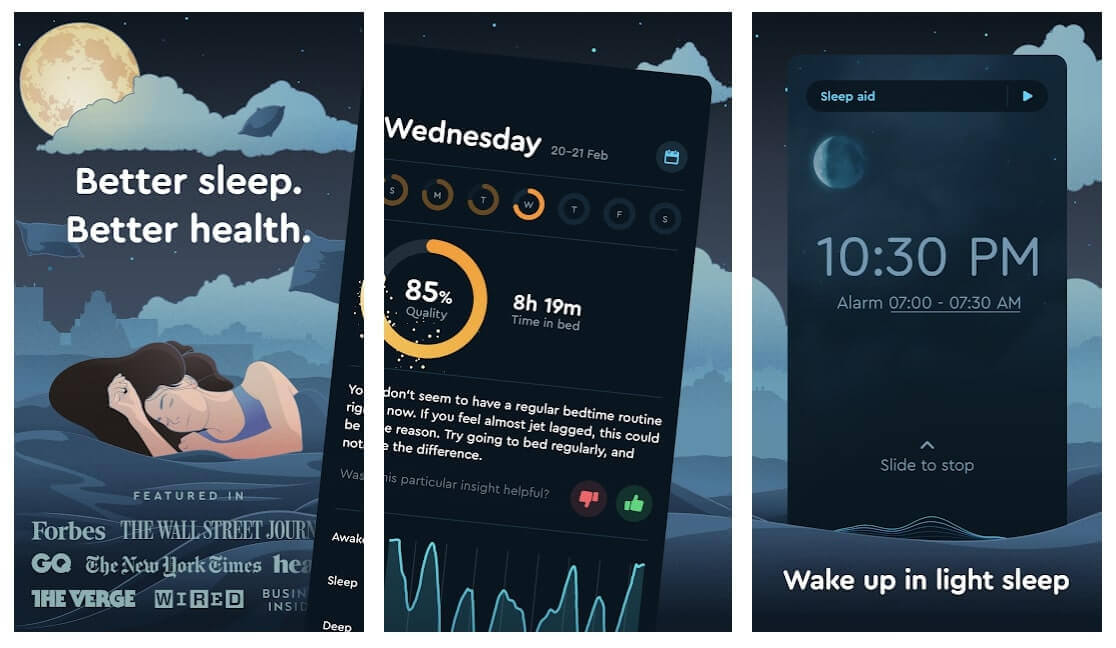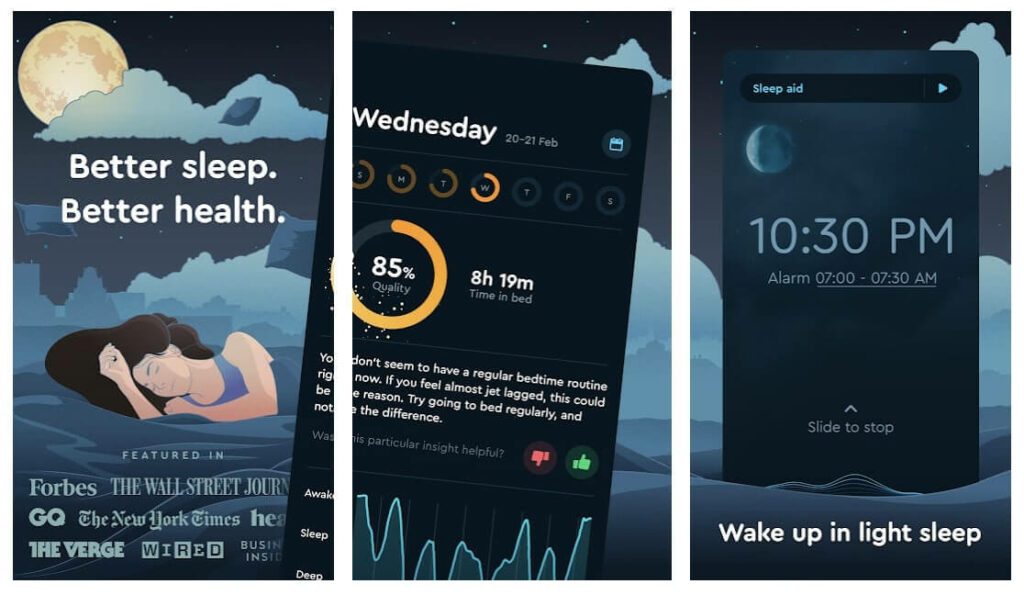 5. SleepScore
SleepScore can work from your bedside table as well as your mattress, using readings from your phone's microphone and speaker to judge how well you're sleeping. The tracking is detailed, too, covering how long it takes you to doze off, and the time you spent in light, deep, and REM sleep.
The app is one of the most comprehensive in terms of analyzing your sleep patterns and making suggestions about how to improve your slumber. It will also ask you to set goals for yourself, like whether you want to fall asleep more quickly or have more energy in the mornings.
If you pay $8 a month for a premium subscription, you'll get more in-depth reports on your sleep, and personalized suggestions from the experts at SleepScore. Paying up also gives you access to your full sleep history, rather than just the last week.
SleepScore is free for Android and iOS.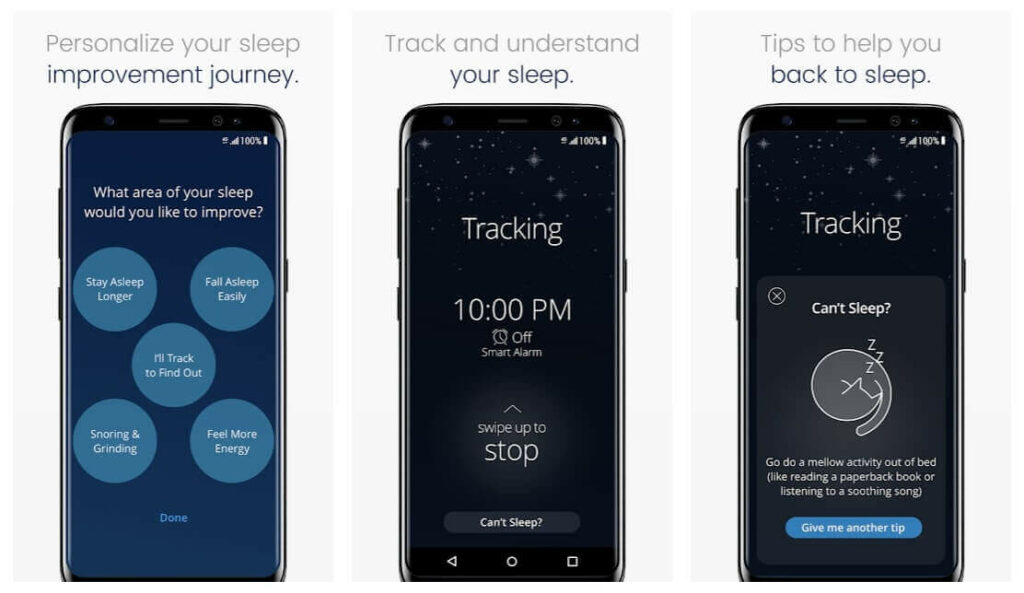 Do Sleep Trackers Really Work?
Logically, you may have this question on your mind. And the answer is – Yes, they Do! Thousands of feedbacks, questionnaires, researches Do prove the efficiency and usefulness of Sleep Trackers!
Moreover, after conducting a comparison analysis, results among other Sleep Trackers showed that ShutEye's accuracy was in the top 90th percentile. We also conduct comparative tests with the medical PSG (polysomnography) method to provide users with the most realistic and reliable sleep tracking results.
This was the article about how to track sleep without watch. We hope it was useful for you! Share your ideas and join us. We can sleep better and you can! Yes, we can! Bye-bye and have a good night!