Did the loud rasps of your husband snores just wake you up? Then chirk up as you are not alone!
From funny whistling to window-shaking snores, snoring is quite a common issue experienced by 45 percent of us at some point in our life. Moreover, 25 percent of the people are permanent snorers, and your husband is one of them too.
Sleeping with snorers has never been easy. Although there is no way to completely stop snoring, there are multiple things you can try to tackle your husband's snores and snatch some peaceful catnaps when sleeping next to your snoring spouse!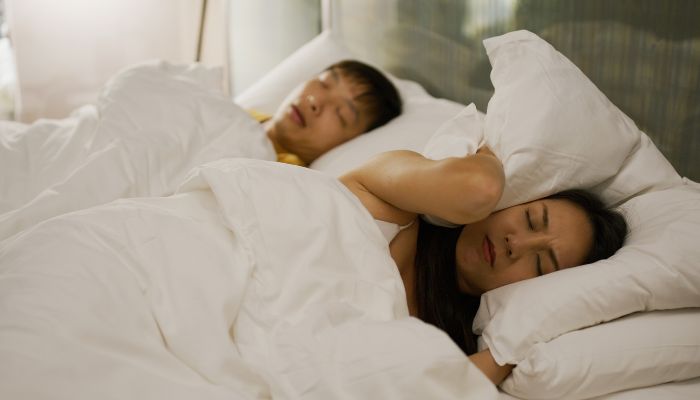 Is My Husband's Snoring a Signal of Some Underlying Problem?
The nightly habit of heavy snoring is not an issue as long as it is not associated with a more severe problem- OBSTRUCTIVE SLEEP APNEA.
Yes!
Almost 75 to 95% of OSA sufferers experience snoring. Therefore, it is better to evaluate your husband's snores first.
An easy way out is to download a sleep tracker like ShutEye, which will analyze your husband's sleep at night, and generate a detailed report about sleep quality, along with a recording. Moreover, its AI algorithm examines the report, too, thus asking you to "see a doctor" if needed!
How to Sleep When Husband Snores? 7 Things to Try Out!
The struggle to sleep with the cranks and crankles of a snoring spouse is real. Research showed that partners of snorers wake up nearly 21 times an hour due to the loud sounds.
Therefore, enlisted below are some proven tips that will help you and your snoring partner enjoy better sleep.
1. Don't Let Your Partner Sleep on Their Back
One of the easiest and most effective ways to instantly stop your partner's snoring is not to let them sleep on their back.
Although sleeping on your back is the ideal sleep position, it's the opposite in case of snoring and sleep apnea.
When they lie on their back, the tongue, and soft palate collapse, resulting in blocked airways and thus snoring.
There are different things you can do to change your partner's position like:
Buying a snorer-reducing belt will help your husband slip into the side sleeping position.
Put a tennis ball or any tiny, soft object under your partner's back, which will make them uncomfortable and thus impossible to sleep on his back.
Get him an anti-snore pillow that aligns the head in a position to keep airways open. And studies have shown it to be quite effective in treating loud snores.
If you don't want to invest in an anti-snore pillow, you can also put an additional pillow under his head.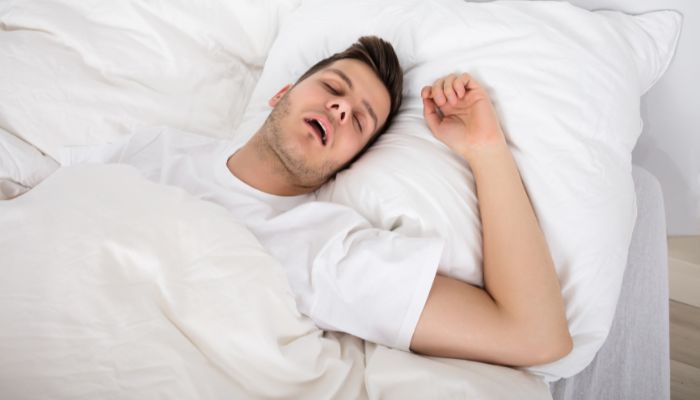 2. Listen to White Music
White music has soothing tones that can blend with the loud rasps of your partners, turning them into soft, audible frequencies that lulls everyone to sleep.
It would work best for both you and your husband.
You can either buy a white music machine or download a white music app.
ShutEye has a long list of soft, mind-relaxing white music, like the sounds of chirping birds, waterfall, ocean waves, etc., to relax your mind and help you sleep.
3. Help Your Partner Lose Weight
Another way out is to help your partner lose extra weight. Shedding off the excess weight reduces pressure on the neck and throat, thus helping in smooth breathing and opening air passageways.
Studies have shown that losing 6 to 8 pounds of extra stubborn weight reduces the snoring intensity by many folds.
4. Wear Earplugs or Headphones
An easy way to cope with your husband snores is to stuff your ears with earplugs. From soft foam ear plugs to high-quality silicone ones, you have a variety to choose from.
However, if you don't like the idea of slipping earplugs, you can buy noise-canceling headphones to downplay your husband's funny snoring.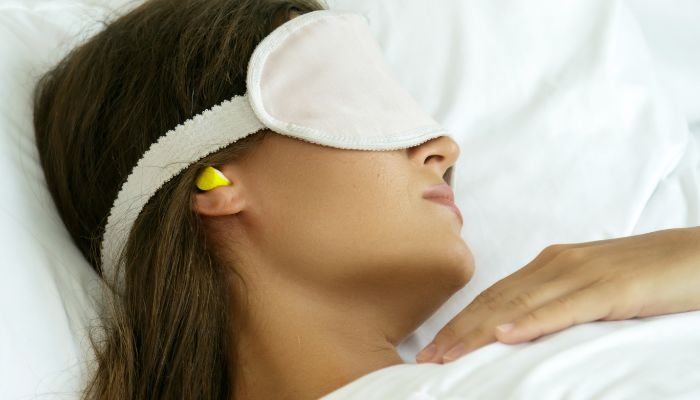 5. Avoid Alcohol
Ensure your husband doesn't consume alcohol for at least 4 hours before sleeping.
Alcohol and sedatives relax our body muscles, including the throat and neck muscles.
Snoring occurs when air passageways are blocked due to nasal congestion or any other reason.
So, when you consume alcohol, your jaw and throat muscles become extremely relaxed; hence you can't keep up with cleaning the air passageways, thus leading to snoring.
6. Make Sure Your Husband Remains Well Hydrated
Dehydration makes the mucus in the throat far more viscous, leading to a narrowed passageway and a stickier soft palate. As a result, symptoms of snoring further increase.
Therefore, make sure your husband remains well-hydrated throughout the day. It is recommended that a man should have 16 cups of water daily.
7. Buy Him Nasal Strips
Last but not least, you can buy some nasal strips for your husband. These strips pull the sides of your nose that open the air passage. As a result, the air flows through the nose and throat easily, resulting in less snoring.
You can also buy a nasal dilator which works pretty much the same way by pulling the nostrils.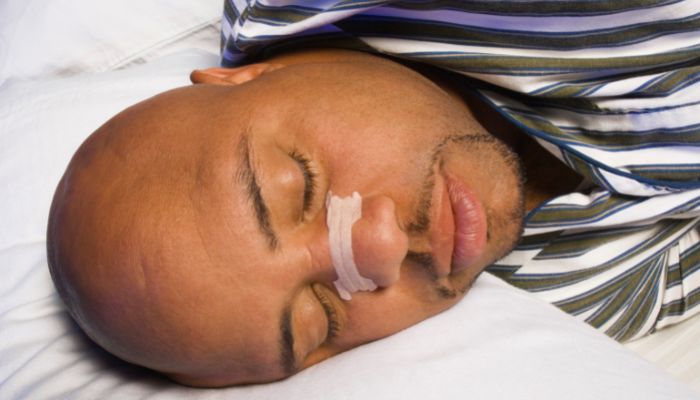 Some Anti-snoring Devices to Try Out!
Apart from these tips, you can also buy some anti-snore devices for your husband like:
Humidifier to keep room air moisturized
Nasal strips and dilators to open congested nasal pathways
Wedge pillows to keep them from sleeping on the back
A snoring mouthpiece that prevents your jaw and throat muscles from relaxing
Does Husband Snores Affect Your Relationship?
Snoring has far more negative effects on marital relationships than one can think.
In fact, it is one of the leading causes of divorce worldwide. Moreover, in Finland, every one in 3 partners of snorers reported unhappy relations due to loud snoring.
Moreover, it affects your health badly. A study in 2003 showed hearing loss in partners of snorers over time. Similarly, nights deprived of sleep lead to anxiety, depression, and various ill effects on health.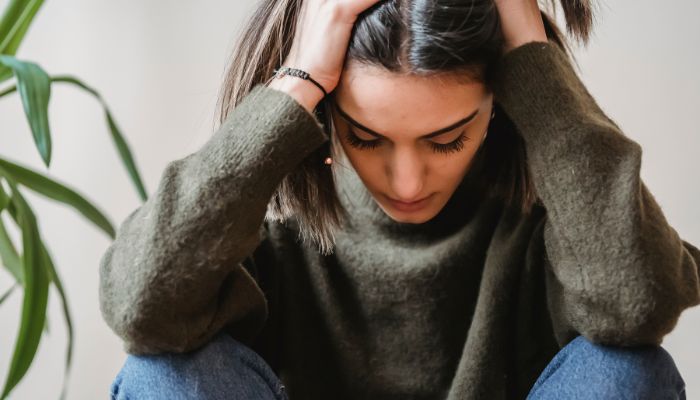 The Final Takeaway!
Slumbering in a peaceful sleep with a husband who snores seems more like a dream. But from changing your husband's lifestyle to buying anti-snoring equipment, multiple things can help you reduce the loud snores of your husband and enjoy the beauty of sleep once again.
Moreover, it is recommended to download a sleep tracker like ShutEye and keep your husband's health in check!