In the hustle and bustle of modern life, sleep often takes a backseat to our busy schedules and endless to-do lists. Many of us have trouble sleeping and find ourselves tossing and turning at night, desperately seeking the elusive embrace of a restful night. While there are various factors that contribute to sleeplessness, one aspect that often goes overlooked is the connection between the foods we consume and the quality of our sleep.
Building upon our previous blog highlighting 8 sleep-inducing foods, today's focus is on the science behind foods that make sleepy and their properties, accompanied by easy and quick recipes to integrate into your diet.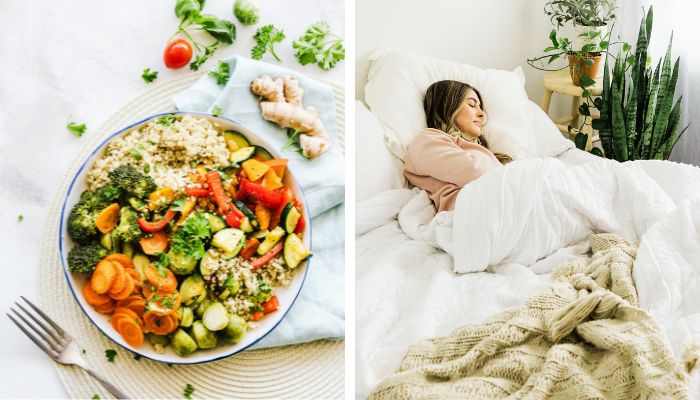 Foods that make you sleepy
First of all, have you ever noticed how a heavy meal or a late-night snack can affect your ability to fall asleep or the quality of your rest? The truth is, what we eat has a significant impact on our sleep patterns and overall sleep quality. In this blog, we will share with you the top 10 foods that make you sleepy naturally. We will explore the science behind their sleep-inducing properties and how they can improve the duration and quality of our rest.

Foods Rich in Tryptophan
Tryptophan, an essential amino acid found in various foods, plays a pivotal role in promoting a restful sleep. It serves as a precursor to serotonin, a neurotransmitter that regulates mood and sleep, and melatonin, the hormone responsible for controlling our sleep cycles. When we consume foods rich in tryptophan, such as turkey, our bodies can use this amino acid to produce more serotonin, which can have a calming and sleep-inducing effect. Understanding the science behind tryptophan's role in sleep can help us make right dietary choices to improve sleep quality.
1. Turkey: The Classic Sleep-Inducer
Turkey, often associated with the drowsiness that follows a Thanksgiving feast, is a fantastic source of tryptophan. To promote sleep, consider incorporating turkey into your diet in creative and delicious ways. Whether you opt for a turkey sandwich with whole-grain bread for lunch or prepare a lean turkey stir-fry for dinner, you'll be providing your body with the tryptophan it needs to achieve better sleep quality naturally. Get inspired by our turkey-based recipe!
Turkey and Avocado Wrap
Ingredients:
4 whole-grain tortillas or wraps
1 pound of sliced turkey breast (cooked or deli-style)
1 ripe avocado, sliced
1 cup fresh spinach leaves
1/2 cup sliced cucumber
1/4 cup red onion, thinly sliced
1/4 cup Greek yogurt or tzatziki sauce
Salt and pepper to taste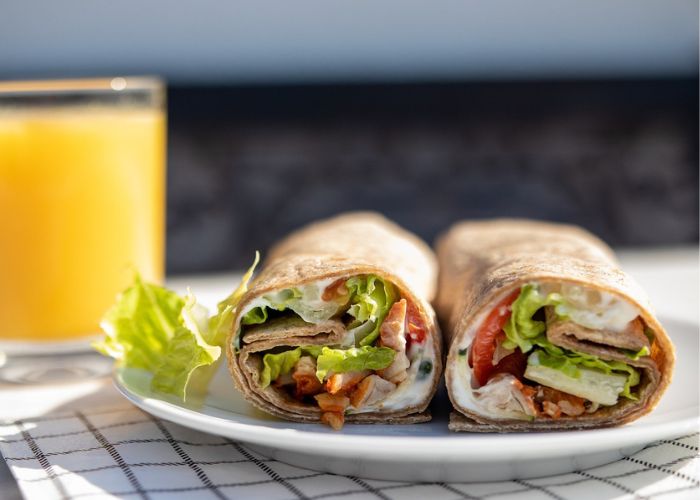 Instructions:
Lay out the whole-grain tortillas on a clean surface. Layer the sliced turkey, avocado, fresh spinach, sliced cucumber, and red onion evenly across each tortilla. If desired, add a dollop of Greek yogurt or tzatziki sauce for extra flavor. Season with a pinch of salt and pepper to taste. Roll up each tortilla, tucking in the sides as you go, to create a wrap. Slice the wraps in half diagonally and serve.
This turkey and avocado wrap combines the sleep-inducing tryptophan in turkey with the healthy fats and potassium found in avocado. The whole-grain tortilla adds fiber to keep you feeling satisfied.
2. Warm Milk: A Soothing Bedtime Tradition
Warm milk, a timeless bedtime tradition, has been cherished for its soothing and sleep-promoting properties for generations. The idea behind warm milk lies in its combination of tryptophan and relaxation-inducing warmth. When consumed before bed, warm milk can help increase serotonin levels, making you feel more relaxed and prepared for a good night's sleep. Whether enjoyed plain or enhanced with a touch of honey and cinnamon, warm milk offers a comforting and effective way to promote a good night's rest naturally. Get inspired by our milk-based recipe!
Warm Turmeric Milk
Ingredients:
1 cup milk (dairy or plant-based)
1/2 teaspoon ground turmeric
1/4 teaspoon ground cinnamon
A pinch of ground black pepper
A small piece of fresh ginger (optional)
1-2 teaspoons honey or maple syrup (optional)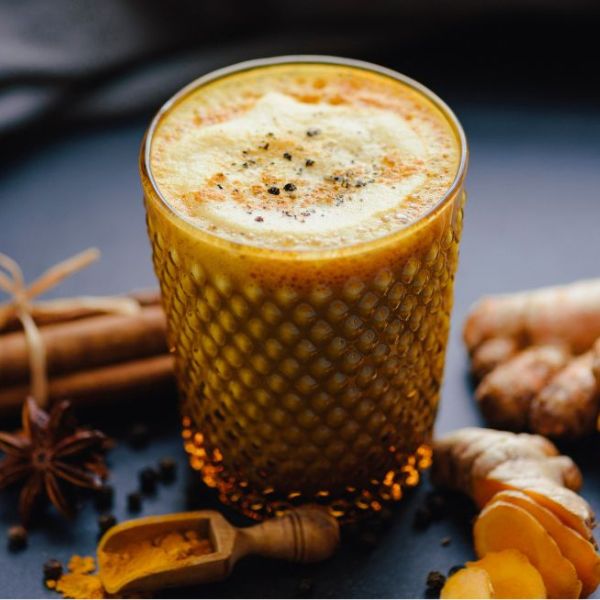 Instructions:
In a small saucepan, heat the milk over low to medium heat. Add the ground turmeric, ground cinnamon, and a pinch of black pepper to the warm milk. If you're using fresh ginger, grate a small piece and add it to the mixture. Stir the ingredients well and let the mixture simmer for a few minutes to allow the flavors to meld. If desired, sweeten the milk with honey or maple syrup to your taste. Pour the warm turmeric milk into a mug.
This warm turmeric milk, also known as Golden Milk, combines the calming properties of warm milk with the anti-inflammatory benefits of turmeric and the aromatic spices like cinnamon and ginger. It's a comforting and sleep-promoting drink to help you unwind and relax before sleep.
Foods High in Melatonin
When it comes to foods that can naturally promote good sleep, melatonin-rich options are a hidden gem. Melatonin is the hormone responsible for regulating our circadian rhythms, signaling to our bodies when it's time to switch off and rest. Let's explore two fantastic melatonin-rich choices that can help you enjoy a more peaceful night's sleep.
3. Cherries: Nature's Sleep Aid
Cherries, with their sweet and tart flavor, are often hailed as nature's sleep aid due to their impressive melatonin content. Nutrition research has revealed that consuming cherries or tart cherry juice can lead to increased melatonin levels in the body, promoting sleep and contributing to a more restful nights. To make the most of this natural sleep remedy, consider incorporating cherries into your evening routine. Get inspired by our cherry-based recipe!
Cherry Almond Rice Cakes
Ingredients:
2 rice cakes (plain or lightly salted)
1/4 cup pitted and chopped cherries (fresh or frozen)
2 tablespoons almond butter (natural, without added sugar)
A drizzle of honey (optional)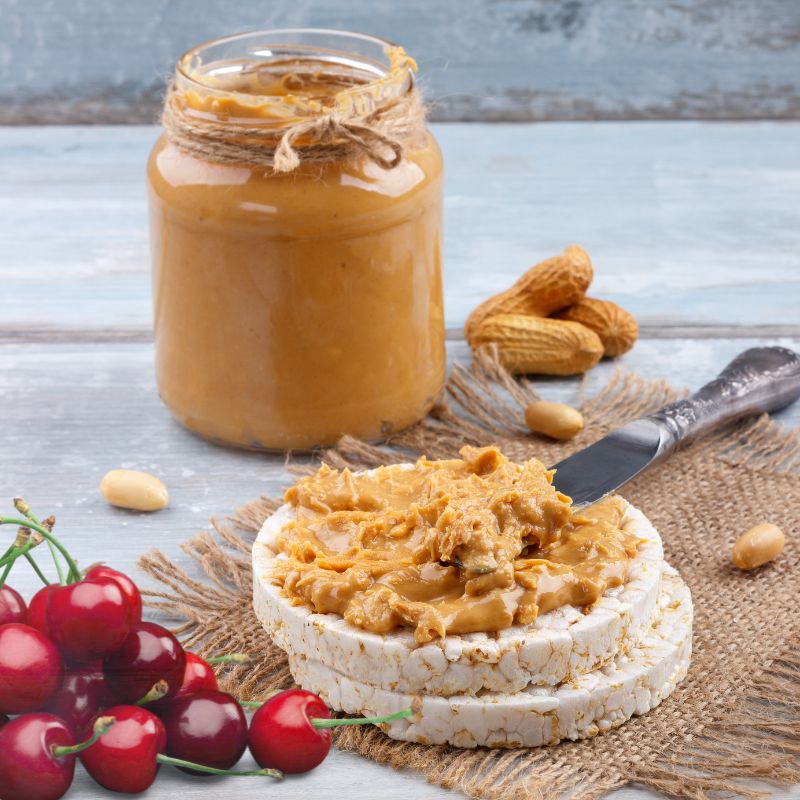 Instructions:
Spread a generous layer of almond butter onto each rice cake. Top the almond butter with the chopped cherries. If desired, drizzle a small amount of honey over the cherries for added sweetness. Sandwich the rice cakes together to create a cherry almond treat.
This cherry almond rice cake snack combines the sleep-promoting benefits of cherries with the healthy fats and protein found in almond butter.
4. Bananas: The Sleep-Friendly Fruit
Bananas, known for their potassium and magnesium content, also contain melatonin and other sleep-boosting compounds. These nutrients promote muscle relaxation, ease tension, and prepare your body for a healthy sleep. Incorporating bananas into your evening routine is easy and delicious. Consider whipping up a banana-based dessert, like a creamy banana pudding or a banana-infused ice cream. The natural sweetness of bananas makes for a guilt-free treat that can contribute to a good night's rest. Get inspired by our banana-based recipe!
Banana and Peanut Butter Smoothie
Ingredients:
2 ripe bananas, peeled and sliced
2 tablespoons natural peanut butter
1 cup unsweetened milk
1/2 teaspoon honey (optional)
1/2 teaspoon ground cinnamon (optional for flavor)
Ice cubes (optional)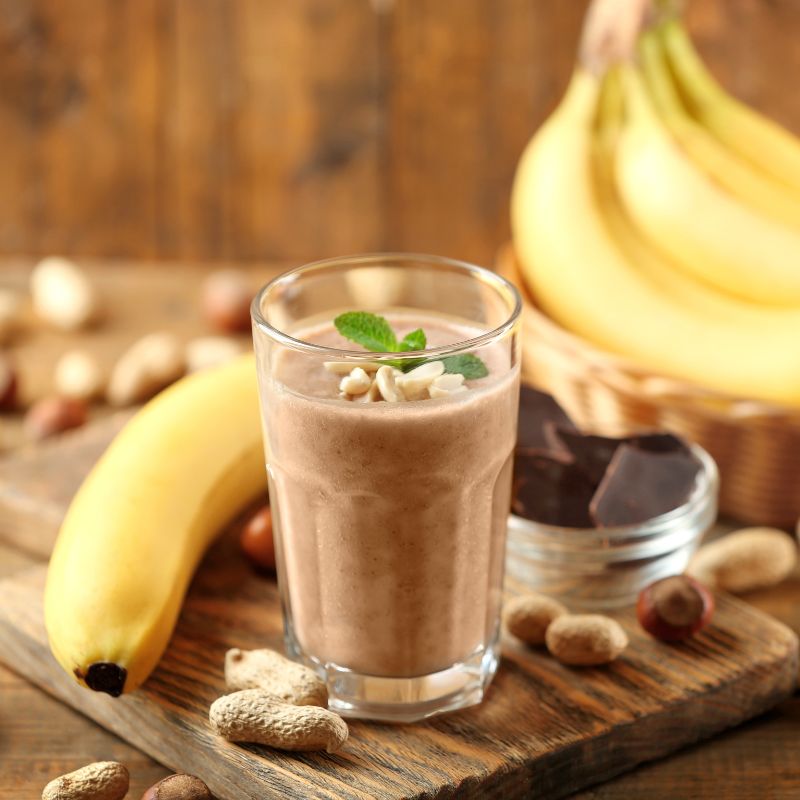 Instructions:
Place the sliced bananas, peanut butter, almond milk, honey (if using), and ground cinnamon (if using) in a blender. If you prefer a colder smoothie, add a few ice cubes to the blender as well. Blend all the ingredients until smooth and creamy. Pour the banana and peanut butter smoothie into a glass.
This banana and peanut butter smoothie combines the sleep-enhancing properties of bananas with the protein and healthy fats from peanut butter.
Foods with Magnesium
When it comes to improving sleep quality naturally, foods rich in magnesium deserve a place in your diet. Magnesium, a vital mineral, plays a crucial role in regulating neurotransmitters and muscle relaxation. It is therefore an essential component in the quest for quality sleep. Let's discover below one such magnesium-rich option that can help regulate sleep in a natural way.
5. Almonds: The Nutty Solution to Sleeplessness
Did you know that almonds, besides being delicious and nutritious, can improve sleep? These delightful nuts offer a natural solution to sleeplessness, thanks to their magnesium content. Magnesium helps relax muscles and calm the nervous system, facilitating a peaceful transition into sleep. Incorporating almonds into your diet can make a significant difference in your sleep quality. Get inspired by our almond-based recipe!
Honey Almond Greek Yogurt Parfait
Ingredients:
1/2 cup Greek yogurt (plain or vanilla)
1 tablespoon honey (preferably raw)
1/4 cup sliced almonds
1/4 cup fresh berries (such as strawberries, blueberries, or raspberries)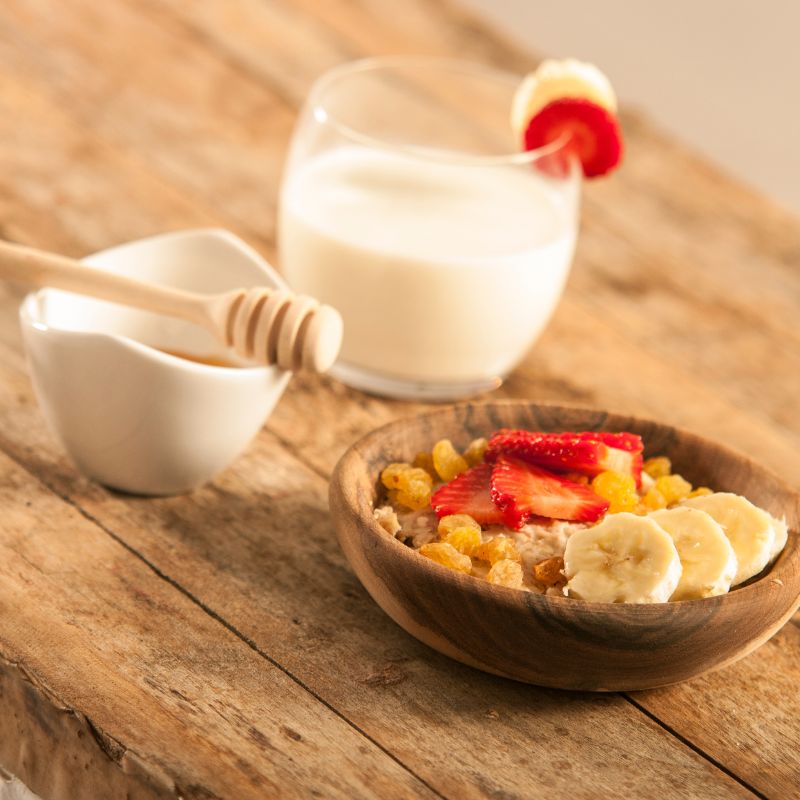 Instructions:
In a bowl, mix Greek yogurt with honey until well combined. Layer the yogurt and honey mixture with sliced almonds in a glass or bowl. Top the parfait with fresh berries. Serve and enjoy this delightful almond-based snack as a bedtime treat.
This honey almond Greek yogurt parfait not only offers the benefits of magnesium-rich almonds but also includes the soothing qualities of honey, making it a perfect choice to help you sleep.
Herbal Sleep Aids
Herbs, particularly when prepared as soothing teas, are valued for their natural ability to promote sleep. Their efficacy stems from unique compounds that interact with the body to induce relaxation and tranquility. Herbs like chamomile, lavender, and valerian possess calming effects, reducing stress and anxiety. Others, like passionflower and lemon balm, relax muscles. Adaptogenic herbs like ashwagandha and holy basil help manage stress. Certain herbs, including valerian and skullcap, regulate sleep cycles, and peppermint or ginger teas can alleviate digestive discomfort that disrupts sleep. Beyond their chemical properties, the aroma and warmth of herbal tea provide sensory relaxation, signaling the body to switch off.
Incorporating herbal teas into a bedtime routine creates a calming ritual that contributes to improved sleep quality.
6. Chamomile Tea: A Relaxing Brew
Chamomile tea has long been celebrated as a natural sleep aid, offering a soothing and gentle way to enhance sleep. The secret behind chamomile's sleep-inducing properties lies in its compounds. Apigenin, which binds to specific receptors in the brain, it's known to promote sleepiness and reduce anxiety. This calming effect can help reduce the restlessness that often keeps us awake at night. Discover how to prepare the perfect chamomile tea.
Perfect Cup of Chamomile Tea
To prepare the perfect chamomile tea, simply steep a chamomile tea bag or loose chamomile flowers in hot water for 5-7 minutes.
If you like, add a touch of honey or a slice of lemon for extra flavor.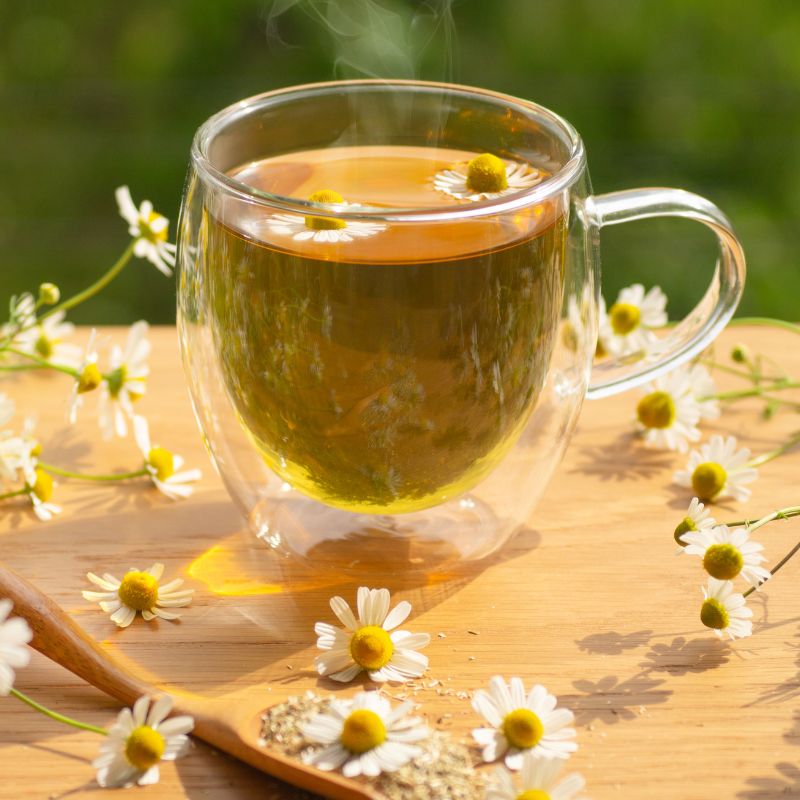 7. Lavender: A Fragrant Path to Dreamland
Lavender, with its delightful scent and calming properties, can help with falling asleep and reducing insomnia symptoms. The soothing aroma of lavender has been shown to have a tranquilizing effect on the nervous system, reducing stress and anxiety, two common culprits of sleeplessness. Incorporating lavender into your sleep routine can be as simple as placing a sachet of dried lavender flowers under your pillow or using a lavender-infused essential oil in a diffuser. Additionally, you can enjoy the benefits of lavender with a relaxing pre-sleep ritual. Here's a lavender-based recipe to help promote a restful night's sleep.
Lavender and Honey Bedtime Milk
Ingredients:
1 cup milk
1-2 teaspoons dried lavender buds
1-2 teaspoons honey
A sprinkle of ground cinnamon (optional)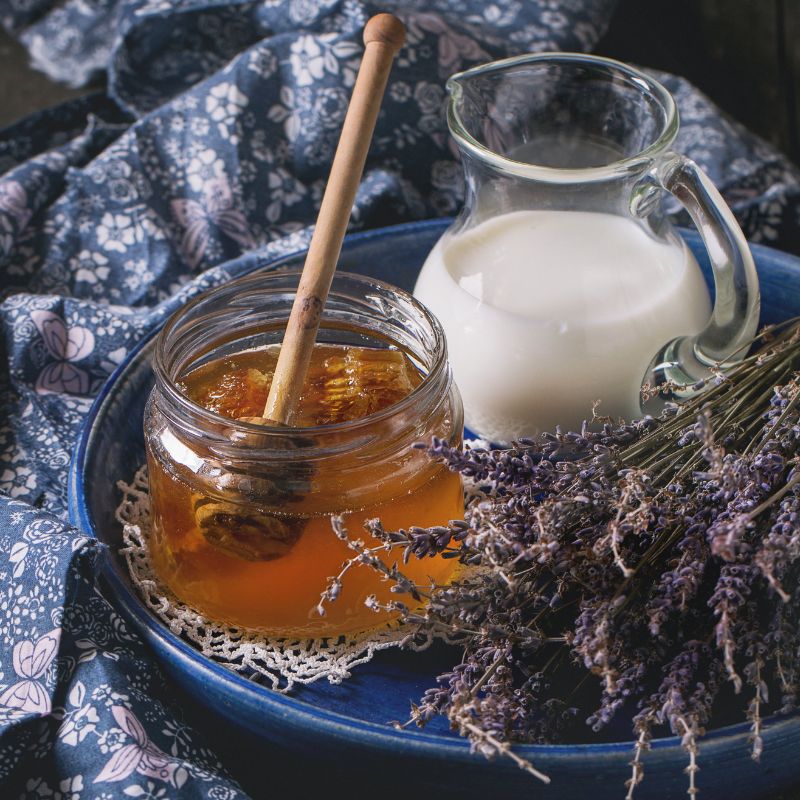 Instructions:
In a small saucepan, heat the milk over low-medium heat. Add the dried lavender buds to the warm milk and let it steep for 5-7 minutes, allowing the lavender to infuse. Strain the milk to remove the lavender buds. Sweeten with honey to your desired level of sweetness.
Incorporating lavender into your nightly routine with this lavender and honey bedtime milk can help you fall asleep faster and improve your sleep habits.
High Carbohydrate Foods
Carbohydrates not only play a significant role in our daily diet but also affect sleep. High-carbohydrate foods have been known to influence sleep patterns due to their role in facilitating the production of serotonin, a neurotransmitter associated with mood regulation and sleep-wake cycle. When we consume foods rich in carbohydrates, especially complex carbs like whole grains, they trigger the release of insulin. This hormone helps in the absorption of amino acids in the body. This process leaves more tryptophan, a precursor to serotonin, available to cross the blood-brain barrier and be converted into serotonin. As a result, higher serotonin levels can promote feelings of calmness and relaxation. This is why, falling asleep and staying asleep is much easier.

8. Oatmeal: A Comforting Bedtime Bowl
The relationship between carbohydrates and serotonin production is an interesting one when it comes to promoting sleep. Carbohydrates, such as those found in oatmeal, can have a significant impact on the brain's serotonin levels. When we consume high-carbohydrate foods, they prompt the release of insulin, which, in turn, aids in the absorption of amino acids except for tryptophan. This results in an increased ratio of tryptophan to other amino acids in the bloodstream, allowing tryptophan to enter the brain more readily. Once inside the brain, tryptophan is converted into serotonin, a neurotransmitter known for its calming and mood-enhancing effects. This increase in serotonin levels can help us feel relaxed and more prepared for sleep. To experience the sleep-inducing benefits of oatmeal, thy our delicious oatmeal-based recipe below.
Warm Banana and Cinnamon Oatmeal
Ingredients:
1 cup rolled oats
2 cups milk (or a milk substitute like almond milk)
2 ripe bananas, sliced
1/2 teaspoon ground cinnamon
2 tablespoons honey (optional, for sweetness)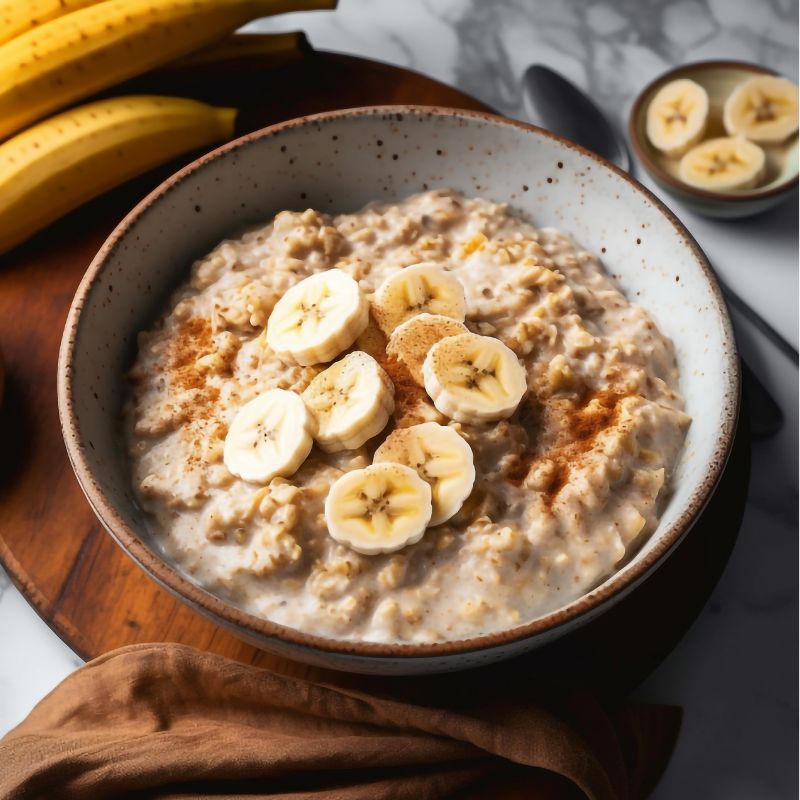 Instructions:
In a saucepan, combine the rolled oats and milk over medium heat. Stir the oats and milk continuously as they come to a gentle simmer. This should take about 5-7 minutes. Once the oats are creamy, remove the saucepan from the heat. Add the sliced bananas and gently stir to incorporate them. Sprinkle ground cinnamon over the oatmeal and stir again. If you prefer a sweeter taste, drizzle honey over the oatmeal and give it a final stir.
Foods with Calcium
Calcium, a mineral well-known for its role in maintaining strong bones and teeth, also plays a vital but often overlooked role in sleep regulation. The relationship between calcium and sleep is rooted in the interplay between various neurotransmitters and hormones involved in the sleep-wake cycle. Calcium aids the brain in converting tryptophan into melatonin, the hormone responsible for regulating sleep. Consuming foods rich in calcium can help promote the production of melatonin, enhance sleep quality, and improve overall sleep hygiene.
9. Cheese: A Dairy Delight for Dreamers
Cheese, with its rich calcium content, holds a special place among foods that promote healthy sleep. When we consume calcium-rich foods like cheese, it aids the brain in converting tryptophan, an amino acid found in cheese and other proteins, into melatonin. This process facilitates transition into sleep, helping us achieve a deeper and more restful sleep. Cheese not only satisfies our taste buds but also provides the essential calcium needed for a higher sleep efficiency. So, if you find yourself craving a late-night snack, consider our cheese-based recipe below.
Warm Cottage Cheese with Honey and Berries
Ingredients:
1 cup cottage cheese
2 tablespoons honey (preferably raw)
1/2 cup fresh berries (such as strawberries, blueberries, or raspberries)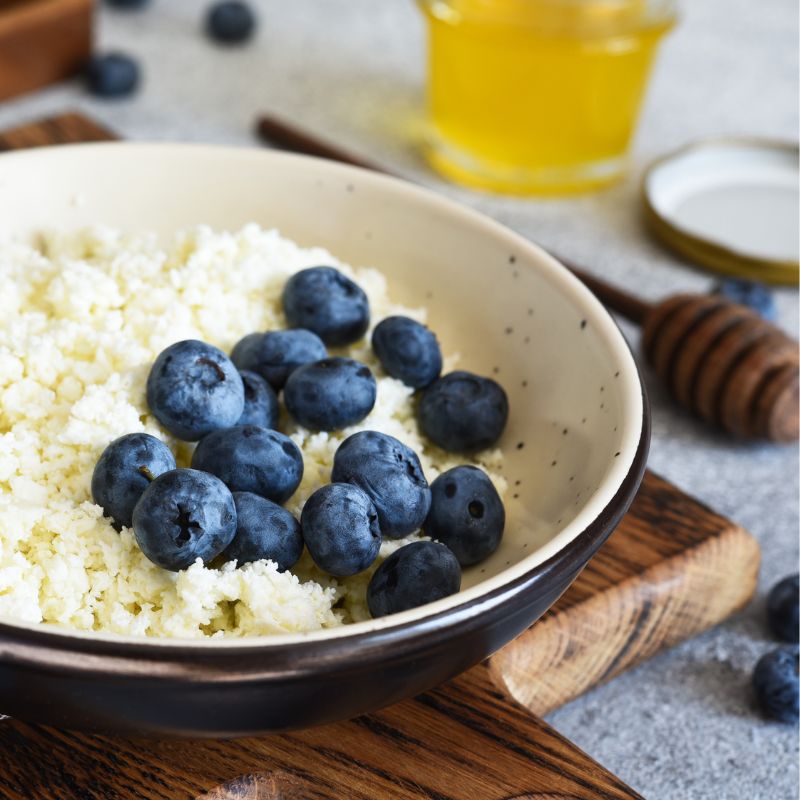 Instructions:
In a bowl, heat a portion of cottage cheese until it's warm but not hot, drizzle honey over it for a touch of sweetness, and top it with fresh berries. Your warm cottage cheese with honey and berries is now ready to be enjoyed.
Herbal Remedies
Herbal remedies have been relied upon for centuries as natural solutions for various health concerns. They continue to hold a special place in the realm of sleep improvement. These botanical treasures offer gentle yet effective methods for addressing sleep disturbances, anxiety, and restlessness. From the calming properties of valerian root to the soothing effects of lavender and passionflower, herbal remedies provide a holistic approach to fighting sleep problems.
10. Valerian Root: An Ancient Herbal Sleep Aid
Valerian root, an age-old herbal remedy, is celebrated for its remarkable ability to promote sleepiness and improve sleep quality. The secret to valerian root's effectiveness lies in its natural compounds. It includes valerenic acid and isovaleric acid, which act as gentle sedatives and tranquillizers. These compounds work by enhancing the brain's production and release of gamma-aminobutyric acid. This neurotransmitter helps calm the nervous system, reduce anxiety, and induce relaxation—essential factors for a peaceful night's sleep. When used safely and in moderation, valerian root can be a valuable addition to your sleep routine. To incorporate this herbal sleep aid into your bedtime ritual, get inspired by our valerian root-based recipe.
Soothing Valerian Root Tea
Simply steep 1-2 teaspoons of dried valerian root in hot water for about 10 minutes. Sweeten with honey if desired. This mild and earthy tea can help you unwind and drift into a restful sleep, making valerian root a timeless ally for better sleep.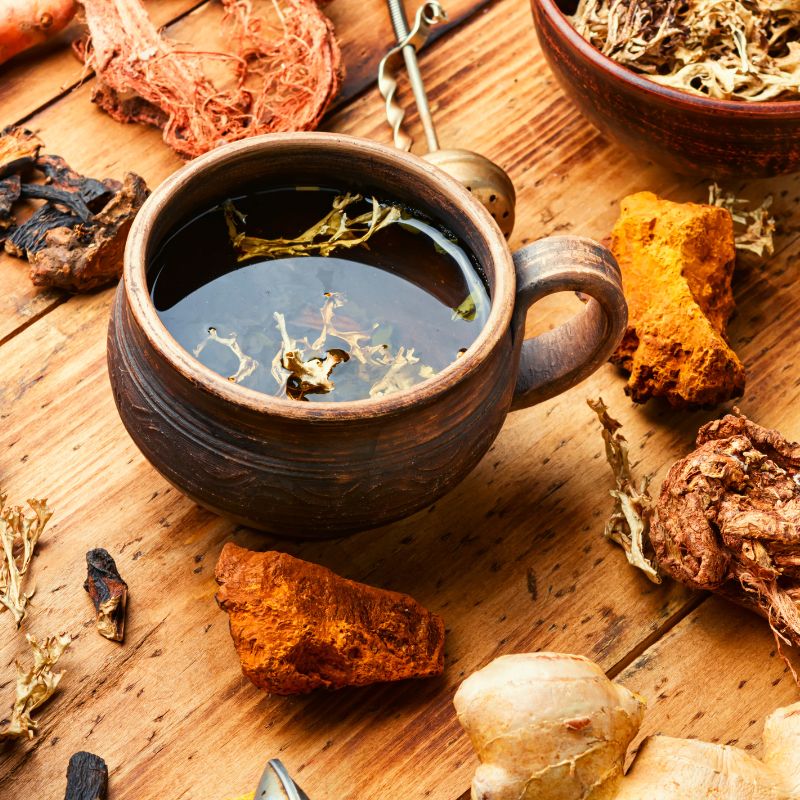 Conclusion
Incorporating sleep-promoting foods into your diet can be a holistic approach with benefits beyond improving sleep. These nourishing choices can also benefit various aspects of your overall health, including immune health and heart health. By making thoughtful food choices and incorporating these sleep-friendly ingredients into your diet, you not only improve sleep but also support your immune system and heart health.
It's essential to recognize that certain food choices can negatively affect sleep, and unhealthy eating habits can disrupt your sleep cycle. Therefore, maintaining a healthy diet, rich in a variety of nutrients, is key to achieving the full spectrum of benefits for your well-being.
As we wrap up our exploration, remember that the journey to better sleep quality and overall health begins with the choices you make at the table. Embrace the wonders of foods that improve sleep quality, experiment with recipes, and create a bedtime ritual that soothes both body and mind. By nourishing yourself with these natural sleep remedies and maintaining a balanced diet, you'll be well on your way to nights filled with peaceful rest, stronger immunity, and a healthier heart.